Will Namor Be In Black Panther 2?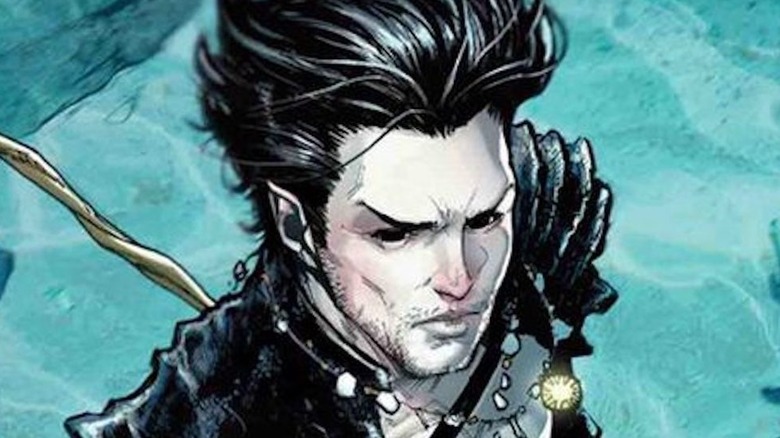 Marvel Comics/David Marquez
With new shows and movies teasing the coming of the multiverse, Marvel is clearly about to get a lot weirder. If recent rumors surrounding "Black Panther: Wakanda Forever" are true, it's about to get a whole lot wetter, too. That's because the folks at The Illuminerdi are reporting the upcoming superhero sequel (delayed by the tragic death of Chadwick Boseman) could introduce a major new character to the MCU, in the guise of fan-favorite ocean-dweller Namor the Sub-Mariner.
Said rumor was spawned by the casting of Tenoch Huerta ("Narcos: Mexico"), who landed an unspecified part in the film late in 2020 (via THR). Per The Illuminerdi, Huerta may well be stepping into the role of the Marvel icon, who may or may not be the primary antagonist of the sequel.
Mystery has surrounded this production of the second "Black Panther" film for quite some time, as fans wait to see how Kevin Feige and Ryan Coogler move the franchise forward without Boseman. And when it comes to all this Sub-Mariner talk, Marvel – in true Marvel fashion — has neither confirmed nor denied the casting report. What we can confirm is that "Black Panther: Wakanda Forever" begins production next month in Atlanta, GA, with Coogler at the helm. It will also return primary cast members Letitia Wright, Lupita Nyongo, Danai Guria, Winston Duke, Martin Freeman, and Angela Bassett, and is currently slated for a July 8, 2022 release.     
What's behind all this Namor buzz, though?
The MCU has already hinted at Namor's big entrance
Marvel Comics/David Marquez
For now, the Namor rumors remain just that — rumors. As it is, we may not know whether Tenoch Heurta is portraying the Sub-Mariner until the film is released, because Marvel Studios remains quite good at keeping their secrets. They're also likely to be extra careful about any details surrounding their "Black Panther" sequel. 
Even still, there's at least one very good reason to think "Wakanda Forever" will head into the depths of the ocean and introduce Namor, which is a very Easter eggy tease even Marvel die-hards might've missed in 2019's "Avengers: Endgame."
That tease came during Natasha Romanoff's (Scarlett Johansson) debrief with the undusted remnants of The Avengers. During her exchange with Danai Guria's Okoye, the Wakandan warrior informs her of an earthquake off the coast of Africa, before informing Natasha, in a rather snarky manner, that there's not much to be done about such things. She may regret not taking a closer look at that disturbance, though, as it could possibly have signaled the arrival of Namor, the mutant son of a sailor and Atlantean princess who now holds dominion over the fabled underwater city of Atlantis.
Should that be the case, "Black Panther: Wakanda Forever" will indeed be taking Marvel fans somewhere they've never been. And should that casting rumor prove true, it will also introduce a beloved character who has played the part of hero, antihero, and villain in the pages of Marvel Comics over the years. We'll just have to wait and see which version of Namor debuts in the MCU first ... or even if he'll debut at all.