Moon Knight Release Date, Cast, And Trailer - What We Know So Far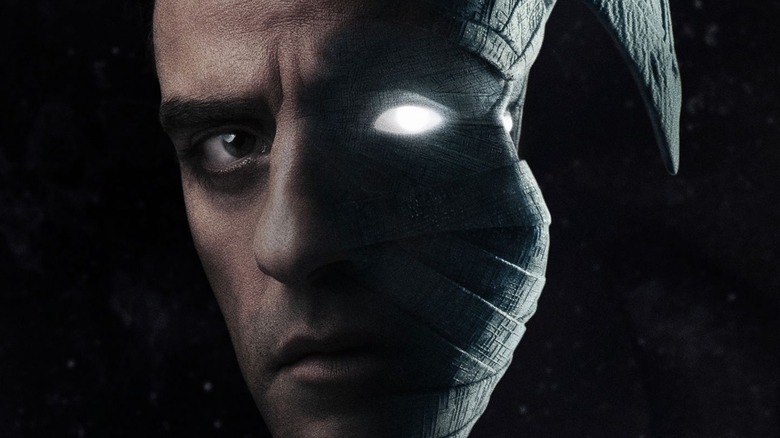 Marvel Studios
When Phase 4 of the Marvel Cinematic Universe was first announced, fans learned that in addition to the feature films scheduled to be released in theaters, Marvel Studios would also be producing several TV series to be released via Disney+. These series included shows like "WandaVision," "Loki," "What If...?," and — in a shock to Marvel comics fans everywhere — "Moon Knight."
The latter announcement was shocking not only because Moon Knight (real name Marc Spector) is relatively obscure as far as Marvel characters go, but also because he is one of the most sadistically violent heroes that Marvel has ever introduced. He's more akin to someone like the Punisher than any of the characters we've seen thus far in the MCU, and a few years ago it would have seemed impossible to imagine the bloodthirsty mercenary appearing alongside Captain America and the rest of the Avengers.
That said, the show may just be the MCU's most highly anticipated series to date, and fans are already sounding off on social media about their excitement for the series. Here's everything we know about Marvel's "Moon Knight" so far.
When will Moon Knight be released?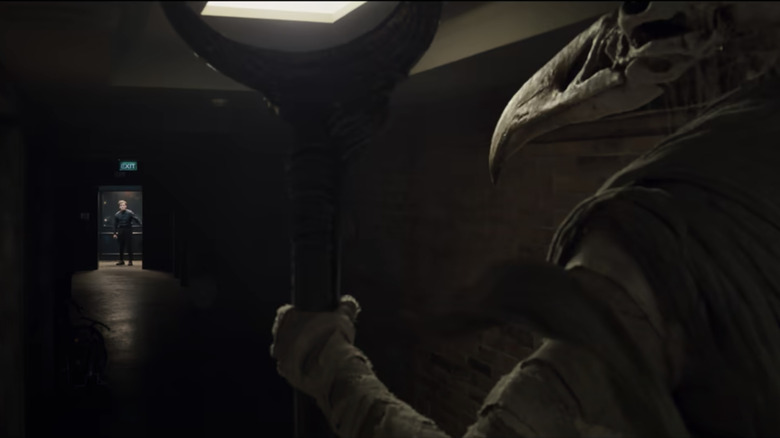 Disney+/ YouTube
The official trailer for "Moon Knight" premiered during the Rams-Cardinals wild card game in January 2022, and in addition to providing fans with a sneak peek of what the highly-anticipated series might entail, it also revealed the show's release date. "Moon Knight" is scheduled to premiere on Wednesday, March 30, 2022, and — like the rest of Marvel's Phase 4 TV series — will stream available exclusively on Disney+.
As of right now, it's unclear what time the series will become available for streaming, but we can speculate that it will be similar to the release times of prior Marvel series like "Hawkeye," "Loki," and "WandaVision," which all premiered their episodes at 3:00am ET (12:00am PT) each week (via Decider).
Who is in the cast of Moon Knight?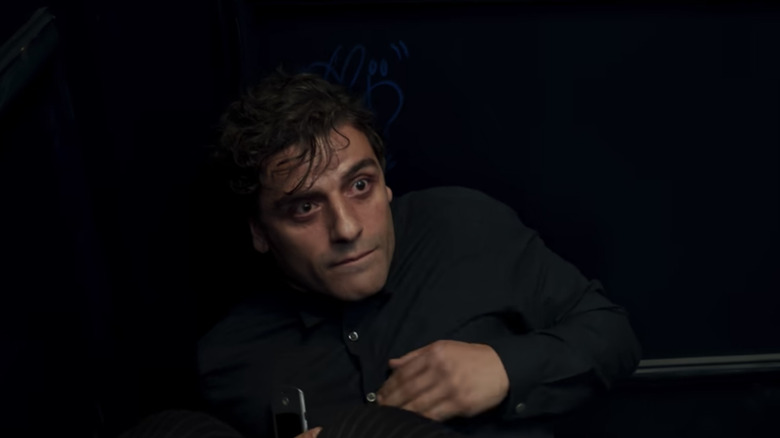 Disney+/ YouTube
Leading the cast of "Moon Knight" is none other than Oscar Isaac, who is set to play the titular hero as well as his multitude of overlapping personalities. Moon Knight's true identity is that of Marc Spector, a mercenary who suffers from dissociative identity disorder, and constantly swaps between several distinctive identities as the series goes on (via Variety). 
The interesting thing is that these identities essentially function as totally different characters, and it'll be interesting to see how Isaac brings them each to life on screen. Ethan Hawke is also set to appear in the series as a cult leader named Arthur Harrow, who appears in the trailer and encourages Marc to "embrace the chaos."
The series also features French actor Gaspard Ulliel, who appears posthumously as Anton Mogart (alter ego of the character known as Midnight Man). Ulliel tragically passed away in a ski accident after filming; "Moon Knight" was one of the last projects he ever worked on. Others confirmed to be in the series include F. Murray Abraham (who voices the Egyptian god Khonshu), Lucy Thackerey (who plays a coworker who is close to one of Marc's many personalities), and May Calamawy in an undisclosed role.
What does the trailer tell us about Moon Knight?
The official trailer for "Moon Knight" revealed much more about the story and characters that we'll be seeing throughout the series. At the start of the trailer, Marc believes himself to be a man named Steven who works at a museum, and admits that he "can't tell the difference between life and dreams." He is tormented by strange visions and nightmares and doesn't even recognize the name "Marc" when somebody calls him on the phone.
Marc's story is as much about fighting literal bad guys as it is about fighting his inner thoughts — and from what we see in this trailer, it seems like the latter is a losing battle. After a brief montage of Marc's disturbing visions, we finally get to see him don Moon Knight's iconic white costume. The suit literally materializes from thin air around Marc as he looks up at the moon, indicating that (just like in the comics) he most likely receives his powers from the Egyptian God of the Moon, Khonshu. Finally, the trailer ends with Marc brutally beating some monstrous-looking creature before turning to the camera and staring right into the audience's eyes, his own white eyes glowing beneath the mask. 
It's an incredible trailer from start to finish, giving fans just enough to be excited about without giving too much away in regards to the plot — and providing our first look at what might be the MCU's first real anti-hero.
Who is the main villain in Moon Knight?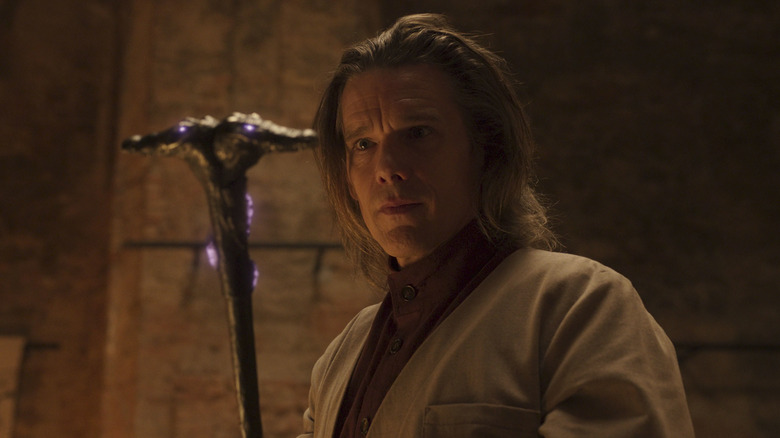 Marvel Studios/Disney+
For now, it looks like "Moon Knight" is going to have two villains, the aforementioned Dr. Arthur Harrow and Midnight Man. It seems as if the latter will be more of a secondary baddie, as Ethan Hawke's Harrow will be the main villain of the series. However, it's suspected that there's more than meets the eye here, given that Dr. Harrow has only appeared in one comic book issue (1985's "Moon Knight: Fists of Khonshu #2"). That's not too much content to pull from, and it's also a rather bland story where Dr. Harrow is introduced as a specialist on pain theory who experiments illegally on humans.
Plenty of fans believe the persona of Dr. Harrow is a red herring, and Hawke is actually playing the famed Moon Knight villain Sun King. A former Ravencroft Institute patient, Sun King has a base of loyal followers, much like we see Hawke's Farrow have in the trailer. Both Sun King and Moon Knight have connections to Egyptian gods, with the former obsessed with Amon Ra and the latter who is blessed with powers by Khonshu. It's also very possible that Hawke's character is an amalgamation of Dr. Harrow, Sun King, and other famous Moon Knight villains. Only time will tell.
What we do know for certain is the inspiration for Hawke's character. When catching up with Entertainment Weekly, the actor mentioned David Koresh and Carl Jung were major influences on his portrayal of Dr. Harrow. "The uber-rich villain mastermind isn't interesting to me. I love the ones who believe that they're a good person and that's why they have to kill you. That I find really terrifying," he told the outlet.
Who is directing Moon Knight?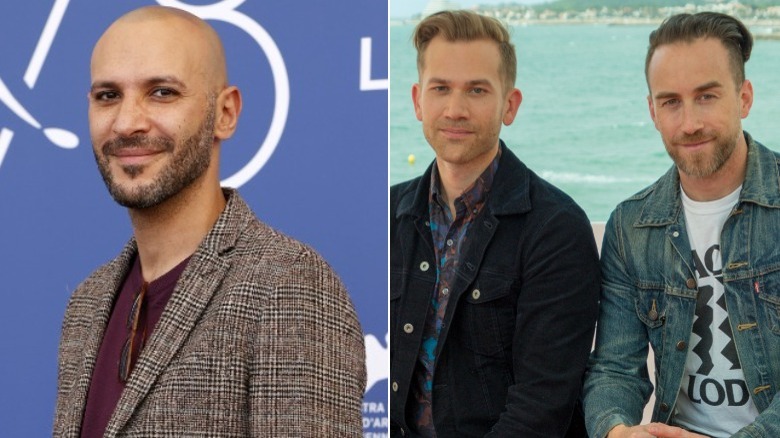 Luis Javier Villalba/Shutterstock & John Phillips/Getty Images
"Moon Knight" will feature three directors — one of whom directed four episodes, while the remaining pair directed the other two. According to The Hollywood Reporter, Mohamed Diab is helming four episodes solo, marking the first time he's directed an English-language project. Diab is known in his home country of Egypt for projects like "Cairo 678" and "Clash," but "Moon Knight" marks his first Hollywood project.
Per Variety, the famous directing duo of Justin Benson and Aaron Moorehead tackled the other two episodes. The indie-horror visionaries don't have the longest resumes in the business, but their work speaks for itself. They directed 2019's "Synchronic" with Anthony Mackie, an episode of Jordan Peele's "The Twilight Zone" reboot, and 2017's "The Endless," in which they also starred. The higher-ups at Marvel Studios clearly have been impressed with the work they've seen from Benson and Moorehead, as the pair have also been brought on to direct "a majority" of the episodes from the upcoming "Loki" Season 2 (via Deadline).
Who wrote the Moon Knight script?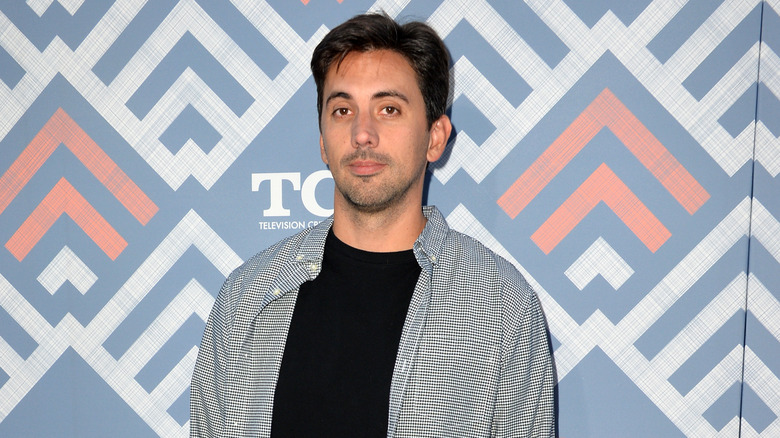 Featureflash Photo Agency/Shutterstock
So far, every MCU series on Disney+ has been scripted by a different writer. "Moon Knight" will introduce head writer Jeremy Slater to the Marvel Cinematic Universe, but this is far from Slater's first dip in the superhero pool. He penned the script to the 2015 "Fantastic Four" movie, but before that scares you off, he's also one of the minds behind Netflix's "The Umbrella Academy" (per The Hollywood Reporter). Slater developed the series for the streamer but does not have any credits for the third season.
Slater might have written one of the worst Marvel movies ever made, but his comments on "Moon Knight" suggest this won't be anything like the highly criticized flick. If the series turns out to be anything like his initial pitch, we're in for a treat. "'Raiders of the Lost Ark' was actually a big reference when I first pitched. How can we tell this dark, complex story but also inject some big, fun, supernatural, Amblin-style magic at the same time?" he told Empire (via Murphy's Multiverse).
A lot of trust has been put into Slater recently, which gives us a lot of hope for "Moon Knight." He's also penning the script — with many others — for "Coyote vs. Acme," as well as "Mortal Kombat 2."
How many episodes will Moon Knight have?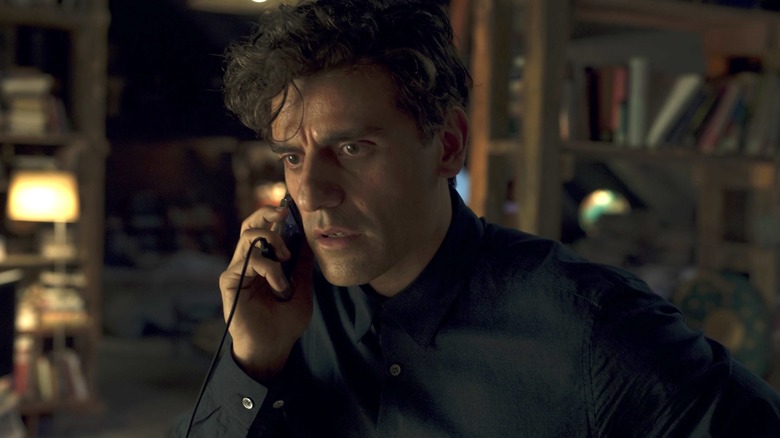 Marvel Studios/Disney+
"Moon Knight" will consist of six episodes, according to Kevin Feige (via Collider). The Marvel Studios boss also says that these episodes will run between 40-50 minutes, which is in line with other Marvel Disney+ series. The longest MCU series episode currently is the finale of "Hawkeye" with a 62-minute runtime. It's entirely possible "Moon Knight" can hit this milestone with one of its episodes, as Feige's comments came well before the editing process was even close to finished.
The longest episode of "Loki" clocks in at 55 minutes with "The Variant," while "The Falcon and the Winter Soldier" hit 61 minutes with its longest episode, "Truth." We certainly expect to get a "Moon Knight" episode over 50 minutes, but all will be revealed when the show finally debuts week by week starting March 30.
Do we know where Moon Knight fits in the MCU timeline?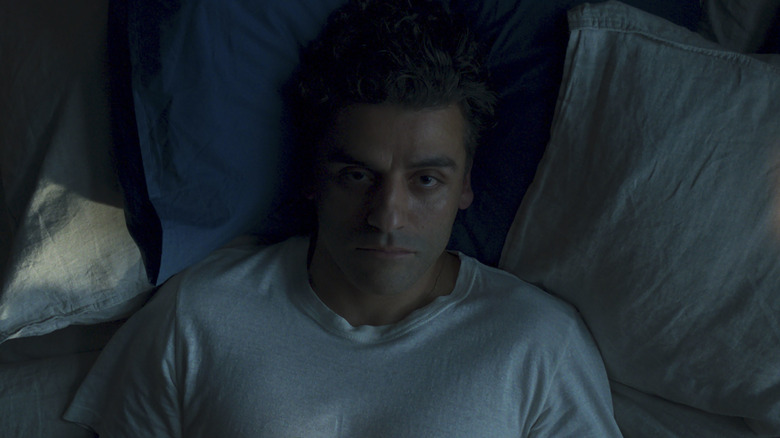 Marvel Studios/Disney+
Leading into the premiere, there's no clear answer on where "Moon Knight" fits in the official timeline of the Marvel Cinematic Universe. As of now, "Hawkeye" is the latest show on the timeline, taking place in December 2024 (according to director Rhys Thomas). It's entirely possible that "Moon Knight" is the first MCU project to occur in 2025 if it takes place right after "Hawkeye."
It's also possible "Moon Knight" happens sometime during 2023, as do two other Disney+ live-action series. "WandaVision" begins three weeks after the conclusion of "Avengers: Endgame," while "The Falcon and the Winter Soldier" is about six months out. "Loki" kicks off in 2012, but about 99 percent of the series occurs in a space outside of time, so it really doesn't have a solid place on the timeline.
"Eternals," "Shang-Chi and the Legend of the Ten Rings," and "Spider-Man: No Way Home" all take place before "Hawkeye," with the latter definitely landing in 2023. As far as the former two, there is no specific date for where they fit into everything — we just know it's definitely after "Endgame" and before "Hawkeye."
Long story short, "Moon Knight" can fit anywhere.
How does Moon Knight compare to other Disney+ Marvel series?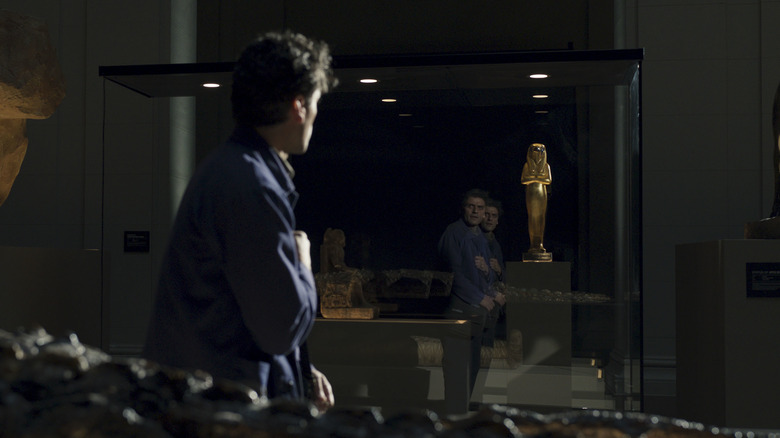 Marvel Studios/Disney+
Every MCU-Disney+ series has its own identity, but "Moon Knight" is going to really shake things up in a big way. Kevin Feige admitted to Empire that things are taking a major left turn with "Moon Knight," suggesting it's the darkest series in the MCU to date. "It's been fun to work with Disney+ and see the boundaries shifting on what we're able to do," he told the outlet. "There are moments [in the series] when Moon Knight is wailing on another character, and it is loud and brutal, and the knee-jerk reaction is, 'We're gonna pull back on this, right?' We're not pulling back. There's a tonal shift. This is a different thing."
So far, every MCU series has held a TV-14 rating, including the animated project "What If...?" The way Feige describes "Moon Knight" and its brutality sounds like the series might have earned a more adult rating than its predecessors, but Disney+ has it labeled with a TV-14 rating on its website. So what does TV-14 mean? The official warning reads: "This program contains some material that many parents would find unsuitable for children under 14 years of age." "Moon Knight" is certainly going to push the barriers of how far a TV-14 show can go.
Will there be a Season 2 of Moon Knight?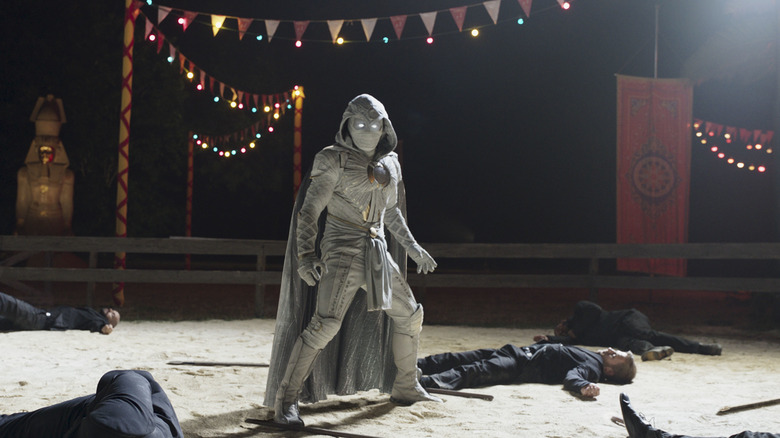 Marvel Studios/Disney+
For now, it looks like there won't be a second season of "Moon Knight," but that's based on a small comment made by Oscar Isaac. When speaking with Jared Leto for Variey's Actors on Actors series, Isaac mentioned that "Moon Knight" was a "limited series." Limited means just that, so for now, fans shouldn't get their hopes up for a second season.
"WandaVision" was also confirmed to be just a limited series, but that's not the case for all MCU live-action shows. So far, "Loki" is the only Disney+ series from Marvel to have a confirmed Season 2. This announcement came in the credits of the first season's finale episode, so if we are getting a follow-up for "Moon Knight," its finale could be the episode that holds all the answers. However, just because there might not be a Season 2 of the series, that doesn't mean we won't be seeing Moon Knight again in the MCU.
Will Moon Knight appear in any MCU films?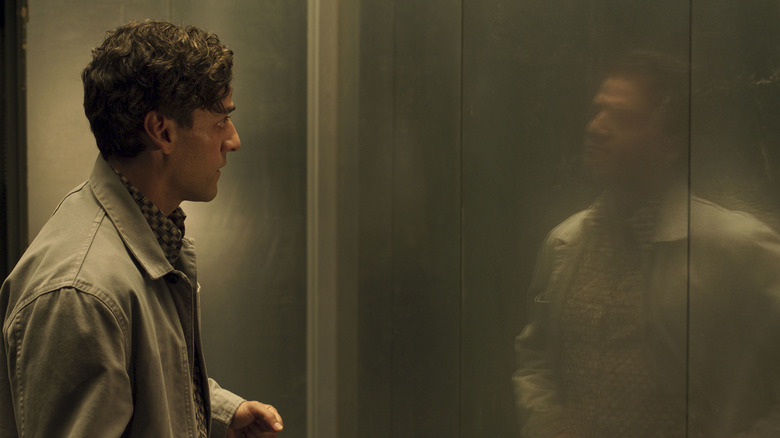 Marvel Studios/Disney+
Up to this point, the title characters of every MCU series had already appeared in multiple movies, so there was always the assumption we'd see them again on the big screen. Moon Knight is the first character to get their origin story in a Disney+ series, and his future afterward is slightly unknown. Since we know we probably won't be getting a Season 2, we'd have to hope Oscar Isaac's Marc Spector would show up in future MCU flicks — and it looks like those hopes are due to be fulfilled.
Kevin Feige confirmed to The Hollywood Reporter that Moon Knight would appear in an MCU film after the series. This is also the case for Jennifer Walters (Tatiana Maslani) of "She-Hulk" and Kamala Khan (Iman Vellani) of "Ms. Marvel." For now, your guess is as good as ours as far as where Moon Knight might appear next, but hopefully, we'll get some clues during the show's six-episode run. He isn't one of the characters rumored to appear in "Doctor Strange in the Multiverse of Madness," and there have been no rumblings of him showing up in "Thor: Love and Thunder" or "Black Panther: Wakanda Forever." There's no shortage of upcoming MCU movies, though, so here's hoping we'll get more Moon Knight sooner than later.
Will Moon Knight include any cameos?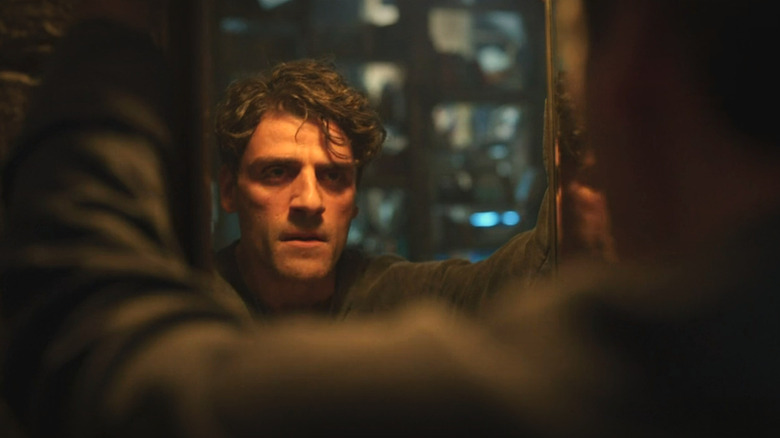 Marvel Studios/Disney+/YouTube
Cameos in the MCU are common these days, and the Disney+ Marvel series are no exception. James Rhodes (Don Cheadle) popped in for a scene in "The Falcon and the Winter Soldier"; Wilson Fisk (Vincent D'Onofrio) made his MCU debut in "Hawkeye"; Pietro Maximoff (Ralph Bohner?) did something no one really understands in "WandaVision"; and Chris Hemsworth had voice cameo in "Loki." Needless to say, we're expecting someone we know to show up in "Moon Knight."
BGR has suggested that Jon Bernthal could be reprising his role as Frank Castle, aka the Punisher, in "Moon Knight." Redditors have been hoping for this cameo for a while now, especially given that Frank Castle and Moon Knight have history in the comics. With D'Onofrio showing up on Disney+ in an old Netflix role, anything is possible for Bernthal; he'll just have to reel it in for that TV-14 rating.
There's also speculation Mark Ruffalo might be appearing as Bruce Banner in "Moon Knight" after he was spotted in Budapest, Hungary during the same time the series was filming there (per Murphy's Multiverse). A lucky fan was able to take pictures with Isaac and Ruffalo outside the same hotel in Budapest on the same day, and that seems like too much of a coincidence.