Elliot Stabler's Best Episode In Law & Order: SVU Season 4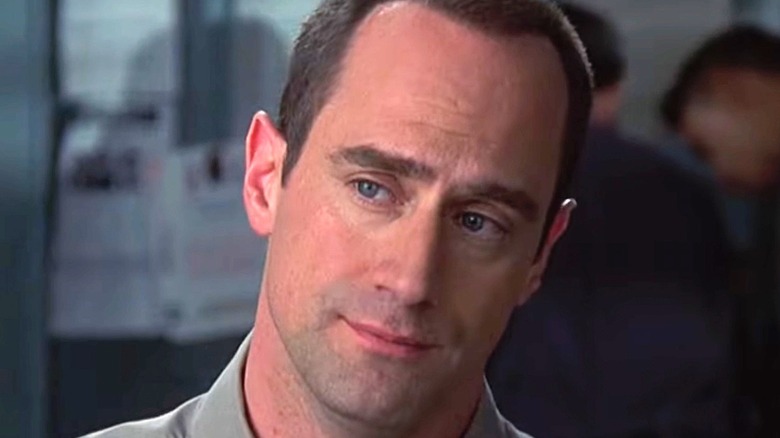 NBC
Since the series' debut of "Law & Order: Special Victims Unit" in 1999, Detective Elliot Stabler (Christopher Meloni) has always been a figure of controversy and debate. This is especially true in recent years, when his strong-arm tactics and inexcusably short fuse have come under even greater scrutiny, despite the character having left the series in 2011. When he returned to the franchise in 2021 with "Law & Order: Organized Crime," many wondered how the show would handle his character, and whether or not he'd be able to evolve in an era that has finally seen some semblance of recourse for those who abuse their roles in law enforcement (via Indie Wire). 
This isn't to say, however, that Elliot Stabler didn't have his good moments. Though the more positive conversations surrounding his character have typically revolved around his "will-they-won't-they" dynamic with Mariska Hargitay's Olivia Benson, there were a number of times in earlier seasons where the detective's concern for the victim outshone his often-premature disgust for (and unlawful violence toward) the suspect. This was especially true in Season 4's "Resilience," wherein Stabler's ability to connect with children led to the eventual conviction of one of the show's most vile abusers.   
In 'Resilience,' Stabler's softer side helps bring an abuser to justice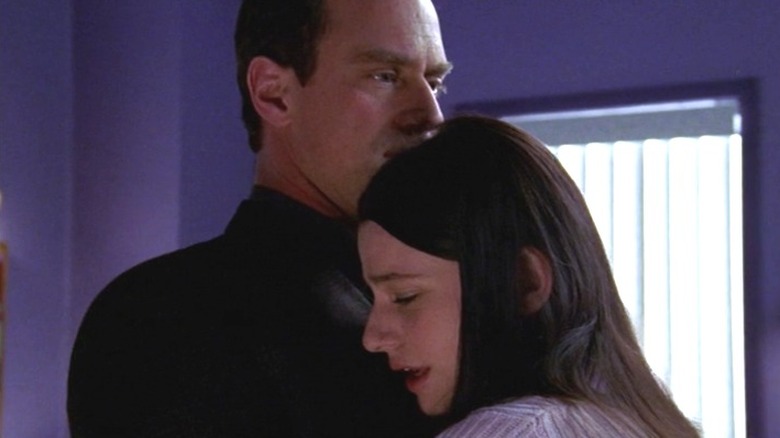 NBC/ Vudu
Despite his workaholic ways, the toll his job took on his relationship with his wife, and the occasionally overbearing approach he took to parenting, Elliot Stabler loved his children. In fact, he was often at his best (read: most vulnerable and relatable) when interacting with them, and although his fatherly devotion often led him to lose objectivity on the job, it also helped him interact with younger victims. In "Resilience," his ability to play temporary father figure to a terrified young girl ultimately helped the detectives solve the case, and ensure the victim's freedom and protection from her abuser.
In the episode, a 15-year-old girl named Jackie (Rachael Bella) is taken into custody after she attempts to harm herself in the aftermath of a rape. Though she's too scared to provide information, the detectives eventually discover her own father, a sexually obsessive narcissist named Tom Landricks (Titus Welliver), is behind her trauma. After Landricks became unable to produce children, he forced his wife to continue to become impregnated by a series of strangers. When she was no longer able to bear children herself, he turned his terror on his young daughter, and had her inseminated against her will. Though Stabler doesn't shy away from coming down aggressively and loudly on both parents, it's his interactions with Jackie and her young sister Sally (Justine Caputo) that serve as some of his best moments in the season.
If you or anyone you know has been a victim of sexual assault, help is available. Visit the Rape, Abuse & Incest National Network website or contact RAINN's National Helpline at 1-800-656-HOPE (4673).
For once, Stabler's identity as a father works in his favor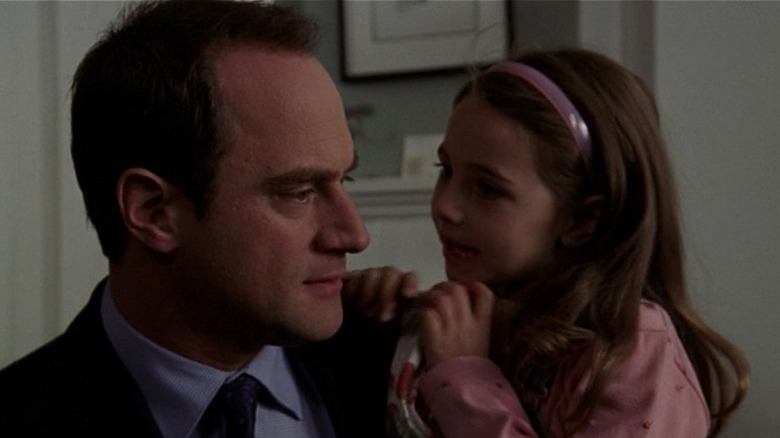 NBC/ Vudu
More often than not, when it comes to getting kids to talk, the team relies on either BD Wong's compassionate and forward-thinking psychologist, Dr. George Huang, or on Detective Olivia Benson's calm and soothing demeanor. In "Resilience," however, it's Stabler who most thoroughly gains the trust of both toddler Sally and teen Jackie. When the latter begins regressing to her childhood state in response to her trauma, Stabler is able to slowly coax a confession out of her about what her father has done — something even Dr. Huang was unable to do. Prior to this, his experience with young children and observation that Sally Landricks was too friendly and tactile for her age helped Huang diagnose the disturbed Landricks patriarch. Numerous times in the episode, Sally gives Stabler information that leads to a break in the case, and the two form a communicative bond that ultimately leads to Landricks' arrest. 
It may not be Stabler's most dramatic moment in the season (far from it), but the episode's foregrounding of the detective's softer side and ability to work with victims reminds viewers how he got to where he is in the first place. Since his identity as a father doesn't always work in his favor (often, it leads him to come at innocent suspects far too aggressively), it's refreshing to see it play out in a manner that works toward, and not against, justice being served.