Ozark Fans Are Fed Up With This Character In Season 4 Episode 2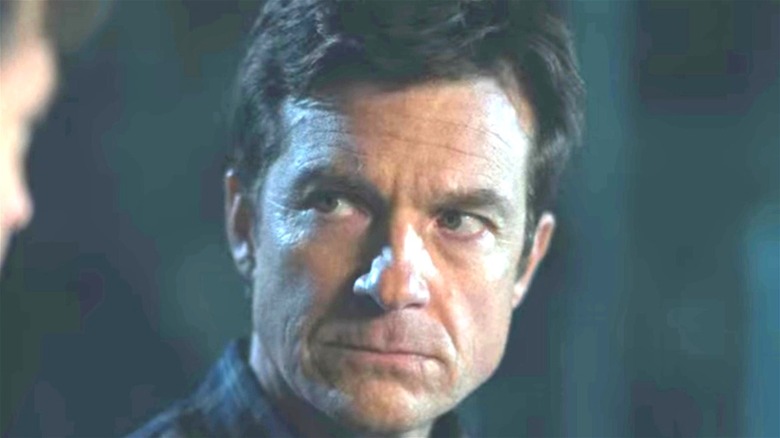 Netflix
Part 1 of "Ozark" Season 4 has been offering up countless twists and turns for viewers ever since dropping on Netflix last month. But, for some fans, there have also been a few bones to pick with one of the main characters. Showing their true colors in Episode 2, this person is someone who's been part of the Midwest drama series since its 2017 inception. And, like most things on "Ozark," they've started to completely change as time goes on.
Long gone are the days of Marty (Jason Bateman) and Wendy Byrde (Laura Linney) associating and teaming up with Ruth Langmore (Julia Garner). Partnerships between Ruth, Jonah Byrde (Skylar Gaertner), Wyatt Langmore (Charlie Tahan), and Darlene Snell (Lisa Emery) have now blossomed in their place, causing even more tension to mount between all of the involved parties — including Omar Navarro and the Mexican drug cartel. But there's one new alliance that has left "Ozark" fans completely fed up, especially with the character we mentioned earlier.
Audiences are sick of Wyatt and his devotion to Darlene
Netflix
It's a team-up that's bothered countless viewers, even more so now that Wyatt (Charlie Tahan) is choosing to side with Darlene (Lisa Emery) over his own flesh-and-blood, Ruth (Julia Garner), as he does in Season 4, Part 1, Episode 2, "Let the Great World Spin." The move comes after Darlene turns down a lucrative drug deal that Ruth has set up with a friend and restaurant owner. Ruth begs Wyatt to back her and convince Darlene, who he's dating, to change her mind. But he refuses, saying it's her farm "and she's my girlfriend."
In a Reddit post shared on the r/Ozark subreddit, fans of the Netflix series chimed in with their frustrations over Wyatt's behavior. "Wyatt being as useless as the first season," said Redditor u/bananaben_, garnering hundreds of upvotes in agreement. "It gets weirder and grosser," replied u/bgj556. "Almost like you want to gag." U/misspinaberry added, "[Wyatt's] a plot device, which makes me think he's either going to have to actually start contributing or he's gonna get killed one way or another."
All seven episodes for Part 1 of "Ozark" Season 4 are currently available to stream on Netflix, with Part 2 expected to air sometime later this year. Production has already wrapped, and Netflix officials are expected to announce the release date sometime soon.