Julia Garner Drops A Major Season 4 Update For Ozark Fans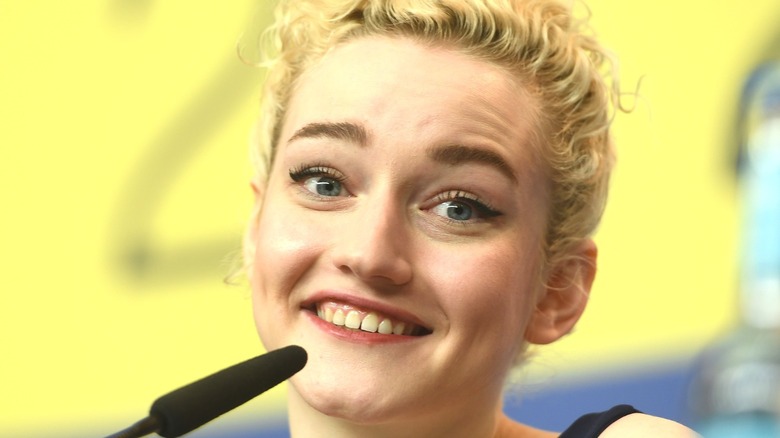 Matthias Nareyek/Getty Images
Since the first season premiered in July 2017, the Netflix crime drama "Ozark" has grown to become a huge hit for the streaming platform. The series stars Jason Bateman as financial advisor Martin "Marty" Byrde, who relocates his family from Chicago to the Lake of the Ozarks region of Missouri in order to enact a money laundering scheme to pay back a Mexican drug cartel whose previous laundering activities didn't go so well. Unfortunately, this puts himself, his wife Wendy Byrde (Laura Linney), and two kids, Charlotte (Sofia Hublitz) and Jonah (Skylar Gaertner), in the crosshairs of local crime families who don't want anyone encroaching on their business. 
"Ozark" has had three very successful seasons so far, with Season 3 premiering on March 27, 2020. Netflix then announced in June 2020 that the show would be returning for a fourth and final season. The news was bittersweet, and on top of that, fans knew that they'd likely have to wait a while for new episodes, as many of Netflix's productions were on pause or delayed due to the pandemic. As there is no official release date yet for "Ozark" Season 4, many people are waiting for any news or hints as to when the final episodes might drop. Thanks to cast member Julia Garner, who plays Ruth Langmore, a smart and methodical woman who is part of a local family of criminals, fans now know that "Ozark" Season 4 is one step closer to being complete.
Season 4 of Ozark is finishing up filming in October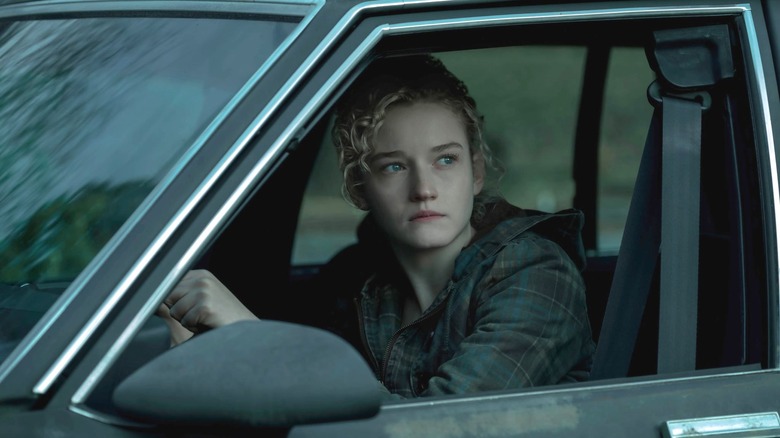 Netflix
Speaking with W Magazine, Garner discussed the popular Netflix show and her mixed feelings about it ending. She explained that it's been a bit of a process for her, saying, "The fact that 'Ozark' is ending hits me in waves. I met some of my best friends here. It's almost been like my weird version of a college experience." Many of the show's fans are likely just as sad about saying goodbye to Ruth, but thankfully there's one last bout of episodes to wrap up the story.
Garner also dropped information on an exciting development for "Ozark" Season 4, revealing that the last 14 episodes, which are scheduled to be released in two parts, are almost done being filmed, with production scheduled to end in October 2021. Another source, Variety Insight, supports Garner's statement, reporting that the fourth season began production all the way back in November 2020, with a tentative end date of October 8, 2021. 
Once all of the final season is done filming, all that's left to be done is post-production, consisting of things like editing, sound design, and scoring. As the show is a drama and not reliant on CGI or other special effects like a genre series, "Ozark" shouldn't require too much time in post-production. With this new information, we can guess that the first batch of episodes for the fourth season of "Ozark" will likely arrive in early 2022, with the other seven to drop sometime from mid to late 2022.