Every Symbol On The Ozark Season 4, Part 1 Episode Title Cards Explained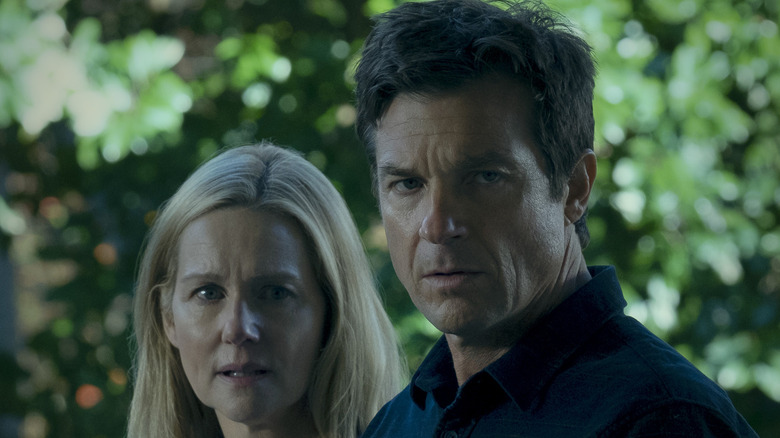 Steve Dietl/Netflix
*Contains spoilers for "Ozark" Season 4, Part 1*
Netflix's "Ozark," which tells the story of a money laundering scheme by Marty (Jason Bateman) and Wendy Byrde (Laura Linney), has earned rave reviews from critics and audiences alike ever since the first season premiere in 2017 (via Rotten Tomatoes). Much of the praise for the series has centered on its cast; Bateman and Linney have both received numerous Emmy nominations for their roles and Julia Garner's portrayal of Ruth Langmore has earned the young actress two consecutive Emmy Awards for Outstanding Supporting Actress in a Drama Series.
Many have also praised the show's writing team for constructing a remarkably troubling story unlike any other on television (though comparisons to "Breaking Bad" often abound because of the subject matter). Eagle-eyed fans of "Ozark" may have noticed a unique method that writers use to introduce topics in every episode. Each hour includes an opening title card of four unique symbols surrounded by an O (for "Ozark," of course). In one way or another, each hieroglyph represents clues about a scene from the episode.
Some symbols in "Ozark" are quite literal, while others are only vaguely tied to events in the series. With the first seven episodes of Season 4 now available to all Netflix subscribers, we're going to explain each symbol in the latest entry of the Byrde family tale. For the purposes of simplicity, we'll review the symbols episode by episode, starting in the top row, moving left to right, and then doing the same on the bottom row. Let's dive in.
Episode 1: A pool floatie, pastries, a hotel key, and a piñata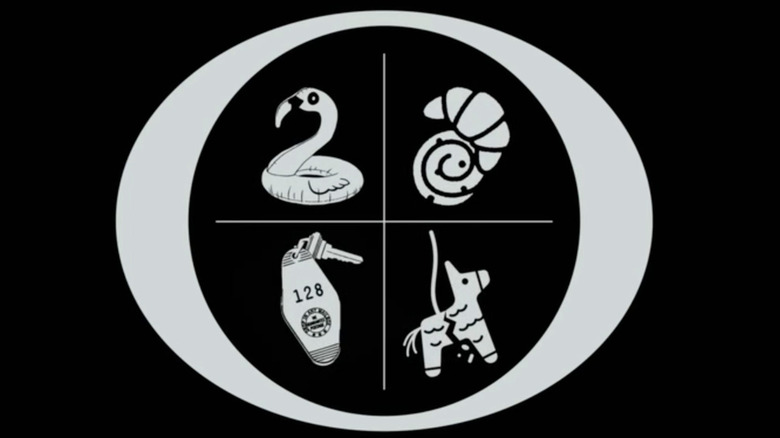 Netflix
As far as we can tell, Episode 1 ("The Beginning of the End") never actually includes a floatie in the shape of a flamingo, but we think we know the scene it's referring to. After repeated fights with his parents, Jonah (Skylar Gaertner) visits Ruth at the poolside of the Lazy O and agrees to launder her drug money. While Jonah and Ruth discuss business, her cousins, Wyatt (Charlie Tahan) and Three Langmore (Carson Holmes), playfully fight over a flat-shaped floatie in the pool.
The second item is one of the more ambiguous pieces in this list. The shape is somewhat difficult to ascertain, but the upper right portion certainly resembles a croissant and the lower left piece could be a cinnamon roll. Late in the episode, Javi Elizonndro (Alfonso Herrera) personally delivers a box of pastries to Marty and Wendy and we think this could be where these items come from.
In her first scene in Season 4, Ruth buys the Lazy-O Motel as a means to launder dirty drug money. While Stan Binton (Jason Davis) is initially somewhat skeptical of Ruth's motivations, she eventually manages to convince him by claiming that she wants to "own a piece of this town." It seems reasonable to infer that the hotel key depicted here references Ruth's newest purchase.
Meanwhile, the piñata is likely meant to reference the party held by Omar Navarro (Felix Solis) at the beginning of the episode. While the party at Navarro's mansion is filled with plenty of colorful flowers, we don't actually ever see a piñata. However, piñatas are a popular attraction at birthday parties, especially in Mexico (via MexConnect). We wouldn't even begin to venture a guess at what might be inside a piñata made by the Navarro cartel.
Episode 2: A rosary, cleaning supplies, a chemical structure, and computer equipment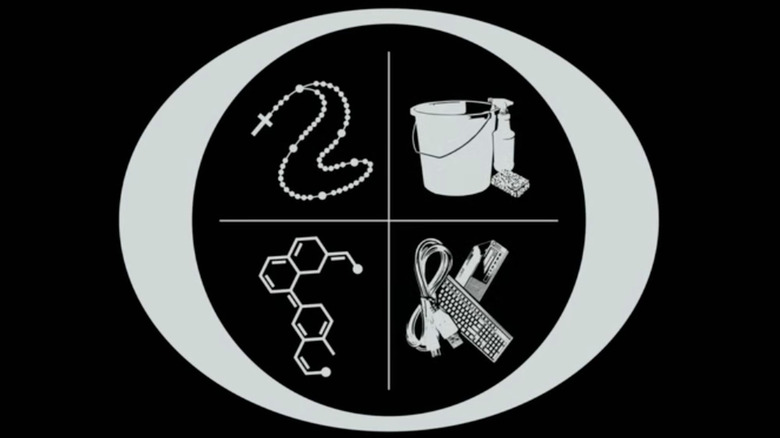 Netflix
The rosary in the upper left quadrant could refer to two different scenes in Episode 2 ("Let the Great World Spin"). In the moments before the title card appears onscreen, Ruth searches a thrift store for an appropriate urn in which to place the cremated remains of Ben (Tom Pelphrey). As she searches, we see a handful of beads behind her, at least one of which contains a cross and could be a rosary. This seems like the most direct source for that symbol, but another possibility comes from Navarro's confession. Rosary beads are an important part of the Catholic faith (via The Irish Store) and the use of this symbol could simply be pointing to Navarro's religious struggles.
The second symbol includes a bucket, a squirt bottle, and a sponge. This is obviously a reference to a scene at the former home of the late Helen Pierce (Janet McTeer), where Javi is staying. After murdering Sheriff Nix (Robert C. Treveiler), Javi orders Marty to help him clean up the blood, utilizing the very same tools we see here.
The third symbol is clearly a chemical structure of some kind. It's not immediately clear what structure is depicted here and we're not actually sure it's anything specific. Even though most of us aren't scientists here at Looper, we looked into the chemical structures of various opioids and were unable to locate a direct match to this diagram. Still, this seems like it must be directed at this episode's introduction of a biopharmaceutical company led by Clare Shaw (Katrina Lenk).
The final symbol of this episode looks to be a desktop computer, a keyboard, and a number of cords, at least one of which contains a male USB end. This is obviously a direct nod to Jonah's new computer equipment, which he purchases to help launder money for Ruth.
Episode 3: Oysters and a lemon slice, bolt cutters, Chinese food, and a graduated cylinder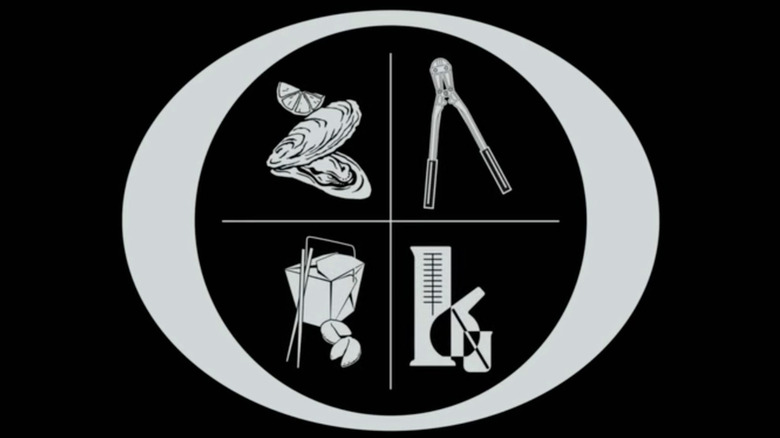 Netflix
The first symbol of Episode 3 ("City on the Make") depicts an oyster and a lemon slice. In Chicago, Marty, Wendy, and Charlotte have a rather tense dinner with Javi. While discussing Charlotte's plans after high school, Javi makes a point to instruct her on how to eat an oyster, saying "You don't chew. You just sort of slurp it down." Javi seems happy at the dinner, but his joyful attitude is short lived once he realizes that someone has double-crossed him. 
Hundreds of miles away, FBI Agent Maya Miller (Jessica Frances Dukes) leads a battalion of federal agents in a raid against one of Javi's weapon shipments. After forcing the driver to stop, the agents use a set of bolt cutters, as depicted in the second quadrant here, to open the trunk of the semi-trailer truck. While the first two symbols reference events in the closing moments of the episode, the last two symbols actually point to earlier scenes.
Before they depart for Chicago, the four members of the Byrde family share Chinese food for dinner. While Marty, Wendy, and Charlotte all appear adept at operating chopsticks, Jonah instead opts to employ the use a fork, further signifying Jonah's distance from the rest of the family.
The last symbol of this episode is easily the hardest of the four to place, but we think we figured it out. As Shaw considers the sample of opium provided by the cartel, she uses a number of chemistry tools to measure it. These items include a number of beakers, a graduated cylinder, a test tube, and a pipette. 
Episode 4: Family photos, a headstone and a shovel, heroin, and a goat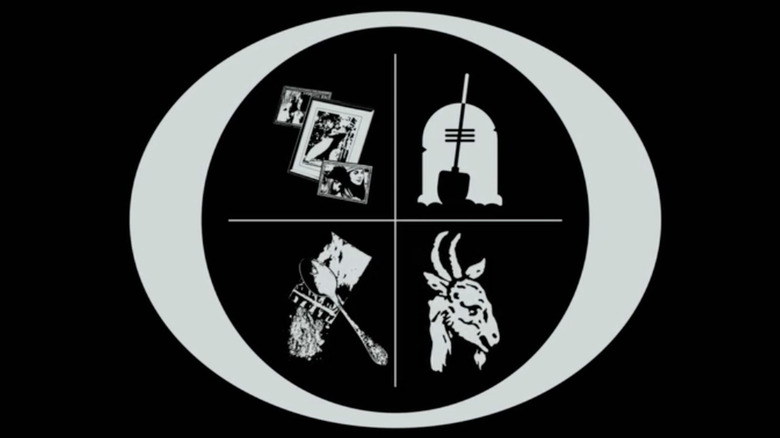 Netflix
Episode 4 ("Ace Deuce") features some of the most visually detailed symbols in the first seven episodes. The family photos are probably from the home of Wendy's father, Nathan Davis (Richard Thomas). As Nathan discusses his son with private investigator Mel Sattem (Adam Rothenberg), the camera pans over a plethora of photos of Ben. Notably, there seem to be very few, if any, photos of Wendy and her family.
The second symbol of a headstone and shovel is somewhat metaphorical in context. After Darlene Snell (Lisa Emery) abruptly murders Kerry Stone's driver, she orders Ruth and Wyatt to bury his corpse. Specifically, Darlene suggests a location on her property called Long Meadow. Though Ruth and Wyatt certainly make ample use of shovels, they also don't seem especially eager to erect a stone in the man's honor.
It's difficult to tell exactly what appears in the third symbol, but because of the relevant subject matter, we can take a guess. Given the spoon and the powdery substance spilling out of the bag, we think this is a reference to the drug that nearly kills Kerry Stone (Eric Laden) in the casino. Ruth's quick reflexes end up being the only reason that Kerry survives the night. 
Lastly, many audiences will probably recognize the final symbol of the episode as the urn that contains Ben's ashes. Ruth first purchases this container in Episode 2 and it reappears a number of times, including at the end of Episode 4. Desperate for another source of opium, Marty turns to Ruth for access to Darlene's supply. As the two sit outside and discuss a proposal, Ruth peers over at the urn and clearly misses Ben.
Episode 5: Video game controllers, a pulse diagram, a honey container, and documents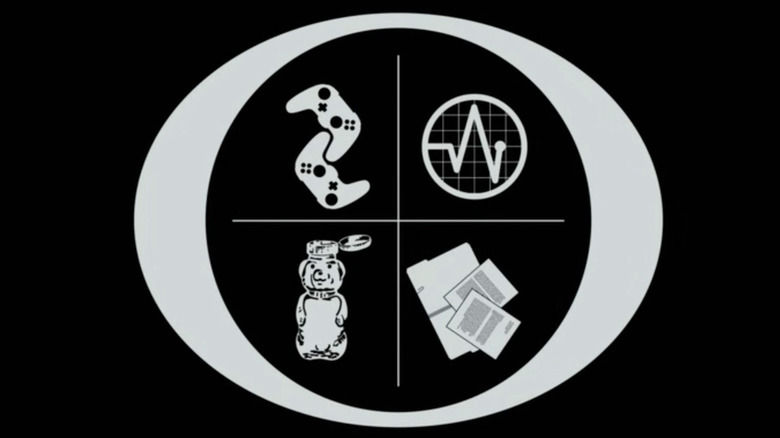 Netflix
Episode 5 ("Ellie") features an incredibly tense moment for Ruth as she attempts to negotiate a drug deal. As her "business partner" grows more impatient with her requests, he largely appears more focused on his XBox than he is on the opportunity to make an extra $100K. Eventually, he grows impatient and throws the controller on the ground. 
The pulse symbol on the upper right quadrant almost certainly references Darlene's sudden heart attack at the end of Episode 5. After a tense exchange with Wendy, Darlene falls to the ground and urges her longtime nemesis to "call a f***ing ambulance." Wendy quickly pulls out her cell phone, but then proceeds to simply watch Darlene gasp for air for several seconds. As the credits roll, Wendy begrudgingly calls 911. 
Most people will probably recognize the giant bear-shaped container as a classical jar for honey. However, only the sharpest of eagle-eyed viewers will notice this exact same container from Darlene and Wyatt's sale at the market. It would seem that the couple's joint venture performs quite well as one last-minute shopper asks for apple blossom, but is forced to settle for ginger beer.
The last symbol obviously portrays a file with important intelligence inside it. In Episode 5, Senator Randall Schafer (Bruce Davison), a new associate of Wendy's, requests information on a potential wire fraud investigation into his son. Wendy gets a file on the investigation from the FBI and successfully passes it back to Schafer, greatly pleasing him.
Episode 6: A bottle cap, cherries, coffee and creamer, and a stethoscope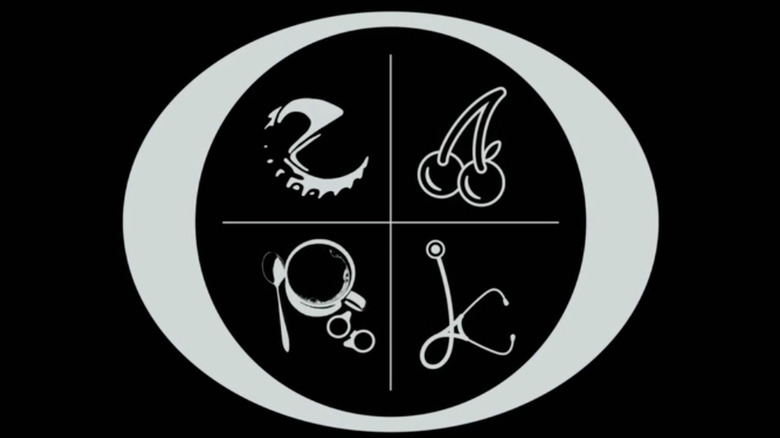 Netflix
The first symbol of Episode 6 ("Sangre Sobre Todo") is a bottle cap. All of the various members of the Langmore clan have been shown to enjoy a beer or two (or three). During a conversation with Ruth, Jonah struggles to remove a cap from a beer bottle. Ruth is amused at Jonah's struggles, but quickly helps him open the container, joking that he should "stick to money laundering."
The image of the cherries is easily the most difficult-to-understand symbol of the first seven episodes. Cherries have previously proven very important in "Ozark." In Season 2, Darlene uses cherry pits to poison her husband, Jacob (Peter Mullan). In this episode, Darlene doesn't actually poison anyone, but she references Jacob's "heart attack" during her conversation in the hospital with Wendy. It's possible there is another meaning, but this callback seems most likely. 
The third symbol includes a cup of coffee, two small containers of creamer, and a spoon. After making a needless trip to Paducah, Kentucky to identify a body the authorities suspect could be Ben's, Wendy visits with her father over coffee. The two have a difficult relationship and, sadly, this meeting does little to repair it.
The last symbol of Episode 6 references a scene just after the symbols appear onscreen. As Darlene recovers in the hospital, she is visited by Wyatt and a doctor who mistakenly assumes Wyatt is her son. Like many doctors, this doctor keeps a stethoscope close so she can easily listen to any of her various patient's heart rates. Later, when Wendy visits Darlene to taunt her, a nurse also keeps a stethoscope around her neck. 
Episode 7: A campfire, wedding rings, a sagging Christmas tree, and a woman with a rifle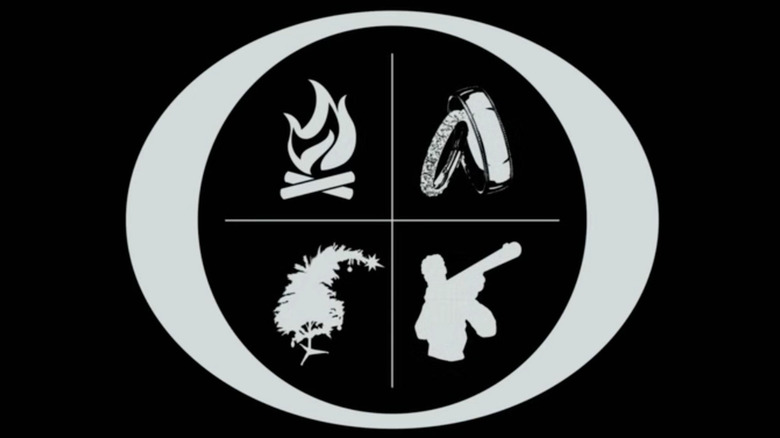 Netflix
The campfire symbol represents a stressful moment for Marty and Ruth in Episode 7 ("Sanctified"). As Marty struggles to build a deal between the FBI and Javi, he goes to Ruth with a request; Should he and Wendy not survive the night, he wants Ruth to ensure Jonah and Charlotte's safety. Ruth agrees to this request in a conversation which takes place over a small campfire.
Of course, the rings in the second quadrant represents Wyatt and Darlene's wedding, a surprising development in the series which ushers in a shocking twist at the end of the episode. Though their marriage is short, their relationship leaves a long-lasting impact on all members of the Langmore and Byrde families.
The deflated-looking Christmas tree is an obvious reference to the holiday decorations of the abandoned mall where a deal between the FBI and Navarro is negotiated. While the tree in the mall is actually significantly larger, this symbol would seem to more appropriately represent the energy (or lack thereof) of the deal's participants. After working so hard to get to this moment, Marty and Wendy are both left visibly exhausted.
Most people could be forgiven for assuming that Darlene is the woman behind the big gun in the fourth symbol. After all, Darlene utilizes a shotgun to murder numerous characters throughout the series. However, it is ultimately revealed in the final moments of the episode that the woman behind the rifle is actually Ruth, who briefly holds Marty hostage after she discovers that Javi has murdered Wyatt.
Netflix is expected to release "Ozark" Season 4, Part 2 at some point in 2022.