Ozark Season 4 Part 2 Release Date, Cast, And Plot - What We Know So Far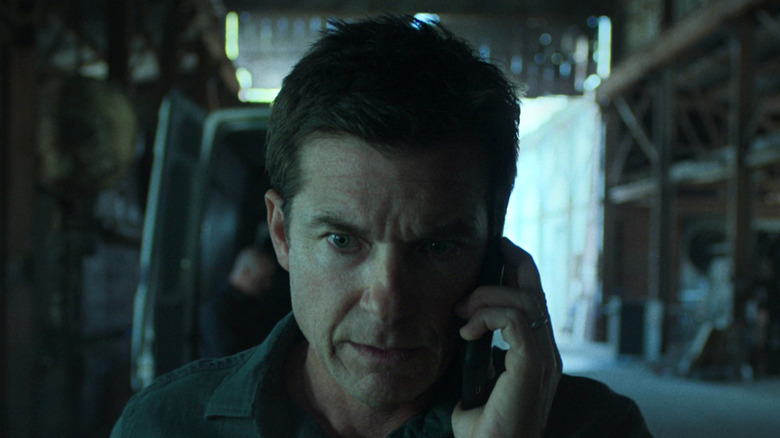 Netflix
This article contains spoilers for "Ozark" Season 4
At long last, the first seven episodes of fourth and final season of "Ozark" are available to all Netflix subscribers. Though today's release by the streaming giant certainly signifies the beginning of the end of the Byrde family's tale, it is only half of the final story. Just when Marty Byrde (Jason Bateman) thinks he's out, they pull him (and the rest of his family) back in! 
Since the series premiere in 2017, Netflix audiences have been captivated by the various schemes of the Marty and Wendy Byrde (Laura Linney) family. Forced to move to the Ozarks to launder money for the Navarro drug cartel, the family builds a criminal empire in the guise of a plethora of thriving businesses, including, but not limited to: a strip club, a funeral home, a lakeside resort, and a casino. 
The first seven hours of Season 4 feature a wide variety of twists and turns including shocking deaths, duplicitous double-crosses, and a heck of a whole lot of money laundering. While it's far from clear how this story is going to end, we've been able to piece together a few things we already know about the upcoming final entries in the series. 
When is the release date for Ozark Season 4 Part 2?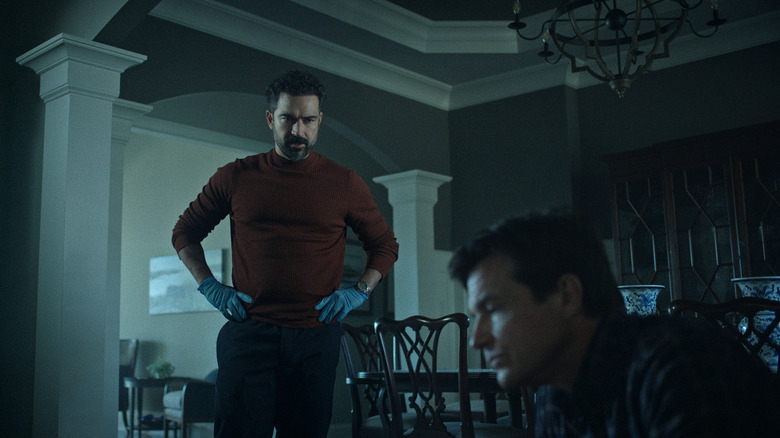 Netflix
A whole seven episodes of the fourth season in the series still remain (via The Hollywood Reporter). Season 4 is the first season of "Ozark" to be split into two parts, but fans fearing an extended half-time hiatus needn't worry too much. Instead of making us wait for the back half of the final "Ozark" season, Netflix is gearing up to drop the second set of episodes on April 29, a mere three months after Part 1 aired.
"Ozark" premiered its first season in July of 2017 and returned for its sophomore season in August of the next year. The third season was the first in the series to move out of the summer moths, releasing on March 27, 2020. Considering "Ozark" wrapped production on Season 4 back in October 2020, it was always a possibility that we'd see an accelerated release schedule, but nobody thought we'd be watching the end of Marty Byrde's journey as early as April. Netflix definitely deserves a big pat on the back for this one.
Who is in Ozark Season 4, Part 2?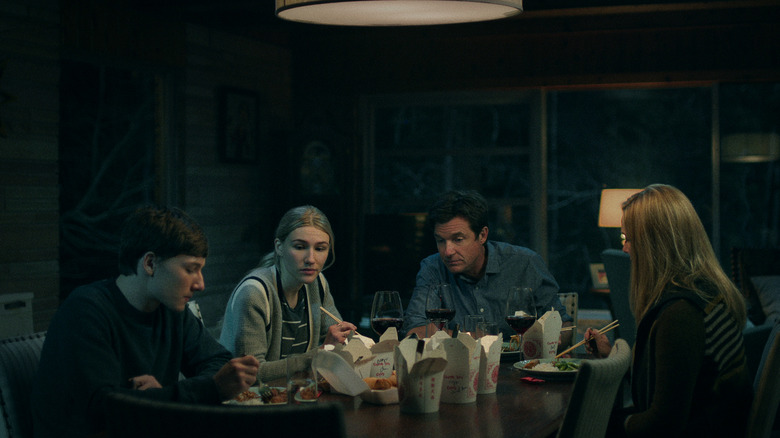 Netflix
The second half of "Ozark" Season 4 is expected to feature all of the regular cast members from the first half, with the obvious exception of those who did not make it out of the first seven episodes alive. All four members of the Byrde family are expected to return, including Marty (Jason Bateman), Wendy (Laura Linney), Charlotte (Sofia Hublitz), and Jonah (Skylar Gaertner).
Following the untimely deaths of Wyatt Langmore (Charlie Tahan) and Darlene Snell-Langmore (Lisa Emery) in Season 4, Episode 7 ("Sanctified"), Ruth Langmore (Julia Garner) will sadly be one of the last members of her clan left standing. Garner has won praise for her portrayal of the troubled young woman, earning two consecutive Primetime Emmy Awards for Outstanding Supporting Actress in a Drama Series. We also think it's safe to say that Wyatt's younger brother, Three (Carson Holmes), will make an appearance at some point in the final seven episodes.
It's unclear if Omar Navarro (Felix Solis) or Special Agent Maya Miller (Jessica Frances Dukes) will reappear given the former's arrest by the latter in the mid-season finale, but even if they don't return, plenty of emissaries of the FBI and Navarro cartel remain. Additional characters we expect to see back in the final seven episodes of the series include Javi Elizonndro (Alfonso Herrera), Mel Sattem (Adam Rothenberg), Senator Randall Schafer (Bruce Davison), Jim Rattelsdorf (Damian Young), Sam Dermody (Kevin L. Johnson), Hannah Clay (Tess Malis Kincaid), and an unnamed, high-ranking FBI Agent portrayed by Glenn Morshower. We also wouldn't be shocked to see Richard Thomas return once more as Wendy's father, Nathan Davis.
What is the plot of Ozark Season 4 Part 2?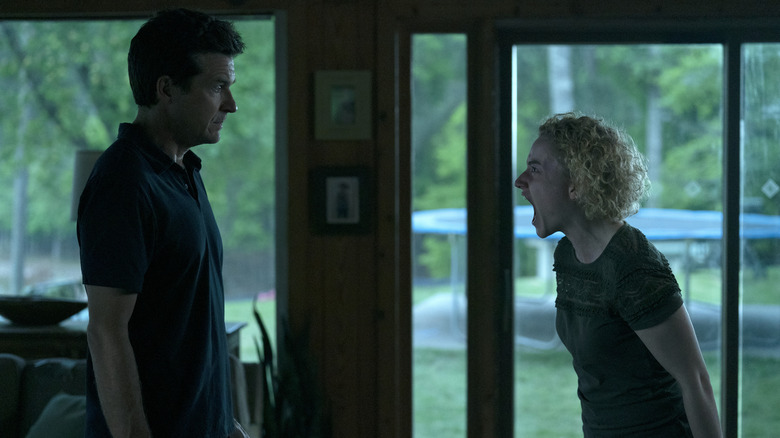 Steve Dietl/Netflix
The final seven episodes of "Ozark" have a lot hanging on the line for the Byrde family. While the FBI's deal with Javi would seem to be working for them at the moment, a closer inspection would probably reveal that the deal is only hanging on by a thread. 
Ruth has never been more distant from Marty than she is after Javi murders Wyatt in the mid-season finale. After she finds Wyatt and Darlene's bodies, Ruth holds Marty at gunpoint and demands that he tell her who killed them. Marty and Wendy refuse to tell her, but Jonah quickly outs his parents' boss as a murderer. In the final scene of the episode, Ruth promises to kill Javi and screams, "If you want to stop me, you're gonna have to f***ing kill me!" While Ruth and Marty have tussled in the past, this seems like a definitive breaking point for the two.
Wendy and Marty are also going to have to deal with Jonah's continued rebelliousness. The young money launderer has previously shown that he is more loyal to Ruth than his own parents, something that seems to bother Wendy even more than Marty. We also expect plenty of political machinations by Wendy via Senator Schafer and the family lawyer, Jim Rattelsdorf. Since the beginning of Season 4, Wendy has led the Byrde Foundation as a means of growing the family's wealth, power, and influence.
At some point, "Ozark" will also have to catch up to the Season 4 opening scene which shows a disastrous car crash involving all four members of the Byrde family. Do you really think they're all going to make it out alive?
Will Mel discover Helen's whereabouts?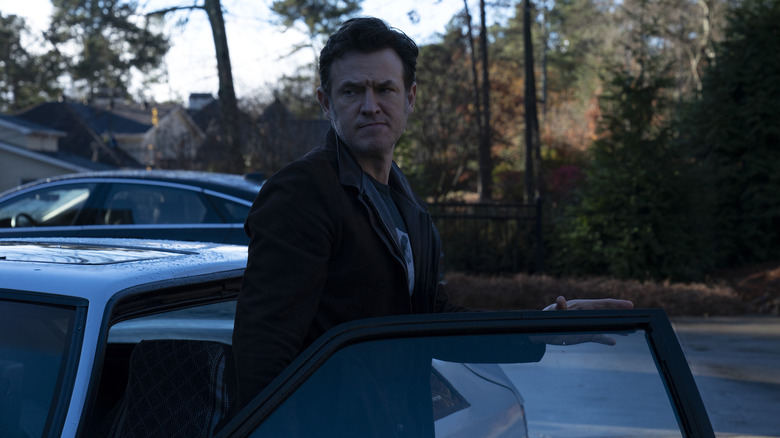 Steve Dietl/Netflix
Mel Sattem (Adam Rothenberg) is, by all accounts, relentless –– yet somehow stays calm, cool, and collected in the process. The former cop turned private investigator will stop at nothing to track down Helen Pierce (Janet McTeer) as he was hired by her separated husband to discover her whereabouts. As a refresher, Helen was the Navarro cartel's attorney and she got caught up in the crime-infested crosshairs when Omar decided to have her killed, allowing the Byrde family to live. All the same, Mel continuously talks to anyone who will hear him out as he presumably just needs to know where Helen is, or if she's alive or dead.
Perhaps intriguing of all is Mel talking to Maya, which may or may not foreshadow an alliance between the two. Though Mel is only searching for a signature so he can get paid, he may or may not have stumbled onto more pertinent information that Maya would likely eat up — especially since she's gone rogue by having Omar arrested. Though it would be ideal to see the Byrde family make it out alive, they have dug themselves a plethora of holes throughout "Ozark," and it's seemingly only a matter of time before they get caught for one of their many crimes. Yet fans will have to wait and see if Mel will receive his signature, or even worse, play a role in sinking the Byrde family.
Will Ruth seek her revenge?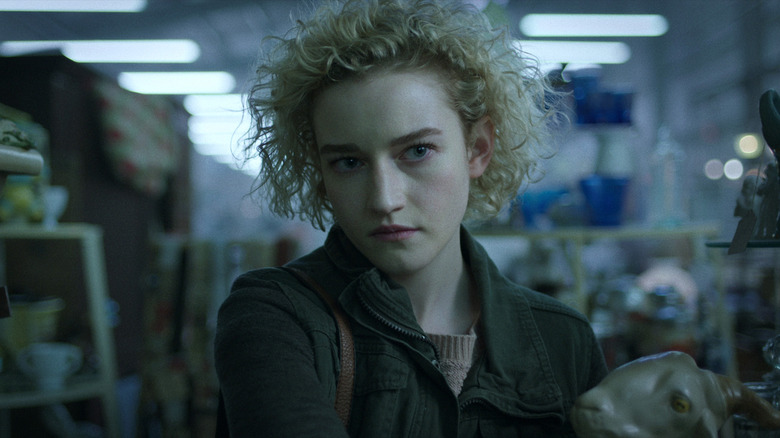 Netflix
Ruth is, for better or worse, on a rampage. She's encountered the loss of virtually all of her family members –– and the death of Dwight is her breaking point. After all, she threatened the Byrdes with a gun, and viewers last see her on the verge of seeking revenge. Though Javi is vicious, ill-tempered, and seemingly thinks he's untouchable, audience members have come to discover that you don't mess with Ruth Langmore –– and a showdown between the two would be oh-so-sweet, assuming Ruth comes out on top.
If she did, however, actually pull off her revenge, chaos and madness would likely ensue. First and foremost, killing the head of the cartel is typically "frowned upon." Secondly, the Byrde family has a deal with the FBI, which could be jeopardized if Javi were to go down. At that point, would the FBI have any reason not to take Marty and Wendy down with him? Ruth may have been a trusted ally at one point, but Marty and Wendy likely don't want their deal to collapse, despite Javi being arguably the most savage enemy of the Byrde family to date. Only time will tell if Ruth gets her revenge.
Will the Byrdes unite in the end?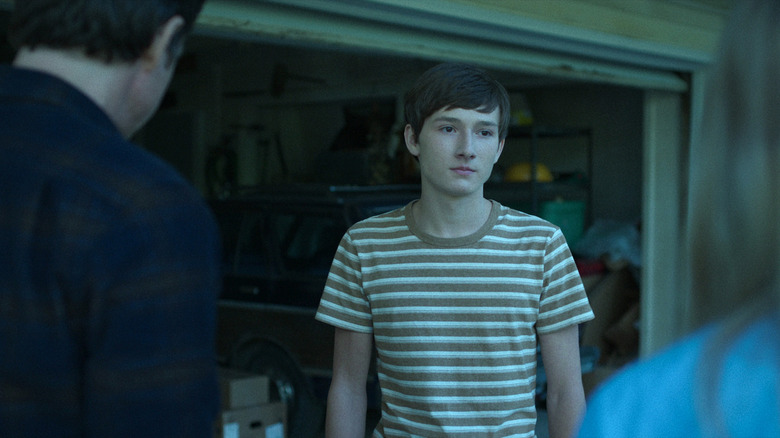 Netflix
This family's tensions aren't due to everyday elements –– Wendy and Jonah aren't at odds because Wendy won't let Jonah, say, extend his curfew. Life-altering mistakes have been made, trust has been tinkered with, and people have died.
Jonah has rightfully been rebellious in Season 4 –– and he wants nothing to do with his mother, to boot, since he believes he had his uncle killed. Wendy didn't make matters better when she tried to have Jonah arrested, but Marty luckily was able to put out that familial fire. Surely, Jonah giving up Javi's name to Ruth won't sit well with the family. Although Charlotte seems to be all-in on the family business, this has only further pushed Jonah away. Wendy might be more concerned with her political ambitions right now, but her family has seemingly witnessed unrepairable damage. 
One thing is for sure: No one appears to be safe. The car crash at the beginning of Season 4 looked fatal. It's largely speculation at this but, but it would be a shame if the Byrdes finally reunited, just for one of them to be taken out by that crash.
What the cast is saying: Laura Linney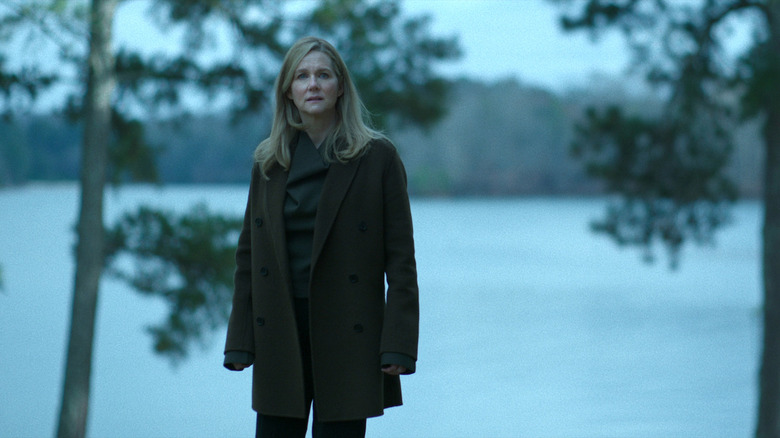 Netflix
Wendy has had quite the character arc. She is willing to do anything to survive, even if it leads to someone's demise. Yet, through it all, Wendy has settled into her role and is even planning quite the future, as she now wants to become a successful politician while building the Byrde Foundation. Reminder: This is happening while the family is being closely monitored by the FBI, cartel, and ... everyone, really. While this madness is ensuing on the screen, it's always interesting to see what the actors are saying when the cameras aren't rolling.
In a 2022 Elle interview, Linney was asked if her character, Wendy, still loved Marty, and if she thought her family would survive. "Yes, she does love Marty," Linney said. "She does love Marty. I think their relationship goes through many different incarnations, and they are bound to each other, and they're sort of all they have. They just have each other, really. And I think Wendy feels that way. Very much like Wendy, I believe in that family, as messed up as they are. As an actress, I root for the family. As an actress, I root for that marriage, whether it survives or not, whether the family stays together or not, I root for them."
Though Linney's words don't guarantee Marty and Wendy will make it out alive, we, too, are rooting for the Byrde family.
What the cast is saying: Sofia Hublitz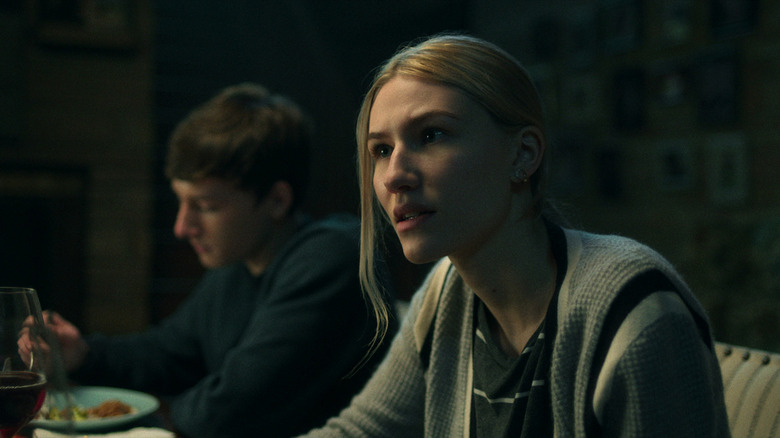 Netflix
Charlotte is apparently all-in on her family's business. She's even reconsidering going to college –– after all, why should she go when her family already has a spot for her in their company? Nonetheless, we're all wondering how her change of mind will play into the final seven episodes of the series.
Though actor Sophia Hublitz, who plays Charlotte, doesn't give too much away, she does say something utterly intriguing in a 2022 Elle interview regarding the Byrde family's ending. "It's a different experience for me because it is my first major role," Hublitz noted, describing what it was like to wrap up the series. "When we wrapped, we wrapped our final scene together as a family — I won't say what it was, obviously — the scene that we filmed together was a scene as a family. That was my last scene. It was Wendy's last scene."
It's still largely speculative, but the fact that the actors filmed their final scene together could mean they were together in the end.
What the cast is saying: Jason Bateman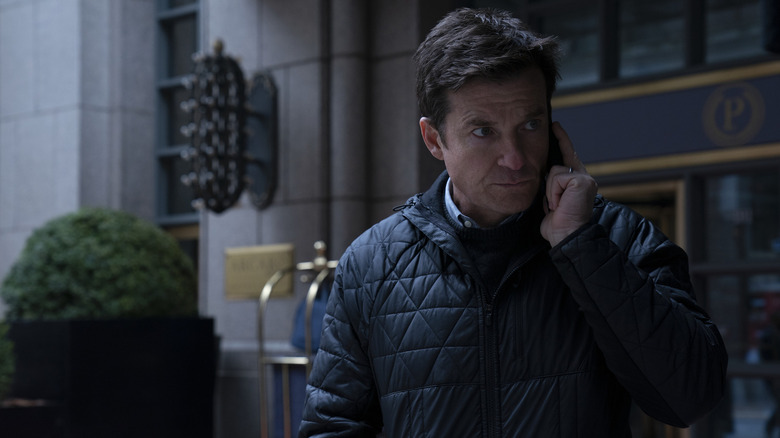 Steve Dietl/Netflix
It's not entirely Marty's fault that his family is working for the cartel, but, one way or another, he got them into this mess. For four seasons, he has been trying to make what he believes are the best decisions to keep his family alive. Needless to say, it's been a rip-roaring rollercoaster –– and we all want to know if the regarded series can stick the landing.
"I do know where everything is going to end," Bateman said in a 2020 IndieWire interview. He described a conversation with showrunner Chris Mundy. "I was interested in the big question he has the opportunity to answer: Are they going to get away with it, or are they going to pay a bill? What does he want to message to the audience about the consequences of what the Byrdes have done -– or lack thereof?" Viewers have similar questions, as it seems unlikely that this family will receive a happily-ever-after.
Bateman continued: "We had some great conversations about that, and he's got really good ideas about that. Specifically, what kind of happens at the end of the last episode: I know, and it's great."
If Bateman believes the ending is "great," then we'll take his word for it. The countdown to the end is on.
What showrunner Chris Mundy is saying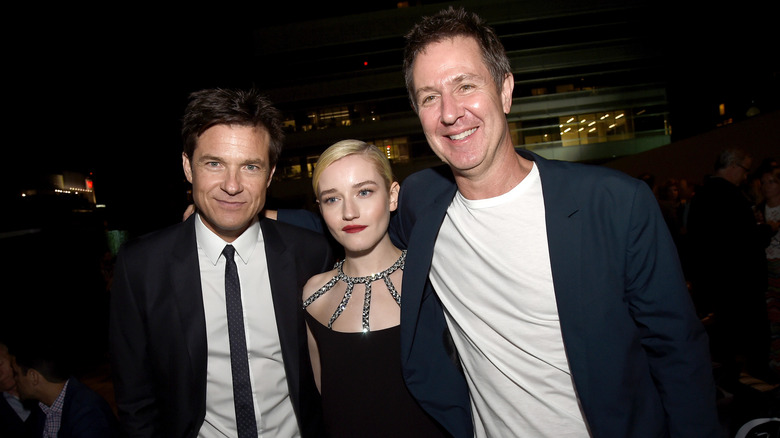 Kevin Winter/Getty Images
In a 2022 interview with The Hollywood Reporter, showrunner Chris Mundy teased what's to come in the final batch of episodes.
"I always want closure," Mundy said when asked about the tone of the ending, as well as closure for audiences. "I don't want to feel messed with. I want to feel like, 'OK, that was the end.' So hopefully people will feel closure by the end — whether they like it or not, I don't know. In terms of tone, we're going deeper into the family and their bonds. Is family the ultimate bond? Is friendship? Is marriage? At what point is it almost unhealthy to stay, even if you love somebody? We're going to delve into that with Marty and Wendy. Hopefully, the back half will still be fun and exciting, but also really emotional for the Byrdes and Ruth."
Mundy is careful not to give too much away, but, it's intriguing that he wants "Ozark" to have closure. This is a blessing when considering other iconic crime drama finales, such as "The Sopranos" ending on a cliffhanger. "Ozark" viewers surely don't want an anticlimactic series finale that leaves more questions than answers.
Is there a trailer for Ozark Season 4 Part 2?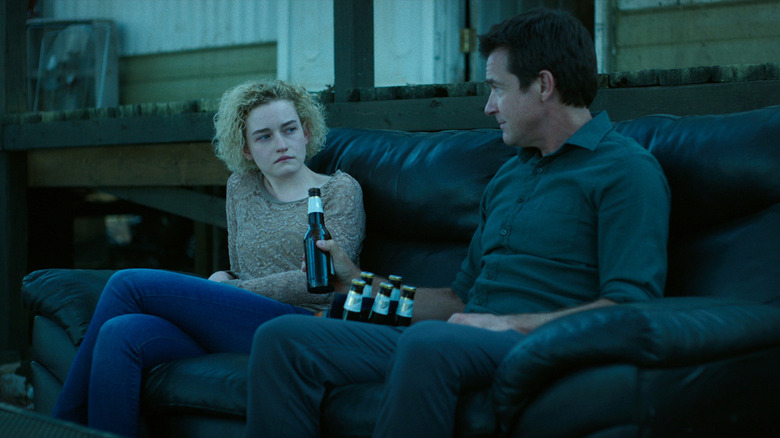 Netflix
Thankfully, Netflix has already released a teaser trailer for "Ozark" Season 4, Part 2, which mostly features a distressed Ruth who's on the verge of blowing everything up. It also touches events that plagued the Byrdes and Langmores on Season 4, Part 1.
"My childhood traumas are not like yours," Ruth says in the trailer. "You see, I'm a cursed Langmore." If this is any indication, Ruth will likely seek vengeance. It remains to be seen what's in store for Marty and his family, but it would be a miracle if everyone made it out alive. Not everyone tends to survive on a crime drama, even though each character is the hero of their own story and typically sympathetic in some way. The reign of the Byrdes and Langmores is coming to a conclusion, starting with the final batch of episodes on April 29.