Timothy Olyphant's Best TV And Movie Roles To Date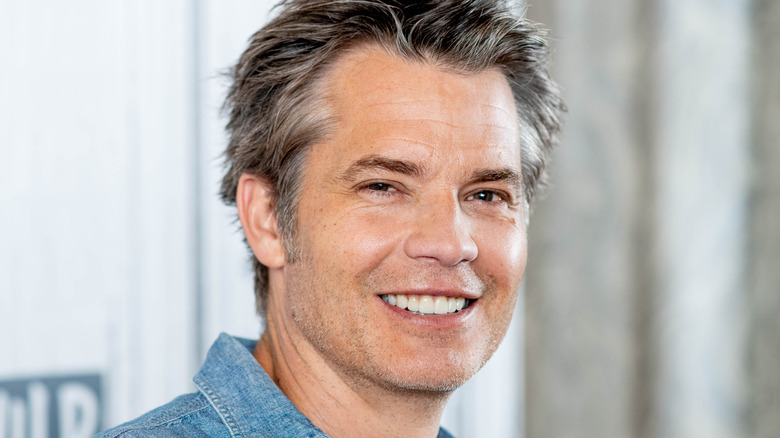 Roy Rochlin/Getty Images
Starting out in small roles in bigger movies, actor Timothy Olyphant has become one of TV's brightest stars. More than 25 years after he played "Scooby" in the pilot episode of the failed TV series "Mr. & Mrs. Smith," Olyphant has become one of television's greatest cowboys, appearing in a number of hit series and a few criminally underrated movies and TV shows. However, before he made his mark in the epic FX neo-Western "Justified," he could be found in some memorable Hollywood films and popular television series in a variety of important roles. 
Still, those used to seeing him in a lead role may be surprised to learn that — despite oozing with the kind charisma shown by only the best leading men — he's often played supporting parts, happy to cede the spotlight to blend into an ensemble or perform in a secondary role. When given the reigns of his own films and series, however, he's never failed to dazzle audiences with a mix of swagger, fierceness, and charm. Closely identified with a few popular roles, you may only know him from one of his biggest. But which roles are Olyphant's best? From a sci-fi gunslinger to an offbeat wacko — from lawmen to lowlifes — we've put together a list of his best roles from film and television.
Todd Gaines (Go)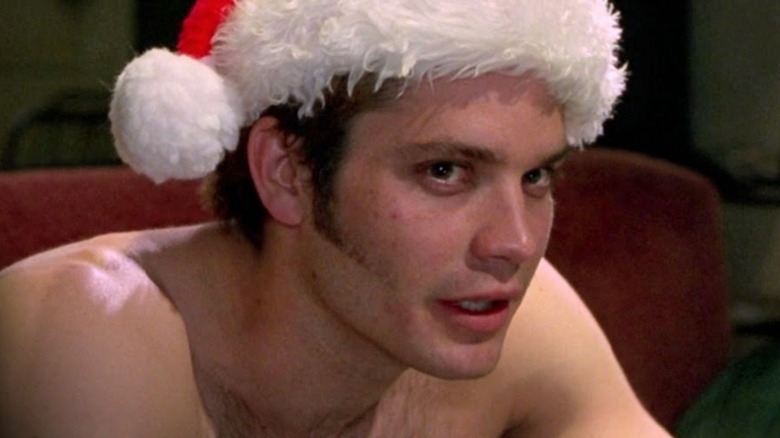 Sony Pictures Releasing
Even into the late '90s Hollywood still hadn't given up on its obsession with Quentin Tarantino's iconic 1994 film "Pulp Fiction," even though the writer and director himself had moved on to the likes of "From Dusk Till Dawn" and "Jackie Brown." The 1999 film "Go" — starring Sarah Polley, Jay Mohr, Taye Diggs, Scott Wolf, and Katie Holmes — paid homage to the fast-paced, stylish comedy crime drama with a story of a drug deal gone wrong and the havoc that ensued, all told from a variety of different perspectives. Timothy Olyphant starred in the film as Todd Gaines, the drug dealer who supplied the story's catalyst.
We'll spare you the details of the plot so as not to spoil what proves to be a surprisingly fun movie, but rest assured that Olyphant is his usual acerbic self, with The New York Times saying the actor played the role with "offbeat flair." It was not his best or even his biggest role, but it was one of the better performances in the first part of Olyphant's career, and it came in a good movie, too. In many ways "Go" was a quirky action-comedy that perfectly encapsulated late '90s cinema in all the best ways.
Thomas Gabriel (Live Free or Die Hard)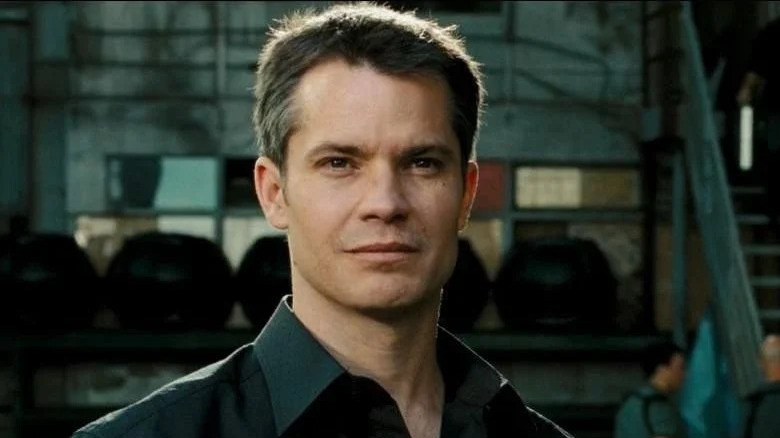 20th Century Fox
The "Die Hard" sequel "Live Free Or Die Hard" landed in theaters in 2007, nearly a decade and a half after the previous film, and was based on a 1997 article in Wired magazine that proposed a techno-villain of the future, according to The New York Times. Starring opposite Bruce Willis' overworked everyman hero John McClane was Timothy Olyphant as a newly emerged cyber-terrorist named Thomas Gabriel who plans to hack into government computers in the hopes of disrupting the nation's infrastructure and causing global chaos. In typical "Die Hard" fashion, the only thing standing between the diabolical criminal mastermind and his sinister goals was McClane. Despite being a decade too late, "Live Free Or Die Hard" was a surprisingly effective action thriller, and Olyphant was a delight as the villainous techno terrorist.
Gabriel is more than a one-note baddie out for cash. His past as an ex-government computer consultant wronged by the system gives him a unique motivation and backstory that helps set him apart from the likes of Alan Rickman and Jeremy Irons. A different kind of criminal, Olyphant's role as a smarter, white-collar terrorist helps make the movie what it is — a fast, fun action film that pays homage to the franchise's late '80s roots.
Dick (High Life)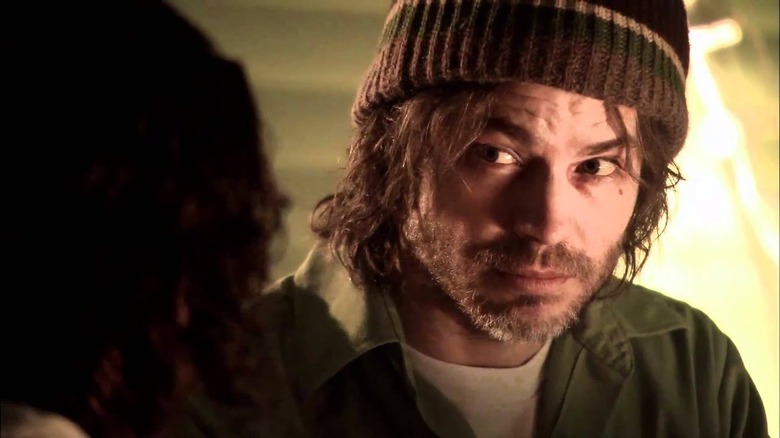 Union Pictures
You might not recognize Timothy Olyphant beneath a shaggy wig and drab, ill-fitting clothing, but as an unemployed ex-con and drug addict circa 1983, it totally works. In one of the rare times where Olyphant plays the lead in a big-screen feature, the actor takes on the part of Dick, a perpetually down-on-his-luck hospital janitor who gets an unexpected visitor from a former cellmate called Bug that promptly gets him fired. Out of desperation, Dick reluctantly joins Bug and his crew in robbing banks — or rather, the new technology called ATMs — but their hapless ways make them more bumbling burglars than the slick con men they think they are.
Full of '80s pop culture references and zippy dialogue, it — like "Go" — is a Tarantino-esque heist movie with an ensemble of quirky, offbeat characters, and Olyphant is right at the center of it. A Canadian production that got little distribution, it remains one of Olyphant's lesser-known films but is nevertheless highly rated and well-reviewed, with the Toronto Star praising it as a "darkly sardonic" take on the desperation of the downtrodden.
Mickey Altieri (Scream 2)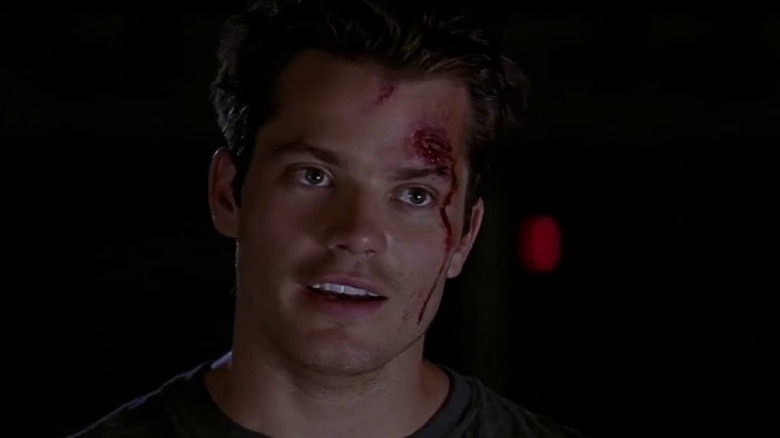 Dimension Films
Very much an unknown actor in 1997 when he filmed his part in "Scream 2," Olyphant would look back in 2015 and call the role "a gift," while speaking with Variety, saying, "I had virtually nothing on my resume at that point. I'm sure some of it was made up. That was a leap of faith they all took. I'm very appreciative of them being willing to take that risk." But it paid off, and his part in the film is among the best of the ensemble — the second-best of the "Scream" franchise according to online aggregators like Metacritic – and Timothy Olyphant plays a key role as Mickey Altieri, best friend of Jerry O'Connell's Derek Feldman. 
We won't give away too much of the plot because your enjoyment will depend greatly on not knowing what's coming, particularly when it comes to his character Mickey. An obsessed horror fan, he loves the classic slasher movies, which plays well in the meta "Scream" films that are known for their self-referential nature. Famously, Mickey's parts in the film were heavily altered after the screenplay was leaked online before production had wrapped, as director Wes Craven explained to Entertainment Weekly. Without the crucial changes made, particularly to Mickey's fate, there's no telling if Olyphant would have been as memorable in the "Scream" series. 
Danny Cordray (The Office)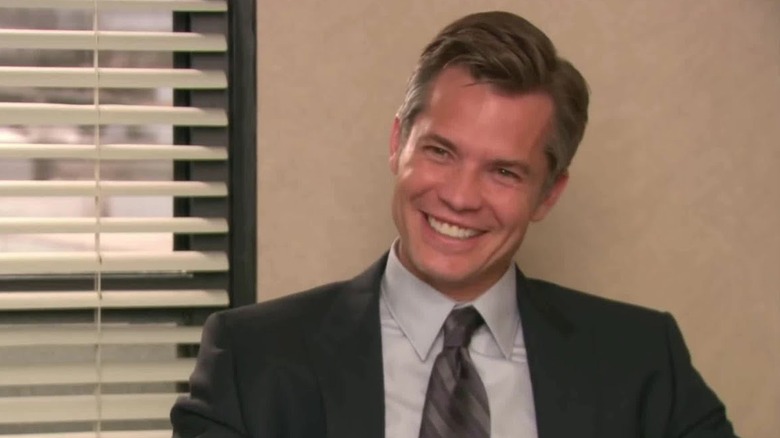 NBCUniversal Television Distribution
Just after his debut as southern lawman Raylan Givens in "Justified," Timothy Olyphant would take a comedic detour and fill the role of Danny Cordray on the hit NBC sitcom "The Office" in 2010. Corday is a well-known and highly successful traveling paper salesman from Osprey Paper, Dunder Mifflin's rival located in nearby Throop, Pennsylvania, and has a romantic history with Pam. Despite being a smaller firm, Osprey always seems to have an edge over Dunder Mifflin, and Corday is the reason why. Appearing in a pair of memorable episodes, he becomes the subject of the episode "The Sting" when Michael, Dwight, and Jim attempt to discover — and steal — his sales secrets. When that fails, they simply hire him, leading to one of the best brief storylines in the later seasons of the series.
As Cordray, Olyphant is involved in an awkward love triangle of sorts, constantly on his back foot to explain why he broke things off with Pam. He becomes the object of Meredith's obsessed affection, and as usual, Dwight is intent on exposing him as something more than meets the eye. Like many major guest stars that came and went through Dunder Mifflin's doors, such as Idris Elba, Amy Adams, and Evan Peters, Olyphant shakes things up and gives audiences a character they wish they could have seen more of.
Wes Krulik (Damages)
Sony Pictures Television/Youtube
A few years after his career-altering role in HBO's modern Western "Deadwood," Timothy Olyphant would join the cast of the hit FX legal thriller and crime drama "Damages" in its second season. Appearing alongside Glenn Close and Rose Byrne, Olyphant starred as Wes Krulik, a shadowy loner who becomes associated with star Ellen Parsons (Byrne). After meeting her in grief counseling, sparks immediately fly between the pair, but Krulik's mysterious past makes him an untrustworthy sort, and despite her attraction, Ellen knows he could be trouble. It soon becomes clear that Krulik has secrets and connections to criminal elements that make him dangerous.
Appearing in nine episodes of the 2009 season, Olyphant gives another compelling performance as the enigmatic Krulik, complete with the signature charisma only he can deliver. An irresistible question mark of a character, he proved a highlight of the second season and helped liven up an already well-reviewed series. After the season wrapped, however, the actor would take a leading role in a new crime drama for FX. While producers insisted he could return to "Damages," via Business Insider, he departed to star in "Justified" the following year — though he did return for one more episode, popping up in the third season.
Dick Wickware (Fargo)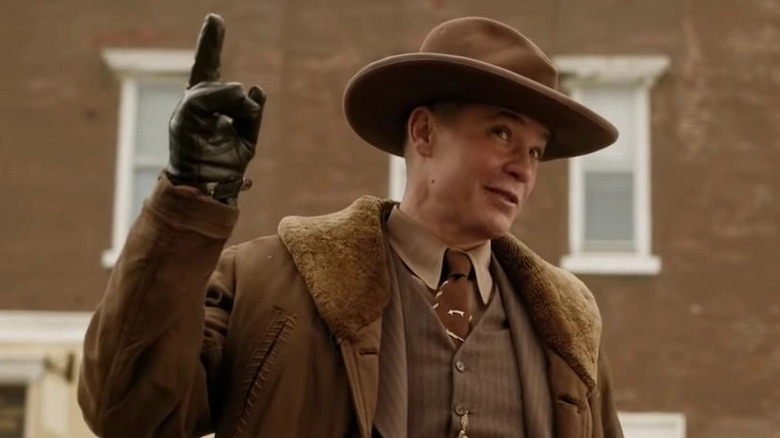 FX
Another FX crime drama, and another offbeat comedy, "Fargo" was spun off from the hit 1996 Coen Brothers film of the same name. Not a reboot, but a unique kind of sequel, the 2014 first season proved a hit with critics on Rotten Tomatoes and received a slew of award nominations. Subsequent seasons would jump around in time and feature a rotating cast of stars that included Kirsten Dunst, Patrick Wilson, Ewan McGregor, and Chris Rock. Set in the 1940s, the fourth season of "Fargo" would move the proceedings from Minnesota to Kansas City, and feature Timothy Olyphant in the recurring role of U.S. Marshal Dicky Wickware. Though a typecast part for sure, Olyphant once again brings his usual panache to the role, as a dry-witted but determined lawman who comes to town to track down a pair of fugitives. 
Some critics knocked the part for simply being "Justified/Deadwood fan fic" (via Hollywood Reporter) but there's no denying that he's once again giving audiences exactly what they want to see from him with a cocksure, brash U.S. Marshal. Fans of his former roles will not be disappointed if they tuned into to see Olyphant, whose Wickware is slightly set apart from his other famous gunslingers for being a carrot-chomping, criminal-hunting Mormon in a leather coat who is as comfortable as ever in a wide-brimmed hat.
James Stacy (Once Upon a Time in Hollywood)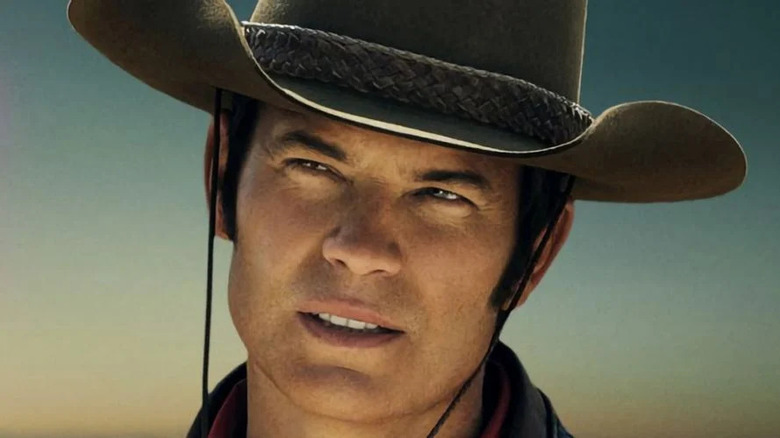 Sony Pictures Releasing
Having already performed in a pair of films that took influence from the works of Quentin Tarantino, Timothy Olyphant finally got a chance to work with the director himself when he starred alongside Brad Pitt and Leonardo DiCaprio in "Once Upon a Time in Hollywood." The director of "Pulp Fiction" was already a fan of author Elmore Leonard, and a self-professed fan of the long-running Elmore Leonard-inspired series "Justified" (via Vanity Fair). In fact, Tarantino had already plucked one if its stars for his film when he cast Walton Goggins in "The Hateful Eight." 
In 2019 it was Olyphant's turn, and in the award-winning film the actor played James Stacy, a real-life small screen actor on a popular Western series. It's not a big role, but it's definitely a fun one, as Olyphant once again channels his inner Raylan, with a bit of himself perhaps, as the Hollywood star who plays a famous rough-riding gunslinger. In real life, actor James Stacy was the star of the short-lived TV Western "Lancer," who in 1973 was in a horrific motorcycle accident, per Variety, that required the amputation of his left arm and leg. In Olyphant's final scene in the film, he rides off on his motorcycle in a bit of dark comedic irony.
Timothy Olyphant (The Grinder)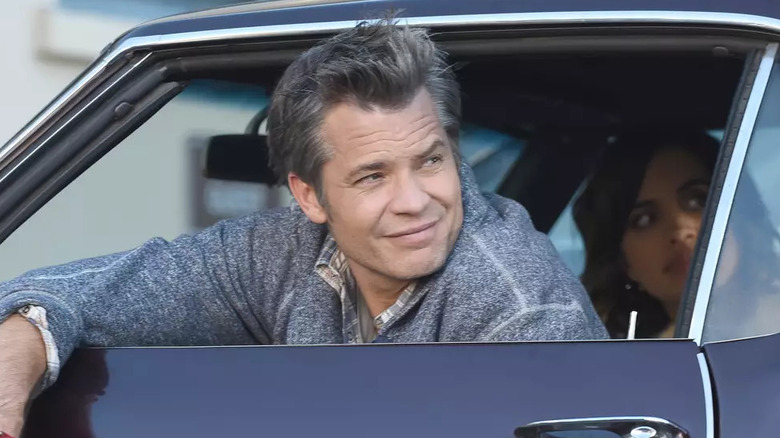 Fox
One of Timothy Olyphant's best roles just might be himself. In the little-seen and short-lived legal comedy "The Grinder," the actor starred as a fictionalized version of himself who starts dating series star Claire (Natalie Morales). Appearing in four episodes of the single-season series that starred Rob Lowe, a one-time star actor named Dean Sanderson who played a lawyer on a popular long-running series called "The Grinder." However, after that series-within-a-series ends, Sanderson goes back to his hometown to join his family's law practice. 
In his recurring role, Timothy Olyphant plays Timothy Olyphant, who starts as a friend and becomes a rival to actor-turned-lawyer Sanderson and proves to be a standout. Vox called the series "the year's funniest new show," crediting the actor's recurring part and praising his "underexploited gift for goofball comedy." Fictional Olyphant beats out Sanderson for the coveted starring role in the spin-off of his old show, and dare we say we'd love to see that fictional series become a reality because if he's half as good in that as he is as himself, it would be a treat. Despite some mediocre reviews, most — like AV Club — agreed that episodes featuring Timothy Olyphant made up for its weaknesses.
Cobb Vanth (The Mandalorian)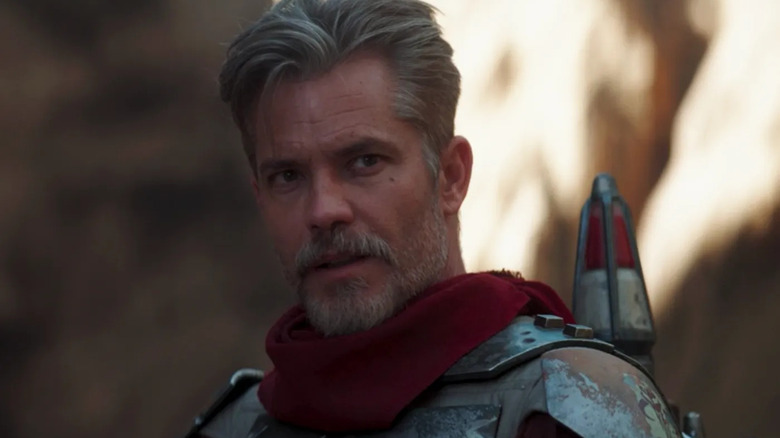 Disney Platform Distribution
Sometimes it's typecasting, others times it's just Hollywood casting the perfect man for the part. In Disney's "Mandalorian" streaming series, Olyphant would play yet another marshal, the fourth on this list. However, instead of a U.S. Marshall, Olyphant plays a sci-fi gunslinger and outer space lawman on Luke Skywalker's home planet of Tattooine. The series, a sci-fi Western based around a mysterious outlaw and bounty hunter named Din Djarin, featured Olyphant in a second season episode titled "The Marshal." Olyphant is Cobb Vanth, sheriff and leader of Mos Pelgo, tasked with its protection. He also happens to be the new owner of armor that once belonged to famed and feared bounty hunter Boba Fett. 
When the titular Mandalorian comes to town looking for the armor that once belonged to Fett, Vanth offers him a deal: help him kill a nearby Krayt dragon that has been tormenting Mos Pelgo, and he'll give him the armor without a fight. As Vanth, Olyphant is essentially an outer space variant of Raylan Givens, with dialog that feels like it was stolen and repurposed from an unseen episode of "Justified." For fans of his former series, it was an eerie visit to an alternate sci-fi version of his former character. Olyphant delivered a performance with as much style and aplomb as any on this list, with the part even earning him an Emmy nomination.
Joel Hammond (Santa Clarita Diet)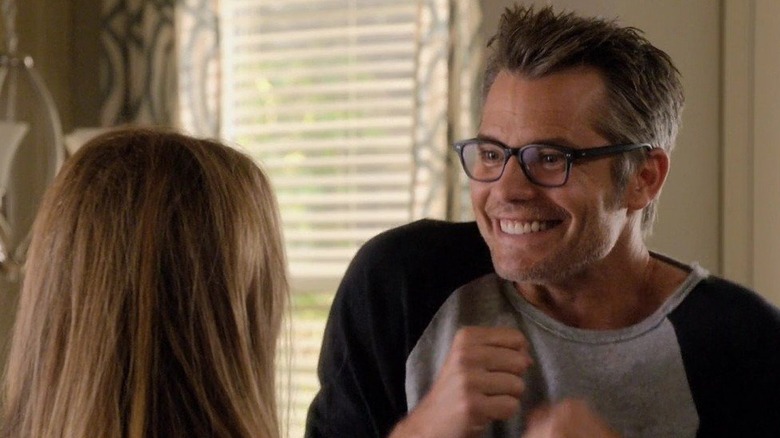 Netflix
After a run of roles playing shadowy loners, gunslingers, and marshals, Timothy Olyphant took on something different as the star of "Santa Clarita Diet." The dark horror-comedy is about Joel and Shiela Hammond, a pair of married real estate agents whose lives are thrown into chaos when Shiela begins to become a zombie. Olyphant stars as husband Joel, who must come to grips with the fact that his wife — played by Drew Barrymore — could be a member of the walking dead and deal with the aftermath of her conversion.
A Netflix original, "Santa Clarita Diet" gave Olyphant the chance to play in the comedic sandbox, and he offers a hilarious performance as a husband overwhelmed by his wife's extraordinary changes. His chemistry with co-star Barrymore is dazzling, and his usual wit and charm translate perfectly to a morbid sitcom. Essentially a high concept send-up of American suburbia and a razor-sharp satire of California culture, Olyphant brings a unique spark to the series. Despite its high quality, it received little fanfare and was sadly canceled after just three seasons, per Deadline. For fans of the actor, though, it's a can't miss, even — and perhaps especially — if you're used to seeing him with a cowboy hat and six-shooter.
Seth Bullock (Deadwood)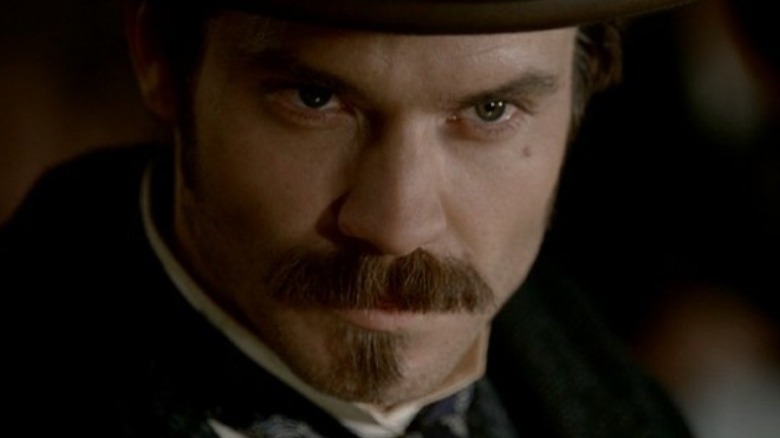 HBO
"Deadwood" was a landmark HBO series set in the real-life lawless town of Deadwood, South Dakota, and featured Timothy Olyphant as valiant do-gooder sheriff Seth Bullock in a role that would alter the trajectory of his entire career. One of the best-reviewed series' on this list, per Rotten Tomatoes, it has landed on many lists of all-time greatest Westerns, and Olyphant's part is a major reason why. For many fans of the series, Bullock — based on a real-life historical sheriff — was the highlight of the proceedings, as the reluctant lawman is forced to tangle with the worst that Deadwood has to offer, including the ruthless hustler Al Swearengen (Ian McShane).
"Deadwood" would run for three stellar seasons on HBO beginning in 2004 and set Olyphant on a course that would see him play a long list of sheriffs, marshals, and lawmen in other series'. It would bring the stale genre of period Western back to prominence, with the likes of "Hell on Wheels" following in its footsteps. Olyphant would return to the part of Seth Bullock one more time in a feature-length follow-up in 2019, where he stepped effortlessly back into the role as if he'd never left.
Raylan Givens (Justified)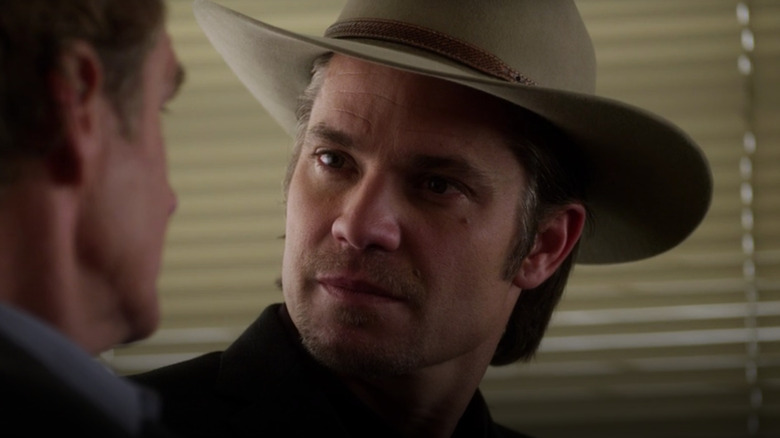 20th Television
What else can be said about Olyphant's turn as Deputy U.S. Marshal Raylan Givens on the FX drama "Justified" that hasn't already been said? For six seasons he starred as Elmore Leonard's swaggering maverick marshal, with a wink and a smile that turned him from a charismatic supporting player into one of TV's best Western leading men. So impressive was Olyphant in the role of Givens, the lawman who refuses to play by the rules, that even the author Leonard remarked that he was the best actor to play any character he'd ever created, via The Hollywood Reporter, beating out the likes of George Clooney, Paul Newman, and Christian Bale. His performance as Raylan Givens even sparked Leonard to write new stories featuring the character, including the first standalone novel to feature him as a lead, "Raylan"– which featured Olyphant on the cover.
While "Justified" would be nominated for eight Emmy Awards, the only crime is that Olyphant himself was only nominated once, and never took home the trophy. As critic after critic gave him glowing praise, the part of Raylan Givens has become his career-defining role, with which Olyphant will forever be linked.