Shows Like 1883 That Fans Of Period Westerns Need To See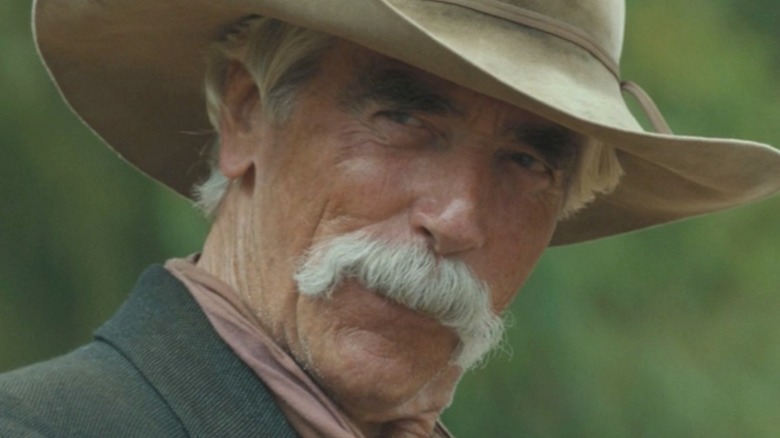 ViacomCBS Domestic Media Networks
Period Westerns seem to be gaining popularity in recent years, with hits like "Hell on Wheels" on TV and films like 2021's "The Harder They Fall" being the talk of the town. But what was once filled with rousing fun and carefree adventure — heroic cowboys and dastardly outlaws — has become a genre filled with dark dramas, somber stories, and epic tales of survival as pioneers fight the rigors of exploring American's new frontiers.
Neo-Westerns like "Justified" — classic stories of gunslingers set in the modern day — are also gaining popularity. One of the hottest on the air is Taylor Sheridan's "Yellowstone," the story of the Dutton family's struggle to keep their sprawling Montana ranch from being taken from them. The Duttons face off against everyone from corrupt corporate raiders to biker gangs and cattle thieves. But the show's first spin-off, "1883," sends audiences back in time nearly 150 years to the earliest days of the Dutton family, as their ancestors James and Margaret make their way north to found the family ranch. With its first season underway, you may have only just discovered how thrilling a good period Western can be, or maybe you're looking to dive back in after some time away from the genre. 
Here's our list of Westerns you need to see if you're enjoying "1883."
The Son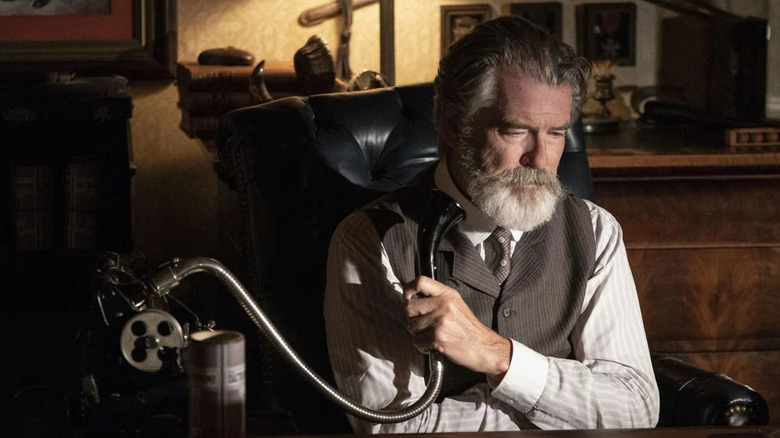 AMC
Created, written, and produced by Philipp Meyer — the author of the book on which the series is based — "The Son" features former James Bond star Pierce Brosnan as Eli McCullough, a powerful cattle baron with a complicated past. Set in two different eras of the Wild West — one in its prime, and the other as it was drawing to a close — the series' two seasons shift between 1849 and 1915. The two parallel stories jump back and forth between Eli's tumultuous youth and his mean-spirited adulthood.
In the mid-1800s we follow the younger version of McCullough and his harrowing experience being abducted by the Comanche and forced to live among them. The trauma of his early life shapes who Eli becomes, and gives context to the story that unfolds in 1915. As an older, bitter tycoon, McCullough's business begins to struggle and he explores the new booming oil business, creating problems between him and his two adult sons. But in a time when the country is in great upheaval — undergoing a shift from the Wild West to the modern era — the fight to save his way of life will not be an easy one.
If you like your Westerns with complicated cowboys and frontier stories, where even the heroes are monsters, "The Son" will satisfy.
Hell on Wheels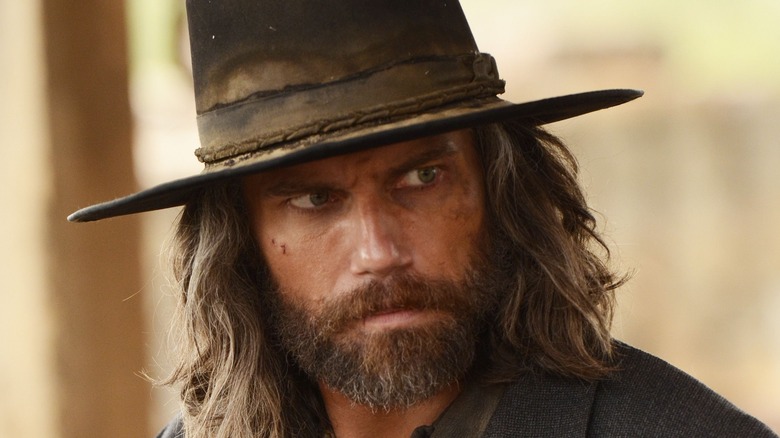 AMC
"Hell on Wheels" is a Western heavily inspired by the true story of the mobile town that followed construction of the Union Pacific railroad westward towards California. The series was led by actor Anson Mount as fictional hero and ex-Confederate soldier Cullen Bohannon, along with rapper-actor Common as Elam Ferguson, a former slave who makes a new life as a railroad man following the Civil War. But around them are many true-to-life events and historical figures that include Colm Meaney as Thomas Durant, a doctor and financier and the man in charge of the railroad. Other figures like Ulysses S. Grant, Brigham Young, and famed mail carrier Mary Fields also make notable appearances.
More than a dramatization of historical events, "Hell on Wheels" is a Western drama about a Southern soldier who quickly rises through the ranks to become an important figure in the building of the Trans-Continental railroad. Alongside Ferguson and other allies, which include a pair of wayward Irish immigrants and an East Coast reporter, Bohannon helps bring order to the chaotic "Hell on Wheels" town. Over the course of the show's stellar five seasons, the former Confederate deals with Durant's corrupt schemes, ruthless outlaws, competition from other railroads, and in classic Western fashion a dastardly villain, in this case a mysterious figure called "The Swede" who wants him dead.
Godless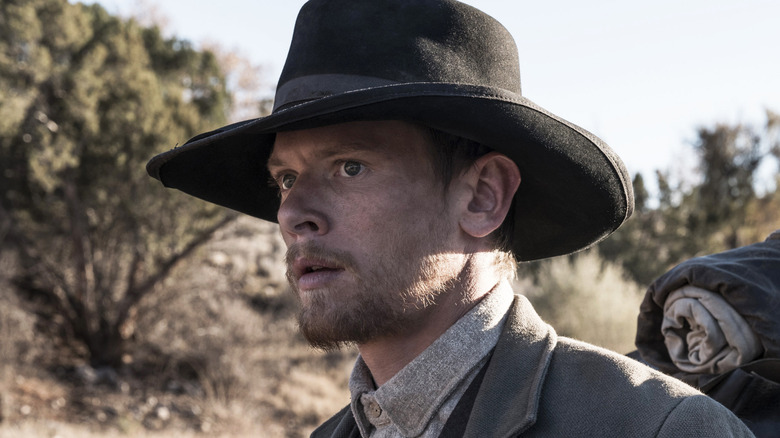 Netflix
Debuting on Netflix at the tail end of 2017, "Godless" was a seven-episode miniseries that begins with the fallout from a deadly attack by ruthless outlaws, inviting the audience into a dark, subdued period Western with some serious dramatic weight. The story is set La Belle, New Mexico, a mining town where an accident has killed most of the men, leaving women to pick up the pieces. But if you're thinking this is going to be a story about sexism in the Old West, you're mistaken. Instead, "Godless" offers up a story of revenge and the unspeakable horrors of humanity, in a story filled with terrifying villains and noble heroes. 
The story follows former outlaw Roy Goode (Jack O'Connell), who's on the run from Frank Griffin (Jeff Daniels), his vengeful former boss who had raised him like a son. Griffin has been menacing the region for years, and is himself hunted by Marshal John Cook ("Law and Order" star Sam Waterston). All three gunslingers eventually converge on La Belle, a town of dire need.
Praised for its luscious cinema-level visuals, the series is full of the kinds of sweeping panoramas one could only find in a story set on America's western frontier. It received stellar reviews for its dark story and stunning cinematography, and was voted among the best new TV shows of 2017 by Vanity Fair.
Deadwood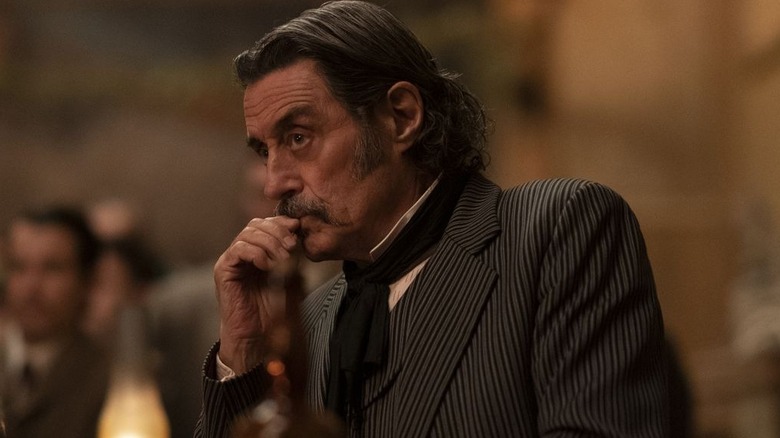 HBO
A bold, trailblazing modern Western that stands triumphantly at the top of its class, "Deadwood" may be the show that brought the genre back to popularity on the small screen. Often hailed as one of the best as well, "Deadwood" aired on HBO for three seasons starting in 2004 and has never left the public consciousness, receiving a follow-up movie in 2019 that reunited the entire roster of Wild West gunslingers, rough riders, and frontier lawmen.
Set in the 1870s, the series stars Irish import Ian McShane as local businessman Al Swearengen, a powerful real-life figure who owns the Gem Theater — a popular local saloon and brothel — and all but controls the town of Deadwood, South Dakota. A denizen of gruff gamblers, auspicious outlaws, and ruthless renegades, the town has become a destination for lost souls seeking their fortune, and they all make their way through Swearengen's doors. But his penchant for violence and murder make him a target of sheriff Seth Bullock, played by Timothy Olyphant in a breakout role that would lead him to play other gunslingers, including Raylan Givens on "Justified" and Cobb Vanth on "The Mandalorian." 
Boasting Metacritic's coveted "universal acclaim" label, "Deadwood" was named by Vox as the best TV drama ever made. But be warned: while it's a nearly perfect adult Western, "Deadwood" — the town and the series — is not for the faint of heart.
Frontier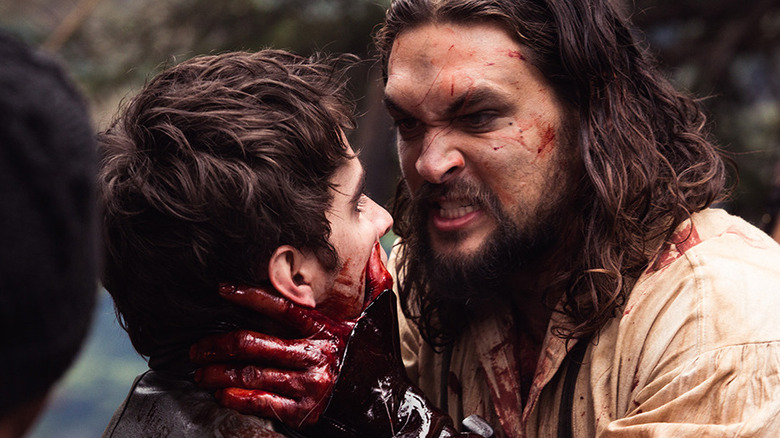 Netflix
"Frontier" starred Jason Momoa as a half-Cree, half-Irish warrior and fur trader who goes up against the mighty Hudson Bay Company and their dominance of the industry. Set in the latter half of the 18th century in colonial-era Canada, the series puts the spotlight on a lesser chronicled period of North American history. Momoa comes out of the gate with teeth bared as Declan Harp, a fierce renegade who faces down bounty hunters, bandits, and big business, making "Frontier" not just a wild Western adventure, but a political and historical drama with a uniquely compelling story at its heart. As the Hudson Bay Company's stranglehold on the fur industry makes it near impossible for independent traders like Harp to find success, he's forced to fight back to defend his way of life.
Running for three seasons, the Netflix series never seemed to get its due, and is one of Momoa's less talked-about performances, just as it may be one of his best. Though it didn't receive as many seasons as "Hell on Wheels" or the widespread acclaim of "Deadwood," it's nevertheless one of the better Western dramas of the last decade and compares favorably to other high quality genre entries.
Hatfields And McCoys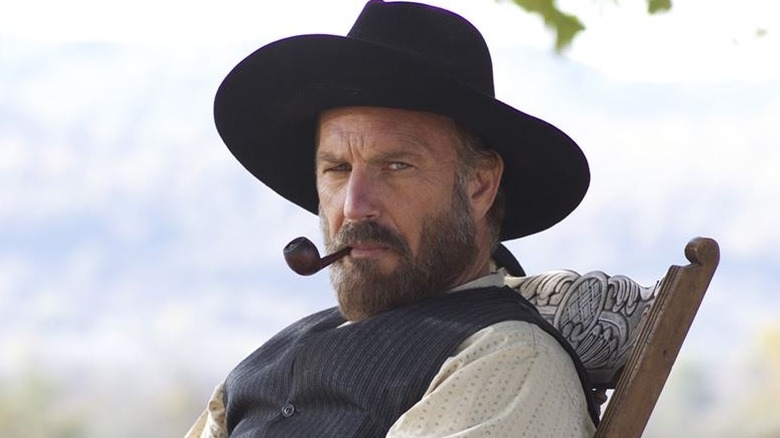 History
If you're familiar with "Yellowstone" you've seen Kevin Costner in one of his best Western roles to date. But it's far from his first, and before he filled the boots of Dutton patriarch John, he played the head of another tough family in "Hatfields and McCoys." This 2012 miniseries comprised of three feature-length episodes is based on the real-life conflict fought between a pair of pioneer families just following America's Civil War. Costner was William Anderson Hatfield, while the late Bill Paxton was the opposing family's leader, Randolph McCoy. The History channel's first scripted drama, it premiered to good reviews and was praised for its inside look at one of the 19th century's most dramatic family feuds.
"Hatfield and McCoys" may only be the equivalent of a half-season of a full series, but it was a drama that pulled no punches. It was full of all the intensity and Western action a fan of "1883" could ask for, as well as a number of stars giving great performances. Though knocked for some historical inaccuracies, it debuted to much fanfare and managed to score record ratings as the most-viewed non-sports series on an ad-supported cable network. 
Into the West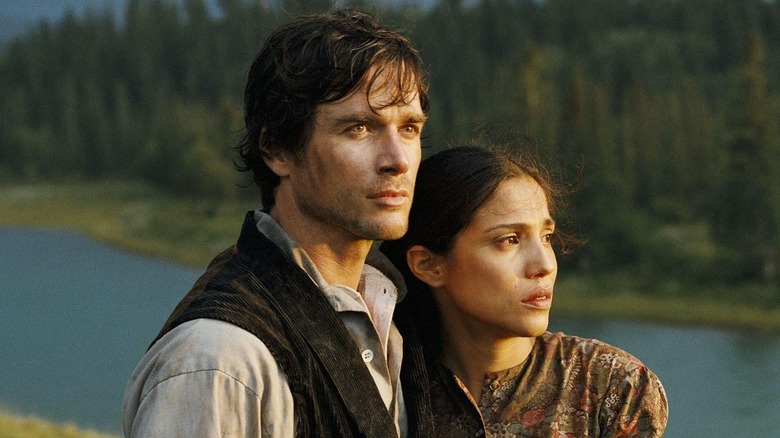 DreamWorks Home Entertainment
Landing on the TNT network in 2005, "Into The West" was a sweeping event miniseries from Steven Spielberg with an all-star ensemble cast. Told across six hour-long episodes, the sizable cast included Josh Brolin, Keri Russell, Alan Tudyk, Rachel Leigh Cook, Gary Busey, Garrett Wang, Sean Astin, and Lance Henriksen, among many others. The series follows two families across the 19th century, from the 1820s to near the dawning of the 20th: the Wheelers, led by young Jacob — a disillusioned farmer who seeks a new life in the West; and a Lakota tribe family whose elder, Growling Bear, fears for the future of his people. Down through the generations, each family faces new struggles as the country battles through periods of turmoil, war, and disease. 
Like many on this list, "Into The West" was an ambitious series that was vast in scope and deftly mixed historical figures with its fictional heroes and villains. The many real-life names included several often under-represented in fiction, like Native American leaders Red Crow and Sitting Bull, as well as the controversial American soldier George Armstrong Custer. The series as a whole was an epic drama that attempted to chronicle the sum total of the human experience through the many journeys that took place across the American West.
Klondike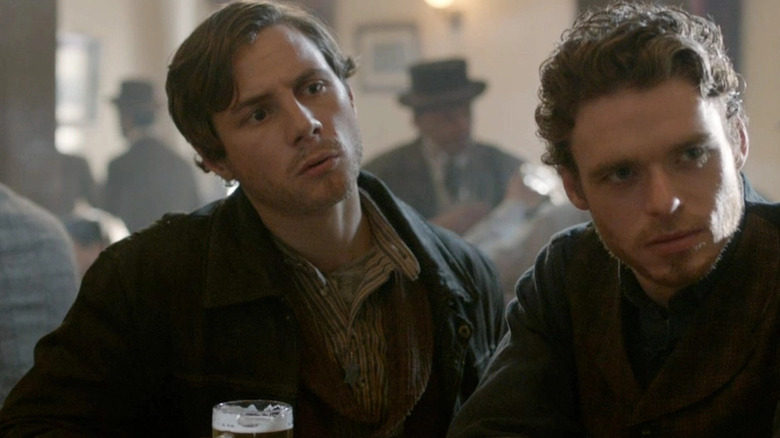 Discovery
When History dipped its toe into scripted Western drama the result was a ratings smash, so naturally competitor network the Discovery Channel wanted to get in on the action. The result was 2014's "Klondike," executive produced by Ridley Scott and featuring a cast of heavy hitters that included Richard Madden, Tim Roth, Abbie Cornish, Tim Blake Nelson, and Sam Shepherd. This time though, it wasn't a story of cowboys and gunslingers, but of the courageous adventurers who traveled across the Canadian border during the Klondike Gold Rush of the 1890s in search of gold.
Along their journey from New York they must endure not just the scorching heat and deserts of the West, but the bitter cold and snow of the Canadian north. They deal with snowstorms, avalanches, and more than one gunfight, as they become the target of vile opportunists looking to stake their own claims to riches. Lauded for its incredible production values — it was filmed on location amidst real outdoor hazards – the three-part, six-hour miniseries wasn't as widely watched as "Hatfield and McCoys" but received even better reviews.
Little House On The Prairie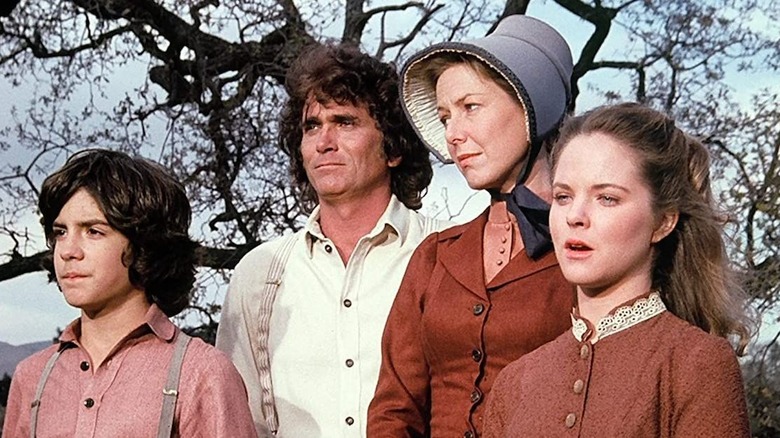 NBC-TV
Step back in time more than 40 years and you'll find a beloved 1970s Western that in some ways could be the progenitor of "1883" and its backstory of "Yellowstone." Often ranked by fans among the best Westerns in TV history, "Little House On The Prairie" may not be the dark drama audiences may have come to expect from today's Westerns, but for its day it was one of the more somber shows on television. Despite its somewhat more light-hearted tone, it still told a number of serious stories, tackling controversial topics like sexual assault, drug addiction, and disease; retro reviews have noted that it's not quite as family-friendly as we might remember.
Based on the semi-biographical book series by Laura Ingalls-Wilder, the series centered on the Ingalls-Wilder family's farm life in Plum Creek in 1870s Minnesota as they dealt with the challenges of frontier life. Starring Melissa Gilbert as the author herself and "Bonanza" alum Michael Landon (whose daughter Jennifer currently stars as Teeter on "Yellowstone") as her father Charles, "Little House On The Prairie" was a mainstay of late '70s network TV, running for nine seasons between 1974 and 1983.
Strange Empire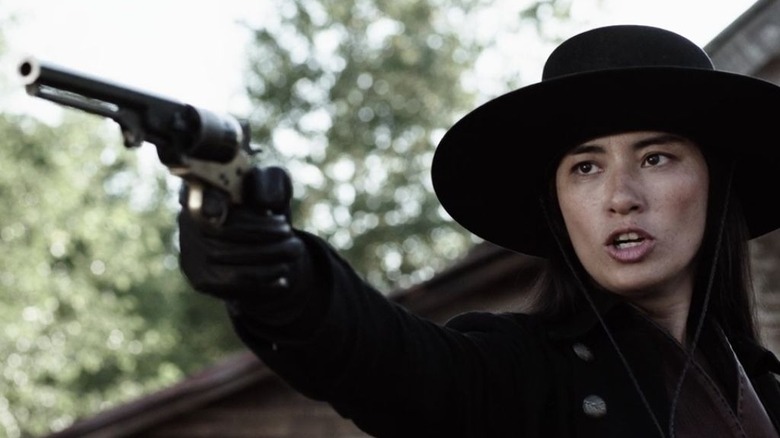 CBC Television
If you're a fan of Margaret Dutton's no-nonsense attitude in "1883," then the women of "Strange Empire" — a short-lived Canadian Western — will be right up your alley. Taking place along America's Canadian border between Alberta and Montana, the show introduces us to three widows hoping to survive the machinations of a vicious mine owner named John Slotter, who attempts to drive the women into prostitution in service of the brothel he owns with his wife. Sharp-shooting renegade Kat Loving — played by Clara Gee ("The Expanse") and every bit the equal of her enemy — leads the trio of rebel women to take up arms in opposition to Slotter.
Fast-paced and gloriously violent, "Strange Empire" successfully subverts the Western genre's classic traditions and tropes. It forces the audience to face many of the more unseen realities of life in the Old West, especially for those women left to clean up the messes caused by the era's brutal violence. A lesser-seen hidden treasure, reviews were strong, with Globe And Mail calling it "a remarkable, rugged Western drama."
Dominion Creek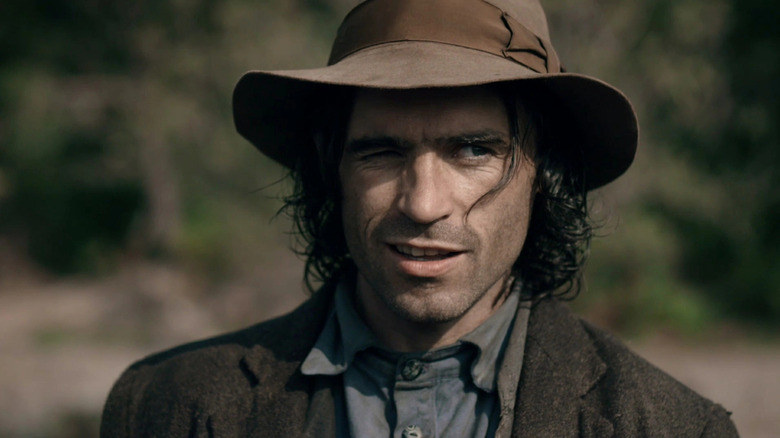 TG4
Fans of "1883" will recognize the Connolly brothers' journey to find a new life in "Dominion Creek," an Irish production that ran for two seasons and starred a cast that was mostly unknown to American audiences. The series saw the Connollys — Owen, Dara, and Sean — making the long trek from Montana to the Yukon to seek their fortune in another tale set during the Canadian Gold Rush. Once they arrive in the fictional mining town of Dominion Creek, however, getting rich proves much more of a challenge than they'd hoped it would be. To make their fortune they'll have to combat a cunning ex-Civil War colonel and ruthless business magnate, plus any number of con men, bandits, and fellow fortune-seekers. The brothers are put through the wringer in the unforgiving town that recalls the relentless nature of the title community in HBO's "Deadwood."
Never broadcast in the U.S., it may be a challenge to find "Dominion Creek" on a major streaming service. But it'll be worth the search, as it offers a unique perspective on the Western genre, having been produced outside of North America. You'll also have to bear with subtitles, as it was filmed in a mix of English and Gaelic, but its native language proves to be a key ingredient that only adds to its authenticity. Sparsely reviewed outside of Ireland, it was praised by the Irish Times as a "dangerous pleasure."
Lonesome Dove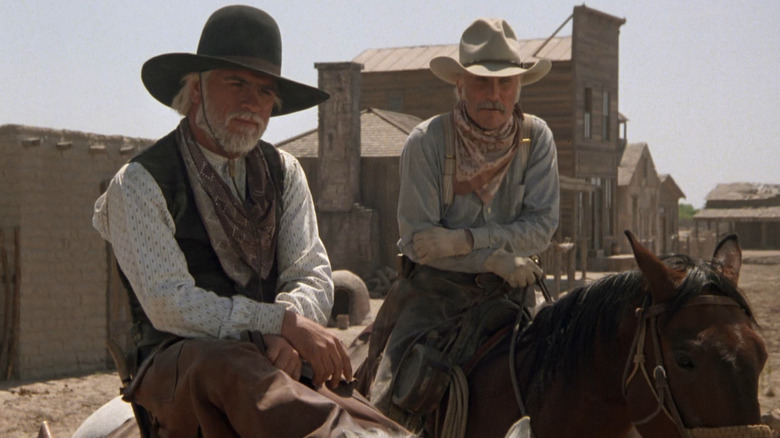 CBS
Based on the Pulitzer Prize-winning novel by author Larry McMurtry (who also wrote "Terms of Endearment" and the script for "Brokeback Mountain") the 1989 television miniseries "Lonesome Dove" was a major television event, and counts "1883" creator Taylor Sheridan as a fan. Like the novel, the miniseries chronicled the enduring friendship of two former Texas Rangers (played by Robert Duvall and Tommy Lee Jones) and their latter-day adventures as the era of the lawless Old West was coming to an end. A star-studded affair, the project also featured Danny Glover — in his third turn as a cowboy — along with Diane Lane, Robert Urich, and Anjelica Huston.
"Lonesome Dove" was nominated for an astounding 17 Prime Time Emmy Awards that year, taking home seven of them, and is still widely regarded as one of the best TV Westerns ever made. A pair of prequels and a sequel were later produced, along with an ongoing TV series, but none of the original cast were involved in any of the subsequent productions. Despite a few big names, they do not compare favorably to the original.
Broken Trail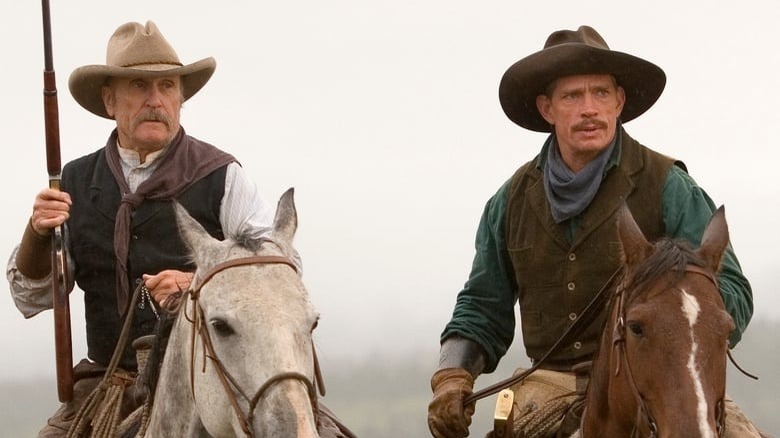 AMC
Nearly two decades after starring in "Lonesome Dove," Robert Duvall returned to the genre as an aging rancher named Prentice "Prent" Ritter in "Broken Trail." Set in turn-of-the-century Oregon, the series followed Ritter on a cross-country journey to sell his stock of horses to the British Army, who are operating out of Wyoming. Joining him is his nephew Tom (Thomas Haden-Church), who he picks up after stopping to inform him of his estranged mother's passing. Along the way, the pair find trouble when they rescue a group of Chinese women who had been destined for human slavery. This noble deed makes their difficult journey harder when it puts them in the sights of a barbaric group of slave-trading outlaws looking to see the women returned.
The two-part miniseries — comprised of two feature-length episodes — proved almost as successful as "Lonesome Dove," at least in terms of awards. "Broken Trail" ultimately netted 16 Emmy nominations and four wins, including Outstanding Miniseries, while Duvall grabbed his first and so far only Emmy for Outstanding Lead Actor In A Miniseries Or A Movie.