Santa Clarita Diet Star Timothy Olyphant Compares Horror-Comedy Netflix Series To ALF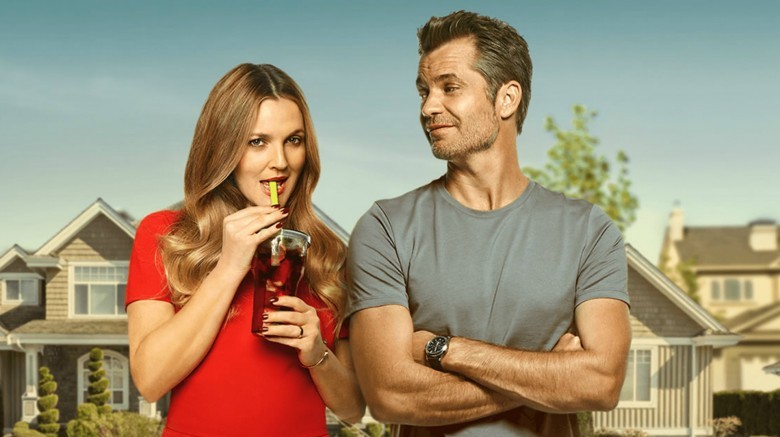 Netflix
Timothy Olyphant says his new Netflix series Santa Clarita Diet is "f—ing crazy."
The gory series stars Drew Barrymore as Sheila Hammond, a real estate agent whose life is suddenly turned upside down when she becomes a zombie and starts to have an insatiable craving for human flesh. Olyphant plays her husband, Joel.
"She has a real appetite for the neighbors and anyone else walking on two feet, and it puts a bit of a strain on the relationship," Olyphant said while speaking on Entertainment Weekly's What to Watch podcast.
The actor, who is best known for starring in the FX drama Justified, said that he was immediately drawn to the show after reading the scripts for the first set of episodes.
"What I enjoyed was that it seemed absolutely nuts and unlike anything I'd read before and yet at the same time oddly familiar," he said. "I thought, I think it's like ALF."
"The writing is amazing, the cast is amazing, the chemistry, everything is good," he added.
Olyphant also talked about the joys of working with Barrymore, who he called a "truly authentic character" who is "as wonderful as she seems."
"Here's the thing with Drew Barrymore," he said. "There's no amount of blood you can put on her face where your reaction isn't still, 'Isn't she adorable?' That's what we found out."
While Barrymore's character is the center of the series, Olyphant said that Joel goes through a lot as well.
"He was kind of sleepwalking through his life," he said of Joel before his wife's transformation. "There's a moment in the show where he actually articulates that perhaps he was the dead one before all this happened. The changes that his wife go through wake him. The show in some respects is a midlife crisis."
Santa Clarita Diet, one of the many Netflix shows that Looper predicts will blow you away in 2017, debuts all ten of its episodes on Netflix on Feb. 3.