Best Modern TV Westerns Ranked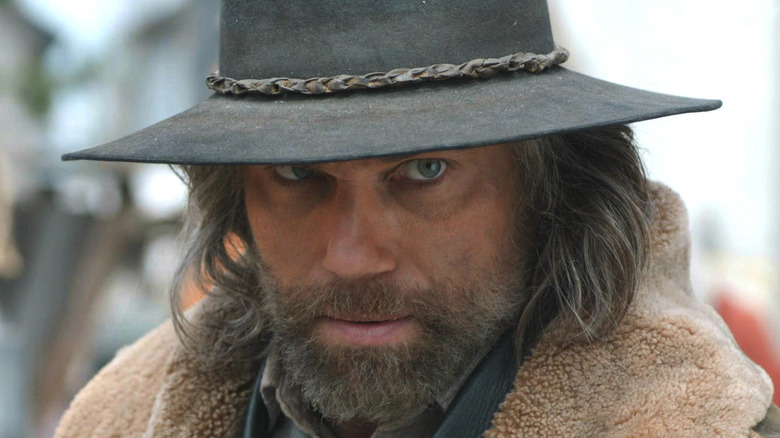 AMC
The Wild West was a time of great excitement and endless conflict, making it one of the most fascinating periods in America's long history. Settlers contended with exploitative robber barons, Native Americans were forced to defend their very lives, and renegade outlaws terrorized isolated frontier towns all across the plains. Few eras offer a more dramatic environment in which to set a story. 
Unsurprisingly, Westerns have been a popular TV genre for as long as television has existed. Recent years have seen a particularly strong resurgence of the Western, and many intriguing reinterpretations of the genre. "Western" has come to encompass stories that carry the spirit of the Wild West, even if they're set in the modern day. Shows like "Justified" and "Longmire" prove that the age of smartphones has not dulled the genre — they're just as much a part of the Western tradition as "Bonanza" and "Gunsmoke." In fact, some of the finest recent TV Westerns are among the best recent TV shows period. Whether they're set in the 1880s or the 2020s, these are the very best modern TV Westerns, ranked by IMDb score.
15. Frontier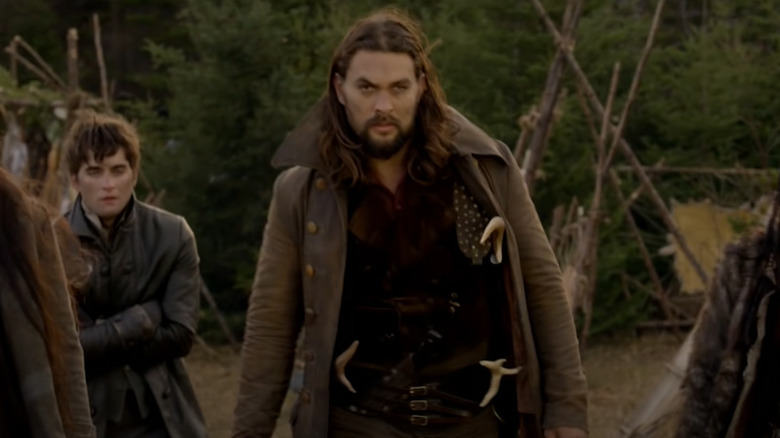 Netflix/YouTube
"Frontier," starring Jason Momoa, received surprisingly little fanfare during its three season run. Yet this historical series stacks up well against similar prestige dramas, boasting an epic scope, unique storytelling, and all manner of fascinating characters. Set in Canada in the late 1700s, "Frontier" explores the struggles and challenges of the growing fur trade. Momoa plays a man named Declan Harp, a wild renegade who must contend with ruthless bounty hunters and violent outlaws while fighting against the Hudson's Bay Company's stranglehold on the burgeoning fur industry.
"Frontier" is a visually stunning and ambitious show set in a fascinating era in North American history. The conflict at the center of the story is a compelling one, even to viewers with no knowledge of Canadian history or the fur trade. When Momoa occupies the spotlight, the show shines especially brightly: It's hard to take your eyes off his towering presence and strong performance. All in all, this is an adventurous epic, chock-full of intriguing stories and action-packed excitement.
14. Deputy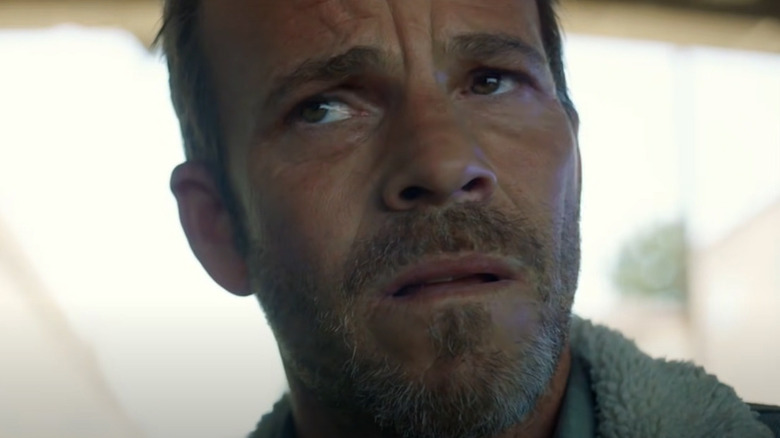 Fox/YouTube
The first neo-Western on our list, "Deputy" puts a modern twist on the lone sheriff attempting to bring law and order to the wild frontier — in this case, contemporary Los Angeles County. The series centers around Bill Hollister, a long-time mounted deputy who is appointed county sheriff on an interim basis when the series begins. Hollister finds his complex new position frustrating, as he's always done things his own way.
A throwback to classic Westerns that canonize the lawman who metes out his own brand of justice, "Deputy" has undeniable style. Stephen Dorff is convincing in the lead role of an old-fashioned sheriff forced to operate in a world that has seemingly passed him by. Sadly, "Deputy" didn't receive a second season. Perhaps the show's allegiance to tried-and-true tropes was too much, or perhaps it was caught up in the shuffle of Disney's Fox acquisition. Regardless, "Deputy" is worth watching for Dorff's swagger alone.
13. Walker
The CW/YouTube
The only TV remake on this list, "Walker" takes up the mantle of classic '90s series "Walker, Texas Ranger." It's not easy to fill Chuck Norris' shoes, but Jared Padalecki, who thankfully doesn't try to imitate his predecessor, shines in the role of Cordell Walker, veteran Texas Ranger.
The series opens with Walker still dealing with the trauma of his wife's murder. This causes a rift between him and his daughter, Stella, which he seeks to repair throughout the season. Padalecki's Walker lacks the swagger and charm of Norris' version, but his new thoughtfulness and complexity make up for it. What results is a fun little neo-Western unafraid to put interesting twists on its beloved source material. Time will tell whether or not "Walker" is destined for lasting success, but we have a feeling it might wind up higher on this list once it gets more episodes under its belt.
12. The Son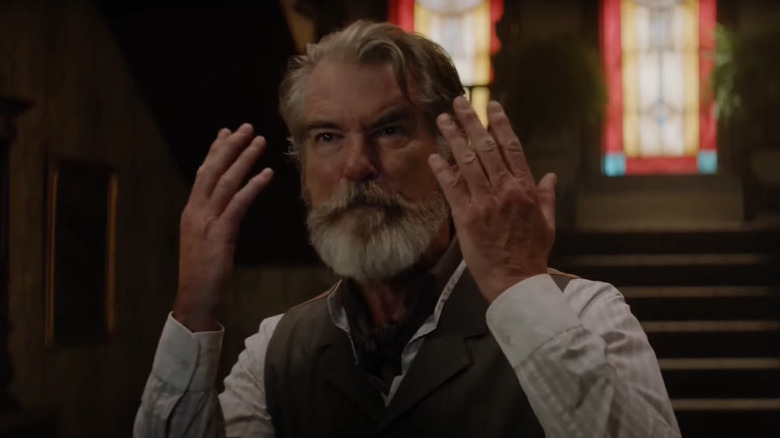 AMC/YouTube
"The Son" tells the story of Eli McCullough, a wealthy cattle baron with a complex past, by following two periods in his life: His boyhood, circa 1849, and his adulthood, circa 1915. We are first introduced to Eli in his youth, when he is abducted by the Comanche. This horrifying experience shapes his worldview, eventually transforming him from an innocent young man into an embittered tycoon. In 1915, Pierce Brosnan plays Eli, now a ruthless and greedy cattle baron whose business may be failing. While his family begins a new endeavor in the oil business, his two sons assist him in saving his company in their own unique ways. Soon enough, however, we discover that one of his sons may have something to hide.
Based on Philipp Meyer's 2013 novel of the same name, "The Son" is the rare TV adaptation co-created, co-written, and co-produced by the author of the source material. That influence might be why the show's epic dual narratives weave together so nicely, one constantly giving context to the other. While it received mixed reviews from critics, "The Son" is worth any Western fan's time.
11. Wynonna Earp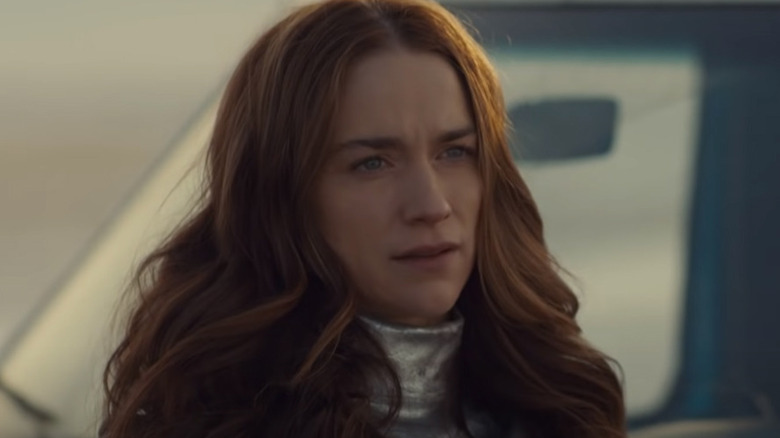 SyFy/YouTube
There's a fine line between high-concept fantasy and farce, and a genre-hopping supernatural horror Western sounds like something that could cross it. But in fact, "Wynonna Earp," based on the comic series of the same name, pulls it off. Gun-slinging lawwoman Earp, played convincingly by Melanie Scrofano, is a descendant of the legendary Wyatt. Packing a mystical revolver handed down from her ancestor, she has the ability to return the undead outlaws Wyatt once dispatched back to the netherworld. After joining a shadowy government agency that hunts down demons, Wynonna meets her great-great-grandfather's immortal comrade, Doc Holliday. Suffice it to say, this ain't your father's cowboy show.
"Wynonna Earp" isn't a somber Western, like most on this list. A light-hearted action series, it successfully blends the disparate worlds of cowboys and monsters in a way that recalls Guillermo del Toro's "Hellboy" films. Debuting in 2016 on SyFy, it quickly developed a passionate fan following (via The New York Times), and was eventually named one of the best shows of 2017 by Variety's Maureen Ryan. After running for four strong seasons, the series aired its final episodes in 2021.
10. The Good Lord Bird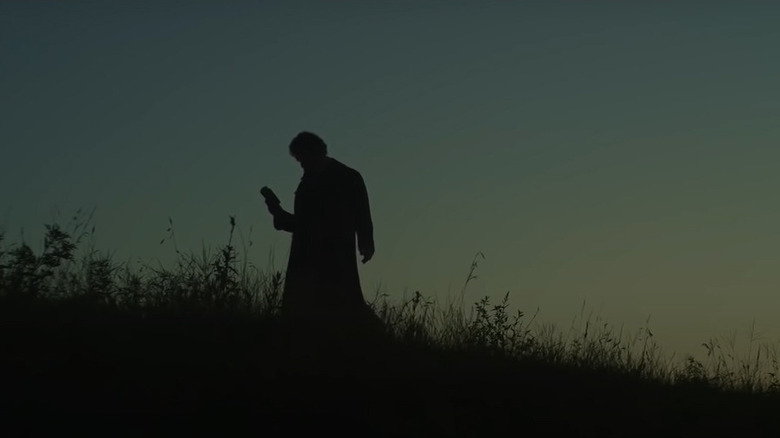 Showtime/YouTube
2020's "The Good Lord Bird," based on the novel by James McBride, is as much a comedy as it is a historical Western. An almost unrecognizable Ethan Hawke stars as John Brown, one of American history's most famous abolitionists, who busily recruits fighters for his infamous 1859 raid on Harpers Ferry. Historical figures like Frederick Douglass and Harriet Tubman make appearances as well, but they might not be entirely who you expect.
"The Good Lord Bird" hinges on Hawke, who is brilliant. Grizzled, eccentric, and sporting a scraggly beard, he gives an imposing and enjoyably scenery-chewing performance as the storied American hero as he embarks upon a mission to alter the nation's fate. Despite the seriousness of the subject matter, make no mistake: This is most definitely a dark comedy. This isn't to imply the series makes light of slavery and abolition — rather, it manages to deliver an intensely good time against a weighty backdrop. This unique mixture of story and tone proves to be a winning one.
9. Damnation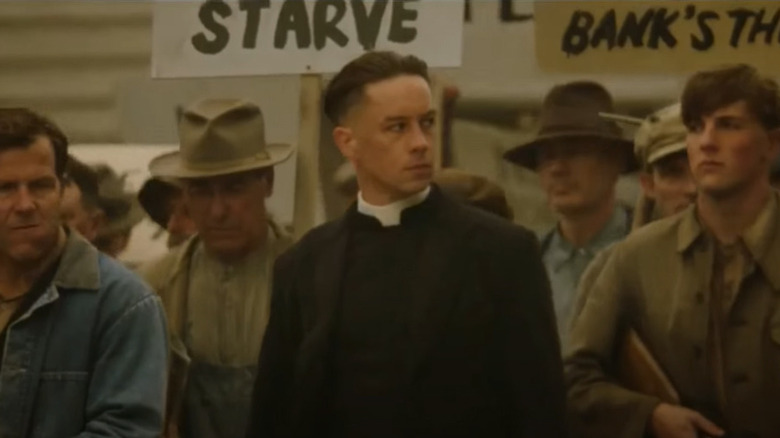 Netflix/YouTube
"Damnation" stars Killian Scott and Logan Marshall-Green as Seth Davenport, a rabble-rousing preacher, and Creeley Turner, a strike-busting Pinkerton Detective, respectively. As the Great Depression tears Holden, Iowa to disenfranchised shreds, the era's labor wars grow ever more violent, leading Davenport and Turner to repeatedly clash. Little do the people of Holden know, however, these two titanic figures are also estranged brothers.
Davenport and Turner are worthy adversaries, but what's truly remarkable is the way the show is able to make both of them into sympathetic figures. This is tough to do for characters with so much violence in their past, but "Damnation" makes it look easy. Moreover, the show isn't afraid to give them dense backstories, full of real-world history most viewers might not know much about. This makes the series all the more interesting, and genuinely enlightening. For those who enjoy historical Westerns, "Damnation" packs a wallop you won't soon forget.
8. Hatfields and McCoys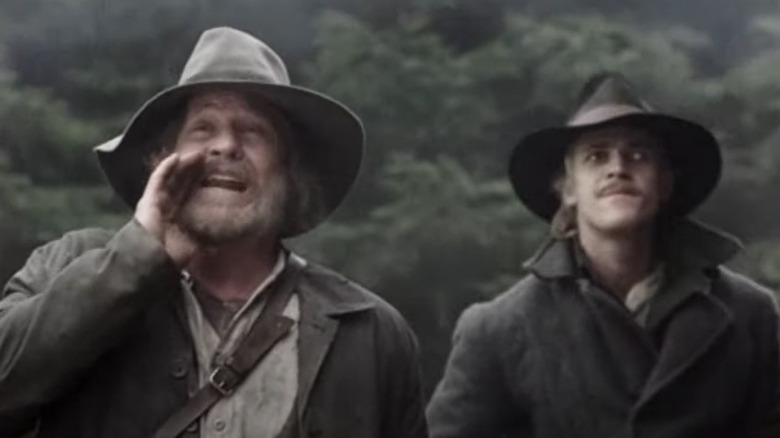 History/YouTube
"Hatfields and McCoys" is a 2012 miniseries based on the true story of two historic families who engaged in a vicious blood feud following the end of the American Civil War. Hollywood film stars Kevin Costner and the late Bill Paxton headline as the patriarchs of the warring families. This was an early stab at scripted drama by the History Channel, and a darn good one: "Hatfields and McCoys" makes a splash with solid action, bold drama, strong performances, and good historical accuracy to boot.
Essentially "Hatfields and McCoys" is a revenge drama, with all the intensity of the true story cranked up for the small screen. To this day, there is still much discussion and debate regarding who really ignited the war between the Hatfield and McCoy families. The History Channel eschews taking a side as well — in fact, neither clan comes across as particularly loveable or sympathetic here. But, given that this show is about a feud between two murderous families, that's not entirely unexpected. You won't find any noble heroes in this three-part series, but you will find incredible entertainment.
7. Preacher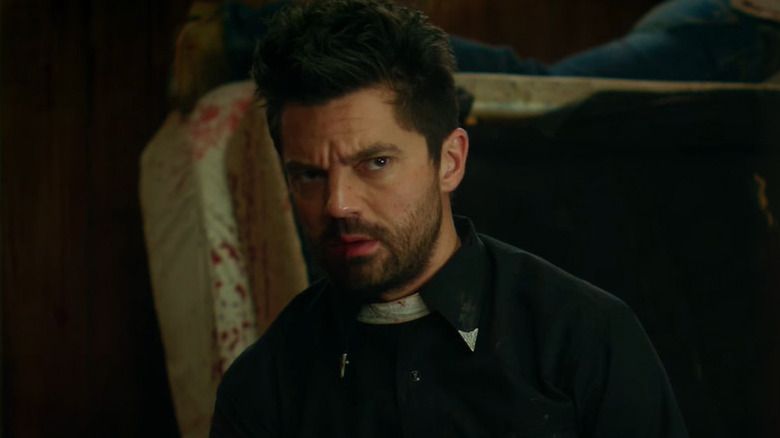 AMC/YouTube
Based on the award-winning comic series by Garth Ennis and the late Steve Dillon, "Preacher" is a Western with enormous love for the genre. Lead character Jesse Custer (Dominic Cooper) is the sort of disillusioned hero seen in so many cowboy movies and series. But unlike most of those hard-bitten gun-slingers, Jesse isn't a lawman, outlaw, or cattle rustler. Instead, Jesse is a world-weary preacher who has been infused with the soul of a demon. He's not searching for justice, either — he's out for nothing less than God himself. His motley crew of allies includes fugitive Tulip O'Hare, snarky Irish vampire Cassidy, and the disfigured son of the town sheriff, known as "Ar**face."
"Preacher" emphatically delivers on its bizarre premise, successfully mixing the genres of horror, crime fiction, and old-fashioned Westerns. You'll never forget its cast of eccentric heroes and out-there villains: Herr Starr, a vicious cult leader, the Saint of Killers, an undead Civil War soldier released from Hell to kill Custer, and even a few actual historical figures are especially memorable. A violent, thrilling, irreverent Western with decidedly religious overtones, "Preacher" is one of a kind.
6. Hell On Wheels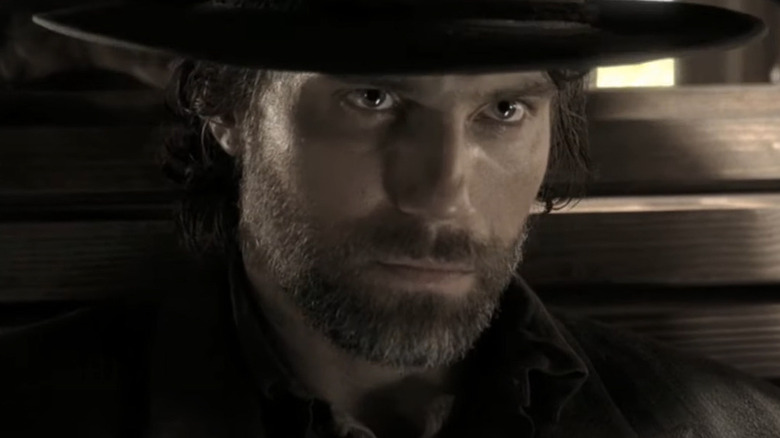 AMC/YouTube
The title of "Hell on Wheels" refers to the shanty town that followed construction of the United States' first continental railroad as it plowed westward. While heavily fictionalized, the series' cast includes many real-life figures, including Ulysses S. Grant, Mormon leader Brigham Young, and trailblazing mail carrier Mary Fields.
"Star Trek: Strange New Worlds" star Anson Mount headlines as Cullen Bohannon, a former Confederate soldier looking for work in the aftermath of the Civil War. He finds it in the Wyoming Territory with the Union Pacific Railroad, which just so happens to be made up of former Union boys and newly freed slaves — a hostile environment for the former "Johnny Reb." But Bohannon eventually earns their trust and befriends Elam, a Black railroad worker played by rapper-actor Common. Together, the unlikely pair sets about bringing order to the chaotic mobile town in classic Western fashion. Bohannon must also contend with Durant's corruption and Union Pacific's rival, Central Pacific — all while being ruthlessly hunted by the Swede, a man out to destroy him based on a personal vendetta.
Widely regarded as one of the most satisfying shows in the genre, "Hell on Wheels" has been named one of the all-time greatest TV Westerns by outlets like The Independent. It's not hard to see why.
5. Godless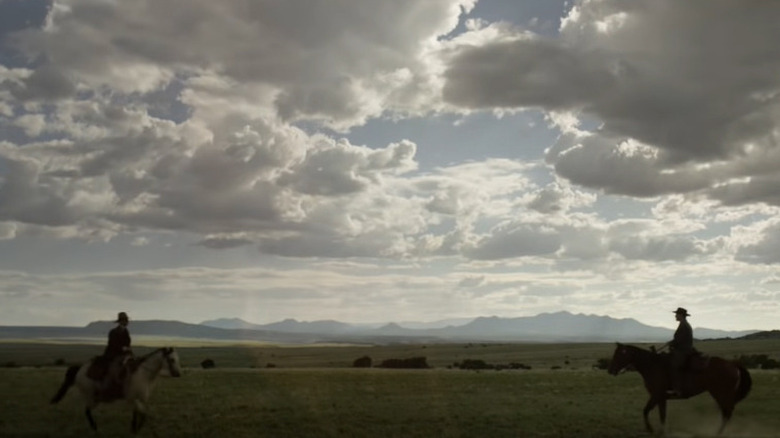 Netflix/YouTube
"Godless," a seven episode Netflix miniseries, opens amid the grisly aftermath of an outlaw gang's attack. This graphic and sobering sequence sets the tone for the series: "Godless" is not a fun, rousing cowboy romp, but a dark, heart-rending tale of violence. Created, written, and directed by Scott Frank with award-winning filmmaker Steven Soderbergh on board as an executive producer, this series is gorgeously shot and features astounding performances from its cast. Unlike the energetic action-adventure centered by many shows on this list, "Godless" is a deliberately plotted, slow-moving drama set in a dreary but fairly standard frontier town.
Don't be fooled, though: "Godless" has all the tropes you want from a big-budget Hollywood Western. Rough-riding outlaws on horseback, bandits robbing trains at gunpoint, reluctant heroes, and, of course, beautiful sweeping vistas that stretch out as far as the eye can see are all present and accounted for. Most uniquely, "Godless" is set in La Belle, New Mexico, a town populated almost entirely by women. Left adrift after a deadly mining accident killed most of the town's men, the women of La Belle have had to adjust to their new reality in fascinating ways. "Godless" is filled with moral allegories, and portrays far more than simple gunfights: It's a show with something to say about the delicate balance between freedom, law, and order, and the conflict between individual rights and the collective good.
4. Longmire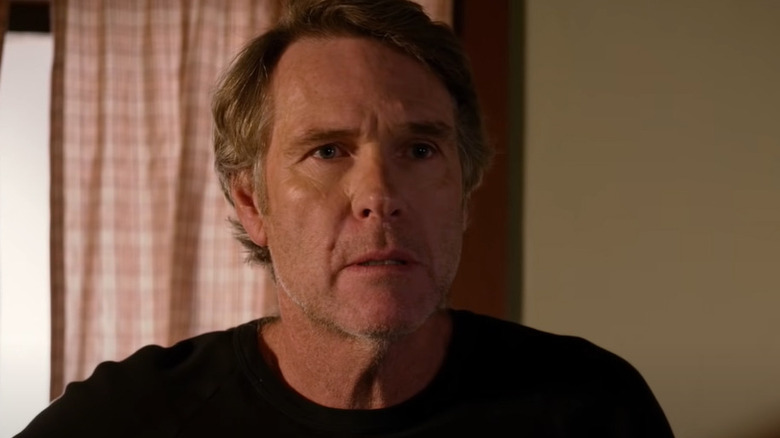 Netflix/YouTube
A Western procedural, "Longmire" centers around Walt Longmire (Robert Taylor), a strong-and-silent type who moves to Wyoming and becomes sheriff of Absaroka County in an effort to rebuild his life after his wife's death. Taylor plays Longmire with a combination of macho grit and piercing resolve that never ceases to impress. Katee Sackhoff co-stars as Victoria "Vic" Moretti, the sheriff's deputy with a murky past of her own. Lou Diamond Phillips, Bailey Chase, Cassidy Freeman, and Adam Bartley round out the top-notch cast.
"Longmire" is an expertly written and impeccably cast series that does more with the Western genre than most. Absaroka County feels like the classic Western towns of old, as a backwater burg where the old ways have survived. Scant few lawmen can bring order to this community, rife with chaos as it is — but of course, Longmire isn't most lawmen. Debuting in 2012 on A&E, this neo-Western aired for three seasons before being canceled, despite solid ratings and reviews. Thankfully, Netflix scooped up "Longmire" and gave it three more seasons before its ending hit the small screen in 2017.
3. Deadwood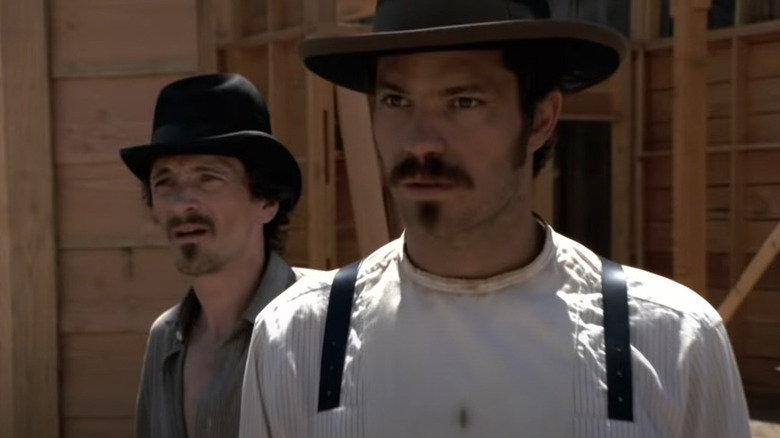 HBO /YouTube
One of the first modern TV Westerns, HBO's "Deadwood" is set in the 1870s, in the historical mining town of Deadwood. This community of would-be gold miners, shrewd gamblers, opportunistic pimps, and renegade outlaws all arrive looking to make their fortune. What they find is a lot more complicated.
"Deadwood" stars Ian McShane as Al Swearengen, a powerful hustler who owns the local brothel and isn't afraid to maim or murder anyone who might stand in his way. Timothy Olyphant plays disagreeable sheriff Seth Bullock, a performance that set him on the path to playing free-spirited lawmen like Dick Wickware on "Fargo," Cobb Vanth on "The Mandalorian," and Raylan Givens, his career-defining role, on "Justified." A fictionalized retelling of the real-life goings-on of this infamous town, "Deadwood" is so stunning a series, Vox goes so far as to call it the best drama ever made. This daring, groundbreaking Western indeed has few equals.
2. Westworld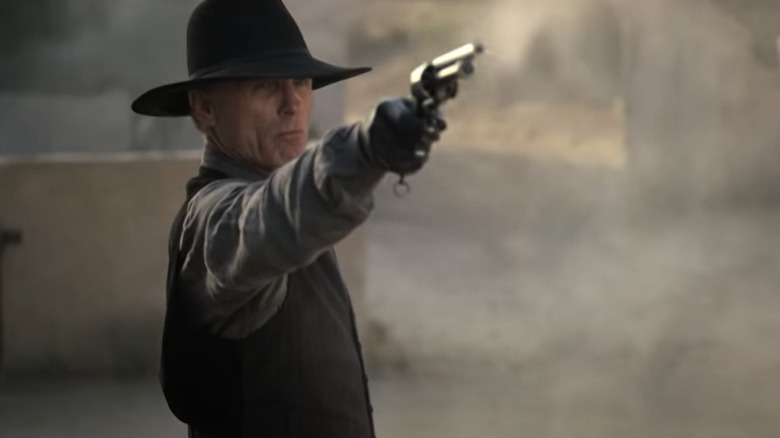 HBO/YouTube
Though it's not a Western in the most traditional sense, much of "Westworld" is set within an immersive Wild West theme park, and features some of the most outstanding Western action on this list. Moreover, "Westworld" offers an astute exploration of morality, as the genre's best entries always do.
Based on Michael Crichton's 1973 movie of the same name, HBO's "Westworld" begins with William (Jimmi Simpson), a soon-to-be-married man visiting the titular park with his future brother-in-law. Westworld's painstakingly recreated Wild West is filled with android "hosts" who allow guests to live out their Western fantasies, no matter how depraved. Twists, turns, and some flat-out crazy moments occur within Westworld and outside its walls over the course of the series. This show's vast scope encompasses far more than gunslingers and cowboys — it uses the genre as a jumping-off point to examine the human condition and the very nature of intelligence.
Filled with all the action and excitement you expect from a Western, "Westworld" mixes in dark and mysterious characters and a star-studded cast including Ed Harris, Jeffrey Wright, Evan Rachel Wood, Thandiwe Newton, Aaron Paul, Tessa Thompson, and Anthony Hopkins. "Westworld" is almost certainly the most unique series on this list, and one of the best shows on TV.
1. Justified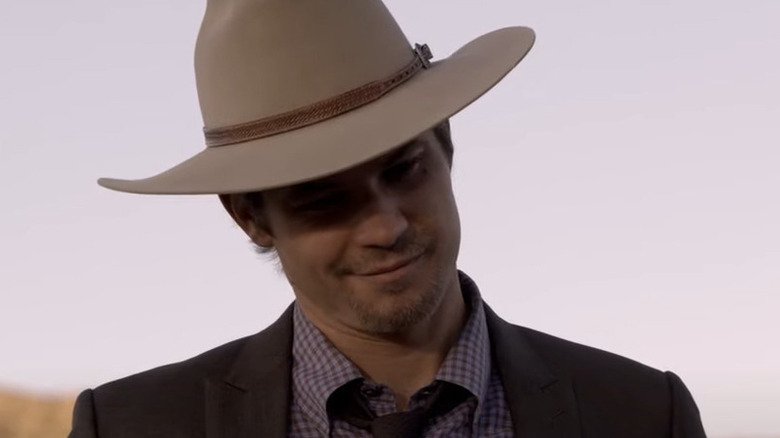 FX/YouTube
Elmore Leonard could be a harsh critic of adaptations of his work. But when it came to "Justified," the author was blown away by the show's quality. "I'm amazed sometimes that they've got the characters better than I put them on paper," Leonard remarked in 2012 (via The Hollywood Reporter), "They are doing a good job, really a good job."
"Justified" lives up to this high praise. A mix of taut drama, thrilling action, and tongue-in-cheek humor, "Justified" resurrects the sub-sub-genre of the sarcastic loner lawman-led Western. The series' central figure, Raylan Givens (Timothy Olyphant), is a smooth, tough, sharp-shooting maverick. Raylan's main antagonist is Boyd Crowder (Walton Goggins), deemed one of the most compelling villains in TV history by Rolling Stone. A rotating cast of local criminals, ranging from drug dealers to murderers, fleshes the series out with no end of mayhem and mystery. "Justified" spans six sensational seasons, and stands as one of the most intense, funny, electrifying Westerns ever seen on the small screen.  In fact, "Justified" isn't just the greatest modern Western — it's nothing less than one of the greatest modern TV shows period.