Yellowjackets: Where Else You've Seen The Cast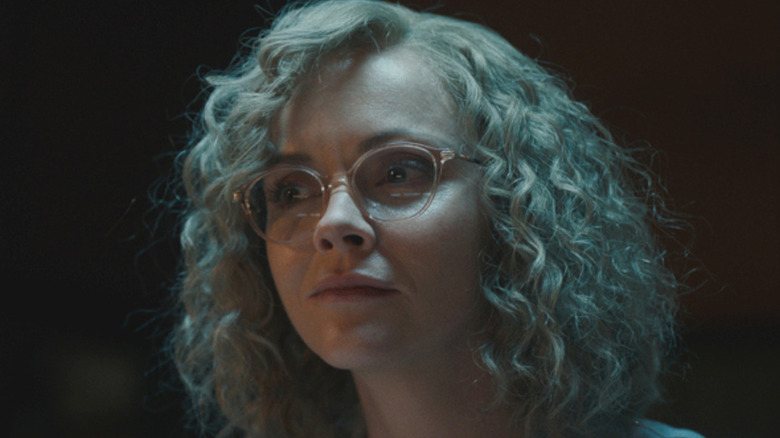 Showtime
Showtime's coming-of-age drama meets survival-horror-thriller "Yellowjackets" has taken the world of premium cable by storm and is making us use all the hyphens. The genre-spanning hit tells the story of the surviving members of the titular girls high school soccer team whose plane crashed on their way to compete in the national championship tournament in Seattle, Washington. As fans of the series know, the team was stranded in the Canadian wilderness after inclement weather caused the pilot to divert from their flight path before the plane crashed. Fortunately, the majority of the passengers survived, but then — unbeknownst to all but one of the survivors — the flight data recorder is destroyed, disabling the plane's tracking beacon. And if you think high school girls and student athletes were cutthroat to begin with — pun intended — things are about to get worse.
Equal parts "Mean Girls" and "Lord of the Flies," "Yellowjackets" flashes backward to 1996 and forward to present day to detail the drama between those who survived the crash and those who survived their time in the wilderness. After all, it's one thing to escape the wreckage of a burning plane; it's something else entirely to escape a tribe of hungry cannibals once no other options exist for food.
The premise should seem familiar for those familiar with the aforementioned works, the Donner Party, or Miracle Flight 571, but that's not the only recognizable part of the show — the cast is stacked with actors viewers should know from their respective filmographies. As fans anticipate the release of "Yellowjackets" Season 2, here's where you've seen the show's cast before.
Melanie Lynskey plays adult Shauna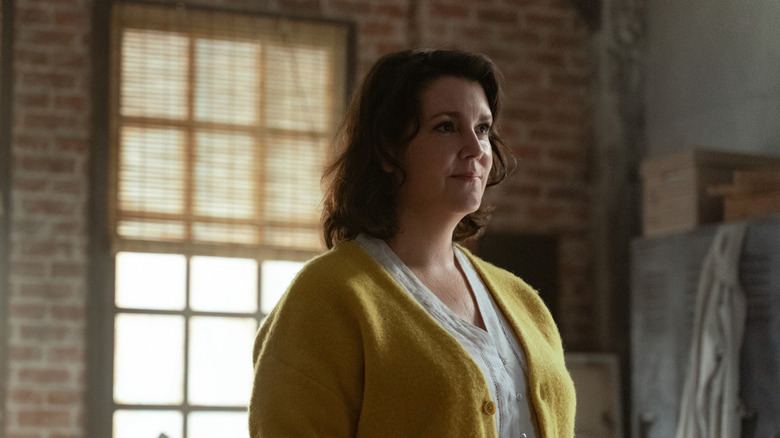 Michael Courtney/Showtime
Actor Melanie Lynskey plays the adult version of Shauna, the best friend of the team's captain, Jackie. She managed to survive the crash and the craziness that followed, emerging back into society as a teen mom, courtesy of the baby she'd been unwittingly carrying when the plane went down. While her day-to-day might seem akin to that of the average suburban housewife, Shauna has a lot more going on beneath the surface than anyone who knows her — her husband, Jeff; her daughter, Callie; her fellow survivors — may realize. When Shauna exchanges details with a younger man after they get into a fender bender and uses his number for more than just an insurance claim, she learns things about herself even she never knew.
Lynskey should be instantly recognizable to fans of "Two and a Half Men" as the recurring character Rose. A former one night stand of lead character Charlie Harper (Charlie Sheen), Rose is a lovable stalker whose doe-eyed obsession with Charlie is as sweet as it is disturbing. Appearing in the show's pilot, Lynskey eventually became a series regular and continued to make guest appearances until the finale of "Two and a Half Men." 
More recently, Lynskey appeared in 2021's "Don't Look Up" as June Mindy, the wife of Leonardo DiCaprio's Dr. Randall Mindy. Early on in her career, she appeared as Jacqueline, the less-evil stepsister to Drew Barrymore's Danielle in the Cinderella adaptation "Ever After." Lynskey made her film debut in 1994, acting alongside Kate Winslet in director Peter Jackson's psychological thriller "Heavenly Creatures."
Christina Ricci plays adult Misty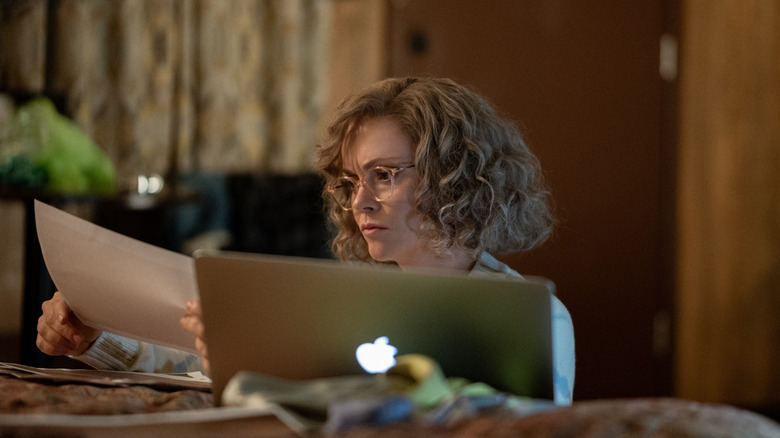 Kailey Schwerman/Showtime
Everyone's favorite psycho survivor and equipment manager Misty is brought to life as an adult by veteran actor Christina Ricci. She's adopted a quiet existence after returning to civilization with her fellow survivors, working as a nurse in an assisted living facility and pocketing all the meds she could ever want. When it comes to fun, she's a true crime addict and puts her wits to use with an online network of fellow crime solvers. Hopefully she has better luck with her pastime than she does with dating, given the failed outing viewers witness.
Ricci is known for numerous film appearances in her youth, with the part of Wednesday Addams in the 1991 comedy, "The Addams Family," serving as her breakthrough role. She went on to reprise the role in 1993 for "Addams Family Values" and then starred as Kat Harvey in the feature length "Casper," a movie about the titular friendly ghost. In 1998, Ricci shifted to more adult-oriented movies, appearing as the Barbra Streisand-obsessed Lucy in "Fear and Loathing in Las Vegas" alongside Johnny Depp and Benicio Del Toro. A year later, Ricci once again found herself working alongside Depp, appearing as the kindly witch Katrina Van Tassel in the Headless Horseman movie "Sleepy Hollow."
Enjoying something of a career revival, Ricci starred as lead character Maggie Ryan in the 2012 period drama series "Pan Am" before producing and starring in the title role of "The Lizzie Borden Chronicles," a limited series, in 2015.
Tawny Cypress plays adult Taissa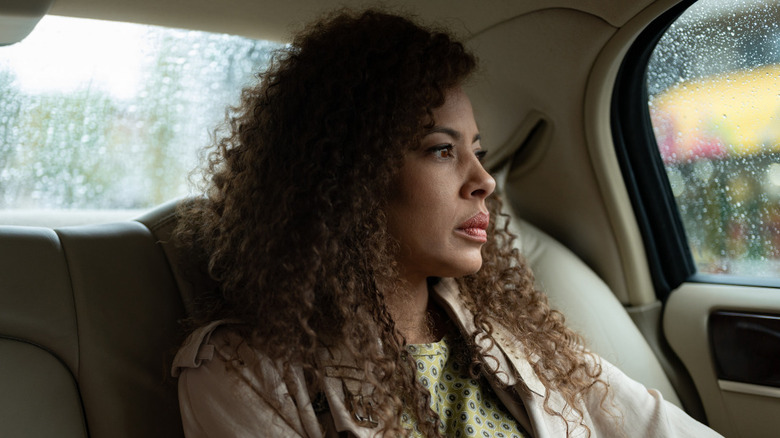 Kailey Schwerman/Showtime
Actor Tawny Cypress brings the adult Taissa to life in "Yellowjackets." Despite the survivors who made it back to society seemingly agreeing to do their best to stay out of the spotlight, Taissa has instead thrust herself into it completely, seeking election to the New Jersey state senate. Dubbed the "queer Kamala" by her political consultant, on the surface Taissa is happily married to her lovely wife, Simone, with whom she raises their son Sammy. But, much like Shauna, she has some serious darkness lurking beneath the surface; while both women have seemingly reintegrated into society unscathed by their ordeal in the plane crash, they themselves know that's far from the truth.
Cypress joined the cast of "Heroes" for its first season in 2006, taking on the role of Sophie Deveaux, the girlfriend of heroin addict and artist Isaac Mendez, whose paintings seem to show the future for the titular super-powered individuals. A year later, she was back on Fox airwaves as a recurring character on the crime drama "K-ville"; Cypress played officer Ginger "Love Tap" LeBeau on the show that followed New Orleans police in the years following Hurricane Katrina. In 2013 she joined the cast of the CBS procedural "Unforgettable," playing a supporting role as former FBI agent-turned-NYPD detective Cherie Rollins-Murray. Cypress also appeared on the hit NBC thriller "The Blacklist" as Nez Rowan, a former special forces operator turned mercenary; she reprised the role for the ill-fated spinoff "The Blacklist: Redemption." Cypress also appeared in two episode of "Lincoln Rhyme: Hunt for the Bone Collector" as Naia, the title character's former fiancee.
Juliette Lewis plays adult Natalie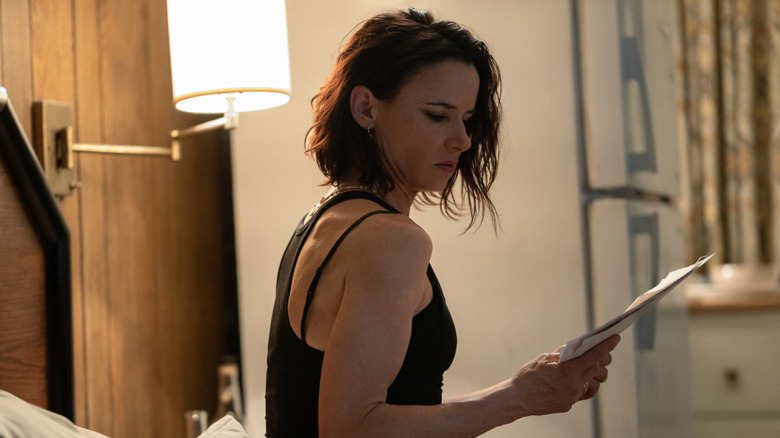 Kailey Schwerman/Showtime
Edgy and drug-friendly, Natalie served as the team's maverick outsider. Brought to life as an adult by actor Juliette Lewis, Nat falls prey to substance abuse after the girls' harrowing ordeal in the wild and does several stints in rehab. Having been dragged for her alleged promiscuity as a teen, adult Natalie isn't afraid of using her feminine wiles to get what she wants in the course of looking into former flame Travis' death, an apparent suicide she and her fellow survivors believe was murder. She's a bit of a loose cannon, which is why Taissa paid for her latest rehab stint and Misty gifted her a piece of decor with a hidden camera — well, the latter might have been more to do with the fact that Misty is a snoop.
Lewis has made her career playing complex and complicated roles. Her big break came in the 1991 remake of "Cape Fear," in which she plays Danielle, the teenage daughter of lawyer Sam Bowden (Nick Nolte), whose family is being stalked and harassed by Max Cady (Robert De Niro), a former client who spent 14 years in prison for statutory rape. Like Christina Ricci, she also made a popular '90s movie with Johnny Depp: "What's Eating Gilbert Grape?" Lewis played Becky, an eccentric young woman whose family's trailer breaks down in the title character's small farm-belt hometown. She gained further acclaim appearing as Kate fuller in the Quentin Tarantino-penned, Robert Rodriguez-directed vampire romp "From Dusk till Dawn." Starting in 2015, Lewis appeared in the lead role of Detective Andrea Cornell in the ABC mystery series "Secrets and Lies."
Sophie Nelisse plays teen Shauna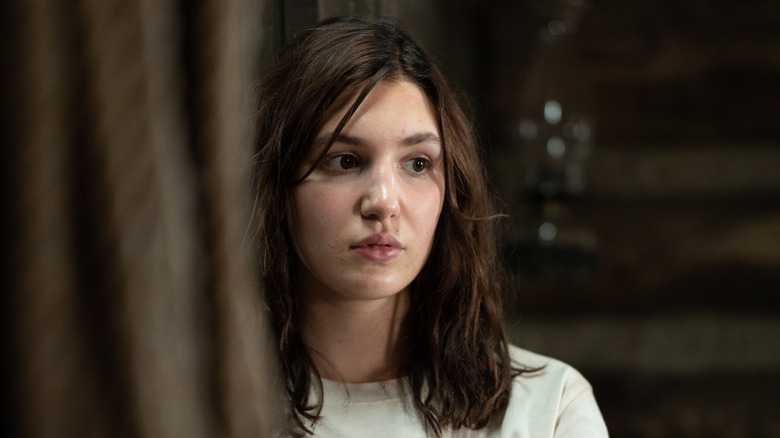 Kailey Schwerman/Showtime
Not unlike her adult counterpart, teenaged Shauna, as played by actor Sophie Nelisse, has some secrets. For starters, she seems to harbor unrequited romantic feelings for her best friend, Jackie. As teenagers are wont to do, she chose to deal with those feelings by doing something stupid and reckless; in Shauna's case, that means sleeping with Jackie's boyfriend, Jeff. As a result of this tryst, she becomes pregnant, something she only figures out after the plane crashes. Her secret isn't safe for long, as the other girls slowly catch on. Fortunately, Shauna's got plausible deniability as to whom the father is; after all, it's not like anyone's in a position to disprove her lie out in the Canadian wilderness. But Jackie, the last person she'd ever want to know, just happens to read her diary, thereby finding out her best friend's dark secret and affecting their friendship.
Like most of her younger cohorts, Nelisse has fewer acting credits on her resume than more established and older actors behind the adult versions of their respective characters. She does, however, have a significant feather in her cap from her adolescence: the starring role in the adaptation of "The Book Thief." Nelisse stars as Liesel Meminger, an illiterate girl whose foster father teaches her to read in 1930s Munich under Nazi Germany. In 2014's "Pawn Sacrifice," a biographical drama about American chess grandmaster Bobby Fischer, she plays a younger version of Joan, Fischer's eventual wife.
Samantha Hanratty plays teen Misty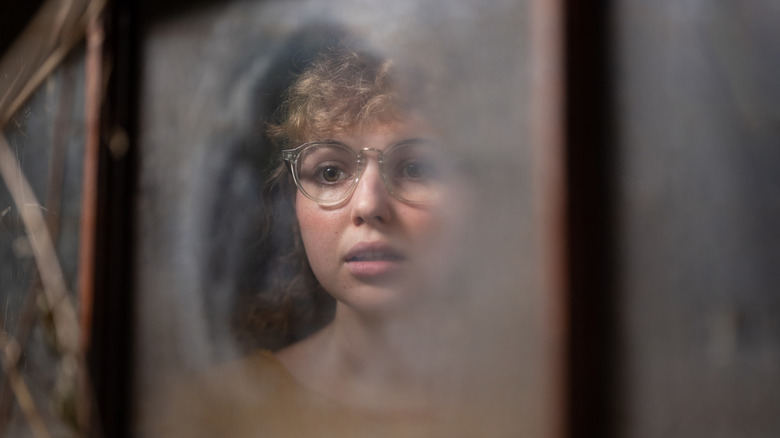 Kailey Schwerman/Showtime
Oh Misty, you incorrigible little scamp. The subject of bullying in pre-crash life, Misty, as played by actor Samantha Hanratty, really comes into her own when the team's plane goes down, courtesy of her survivor skills, knowledge of basic medical care, and the willingness to make necessary sacrifices like chopping off the assistant coach's leg to free him from being pinned under the plane's wing. With every passing day, the crash survivors come to lean on and appreciate Misty more and more, which is likely exactly what went through her head when she smashed the flight data recorder and destroyed the plane's tracking beacon, thereby ensuring her continued usefulness by avoiding rescue. Go team!
Hanratty's first recurring role on a major production began in 2006, when she appeared as Jen Gerhardt, the young daughter of Master Sergeant Mack Gerhardt (Max Martini), in 10 episodes of the CBS military action-drama "The Unit." Around the same time, she began a recurring role as young con artists Holly O'Neil on "The Suite Life of Zack & Cody." Beginning in 2014, Hanratty enjoyed a 12-episode recurring role on the supernatural horror series "Salem," playing the rebellious Dollie Trask, friend and follower of Mercy Lewis (Elise Eberle). Enjoying further notoriety, she appeared as Kassidi Gallagher, wife to Carl Gallagher (Ethan Cutkosky) on the Showtime dramedy "Shameless."
Jasmin Savoy Brown plays teen Taissa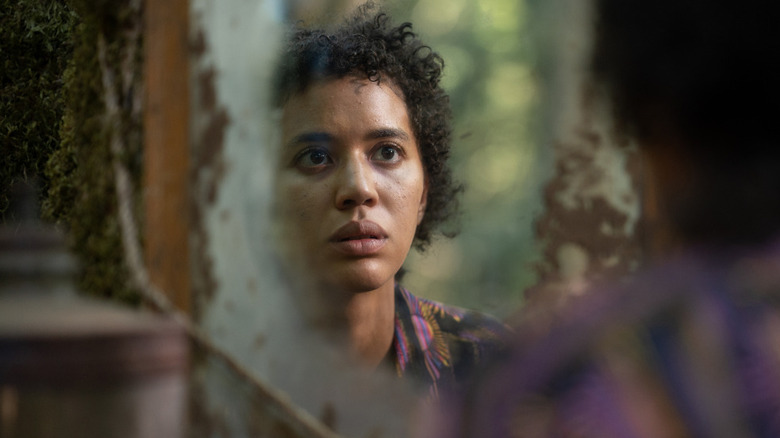 Kailey Schwerman/Showtime
The teen version of Taissa, played by actor Jasmin Savoy Brown, has secrets just like her adult counterpart, though initially hers are completely innocent. Unlike her adult self, who's out and embraces her sexuality, young Taissa still lives a closeted life, though it seems obvious some of her teammates have their suspicions — they do, after all, cheer when she and love interest Van (Liv Hewson) finally have a public display of affection. Van is so smitten with Taissa that she follows her on the seemingly insane and unsuccessful mission to reach civilization; viewers, of course, know that they only make it a single night before Taissa falls asleep on watch duty and Van loses half of her face in a wolf attack.
"Yellowjackets" isn't Brown's first go-around on premium cable; she appeared as Evie Murphy in Season 2 of HBO's "The Leftovers." An epileptic high school student in Jarden, Texas — a.k.a. Miracle, since no one from the town disappeared in the Sudden Departure — Evie goes missing, faking a disappearance to join the Guilty Remnant. Brown enjoyed a main cast role in the ABC legal drama "For the People," taking on the part of federal public defender Allison Adams for all 20 episodes of the show's two seasons. She also took on the lead role of spree killer Alexis Reeves in the 2021 indie slasher film "Sound of Violence." 
Sophie Thatcher plays teen Natalie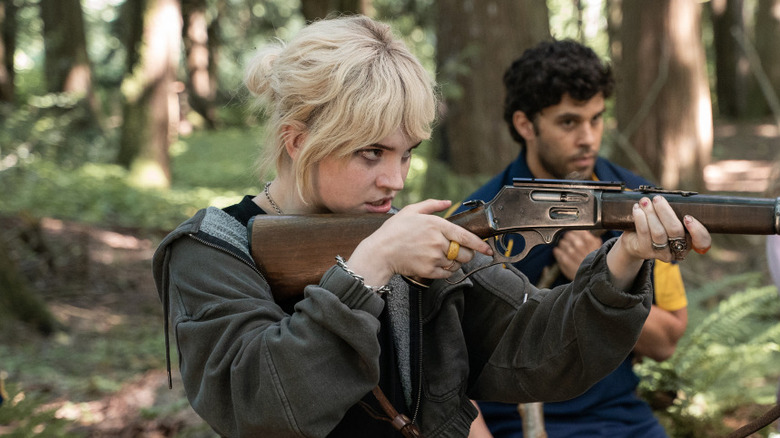 Colin Bentley/Showtime
The teenage version of Natalie, portrayed by actor Sophie Thatcher, is just as insouciant as her adult counterpart. Anti-social and seemingly immune to peer pressure and social norms, Natalie's the one most people would probably expect to be behind a plot to take out a teammate who doesn't have what it takes, not the person vehemently opposed to the idea. She lives in a trailer park and has some of the character traits associated with the negative stereotype of such a person. Natalie smokes and she's believed to be promiscuous, but she happens to be handy with a rifle. Unfortunately, she's got a dark bit of history tied to guns, something that clearly sticks with her as she and Travis look to keep the survivors fed with whatever they manage to shoot.
Thatcher has managed to take on some interesting parts in her young career. In the 2016 series adaptation of "The Exorcist," she played a young Regan MacNeil, who'd been possessed by the demon Pazuzu in the 1970s horror film of the same name. She enjoyed a recurring role as homeless teenager Debra McCormick in "Chicago Med." and starred alongside "The Mandalorian" actor Pedro Pascal in the 2018 sci-fi flick "Prospect." 
"Yellowjackets" isn't Thatcher's first time playing a teenager in a story set in the mid '90s; she plays Becky Monroe, sister to the ill-fated Chrissy Monroe, on the Quibi murder mystery series "When the Streetlights Go On." She also appears as Drash, a human member of a street gang the title character recruits to work for him in the third chapter of "The Book of Boba Fett."
Ella Purnell plays teen Jackie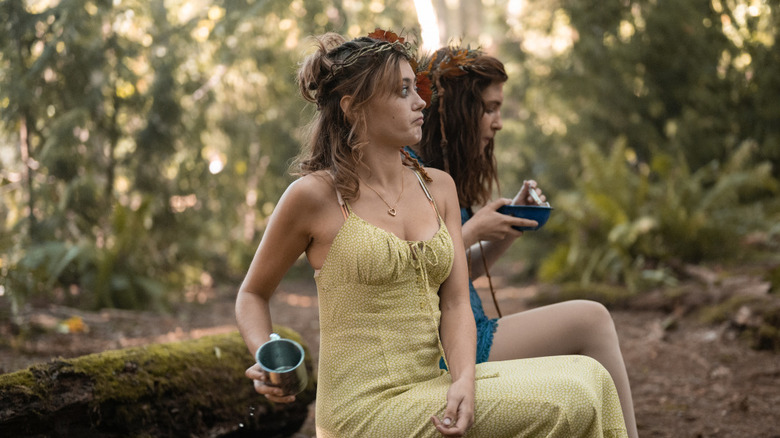 Kailey Schwerman/Showtime
Team captain Jackie, as played by actor Ella Purnell, presents one of the more interesting dilemmas. She's arguably the biggest character to survive the plane crash who doesn't have an adult counterpart in Season 1. It's at least heavily implied that she's the girl who's stalked and killed in the show's opening sequence in the very first episode; pay close attention to the necklace said girl is wearing when the camera rests on it after she falls into the deadfall and you'll see it's the heart necklace Jackie is seen wearing in the above photo and throughout the series. That's of course, far from definitive and could be a false lead, though it's not like Jackie hasn't given the other girls reasons to be out to get her. It's clear no one thinks she's pulling her weight and, on top of that, she decides to sleeps with Travis so not to die a virgin and is coldly, utterly indifferent to how it would make Natalie feel.
"Yellowjackets" isn't Purnell's first time playing a younger version of a character as seen in a flashback; in 2014, she played a younger version of the title character in "Maleficent," the live-action, script-flipping retelling of the "Sleeping Beauty" tale. Two years later, she played the air-manipulating Emma Bloom, love interest to Jake Portman in "Miss Peregrine's Home for Peculiar Children." Purnell also played Kate Ward, daughter to protagonist Scott Ward, in the 2021 zombie heist thriller "Army of the Dead."
Warren Kole plays adult Jeff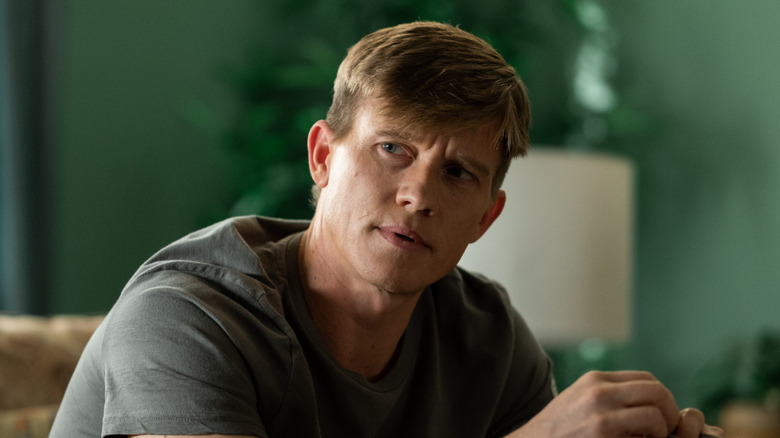 Kailey Schwerman/Showtime
Actor Warren Kole takes on the role of adult Jeff, husband to Shauna. Jeff's not the brightest crayon in the box and it's clear their marriage is in a rough patch. He runs his own furniture shop and, owing to some shady messages and a rather unbelievable recurring story about the inventory tracking system constantly being on the fritz, Shauna is convinced Jeff is cheating on her. Given that their daughter, Callie, is the result of Jeff cheating on her best friend Jackie with her and Jeff's seemingly unresolved feelings for her, it's understandable that Shauna could feel a little insecure about their relationship.
Fans of the action thriller series "24" may recognize Kole as Special Agent Brian Gedge, a duplicitous Secret Service agent who's tasked with guarding first gentleman, Henry Taylor, in the show's seventh season. He's also recognizable as Roderick, the friend and follower of cult leader and escaped serial killer Joe Carroll in Fox's crime thriller series "The Following." Kole also had a recurring role as LAPD Detective Trent Wilkes, boyfriend to deputy district attorney Amanda Taylor on the crime drama "Stalker."
Kole landed a series main cast role on the law enforcement drama "Shades of Blue" in 2016. As an FBI agent investigating corruption in law enforcement, he served as handler for corrupt NYPD cop and informant Harlee Santos (Jennifer Lopez), though his interests in her go way beyond professional and become obsessive. Kole also plays recurring character Detective Mike Rohbin on the dark dramedy anthology "Why Women Kill."
Peter Gadiot plays Adam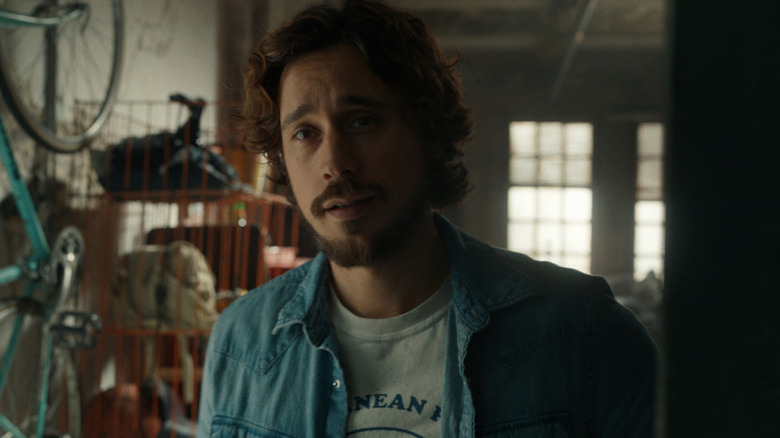 Showtime
Adam, as played by actor Peter Gadiot, is something of a mystery. We know he owns a bodyshop and is rather patient when someone rear-ends his vehicle and then blames it on him, as evidenced in his meet cute with Shauna. We know he claims to have been an art student, though Shauna debunks that white lie easily enough. What we don't know is why he's so interested in a suburban housewife like Shauna, something Shauna cannot grasp herself. Is he obsessed with her because of her notoriety as a member of the crash survivors? Is he embedding himself into her life to be able to sell the story? Or is he the mysterious blackmailer who's trying to extort money from the other survivors? Could he simply be the free-spirited young man he presents himself to be?
Fans of "Once Upon a Time" should recognize Gadiot from the spinoff, "Once Upon a Time in Wonderland." The actor played Cyrus, who has genie-like powers and serves as the love interest to Alice, who spends most of the show attempting to rescue and reunite with him. Gadiot later joined the main cast of "Queen of the South" as James Valdez, mentor and love interest to series protagonist and drug queenpin Teresa Mendoza. He's also appeared on the CW series "Supergirl," portraying the magically powered trickster imp Mr. Mxyzptlk, who expresses his love for the title character, a.k.a. Kara Danvers, the first time they meet.
Rekha Sharma plays Jessica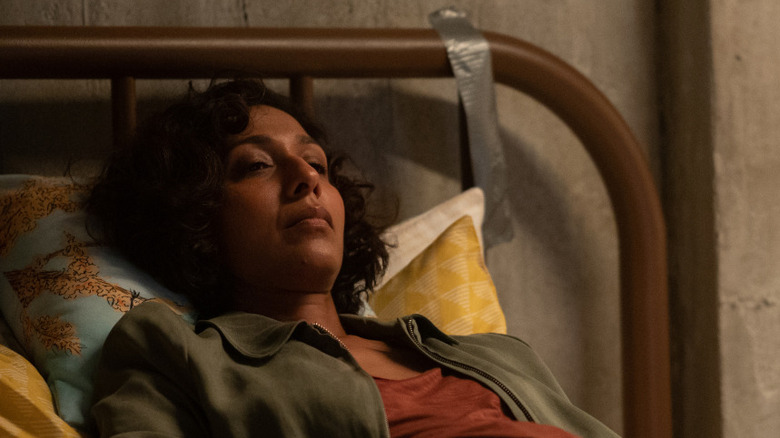 Kailey Schwerman/Showtime
On the surface, Jessica, as played by actor Rekha Sharma, is just the latest in a long line of nosy reporters who've come knocking to harass the surviving Yellowjackets. Like those who came before her, she's hoping to catch the scoop of the century so she can tell the world what really happened in the wilderness so many years ago. In truth, Jessica isn't a reporter at all but an investigator employed by Taissa. She checks in on her boss' fellow survivors in order to test their willingness to talk, so as to ensure she wont have to face down any revealed secrets in her campaign for the New Jersey State Senate. Too bad for Jessica that her act is so convincing and Misty comes to believe she's the one behind the blackmail.
Sharma enjoyed a successful career prior to joining the cast of "Yellowjackets," including patching up the cast of "Smallville." She had a recurring role as Dr. Harden, a physician at the tiny Kansas town's local hospital and gave care to most characters, from Ryan James and Lana Lang to Martha, Jonathan, and Clark Kent. Sharma went on to play Tory Foster, a scientist and personal assistant to President Laura Roslin, on the "Battlestar Galactica" revival starting in 2006. She was able to combine her experience portraying a doctor and working in science fiction for the role of Dr. Lorelei Tsing, who ran the Harvest project in Season 2 of "The 100."
Steven Krueger plays Coach Ben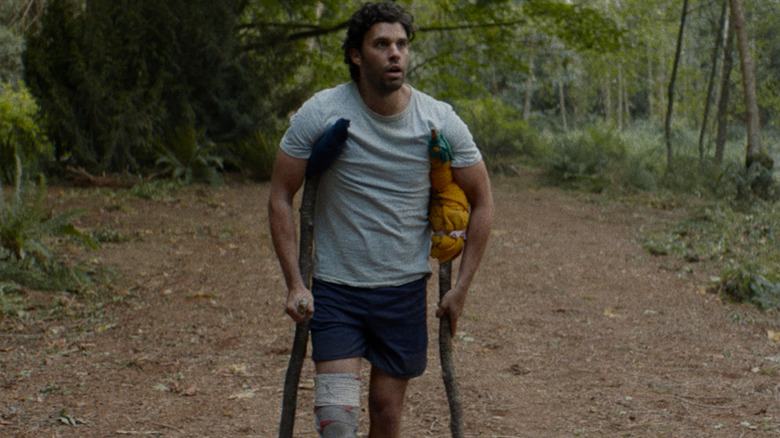 Showtime
Poor Coach Ben Scott. Not only is the Yellowjackets' assistant coach — played by actor Steven Krueger — the only adult to survive the plane crash, he loses his leg in the process. Of course, if it hadn't been for the quick thinking of Misty, who amputated his leg while it was pinned under some wreckage, he may not have survived at all. Then again, given how uncomfortable Misty's obvious crush on him and less-than subtle advances makes him feel, at times he seemingly wishes he had died in the crash. Given his limited mobility, it's not an enviable situation to be in loco parentis of an entire group of rebellious teenage girls, as evident by his inability to prevent Laura Lee (Jane Widdop) from attempting to fly the broken down Cessna they found in the woods — she even adds insult to injury by throwing it in his face.
Prior to his role on "Yellowjackets," Krueger has a recurring role as Ben Coogan, the eventual ex-boyfriend of Emily Fields, on ABC's "Pretty Little Liars." He later joined the cast of "The Originals" — the "Vampire Diaries" spinoff — in 2013 in the role of Josh Rosza, a tourist visiting New Orleans who is turned into a vampire by main cast character Marcel Gerard or one of his followers. Krueger joined the cast of "Roswell, New Mexico" in its third season, taking on the role of Heath Tuchman, a fellow researcher and co-worker of Liz Ortecho at the Genoryx labs.