What Wednesday From The Addams Family Looks Like Today
Paramount Pictures
The creepy, kooky, mysterious, spooky, and altogether ooky Addams family date back to 1938 when cartoonist Charles Addams first brought them to life on the pages of The New Yorker. From there, it didn't take long for this comic panel-bound satire of the 20th-century family ideal to become a pop culture phenomenon — and many in Hollywood wanted to get in on the action. By the tail end of the 1990s, four different incarnations of the Addams family had graced the small screen, joined by a still-widely beloved duo of live-action films.
Director Barry Sonnenfeld's "The Addams Family" and "Addams Family Values" arrived in 1991 and 1993, respectively, featuring an incredible cast of acting talent that perfectly captured the essence of the source material. The late Raul Julia played the ever-charismatic Gomez Addams, joined by Anjelica Huston as his beloved Morticia. Dr. Emmett Brown himself, Christopher Lloyd, took on Uncle Fester, Judith Malina portrayed Grandmama, Carel Struycken transformed into Lurch the butler, and underneath the overgrown hair, John Franklin played Cousin Itt. As for the kids, Jimmy Workman was Pugsley, and Christina Ricci was Wednesday.
To this day, Ricci's performance as the grim, cold Wednesday Addams remains one of the "Addams Family" franchise's most celebrated elements. Now nearly three decades beyond the second film's premiere, what has become of the once-child actress? Here's what she looks like today and what she's been up to in recent years.
Christina Ricci is all grown up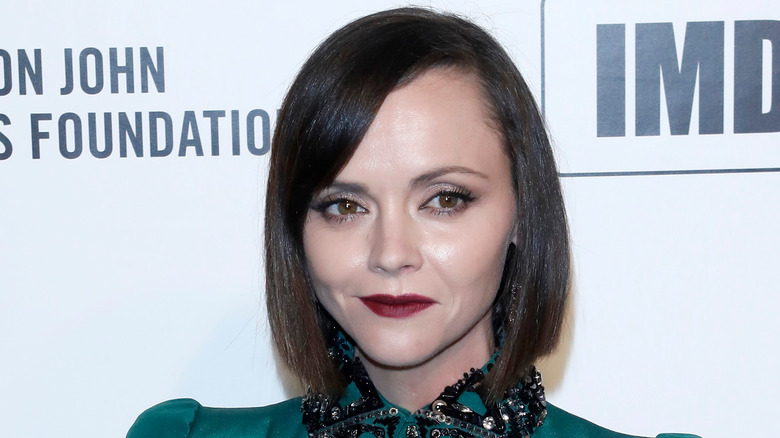 Kathy Hutchins/Shutterstock
When the first "Addams Family" movie hit the silver screen, Christina Ricci was merely 11 years old with only two previous acting credits to her name: 1990's "Mermaids" and "The Hard Way" from 1991. Therefore, when "Addams Family Values" debuted two years later — marking her final performance as Wednesday Addams — she was only 13. As evidenced by the above photo, Christina Ricci is no longer a kid, and though her time as a child acting prodigy is long over, her acting career has done anything but slow down.
To round off the 1990s, Christina Ricci starred in other Halloween classics such as "Casper" from 1995 and 1999's "Sleepy Hollow." As the new millennium kicked off, she'd add the likes of "Monster," "Penelope," and "Speed Racer" to her filmography, with the 2010s bringing "The Smurfs 2" and "Teen Titans: The Judas Contract," among others. The 2020s haven't treated Ricci badly either, seeing as she's involved in projects like "Percy" and "The Matrix Resurrections." Of course, this is just a look at her film work, but her television catalog is impressive as well. "Pan Am," "Z: The Beginning of Everything," and "The Lizzie Borden Chronicles" stand out as her most substantial productions to date. And, of course, fans were likely thrilled to learn that she'd signed on to appear in Netflix's "Wednesday," though Jenna Ortega portrays Wednesday Addams in that project.
Christina Ricci's turn as Wednesday Addams almost single-handedly launched her career into the stratosphere. Its enduring popularity, coupled with her natural acting talent, has gone a long way in keeping the momentum going over the past 30 years. Should all continue to bode well for Ricci, it stands to reason that she'll remain a big and small screen fixture for years to come.