Yellowjackets Season 2 – Everything You Need To Know
Showtime's "Yellowjackets" became a buzzworthy hit and earned high praise from folks with serious cred — like horror maven Stephen King, who told his Twitter followers that he enjoyed the series for its "sharp characterization and a mordant sense of humor."
The show takes place in two separate timelines and revolves around a New Jersey-based high school soccer team whose plane crashed in a mysterious Canadian forest in 1996 on its way to Seattle, Washington, for a tournament. Dark rumors and ugly innuendo surround the survivors of the incident, who lived in the wilderness without contact from the outside world for 19 months. 
The past timeline, the teenagers seem to have broken up into factions, cannibalism is committed, and moments of mysticism and supernatural events are hinted at. In the present day, the survivors struggle with their imperfect adult lives as memories of the past seep back in and a blackmailer enters the picture. The show combines survival drama with mystery and horror elements and a coming-of-age tale. It's a heady cocktail but one that astonishingly works.
The series pulled in millions of viewers across various streaming platforms and holds a perfect 100% critics rating at Rotten Tomatoes. Naturally, "Yellowjackets" has received a Season 2 renewal in response to all of that success. So what can fans expect from "Yellowjackets"' Season 2? Here's what we know so far. (Warning — there are spoilers for Season 1 below.)
When will Yellowjackets Season 2 be released?
If you watched Season 1 of "Yellowjackets," then we know you can't wait to see what happens in Season 2 ... but unfortunately, we'll all have to wait a bit. Production on the second season began in August 2022, and as showrunners Ashley Lyle and Bart Nickerson told TheWrap, that means we won't discover Natalie's (Juliette Lewis) fate or what Lottie's (Courtney Eaton) been up until 2023. However, we do know exactly when you'll be able to see all the horrors unfold. "Yellowjackets" Season 2 will premiere on streaming and on-demand for Showtime subscribers on March 24. If you want to watch it on the air, you'll have to wait until March 26 (via People).
Of course, while it might be frustrating to wait so long (hey, the Yellowjackets waited 19 months in the wilderness to be rescued — we can wait a while too), that just means we should expect Season 2 to be the best it can possibly be. "It's a deeply serialized story," Lyle told TheWrap, "and we wanted to make sure we didn't rush it, and that we got it right. And so this was the earliest we could accomplish that."
What is the plot of Yellowjackets Season 2?
As the first season of "Yellowjackets" comes to a conclusion, we flash back to the '90s and see that the teens are about to face down a frigid winter in a Canadian forest. Jealousy, hunger, and madness are beginning to set in, and we know for a fact that Season 2 will focus on this dark and dangerous period. Speaking with Variety, showrunner Ashley Lyle said, "We are definitely re-visiting the winter storyline. We've been calling Season 2 'The Winter of Their Discontent.'"
According to the official plot synopsis, the '90s storyline will pick up two months after the death of Ella Purnell's Jackie. "In the face of their deepening hunger and fear, the tension among our Yellowjackets has only grown worse. The harsh conditions of winter are intensifying by the day, and the psyches of our survivors are deteriorating just as fast. Threatened by the darkness of the wilderness — and the haunting memories of it in the present — our former state champs will be forced to make impossible decisions. As they confront the horrible truth of what survival entails, the real nightmare for each of them will be to figure out who they are — and what they are willing to sacrifice in order to stay alive."
Based on the trailer, we're also expecting this season to involve the murder of Adam Martin (Peter Gadiot), the kidnapping of Natalie, and the return of Lottie. We're also expecting that things are going to get bloody and maybe a bit ... cannibalistic.
Who is starring in Yellowjackets Season 2?
Perhaps the strongest aspect of "Yellowjackets" is its incredibly talented cast. But who will be coming back for Season 2?
Well, we know that Melanie Lynskey, Christina Ricci, Juliette Lewis, and Tawny Cypress are returning to play the adult versions of Shauna, Misty, Natalie, and Taissa. Plus, Sophie Nélisse, Samantha Hanratty, Sophie Thatcher, and Jasmin Savoy Brown are all coming back to play their respective teenage counterparts. We can also expect to see Liv Hewson as teenage Van and Courtney Eaton as young Lottie — both of whom have been made series regulars — but will we see their adult versions?
As it turns out, the answer is yes. Lauren Ambrose of "Servant" and "Six Feet Under" will play the adult version of Van while Simone Kessell of "Our Flag Means Death" and "Obi-Wan Kenobi" will be starring as the Antler Queen herself — Lottie. We can also expect to see actress Nuha Jes Izman as Crystal, a new character who grows close to Misty, and Kevin Alves is also coming back to play Travis as a series regular. Plus, keep an eye out for Jason Ritter, who's Melanie Lynskey's real-life husband. Also, Nia Sondaya of "Truth Be Told" has been cast as teen Akilah, replacing Keeya King, and Variety reports that Nicole Maines of "Supergirl" and François Arnaud of "The Borgias" have also joined the cast. Maines will be playing Lisa, someone with a connection to the adult version of Lottie, while Arnaud will play Coach Scott's boyfriend. On that note, we'll be seeing Steven Krueger (Coach Ben Scott) and Warren Kole (Shauna's husband) again.
However, perhaps the biggest casting news comes straight from Middle-earth. According to Deadline, Elijah Wood has signed on for a season-long guest arc. As the trade put its, "Wood will play Walter, a dedicated citizen detective who will challenge Misty in ways she won't see coming."
Who are the showrunners for Yellowjackets Season 2?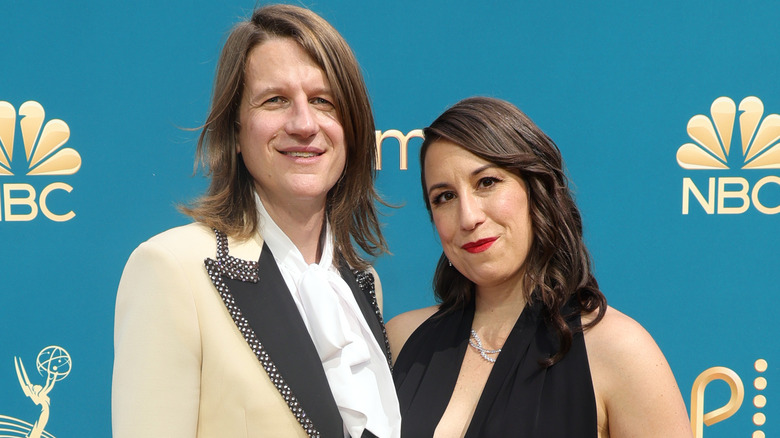 Momodu Mansaray/Getty Images
You know the old expression "if it ain't broke, don't fix it?" Well, the folks at Showtime seem to have taken that adage to heart by bringing back the warped geniuses behind the first season of "Yellowjackets."
Ashley Lyle and Bart Nickerson make up the dynamic duo who created the cannibalistic survival series, and — along with Jonathan Lisco — they were the creatives running the show. Needless to say, their twisted brainchild became a smash hit, earning all three Emmy nominations. And all three will be back for "Yellowjackets" Season 2.
In fact, Showtime was so impressed with Lyle and Nickerson that the company signed them to an overall deal, allowing them to work on new Showtime series. While we're excited to see what new messed-up projects they'll cook up, we're mostly psyched to see the original showrunners bring "Yellowjackets" Season 2 to horrifying life.
Who is directing Yellowjackets Season 2?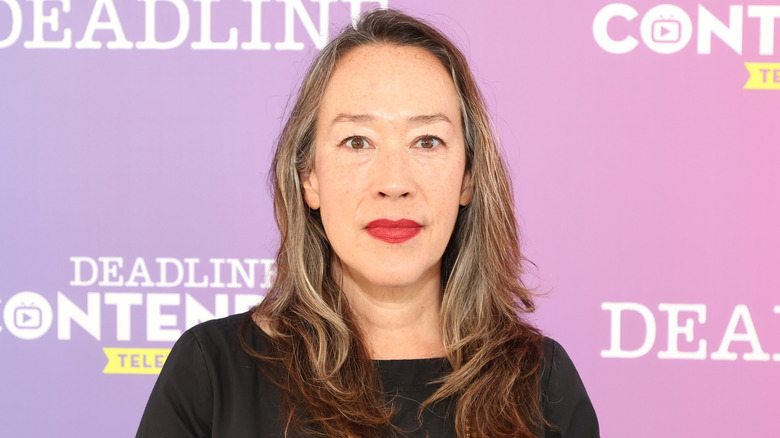 Amy Sussman/Getty Images
Similar to most TV series, the individual episodes of "Yellowjackets" Season 1 were helmed by different directors, including the likes of Eduardo Sánchez ("The Blair Witch Project"), Daisy von Scherler Mayer ("Madeline"), and Billie Woodruff (who's worked on numerous music videos with Joe and Toni Braxton). However, perhaps the biggest get for the show was Karyn Kusama, who directed the pilot and served as an executive producer for the series.
Kusama excels in tense films that play with horrific concepts like "The Invitation" and "Jennifer's Body." And that suspenseful expertise is on full display in the pilot episode, which opens with a terrifying sequence where a young girl runs for her life, hunted by her cannibal friends. It's a gut-punch of a first episode, and fortunately, Kusama is coming back for Season 2. And as she told The Playlist in regards to the new season, "I would say ... Season 1, in my opinion, did a great job of completely upending the idea of an expected direction for any of it. And so I would just say that Season 2 is a continuation of that kind of surprise and humor and tonal collision that is essentially as surprising and crazy as real life."
Is there a trailer for Yellowjackets Season 2?
The official trailer for "Yellowjackets" Season 2 opens with teenage Van telling a creepy story about their new home in the woods, saying, "Once upon a time, there was a place called the wilderness. It was beautiful, but it was also violent and misunderstood. And it waited and waited to befriend whoever arrived."
Right off the bat, it looks like the '90s-era Yellowjackets are on the precipice of losing their minds ... or perhaps they're under the sway of some supernatural force. As we see in the trailer, the adult survivors believe they're brought some sort of darkness with them. And how do they plan on figuring out what to do about it? By searching out grown-up Lottie, who was institutionalized in Sweden and seems to have started a cult.
In the rest of the trailer, we see cops investigating the murder of Adam as grown-up Van reunites with adult Taissa, while the latter also seems to be slipping out of reality — or haunted by something truly evil. We watch as Elijah Wood's Walter investigates with adult Misty, we see flashbacks to the Yellowjacket girls wearing terrifying animal masks and wielding all sorts of weapons, and then the final shot shows us the teens carrying some poor unfortunate soul ... tied to a pole like some sort of animal.
So yeah, things are definitely going to get dark in Season 2.
Where to watch Yellowjackets Season 1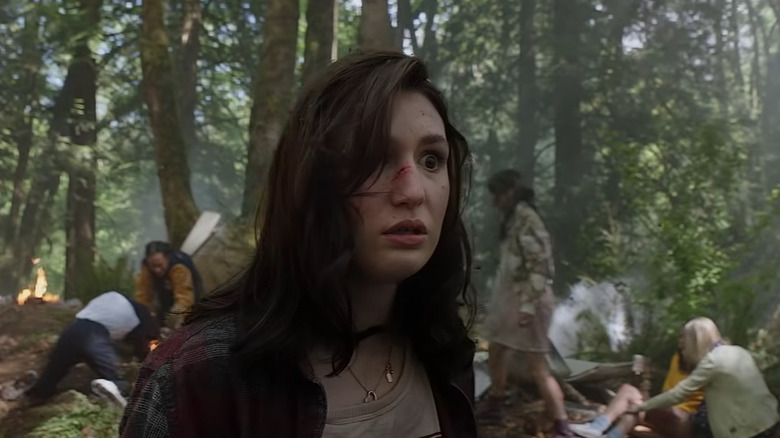 Showtime
There's a whole lot going on in "Yellowjackets" Season 1, from Shauna's pregnancy to Lottie's cult to the seemingly supernatural forces lurking in the forest. And with two timelines to follow — one in the 1990s and one in the present day — you'll no doubt need a refresher before Season 2 is released. So where can you catch up on all the cannibal horror? Well, if you want to revisit "Yellowjackets" Season 1 (or check it out for the first time), you can do so by visiting Showtime, where you can watch the series for the cost of a monthly subscription.