Why June From Don't Look Up Looks So Familiar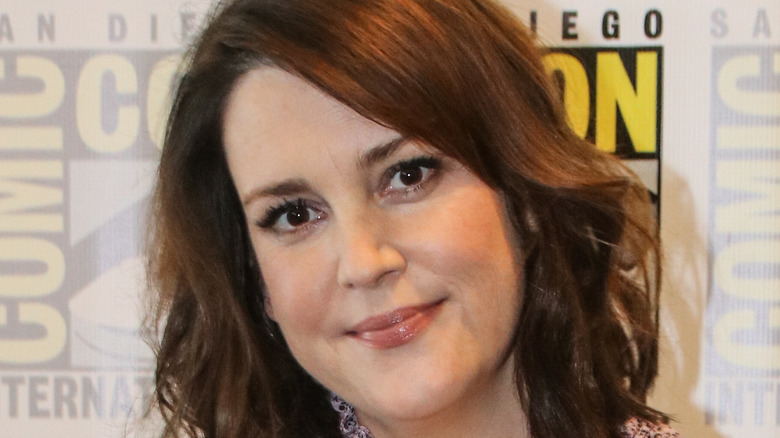 FlickDirect Inc/Shutterstock
The cast of Netflix's black comedy-drama "Don't Look Up" is as stacked as they come. The movie stars Jennifer Lawrence and Leonardo DiCaprio as Kate Dibiasky and Dr. Randall Mindy, two meek astronomers who find themselves at the forefront of a media tour that attempts to warn people of an incoming apocalyptic comet. These two massive names are just the beginning, too, as they're joined by stars like Timothée Chalamet, Jonah Hill, Cate Blanchett, Meryl Streep, Ariana Grande, and many others. 
On paper, this is the kind of movie that can make it very, very difficult for a non-A-lister to stand out, but nevertheless, the slightly smaller names more than stand up for themselves. "Don't Look Up" is filled to the brim with quality actors ranging from Rob Morgan (who plays Turk in Marvel's Netflix shows) to Michael Chiklis (Vic Mackey in "The Shield"). You're also quite likely to recognize the actress who plays Dr. Mindy's wife, June. Let's take a look at why she looks so familiar.   
Melanie Lynskey's first onscreen role is in Heavenly Creatures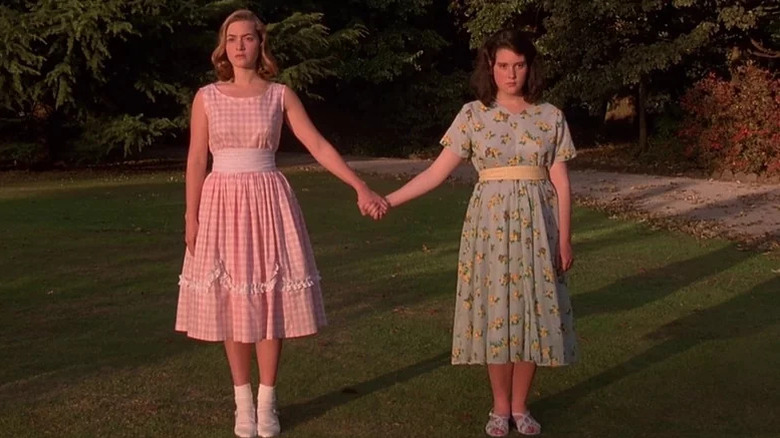 Miramax Films
Melanie Lynskey is an incredibly talented character actress with a self-professed penchant for liking curious roles. "Even when I'm reading a script where I'm supposed to be looking at the lead role, I'll find myself gravitating toward some small weirdo in a few scenes instead," she told Page Six in 2009. 
Lynskey has certainly earned her right to go for her preferred roles, considering that her very first screen credit showed what she can do on the indie movie front. In 1994, she starred opposite Kate Winslet in director Peter Jackson's first serious drama, "Heavenly Creatures." Lynskey plays Pauline, a shy and reserved girl who befriends rich kid Juliet (Winslet). The pair's bond grows so extreme and intense that they create a strange fantasy world, and the story ultimately leads to disaster. The film is considered one of the best movies based on true stories out there, and though Lynskey was initially nervous about teaming up with the more famous Winslet, it certainly doesn't show in her excellent performance. 
"I knew Peter [Jackson] from his horror movies in New Zealand, and when Kate auditioned he showed me the tape and said, 'This is where you have to be'," Lynskey described the feeling of preparing for the role to Page Six. "So imagine seeing a tape of Kate Winslet and being told, 'Here's what you have to do.' She was this beautiful, professional, successful actress from London and I was very intimidated. But they were so kind to me while making that movie — they taught me, to this day, everything I know."
She's one of Cinderella's stepsisters in Ever After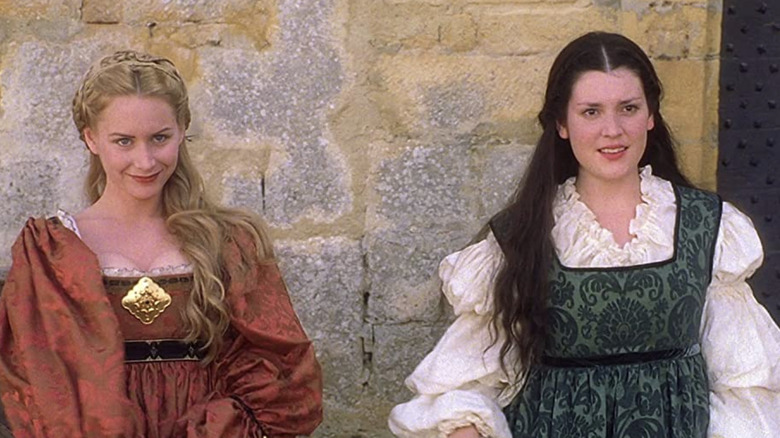 20th Century Studios
A few years after "Heavenly Creatures," Melanie Lynskey featured in a drastically different, though also very much critic-approved (via Rotten Tomatoes) drama. 1998's "Ever After," also known as "Ever After: A Cinderella Story," isn't quite the fairy tale story you might expect. Instead, the movie opens when fairy tale writers Brothers Grimm (Joerg Stadler and Andy Henderson) are summoned to hear the "real" version of the supposed story.  
In this comparatively realistic take on the classic, Drew Barrymore plays a version of Cinderella named Danielle de Barbarac, Dougray Scott plays the prince, and Anjelica Huston is Danielle's devious stepmother, Baroness Rodmilla. Lynskey puts her character actress talents to great use as Jacqueline, one of Danielle's stepsisters. 
In a 2020 interview with A.V. Club, Lynskey noted that the movie still gets her regular compliments from fans, and enthused about working with Barrymore and the iconic Huston. She also revealed that the process of making the movie was pretty much as great as it gets. "I mean, I was 19, living in the south of France, and filming with all these people," Lynskey said. "We had these amazing big dinners all together every weekend. It just was such a special time. Everyone was put up in these gorgeous houses. We were shooting in chateaus."
She plays Rose on Two and a Half Men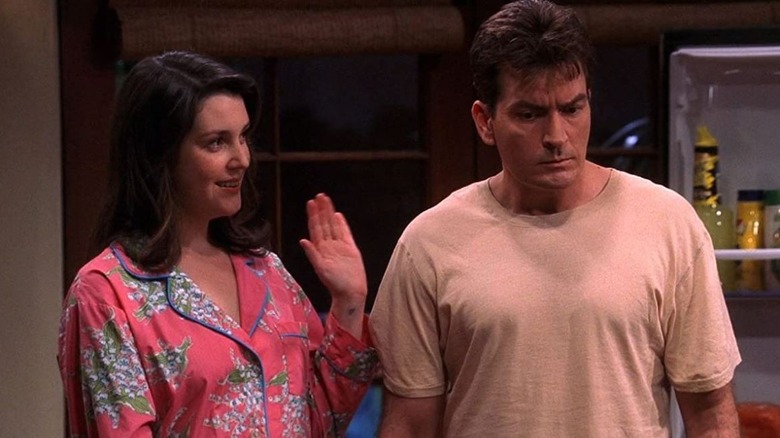 CBS
From 2003 to 2015, Melanie Lynskey portrayed Rose in the CBS sitcom "Two and a Half Men." As fans of the show may remember, there's a very good reason the requisite "quirky neighbor" character is played by the acclaimed indie actress who can deliver both laughs and chills. Rose, you see, is far from your average wacky character, and in a show that's unafraid to explore some pretty dark alleys, hers are by far the darkest. The character starts out as a scheming, potentially violent stalker. Though she later becomes more amicable with the object of her affections, Charlie (Charlie Sheen), she remains a supervillain-level schemer for the entirety of the series. As the show's peculiar finale casually reveals, she's also directly responsible for one of the darkest fates to ever befall a major sitcom character. 
The legacy of "Two and a Half Men" is forever intertwined with the real-life issues of star Sheen and his eventual firing from the show, but Lynskey told Fox News in 2018 that her personal experiences with the actor were overwhelmingly positive. "I haven't actually been in touch with him for a while," the actress said of Sheen. "I send him my best always and hope that he's doing well. But ... he was a very, very generous actor to work with and was always very kind to me."
Lynskey lives in a full house on Togetherness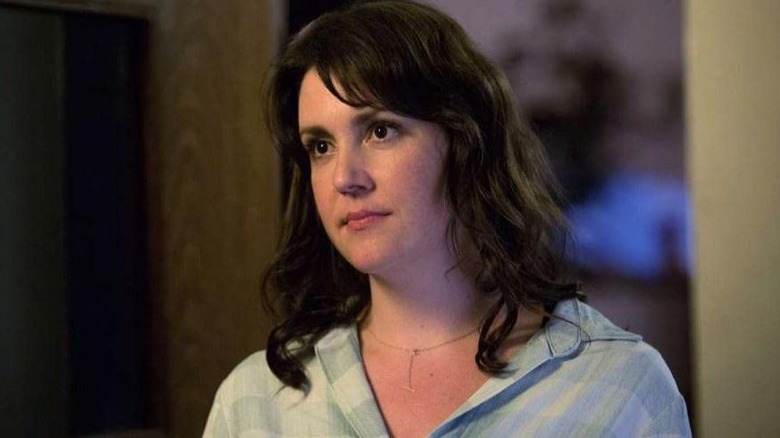 HBO
From 2015 to 2016, Melanie Lynskey graced HBO viewers' screens as Michelle Pierson, one of the main characters in the comedy-drama "Togetherness." Michelle and Brett (Mark Duplass) are locked in a marriage that grows frustrating when circumstances force Michelle's sister, Tina (Amanda Peet), and Brett's friend, Alex (Steve Zissis), to move into their home in Los Angeles. The group's often uneasy but invariably delightful dynamic is the focus of the show, with the two core plotlines being the will-they-won't-they chemistry between Tina and Alex, and Michelle and Brett's marital struggles. 
In a 2016 interview with Entertainment Weekly, Lynskey described how she got the role, and her peculiar first meeting with "Togetherness" co-creator Jay Duplass. "I had a meeting with Jay, whom I hadn't met, and Jay had just seen this movie I did called 'Hello, I Must Be Going'," she said. "And he arrived at the meeting still weeping having just watched it. I was like, 'Who is this magical creature? I'll do anything he asks of me' — I was so enchanted by him. We had this great time talking, talking, and talking. I read the first two episodes and thought, 'yes,' and then I had an audition."
Both critics and audiences love the show (per Rotten Tomatoes), but its excellent ability to wring drama from comedy and vice versa wasn't ultimately able to attract a big enough audience. HBO ultimately — and to some, surprisingly — canceled "Togetherness" in 2016 (per Variety).
Melanie Lynskey is Molly Strand on Castle Rock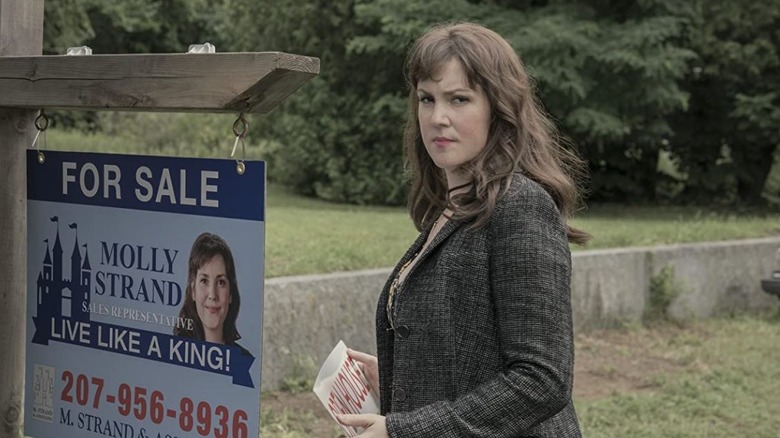 Hulu
Melanie Lynskey's diverse acting talents were in full use in 2018 when she played Molly Strand in the first season of Hulu's "Castle Rock." Molly is one of the most memorable characters of the season — which is saying something when the cast includes "It" star Bill Skarsgård as a seemingly immortal and endlessly creepy prisoner known only as "The Kid."
The Hulu psychological horror series draws inspiration from various works and characters created by horror master Stephen King. Molly is a struggling real estate agent who possesses psychic abilities that are awfully reminiscent of the "shining" powers of Danny Torrance (played by Danny Lloyd in "The Shining" and Ewan McGregor in "Doctor Sleep"), with all the problems that go with it.
In a 2018 interview with Collider, Lynskey told that getting the thumbs-up from the author was instrumental for her. She explained, "I read that he had seen it and approved of it. I don't think I realized how tense I was about it until I read that and was like, 'Oh, thank god! Okay'."
She shows up as Professor Ericson on Young Sheldon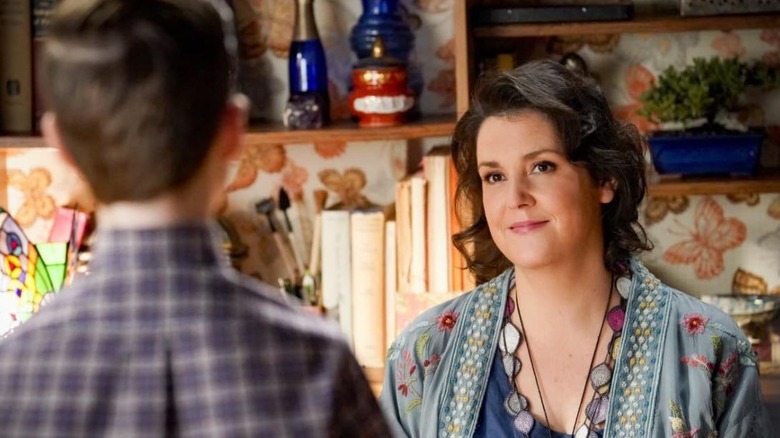 CBS
"Young Sheldon" is the spinoff of "The Big Bang Theory," and it focuses on the early years of main character Sheldon Cooper (played by Jim Parsons in "The Big Bang Theory" and Iain Armitage in "Young Sheldon"). The CBS show takes a look at how the eccentric yet brilliant theoretical physicist became the man fans know him as years later as an adult.
As anyone who's familiar with the character knows, it's very difficult to beat Sheldon in a match of wits ... but leave it to Melanie Lynskey to do precisely that. In 2021, she joined the show as East Texas Tech's Professor Ericson, a philosophy teacher who proves to be more than a match to young Sheldon. When the boy genius attempts to flex his intellectual muscles by debating Sun Tzu with Ericson, the teacher introduces him to some pretty hardcore philosophy that involves a neat Grateful Dead analogy and ends up sending Sheldon careening headfirst into an existential crisis. 
Lynskey's only appearances as Professor Ericson so far are in Episodes 7 and 8 of "Young Sheldon" Season 4, so it remains to be seen whether she'll return to break Sheldon's conception of reality with further teachings.