Bob Saget's Words On Betty White's Death Have Even More Meaning Now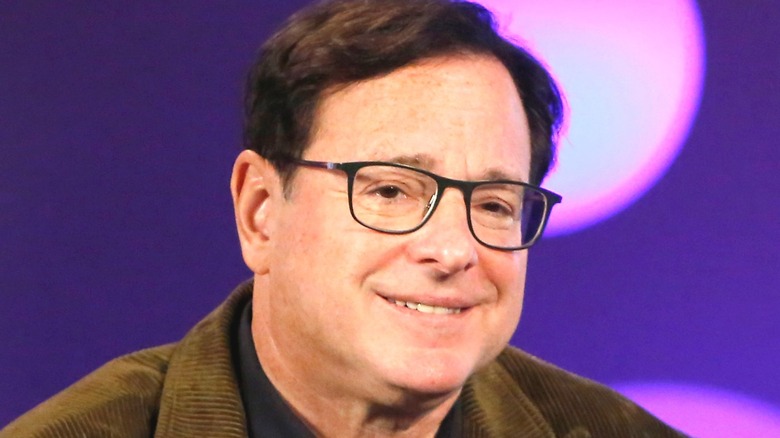 Rachel Murray/Getty
Comedic legend and iconic sitcom dad Bob Saget has died at age 65. Known for his celebrated, edgy stand-up comedy, long-running hosting stint on "America's Funniest Home Videos," and memorable roles on shows like "Full House," "Entourage" and "How I Met Your Mother," Saget was actively working as an entertainer until the time of his death and was set to continue his nationwide stand-up tour into the spring of 2022. Now, the world is in shock at the sudden loss of such a beloved performer. The unexpected death lands even harder, since it seems like Saget had begun to hit his stride on his latest comedy tour, and appeared to be gearing up for a new phase of his career with a renewed focus on live performance. "I'm happily addicted again to this s***," he tweeted, after performing for two hours in Jacksonville, Florida, in what would ultimately be his final show.
Condolences and remembrances have understandably been pouring in from fans and fellow Hollywood stars in the wake of this tragedy, a mere 10 days after mourning the loss of another comedy giant: Betty White, who died on December 31, 2021, at age 99. In fact, Saget himself posted a moving tribute to White on his Instagram, which included an anecdote that will surely bring fans to tears now more than ever.
Bob Saget recently posted about Betty White's view of the afterlife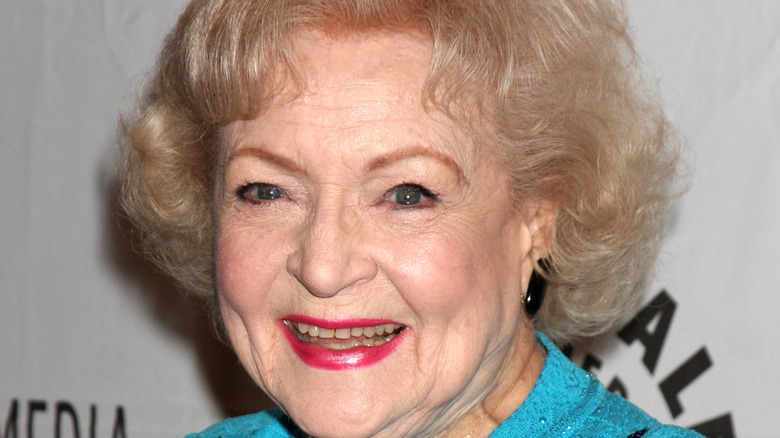 Kathy Hutchins/Shutterstock
Betty White inspired multiple generations of comedians — including, it appears, the late Bob Saget.
In the days following White's death — which came just a few days before what would have been her 100th birthday — fellow comedian and sitcom star Saget shared his memories of White on his Instagram. In the tribute, the famously blue comedian recalled a story where he and White were on a private jet drinking Bloody Marys and laughing together. He wrote, "I looked into her eyes and faux romantically said, 'How 'bout it, Betty, you and me in the bathroom? Mile High Club?' She answered me before I had a chance to finish the invite — 'Of course, Bob, you go in there first and I'll meet you as soon as I finish my drink.' And then of course she went right to sipping from her straw. I waited in that bathroom for over two hours." The actor clarified, "That would be the joke on a joke part, in case you take things literally." 
Beyond recollecting this humorous encounter, Saget more seriously mused on White's view of the afterlife. He continued, "She always said the love of her life was her husband, Allen Ludden, who she lost in 1981. Well, if things work out by Betty's design — in the afterlife, they are reunited. I don't know what happens when we die, but if Betty says you get to be with the love of your life, then I happily defer to Betty on this." 
No one could have known the world would lose Saget just a few days later, and it's especially emotional to read these words now. Fans have already taken to the Instagram post comments to express their grief over the surprising loss of Saget.
Saget's memorial for White obviously struck accord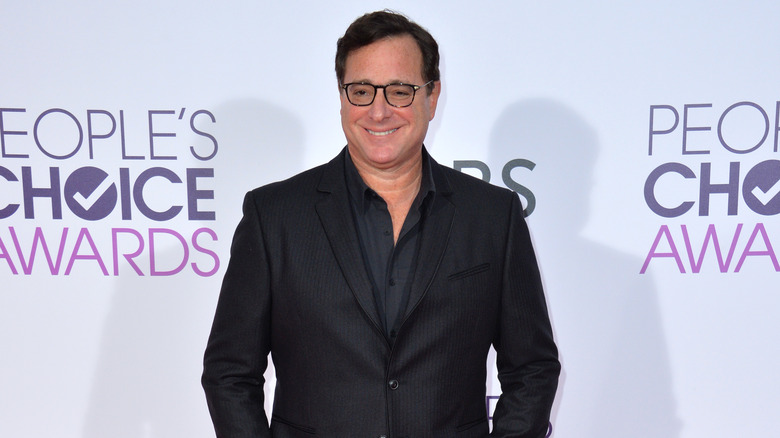 Featureflash Photo Agency/Shutterstock
Even before Saget's death, fans were showing up in droves for his Instagram post honoring Betty White. Now that his poignant words have accrued additional weight in the wake of his passing, that fan response has become even more overwhelming. Many commenters picked up on White's hopeful impression of the afterlife and ran with it, wishing Saget well in his reunion with one of his comedy idols. 
"Together now drinking bloody Mary's in heaven ❤️ may you both Rest In Peace," wrote @youngeds.
"I hope Betty is greeting you with the biggest hug. 😩🥺 RIP Bob," wrote @imashleyplumlee.
"Wow say hi to her for us RIP," added @_amanda_444.
"Wow! You two are now angels 😇 and will meet again! Rip Bob!💔," wrote @tufftopic.
Despite coming from different generations, Saget and White clearly touched many of the same lives and shared many fans as a result. The comments that didn't specifically focus on the heavenly reunion between the two blue comics, simply used the space to honor Saget.
"❤️gonna miss you man. You brought so many smiles. Rip," wrote @jeimbinder.
Aren't we all. The comedy world is reeling from the loss of two titans in such close proximity, but if Betty White was right — and, honestly, when wasn't she? — they just might be cracking each other up on another plane of existence.