The Devastating Death Of Bob Saget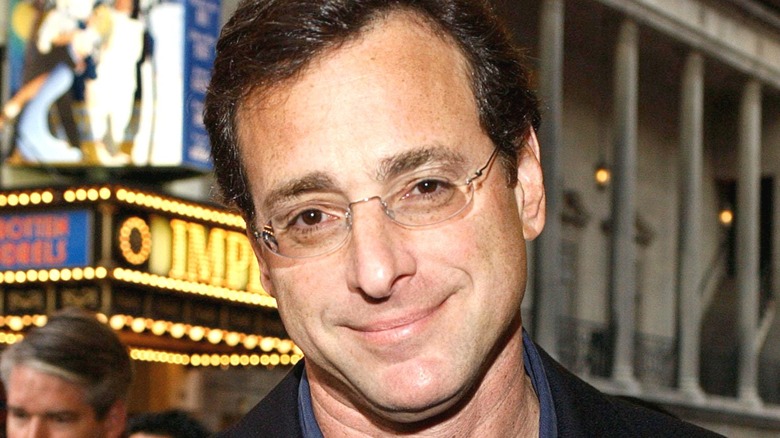 Everett Collection/Shutterstock
The entertainment world has lost one of its most iconic performers on Sunday. This evening, TMZ reported that Bob Saget was found deceased in his Ritz-Carlton hotel room in Orlando, Florida at approximately 4 p.m. ET. The Orange County Sheriff's Office tweeted out more details a few hours later, elaborating that "detectives found no signs of foul play or drug use in this case." It is still unclear what the exact cause of death is, and it may take time before that information is made public. 
In a statement issued after the announcement of Saget's passing (per CNN), his family said, "We are devastated to confirm that our beloved Bob passed away today ... He was everything to us and we want you to know how much he loved his fans, performing live and bringing people from all walks of life together with laughter ... Though we ask for privacy at this time, we invite you to join us in remembering the love and laughter that Bob brought to the world."
Saget was in the midst of a comedy tour when he died. As seen on both his Twitter and Instagram accounts, the actor and stand-up comedian shared a photo from the stage of the venue where he most recently performed — less than 24 hours ago. In his post, where he is seen smiling, he commented that he was "happily addicted again to" being on stage and performing.
Bob Saget's career in comedy contained multitudes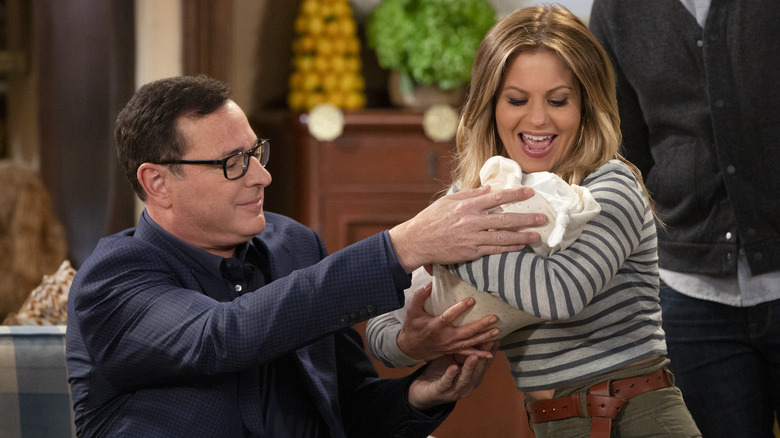 Michel Yarish/Netflix
Bob Saget led a very interesting career which, as his IMDb profile reminds us, spanned more than 40 years. Of course, his most well-known role is playing the widowed father of three, Danny Tanner, on the popular late '80s and '90s sitcom "Full House." His character struggled to raise three girls as a single dad at a time where such a story was not very popular in entertainment, but also rare in the culture of that day. The show ran for eight years, and he later reprised the same role when the "Fuller House" reboot launched on Netflix in 2016.
Saget's career in television was, of course, more prolific than his role on the hit ABC sitcom. The "Full House" alum also hosted the popular series "America's Funniest Home Video," beginning in 1989 and ending in 1997. On the heels of these two gigs, Saget returned to television dad territory with The WB sitcom "Raising Dad," co-starring Brie Larson and Kat Dennings. Additionally, Saget can be heard as the Narrator of the uber-popular series "How I Met Your Mother," where he takes on the role of the older version of Ted Mosby, played in flashbacks on the show by Josh Radnor.
In contrast to his more wholesome, family-friendly television work, Saget was also well-known for his delightfully vulgar and boundary-pushing stand-up comedy. Audiences got a taste of this on-screen thanks to Saget's voice role in 2006's "Farce of the Penguins," and an appearance in the documentary "The Aristocrats," a film about the most infamous dirty joke in the standup comedy world. Despite his success on TV, taking to the stage to perform standup appeared to be something that never get old for Saget.
Bob Saget loved his work as a standup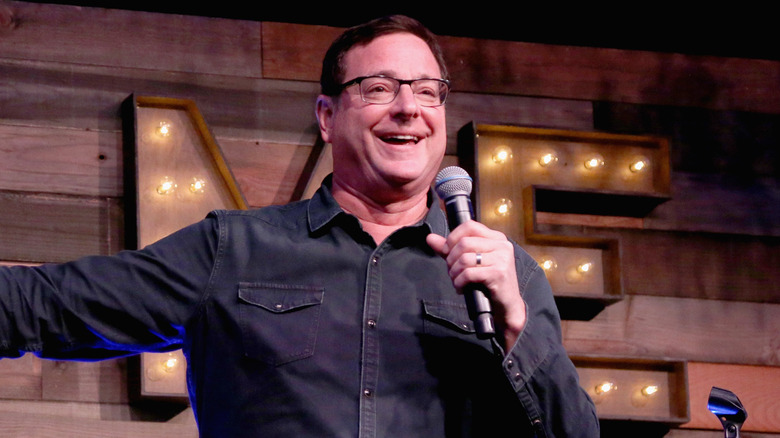 Gary Miller/Getty Images
If you've ever seen one of Bob Saget's taped stand-up specials or had the pleasure of seeing him perform live, then you likely know that his stand-up comedy was often a departure from the more family-oriented TV shows that he became well-known for. Saget was still touring as a stand-up at the time of his death and based on interviews he gave in his final years, it sounds as though he took great pleasure in being able to make people laugh. 
In 2017, Saget spoke to The Tennessean in the midst of a four-month standup tour. He told the publication, "It's like, 'How can I be 60 and still love this so much?'" It seems that love only grew stronger. When asked by Alabama.com about how the COVID-19 pandemic had affected his standup career, Saget discussed pivoting to podcasts (he hosted "Bob Saget's Here For You"). However, he also shared that being away from live audiences only made his heart grow fonder. The comedian revealed, "But stand-up, once I was able to get back to it, it really took me only one show to really get into it and realize how much I loved it. More than I have since, you know, 1995."
Saget's love of entertaining was clearly reflected in the number of people who turned to his humor for comfort. Whether you knew him best for his fatherly persona on TV or his edgier standup, Saget will be sorely missed. His contributions to the entertainment world will be remembered for years to come.