Tessa Thompson Had A Bigger Role In Creed Than You Might Think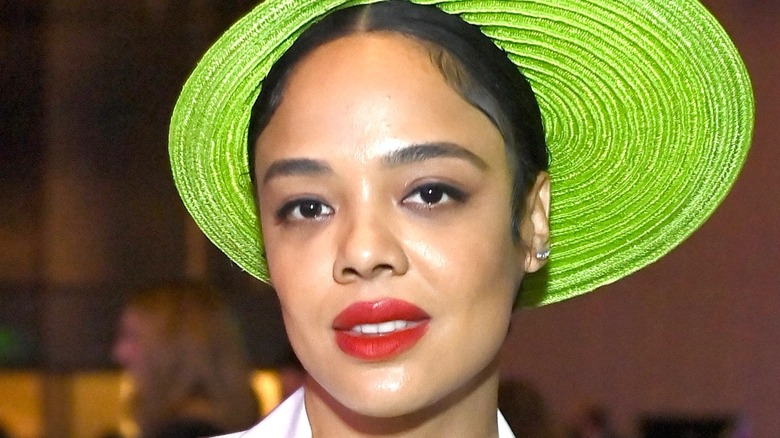 Stefanie Keenan/Getty
"Creed III" is slotted to be released on November 23, 2022, just before the holiday season (via Digital Spy). The "Creed" movies featured actor Michael B. Jordan as Adonis Creed, the son of the late Apollo Creed (Carl Weathers) — Rocky Balboa's (Sylvester Stallone) former rival turned friend who was killed in an exhibition boxing match against Russia's Ivan Drago (Dolph Lundgren) in "Rocky IV." Up until this point in the series, we have seen Adonis and Rocky develop a meaningful relationship, Rocky battle cancer, Adonis become the Heavyweight-Champion of the World like his father before him, and most recently, Adonis beat the son of Ivan Drago, Viktor (Florian Munteanu). "Creed III" will be the first film in the "Rocky" franchise without Stallone.
Although "Creed II" was a massive success for fans and critics, the first installment of "Creed" was praised by some critics as a formula film that was executed to near perfection, earning a 95% fresh score on Rotten Tomatoes. "Creed" also featured excellent performances of other important characters in Adonis' story, especially Tessa Thompson's Bianca Taylor, who Adonis meets in his apartment complex after moving to Philadelphia to pursue boxing and visit Rocky. Bianca breaks the mold of the "love interest" character that happens all too often, providing audiences with a person who has depth, her own motives, and career pursuits. She always tells Adonis what he needs to hear rather than what he wants to. What most viewers don't know, however, is that Tessa Thompson played an even bigger role in the film off-screen.
Tessa Thompson helped with location scouting and contributed to the soundtrack
In "Creed," the club where Bianca performs at that Adonis comes to before he asks her out, called Johnny Brenda's, is an actual club in Philly. Tessa Thompson reportedly found the place herself, as she had performed her music there sometime prior to shooting the film, and introduced it to director Ryan Coogler (via Philadelphia Magazine). 
As Thompson is a music artist outside of the "Creed" films in the Los Angeles-based band called Caught A Ghost (via ELLE), she made her own musical contributions to both soundtracks for "Creed" and "Creed II." Her songs on both albums include "Grip," "Breathe," "Midnight," and most notably "I Will Go to War," which Bianca herself sings as a walkout song for Adonis in his second fight against Viktor Drago, emphasizing the fact that they are a team who will take on challenges together.
Thompson has compared her own growth as a person and actress to that of Bianca's over the span of the first two "Creed" films (via Fandango). She even noted her specific desire to always give her character a voice during "Creed II." "We've just had a lot of conversations around how we continue to give this character Bianca her own agency, and how we make sure that her voice is really present in it and that even if she doesn't occupy tons of page space, that the page space she does occupy feels really vital," Thompson told Fandango.
As "Creed III" approaches with Michael B. Jordan at the helm as director and star, it's likely that he will continue to work with Thompson on furthering the character of Bianca.