Michael B. Jordan Reveals The Real Reason Sylvester Stallone Isn't In Creed 3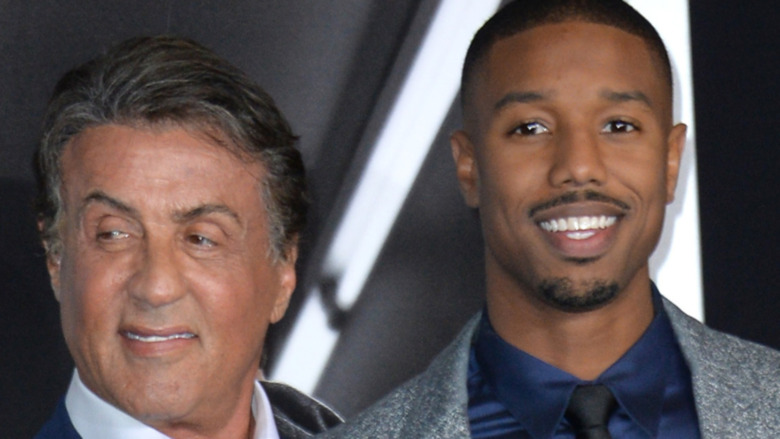 Shutterstock
If you haven't been following the continuing evolution of the "Rocky" franchise, here's a quick recap. Sylvester Stallone starred in five "Rocky" films from 1976 to 1990, which were "Rocky" 1-5. He returned to role one last time in 2006 for "Rocky Balboa," which was also the last time Rocky Balboa fought in the ring. Since then, the franchise has moved on to the next generation's hero, Adonis "Donnie" Creed (Michael B. Jordan), the son of Rocky's old foe Apollo Creed and Rocky's new protégé. So far, Jordan has starred in two of his own films, "Creed I" from 2015 and "Creed II" from 2018. Rocky Balboa has served as Adonis' trainer both times. 
"Creed III" is the next installment in the series, which released in theaters on March 3, 2023. This time around, Creed has to duke it out with his childhood friend-turned-bitter enemy, Damian "Dame" Anderson (Jonathan Majors). He'll have to take on this fight alone, though, since Rocky Balboa won't be appearing in his corner for the long-awaited threequel. Jordan sat down with IGN (via SlashFilm) to talk about "Creed III" and specifically addressed what led to Stallone stepping away from the character.
Jordan wants to pass the torch from Rocky to Adonis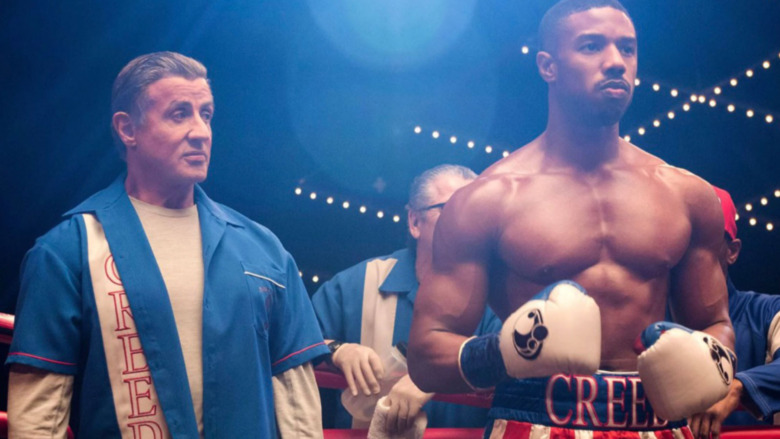 MGM
Stallone's onscreen departure from the "Creed" series comes as Michael B. Jordan is ascendant as the new face of the wider "Rocky" franchise. Jordan sat in the director's chair for "Creed III," which is in keeping with tradition — Stallone directed four "Rocky" movies himself, "Rocky II," "Rocky III," "Rocky IV," and "Rocky Balboa."
Jordan said of Stallone's decision to leave the Rocky Balboa character behind, "This is a Creed franchise, and we really want to build this story and this world around [Adonis] moving forward. So, it's always respect and always a s***-ton of love for what [Stallone] built, but we really want to push and navigate Adonis forward and the family that he created."
Stallone already said on Instagram in November 2018 that he had no plans to play Balboa again after "Creed II." Rocky was still alive at the end of that movie, but his health was in decline after a non-Hodgkins lymphoma diagnosis. The movie also saw Rocky reconnect with his estranged son, Rocky Balboa Jr. (Milo Ventimiglia), which was a tidy endpoint for his character arc.
Behind-the-scenes conflict partially prompted Stallone to depart the franchise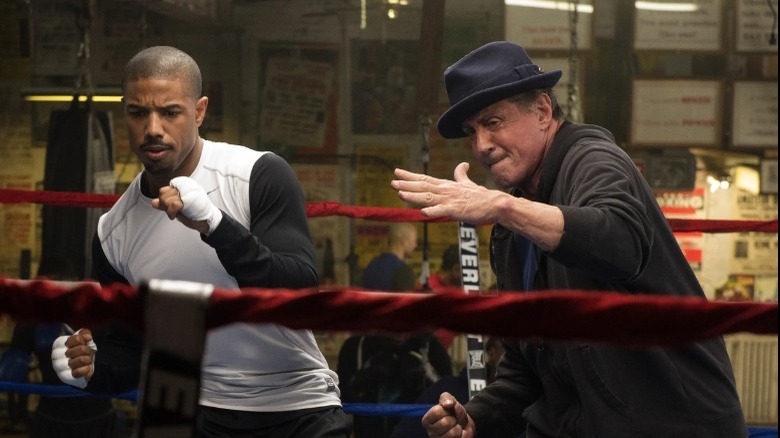 Warner Bros.
Aside from Michael B. Jordan's desire to put the focus of the "Creed" franchise more squarely on Adonis Creed, it turns out that behind-the-scenes circumstances contributed to Sylvester Stallone's exit. As he told The Hollywood Reporter in November 2022, he wasn't exactly overjoyed with the creative direction of "Creed III." "It was taken in a direction that is quite different than I would've taken it. It's a different philosophy," he said, adding, "I like my heroes getting beat up, but I just don't want them going into that dark space. I just feel people have enough darkness."
Additionally, Stallone has made it known publicly that there's bad blood between himself and producer Irwin Winkler. For years the two have been at odds over the rights to the "Rocky" series, which Stallone sold way back around the time of the first film's release. Speaking with Jessica Shaw of SiriusXM, he shared that the feud was a motivating factor in him leaving the role of Rocky Balboa behind. "You can't make peace with someone who's been so, so nefarious, in my opinion," he explained. Although, Stallone does note that if Jordan makes "Creed IV" without Winkler, he'd be willing to come back.
Losing Rocky Balboa will surely make the Rocky franchise feel much different, but Michael B. Jordan should be a more than adequate replacement. Truth be told, he's already been carrying the franchise on his strapping shoulders. This time around, however, the training wheels are officially off.