What You Didn't Notice About Rocky's Turtles In Creed 2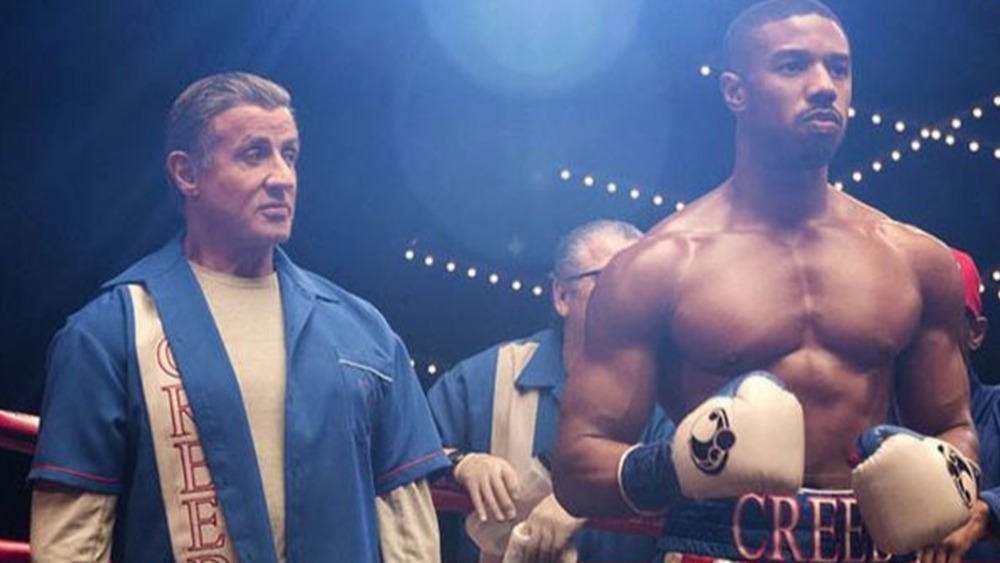 Warner Bros.
The Creed films — led by Black Panther and Just Mercy star Michael B. Jordan — turned out to be massive successes thanks to a few factors. On their own, these two features are highly entertaining, full of heart, and include plenty of action both inside and outside the ring. Still, for as popular as the likes of Adonis Creed (Michael B. Jordan) and Bianca (Tessa Thompson) have become over the years, an enduring selling point for their movies has been their connection to the iconic Rocky franchise from the 1970s, '80s, '90s, and early '00s.
A staple of Hollywood and one of the most successful series to ever hit the big screen, Sylvester Stallone built his legacy on the story of "The Italian Stallion" Rocky Balboa. With the first film approaching its 45th anniversary, and the legendary actor nearing 75 years old, another Rocky installment is becoming a dicey proposition. As a compromise, the character and his exploits live vicariously through Creed. Scattered across both movies are remnants of Rocky's younger days, including his pet turtles, Cuff and Link, who have quite an interesting history behind them.
Cuff and Link are a part of the Rocky legacy
Cuff and Link, who newer fans might recognize solely from Creed II, have a legacy of their own in the Rocky franchise dating back over four decades. As pointed out by Reddit user u/Shamrock5, the specific turtles shown in the sequel to 2016's Creed are the same ones Rocky purchased in 1976's Rocky and, clearly, they're still going strong today. Additionally, from the moment they arrived on screen way back when, they've been Sylvester Stallone's real-life pets, so it makes sense he'd land them another "acting" gig when the chance arose.
While Cuff and Link continue to pop up in Rocky and Creed media, they're not Stallone's only pets to cameo in his career-defining series. u/Liam_ice92 commented "His dog from Rocky and Rocky 2 was also his IRL dog, he passed away before they made Rocky 3 though sadly," with u/DeepFriedW00kie adding "he actually was forced to sell that dog before making rocky for the money/he couldn't afford its food and then paid the man who bought it far more than he sold it to him for after he got his money from making/starring rocky."
Even though Stallone's furry friend Butkus didn't have the chance to pop up in Creed or Creed II, Cuff and Link's much lengthier natural lifespan scored them a quick appearance. Perhaps these two of Hollywood's most famous shelled "actors" will get another chance to strut their stuff in Creed 3 as soon as that project gets off the ground.