Spider-Man: Homecoming Tracking For $100 Million Opening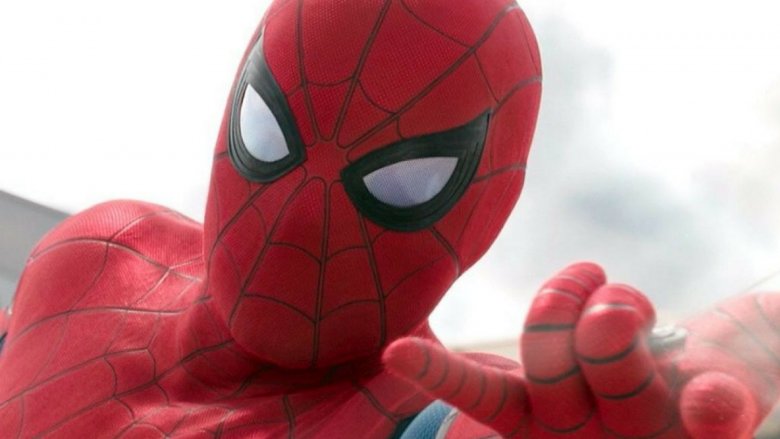 Spider-Man: Homecoming is looking to web-sling its way to a $100 million opening this July. Deadline reports that industry tracking puts the film's opening weekend at somewhere between $90 million and $108 million, a solid opening for the beginning of a new Spidey franchise.
Sony's five Spider-Man movies to date have grossed $3.96 million at the worldwide box office, so the character has already proved to be quite profitable for the studio. However, they are likely looking to see Homecoming fall in the higher range of their past Spidey films, as the movie has the benefit of finally connecting Peter Parker to the MCU, which in this case means a big role for fan (and box office) favorite Tony Stark. 
Homecoming has also already received a huge marketing push, which has included innovative ads like custom NBA Finals TV spots featuring the likes of Stan Lee and DJ Khaled, as well as multiple trailers and clips dropping during big events like the MTV Movie and TV Awards. All told, these things are good to make the movie the second most anticipated of the summer, according to a recent Fandango poll, as well as one of the most Tweeted about films of the past few months. 
A $100 million opening for Homecoming would be impressive, especially amidst an anemic summer box office, but it would be below some of the past entries in the Spidey pantheon. Tobey Maguire's Spider-Man opened to $114.8 million, while Spider-Man 2 followed that up with $152.4 million (over a five-day period, as the film opened on a Wednesday), and Spider-Man 3 topped them off with $151.1 million. Andrew Garfield's The Amazing Spider-Man kicked off with $137 million (over a seven-day period, as the film opened in wide previews on a Monday), and The Amazing Spider-Man 2 followed that up with $91.6 million.
There could be a few reasons for Homecoming tracking lower than past Spider-Man films. For one thing, as previously mentioned, the summer box office is down, as people turn more to television and streaming and skip out on the theater. Unlike Maguire's Spider-Man films, Homecoming also has quite a few other superhero films to compete against (including this summer's box office juggernaut Wonder Woman), which means that audiences are less likely to head out to see the web-slinger just for the sake of it. 
It is possible that Homecoming could begin tracking higher or lower as it gets closer to opening, with positive or negative reviews likely to have a huge effect on its ultimate performance. Homecoming is apparently, like most superhero films, currently a hit with young men, although Deadline notes that tracking says it is also a favorite with families. The film is estimated to have cost in the upper $100 million range before marketing.
Tom Holland, Robert Downey Jr., Jon Favreau, Michael Keaton, Marisa Tomei, Jacob Batalon, Zendaya, Donald Glover, Laura Harrier, Tony Revolori, Bokeem Woodbine, Logan Marshall-Green, and Michael Chernus star in Homecoming, which was directed by Jon Watts based on a script from Watts, John Francis Daley, Jonathan Goldstein, Christopher Ford, Chris McKenna, and Erik Sommers. The movie is due out July 7, but tickets are already on sale now. While we wait to see how much Spider-Man plunders at the box office, see why the movie will be better than you think.