Shows Like Fate: The Winx Saga That Fantasy Fans Need To See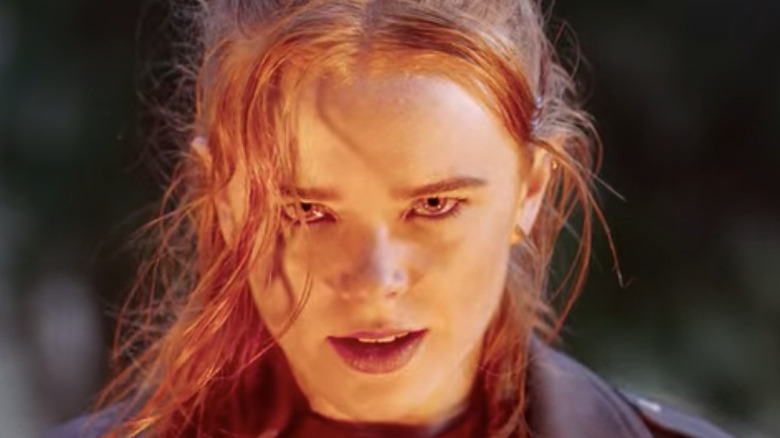 Netflix
Netflix's "Fate: The Winx Saga" has brought back the "Winx Club" franchise in a big way, adding dark layers and a gritty texture in the '00s Nickelodeon cartoon's transition to live action. Starring an ensemble cast led by Abigail Cowen as Bloom, the series blends elements of teen drama, action-adventure, and even horror in the building of its fantasy world. The tone and aesthetic of "Fate" are markedly different from the franchise's cartoon origins, yielding a new kind of "Winx Club" story for an older audience, but keeping those old roots in mind.
The story of "Fate: The Winx Saga" follows Bloom, a young woman raised in the human realm who discovers she's secretly a fairy after accidentally burning down her family home with deadly fire magic. She leaves the life she's known to enroll at Alfea College — a Hogwarts-style academy in a mystical realm called the Otherworld where fairies learn to control their unique abilities. Shortly after arriving, Bloom joins up with a group of fairies of various elemental disciplines in a mission to stop an ancient evil from returning out of the shadows and taking over the Otherworld.
Of course, "Fate: The Winx Saga" isn't just about training with magic and battling monsters. The show carries a sardonic tone, dealing with real-world teenage issues like personal identity, harmful family dynamics, trauma, and mental health. "Fate" balances its magical montages with webs of interpersonal drama, yielding a show that's equal parts "Harry Potter" and "Riverdale." It's an interesting blend that has earned "The Winx Saga" a number of fans, many of whom may be looking for other fantasy shows with similar themes, stories, and energy. Here are some other shows similar to "Fate: The Winx Saga" that fantasy TV fans should check out.
Shadow and Bone (2021-present)
Netflix
Netflix subscribers who've enjoyed "Fate" should check out one of the streamer's other big fantasy shows in "Shadow and Bone," a live-action adaptation of author Leigh Bardugo's Grishaverse novels. The series, set in a fantasy world inspired by early 19th century Tsarist Russia, features an ensemble cast led by Jessie Mei Li, Archie Renaux, Freddy Carter, Amita Suman, Kit Young, and Ben Barnes.
The world of "Shadow and Bone" is one filled with magic, which can be channeled by special humans called Grisha. Each Grisha can manipulate a different aspect of energy or matter, such as wind, fire, or even darkness. The show primarily follows Alina Starkov (Li), who is revealed to be the Sun Summoner — a prophesied Grisha capable of manipulating light and destined to play a key role in the world's various conflicts.
There are many direct parallels between "The Winx Saga" and "Shadow and Bone," from the elemental magic systems to the heavy focus on supernatural training. The shows also share similarities in the nature of their conflicts, both of which center on ancient dark forces and hidden agents working to wield them in bids for supreme power. The cast of "Shadow and Bone" is exceptional, the soundtrack and production design are gorgeous, and Bardugo's world is rich and fully realized in the Netflix adaptation. It's an easy recommendation for any fantasy fan, but especially those who've enjoyed "Fate: The Winx Saga."
His Dark Materials (2019-present)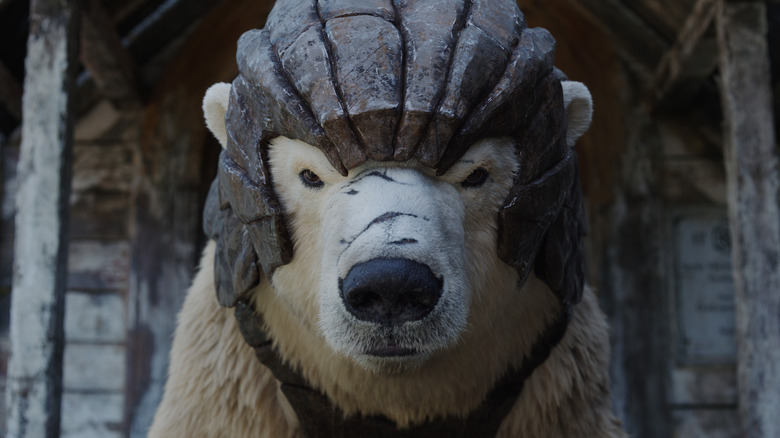 HBO
Like "Shadow and Bone," "His Dark Materials" is based on a series of books — the acclaimed series of the same name from revered author Phillip Pullman that began with 1995's "The Golden Compass." The HBO show's expansive cast is led by young star Dafne Keen and features names like Ruth Wilson, Will Keen, Gary Lewis, James McAvoy, Lin-Manuel Miranda, Amir Wilson, and Andrew Scott. "His Dark Materials" has received high critical praise throughout its run for a loyalty to the source material, its impressive production values, and the strength of its ensemble.
Similar to "The Winx Saga," "His Dark Materials" takes place in a universe of multiple dimensions, which can be navigated via the use of magic. The main character Lyra (Keen) embarks on a dangerous journey through these mystical realms, driven by prophecy and a mission to stop dark forces at work in the shadows. It may not sound like the most original fantasy story ever told, but that's partly because of how hugely influential Pullman's writing has been. The HBO adaptation does an excellent job of transferring the author's vivid universe to the small screen, with all the style and intrigue needed to keep viewers glued to the screen.
Into the Badlands (2015-2019)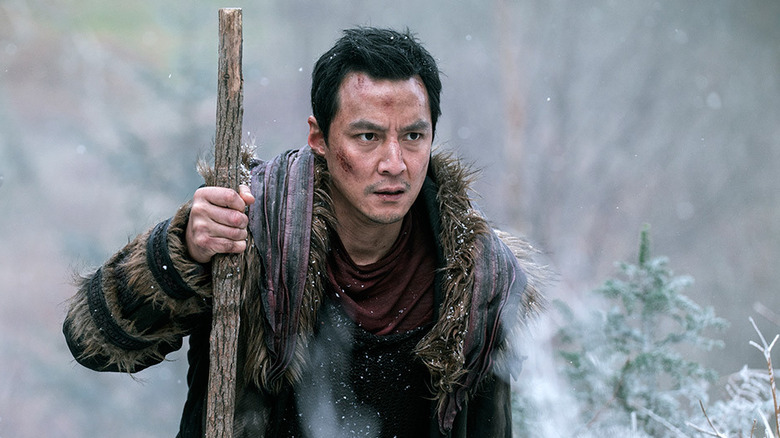 AMC
Technically, AMC's "Into the Badlands" is science fiction, not fantasy. It takes place on a post-apocalyptic Earth so far removed from the actual apocalypse that over the years it has become myth. Some technology remains from the old world (like cars kept running through constant maintenance), but all guns were destroyed long ago, leaving a society where the powerful must train in martial arts and sword combat in order to survive. There are also superhumans with dark powers, cultish religious groups, and a mythical city that holds the secrets of what really happened to the world.
If that all sounds like a bit of a hodgepodge, it is, but in the best way. "Into the Badlands" is a beautiful, violent, raucously fun show filled with stylish action, fantasy worldbuilding, and a diverse ensemble of stellar characters. Led by martial arts movie legend Daniel Wu, the show's cast includes Orla Brady, Aramis Knight, Emily Beecham, Ally Ioannides, Nick Frost, Sherman Augustus, Stephen Lang, and Babou Ceesay. Though elements of the form and genre are quite different from those of "The Winx Saga," the two series deliver similar stories — dark, gritty adventures in mysterious, modernized fantasy worlds with lots of fun lore to discover along the way. There's never been a better time to watch "Into the Badlands."
The Wheel of Time (2021-present)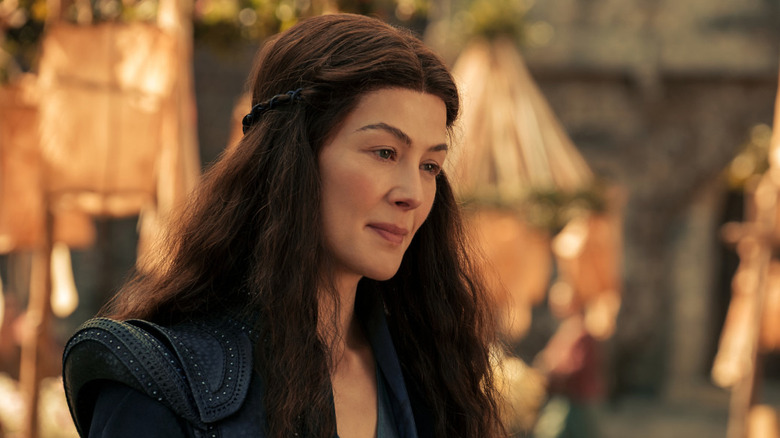 Amazon
Robert Jordan's "The Wheel of Time" fantasy novels are some of the most beloved in the entire genre, and the franchise has now been brought to live action in an Amazon series of the same name. Set in a fantasy world similar in many ways to "The Lord of the Rings," the series deals with themes of reincarnation and cyclical history through a group of young heroes training to battle a returning evil from the past. "The Wheel of Time" stars Rosamund Pike, Daniel Henney, Zoë Robins, Madeleine Madden, Josha Stradowski, and Marcus Rutherford.
Many of the fantasy trappings of "The Wheel of Time" may seem familiar, but that doesn't make it any less entertaining to watch. The core plot of a group of young characters training to combat an encroaching global threat is very similar to the story of "Fate: The Winx Saga," and while the worlds the two shows are set in vary wildly, there are a number of similarities in both theme and tone. Jordan's world is one of the most influential in the history of fantasy, and the Amazon adaption is well worth checking out.
Merlin (2008-2012)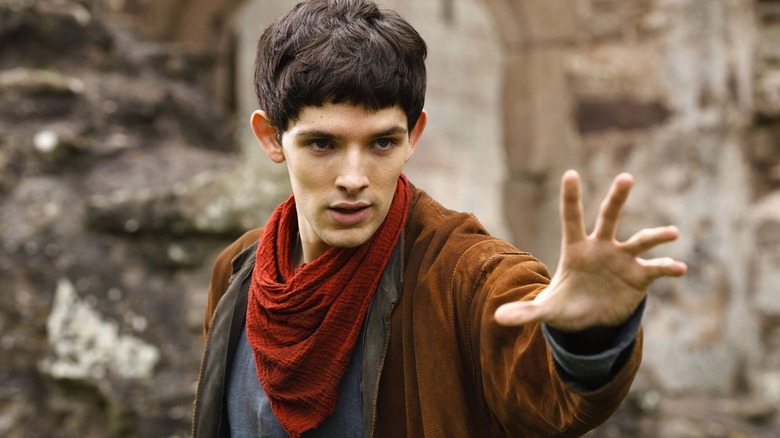 BBC One
"Merlin" is one of those shows some people still talk about years after it went off the air. The story of the young warlock Merlin (Colin Morgan) and his time in Uther Pendragon's treacherous court was fun and compelling in all the ways a classic fantasy tale should be, aided by a brilliant cast of Anthony Head as Uther, Bradley James as Prince Arthur, Angel Coulby as Guinevere, Katie McGrath as Morgana, and others. The series has started to show its age a bit in terms of overall production value, but it is still a great option for fans of the genre yet to experience its magic.
Fans of "Fate: The Winx Saga" will find that a revisit of "Merlin" covers a lot of common ground. There's lots of magical training and youthful fantasy bonding, a whole world of mysticism and mythology to unearth, evil plots, betrayal, and oppressive power structures to rally against. In short, "Merlin" has nearly everything teen fantasy drama fans are looking for, and it remains a stalwart of the genre.
Titans (2018-present)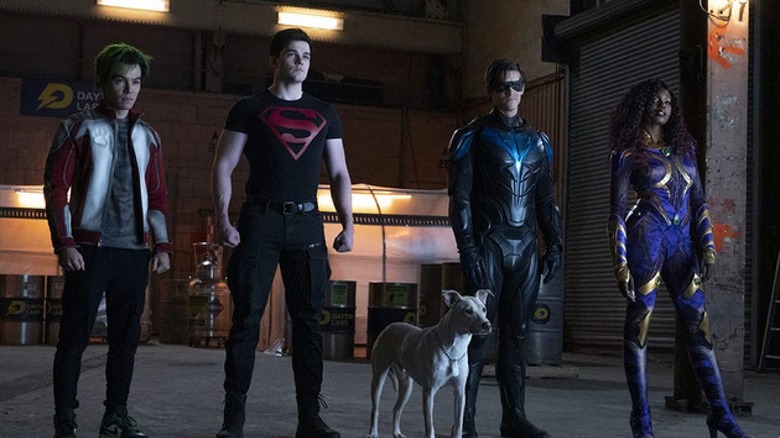 HBO
"Titans" is not a fantasy show, but a superhero one featuring big-name DC characters like Robin, Starfire, Beast Boy, Raven, Deathstroke, Batman, Superboy, and Scarecrow. But, just as "Fate: The Winx Saga" transforms the original "Winx Club" cartoon into a dark live-action teen drama, so too does "Titans" reimagine the beloved "Teen Titans" as a gritty, grounded analysis of trauma, vigilantism, and found family.
Other than the actual genres they inhabit, the two shows are strikingly similar. "Titans" features a large ensemble of DC heroes and villains played by the likes of Brenton Thwaites, Anna Diop, Teagan Croft, Ryan Potter, Curran Walters, and Conor Leslie. These aren't the characters as they've generally been portrayed on screen, however. In "Titans," the classic comics characters battle internal foes as often as they do external ones, grappling with complex ideas of identity, belonging, morality, and purpose. It's a dark, sometimes brutal show, but one that carries a huge amount of heart and a number of spectacular performances. HBO Max subscribers who've enjoyed the dark teen fantasy of "Fate: The Winx Saga" would do well to check "Titans" out for themselves.
Locke & Key (2020-present)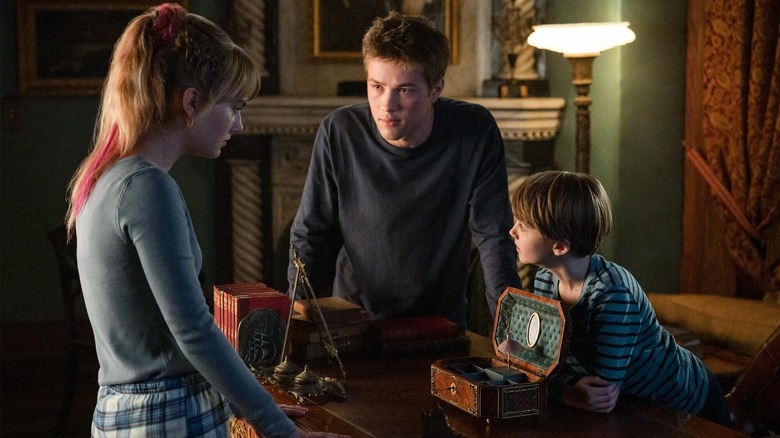 Netflix
Based on the comic series from Joe Hill and Gabriel Rodríguez, Netflix's "Locke & Key" adds an element of horror to the traditional modern fantasy formula. The show follows the children of the Locke family, who move to their deceased father's family estate with their mother after a grim accident. There, they discover a mysterious web of magic and hauntings as keys discovered within the house unlock new doors and new secrets.
In some ways, "Locke and Key" can be described as a darker twist on "The Lion, the Witch and the Wardrobe," but with less adventuring through mythical landscapes and more exploring secret houses filled with magic. The cast, led by Darby Stanchfield, Connor Jessup, Emilia Jones, and Jackson Robert Scott is great, and they bring Hill and Rodríguez's fantasy world to life in exciting ways. Anyone who loves "Fate: The Winx Saga" on Netflix might find another favorite in "Locke & Key."
Chilling Adventures of Sabrina (2018-2020)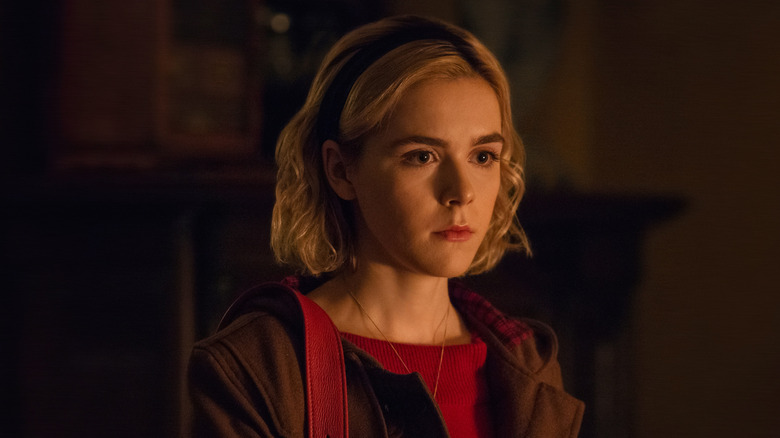 Netflix
Another great, dark, teen fantasy series for Netflix subscribers to try, "Chilling Adventures of Sabrina" revitalized the "Sabrina the Teenage Witch" franchise for a new generation. The show was led by a powerhouse performance from "Mad Men" and "The Legend of Korra" alumna Kiernan Shipka, who played the eponymous Sabrina Spellman with nuance, intensity, and endless charisma. Shipka was supported by an ensemble that included Ross Lynch, Lucy Davis, Chance Perdomo, Michelle Gomez, Jaz Sinclair, and Tati Gabrielle, among others.
For fans of "Winx" who find dark elements most appealing, there's a lot to love in "Sabrina." It's dark, it's demonic, and it's incredibly stylish, showing hellish realms and eldritch monsters while oozing its gorgeous gothic aesthetic. There's also plenty of teen romance, spells gone wrong, ancient evils, and laughs. "Chilling Adventures of Sabrina" may sound like a hodgepodge from that description, but the show blends its various elements together in a uniquely compelling way, sure to please devotees of fantasy, teen dramas, or both.
It's just a shame that "Chilling Adventures of Sabrina" was cancelled a bit before its time.
The Owl House (2020-present)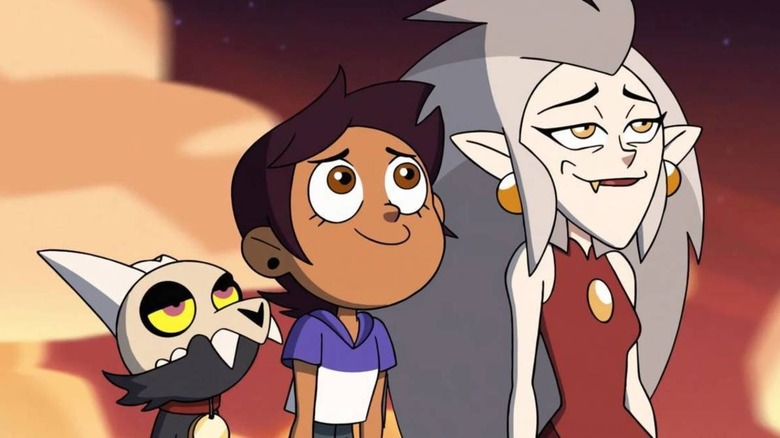 Disney
Many of the shows on this list mirror the dark tone of "Fate: The Winx Saga." "The Owl House" does not. 
It is instead a family-friendly cartoon from Disney, perhaps more akin to the original "Winx Club" than anything in "Fate." It's also one of the best animated series in years, delivering gorgeously-realized character arcs, beautiful visuals, and heartfelt messages of perseverance and acceptance, all while telling fun magic school stories and exploring a fantastical realm of demons, witches, and ancient secrets.
Created by "Gravity Falls" alum Dana Terrace, "The Owl House" follows Luz Noceda, a Dominican American teenager transported to a mystical dimension called the Boiling Isles. There, she meets the rogue witch Eda and her demon friend King, who begin instructing her in the magical arts. Eventually Luz enrolls at the local magic school, making friends along the way, training with spells, and uncovering the shadowy underbelly of the local governing force.
The true strength of "The Owl House" is in its unabashed joy and positivity. From the animation to the writing, every element of the series is imbued with an undeniable fun that keeps things fresh and entertaining for viewers of any age. "The Owl House" is also a landmark cartoon in the realm of LGBTQ+ representation, embracing characters of all identities and allowing them to shine. The whole show is written with immense empathy and care, and it should be on the list of anybody with a Disney+ subscription. The only downside to getting invested in the series is that "The Owl House" has a limited number of episodes remaining, but what exists already is more than worth the time.
Warrior Nun (2020-present)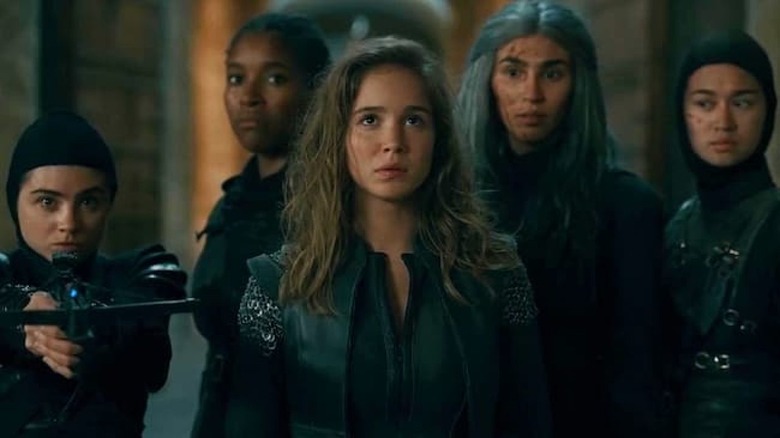 Netflix
"Warrior Nun" is pure camp fun — a show filled with striking vistas, silly sci-fi and fantasy storylines, and, curiously, Catholicism. Based on the comic book series of the same name, the series follows Ava Silva (Alba Baptista), a young woman saved from death by the power of a mystical halo. She goes on to learn that she is the latest in a long line of halo-bearers sworn to protect the Earth from demonic attacks. Gradually, the secrets of the mysterious order of Catholic nuns and priests she's meant to join reveals itself, leading to a web of twists, turns, treachery, superpowers, and portals to alternate dimensions.
Though it deals heavily in Biblical interpretations of heaven and hell, "Warrior Nun" turns those narrative elements into its own lore, distancing itself from actual Catholicism just enough to turn familiar myth into fun, exciting fantasy action. There's nothing too complex or nuanced about the themes or characters here, but that doesn't make the show any less entertaining. Quite the contrary, the campy tone of "Warrior Nun" is a huge part of its appeal, and it places the show very close to the overall energy of "Fate."
Buffy the Vampire Slayer (1997-2003)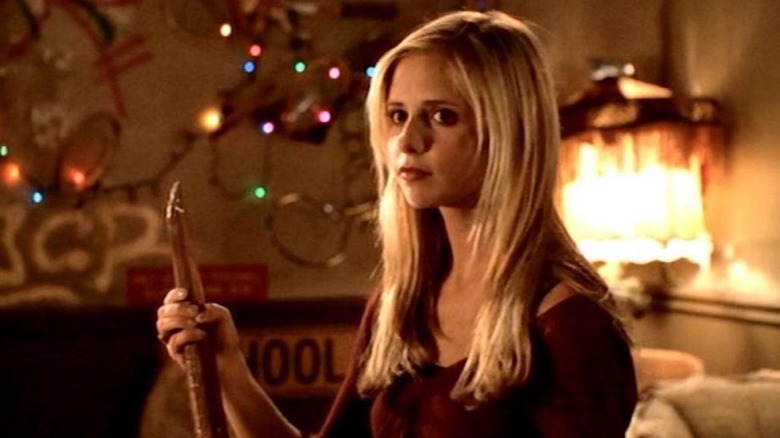 20th Century Fox
You simply have a discussion about teen fantasy dramas without acknowledging "Buffy the Vampire Slayer" — a show that, at this point, needs no introduction, as its influence has been felt time and again in the decades since its premiere. Sarah Michelle Gellar, Alyson Hannigan, David Boreanaz, James Marsters, Anthony Stewart Head, and the rest of the cast worked together wonderfully to create a campy world of vampires and demons that nonetheless managed to dabble in more serious themes and storylines from time to time. It's a classic, and it's still worth a watch for any fantasy fans who haven't yet given the show a go.
Looked at through a modern lens, "Buffy" definitely shows its age. The monster costumes are rubbery and more inspiring of laughter than scares, and the whole show is written with a tongue-in-cheek tone, packed with nerdy pop culture references and quippy one-liners. But it also is the origin point for many of the kinds of plot arcs that make "Fate: The Winx Saga" fun. There's the teen girl protagonist blessed (or cursed) with extraordinary powers and fated to fight the powers of evil. There's the gang of supporting teen characters, all caught up in various arcs and romances of their own. There's also the persistent training element of the story, through which those core characters gradually gain new knowledge and abilities with which to do their righteous work.
Does everything about "Buffy the Vampire Slayer" hold up today? No. Can it still be a lot of fun for fans of shows like Fate: The Winx Saga?" Absolutely.
American Gods (2017-2021)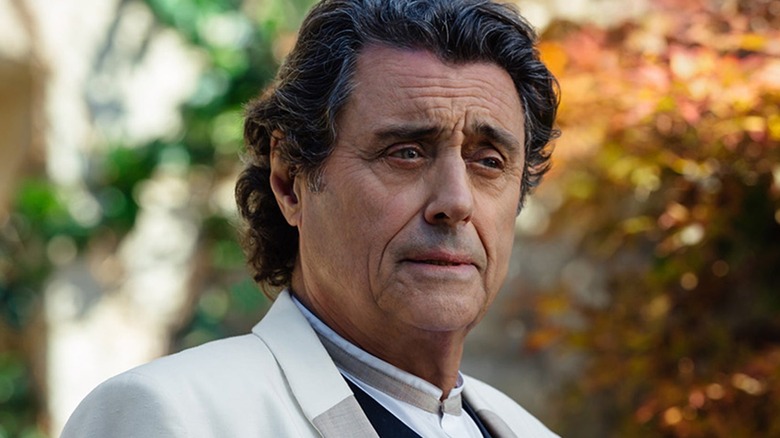 Starz
In the world of contemporary fantasy — particularly fantasy set in worlds like "Fate: The Winx Saga — Neil Gaiman is one of the true greats. "American Gods," a live-action adaptation of his novel of the same name, brought the author's imaginative world and vivid characters to life on Starz. Unfortunately, the show only lasted three seasons before getting cancelled, but it received high praise at many points during its run.
Similar to how "Fate: The Winx Saga" shows a fantasy world filled with modern technology, "American Gods" dealt directly with the evolving nature of human faith and how the presence of modernity weakened the power of the old mythical gods. The resulting story blended elements of drama and social commentary with the supernatural, all with a stylish and distinct aesthetic presentation. The cast, led by Ricky Whittle and Ian McShane and featuring stars like Emily Browning, Crispin Glover, Gillian Anderson, Yetide Badaki, Peter Stormare, and Dominique Jackson was also exceptional, and their chemistry kept the drama and intrigue of "American Gods" high from beginning to end.
The Witcher (2020-present)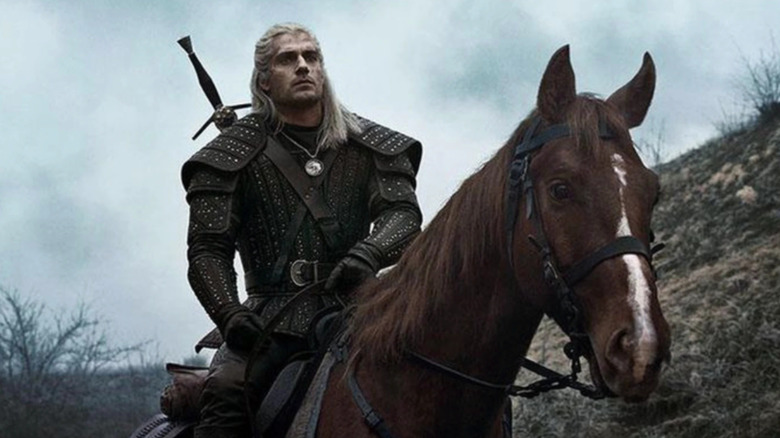 Netflix
Netflix has jumped head-first into producing original fantasy series with shows like "Fate: The Winx Saga," and one of its biggest successes yet in the genre is "The Witcher." Starring Henry Cavill as Geralt of Rivia — the eponymous Witcher — the series adapts Polish author Andrzej Sapkowski's literary franchise of the same name, which includes both novels and short stories. The Netflix series is a big-budget, live-action version of the story, following the various adventures and misadventures of Geralt, the sorceress Yennefer (Anya Chalotra), and the princess Ciri (Freya Allan) as they journey across a sprawling magical realm known as the Continent.
Many will know the "Witcher" franchise best from the video games developed by CD Projekt RED, which have sold incredibly well worldwide and made Geralt a household name. The Netflix show takes place far before the events of the games, however, explaining how the three core characters first met and setting them on their path of adventure. It's a very different kind of fantasy world than that of "The Winx Saga," but it features much of the same appeal in its expansive lore, worldbuilding, and magic systems. With prequels and anime spinoffs now expanding the "Witcher" franchise in exciting ways, there's plenty for fantasy fans to embrace here, and a lot of fun to be had in Cavill's performance.
The Magicians (2015-2020)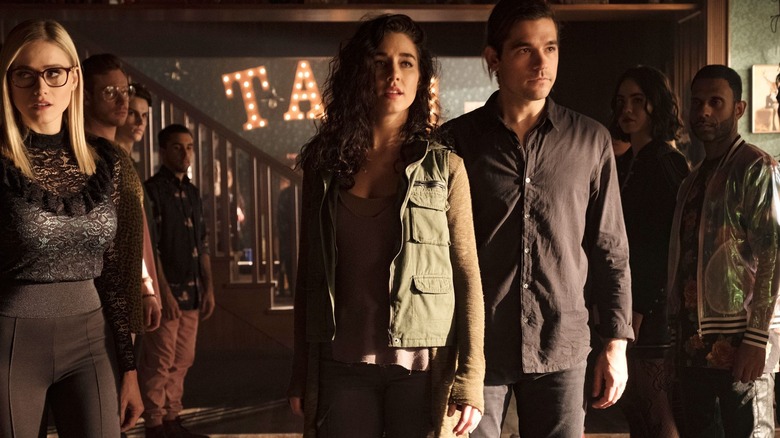 Syfy
"The Magicians" offers everything fans of the contemporary fantasy genre could ask for. A huge cast of colorful and compelling characters? Check. Tons of magical systems and fantastical lore to explore? Check. Ancient evils and forces of darkness waiting in the shadows for their moment to strike? Check.
More than anything, though, "The Magicians" was just a fun show to watch. It's a series that didn't take itself too seriously, allowing space for real character development and heavier plotlines. Embracing humor, but never at the expense of more traditional action-adventure storylines, it was a joyous celebration of the genre it inhabited, filled with standout performances and enough excitement to keep viewers on the edge of their seats. Plus, now that the series has fully ended, it's ripe for binging — a perfect next show for anyone who's enjoyed the unique fantasy appeal of "Fate: The Winx Saga."