Why Bloom From Fate: The Winx Saga Looks So Familiar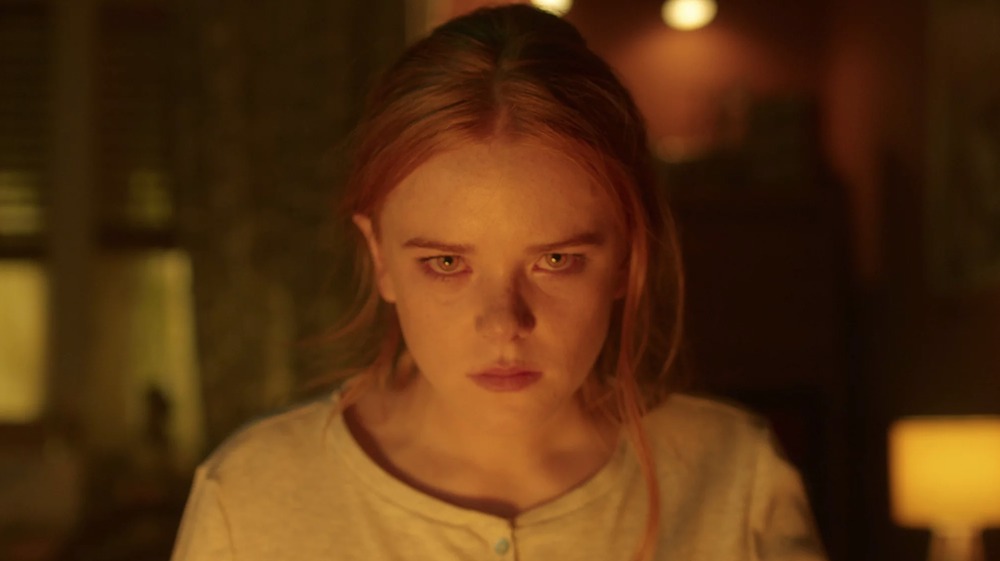 Netflix
Streaming titan Netflix continues to be a bastion of light for serialized genre fiction, as they are now readying new seasons of hit series like Stranger Things and The Umbrella Academy, and adding fresh new treats on a near weekly basis. For those on the lookout for a fresh fantasy offering, Netflix's latest is a harrowing live-action drama based on a beloved animated series, that's sure to sate any genre appetite. 
Indeed, the Nickelodeon series which inspired Netflix's latest is Winx Club, which follows the adventures of five gifted teen fairies who attend a magical boarding school and fight evildoers in the magical realm of Otherworld. First airing on Nickelodeon in 2004, the animated series has so far delivered a total of 208 episodes (not including several hour-long additions), though it's now been off-the-air since the 2019 season ended.
However, fans of Nickelodeon's Winx Club should know that Netflix's Fate: The Winx Saga is a very different beast than its more kid-friendly inspiration. Perhaps taking a cue from the recent successes of adult-oriented teen dramas like Riverdale and Chilling Adventures of Sabrina, the new Netflix venture is promising a wild mix of bombastic, effects-drive action, brooding teen moodiness, saucy sex appeal, and frightful delights that come in all shapes and sizes.
The series is, however, still centered around the teenaged Bloom, a fairy raised by humans and sent to the Alfea school so she can learn the ways of fairies, and also to control her dangerous magical abilities. And if Abigail Cowen, who plays Bloom in the series, looks familiar, it's probably because you've seen her in a couple other small screen dramas of late. 
Abigail Cowen played a Weird Sister on Chilling Adventures of Sabrina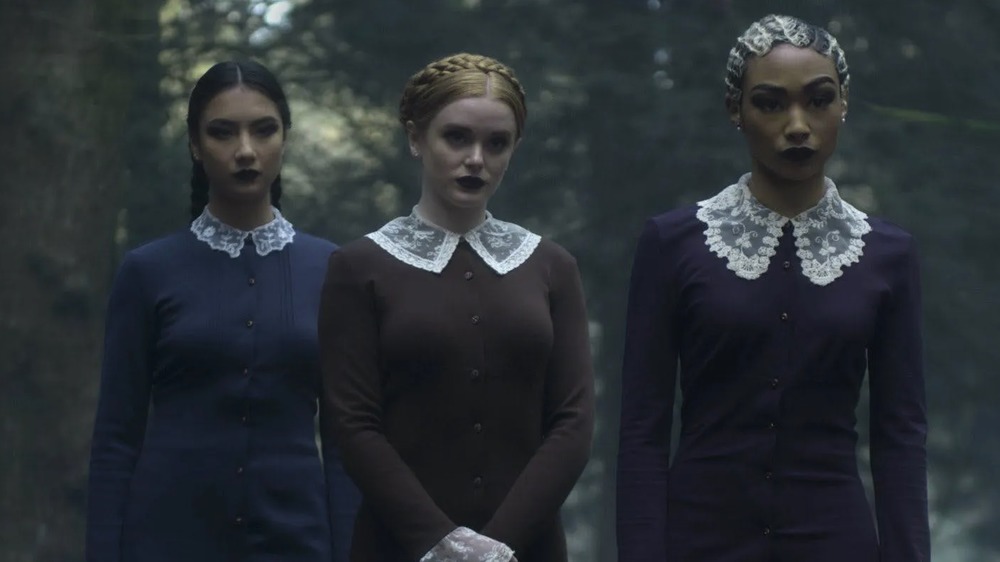 Netflix
If Abigail Cowen does look familiar to you, it's likely because you're a fan of teen dramas with a decidedly adult bent. As it happens, another series which Cowen appeared in also turned some heads in Netflix-land for its slightly twisted take on considerably tamer source material. That series was Chilling Adventures of Sabrina, which told the tale of the titular teen (played by Mad Men alum Kiernan Shipka) as she nobly (and sometimes not-so nobly) struggled to balance her everyday life amongst humans with her other life as a witch, who worships at the altar of a certain dark lord. Essentially posited as a classic teen drama with heaping doses of kooky magical mirth, gory horror movie camp, and some seriously sinister action, Chilling Adventures of Sabrina debuted on Netflix to largely positive reviews in 2018, and has just wrapped an equally lauded four season run on the platform.
Abigail Cowen appeared in three of those seasons (alongside Tati Gabrielle and Adeline Rudolph) as one of the Weird Sisters, who frequently tormented and occasionally teamed with Shipka's central witch. If you're wondering why Cowen didn't appear in all four seasons of Chilling Adventures of Sabrina, it's because her character Dorcas didn't survive the third, having been tragically murdered by her own sister Agatha. Actually she was killed by Agatha twice in season 3 of Sabrina, after the girl was driven mad by some suitably Sabrina-y twisting of fates.
Needless to say, but the Weird Sisters were never really the same after Dorcas' death. Likewise, Abigail Cowen's presence was sorely missed in Sabrina's otherwise wonderful final season.  
Abigail Cowen had the hots for a bad boy on Stranger Things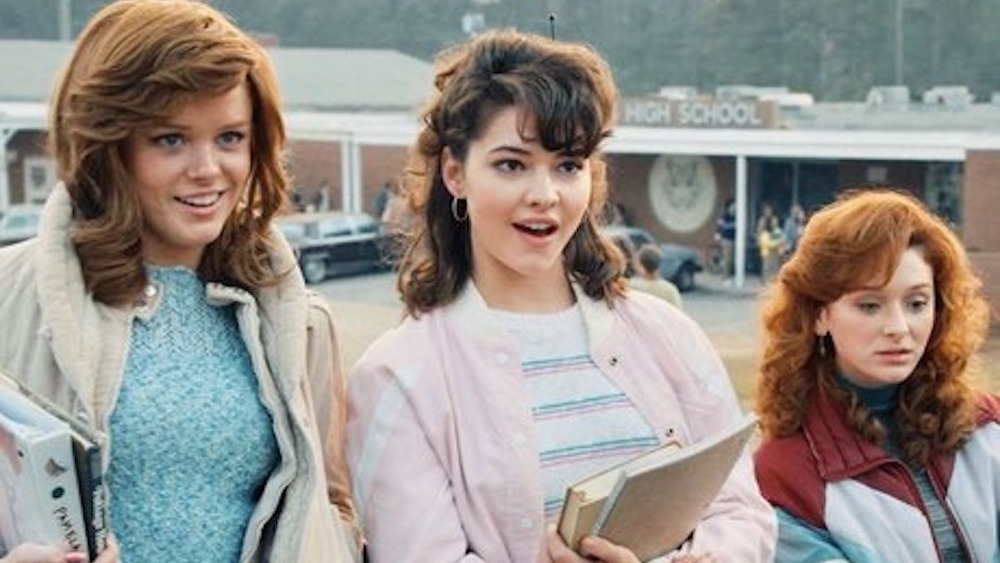 Netflix
If you're no particular fan of Chilling Adventures of Sabrina, it's still entirely likely you noticed Abigail Cowen's face on Netflix, though you would've had to do so through a waft of wavy eighties hair. You also would've needed to keep an exceedingly sharp eye out for her ginger locks, as Cowen made only a couple of brief appearances in the troubled town of Hawkins, Indiana.
That's right Stranger Things fans: one of Cowen's first appearances came in the second season of Netflix's sci-fi sensation. Cowen actually appeared in two episodes of Stranger Things' second season, technically, but there's little question she made a far bigger impact in the first. And as far as that first appearance goes, it came in the season 2 premiere, round about the time bad boy extraordinaire Billy Hargrove (Dacre Montgomery) made his infamous first trip through the parking lot of Hawkins High School.
As you might recall, a small group of Hawkins girls watch the chain-smoking hard rocker as he walks, saucily commenting on his ... ahem, posterior region. Abigail Cowen was one of those gawking girls. And while we don't learn much about her character, Vicki, we do know she had at least a fleeting encounter with Hawkins' baddest of bad boys, as she's seen leaving school with him an episode later. She was never again seen in Hawkins High though, presumably because Cowen moved on to bigger gigs, ala Sabrina. 
Whatever the case, it's nice to see Abigail Cowen is continuing her already fruitful relationship with Netflix: The streamer is reportedly eyeing a second season of Fate: The Winx Saga after it debuted at #1 in the streamer's vaunted Top 10.