Here's How You Can Watch Every Season Of Into The Badlands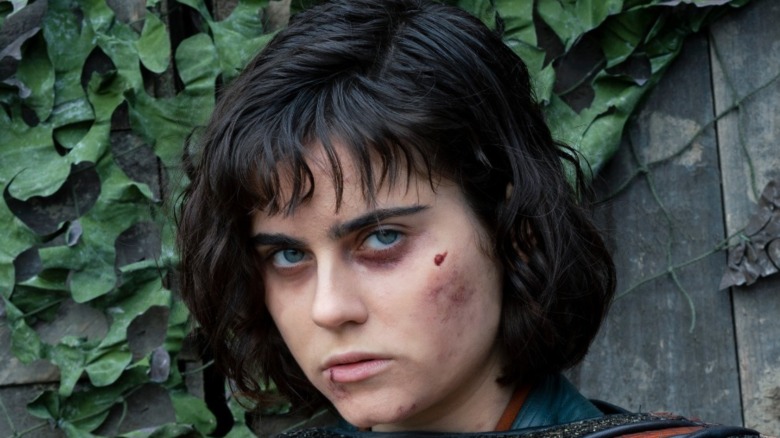 Aidan Monaghan/AMC
"Into the Badlands" is one of the most underrated action shows of the past decade. The genre-bending drama that ran from 2015 to 2019 blended post-apocalyptic fantasy and high-flying, death-defying martial arts action into a very unique television series. It had gorgeous visuals, with vibrant colors and elaborate costumes, and remarkable fight choreography. People got absolutely destroyed on this show. But for some reason, it was never as popular as it should have been, and AMC canceled it after three seasons.
The first season introduced the world of the Badlands, a post-apocalyptic version of America roughly 500 years in the future. The Badlands are ruled over by feudal barons, each of whom control a region and the goods that region produces. Barons manage their workforce of slaves, called "cogs," with warriors called "clippers," who also fight when barons have conflict with each other. The Badlands' most powerful baron is Quinn (Marton Csokas), whose top clipper is Sunny (Daniel Wu), the show's hero. Sunny is tasked with finding and training M.K. (Aramis Knight), a temperamental teenage boy who possesses strange and terrifying powers. The boy came from somewhere beyond the Badlands called Azra, and Sunny has his own mysterious connection to the forgotten city that he doesn't understand. 
So, in order to find out who he really is, Sunny and M.K. must go on a perilous journey out of Quinn's territory. Seasons 2 and 3 continue the story, adding more characters and complications as the war for control over the Badlands intensifies.
You can stream Into the Badlands right now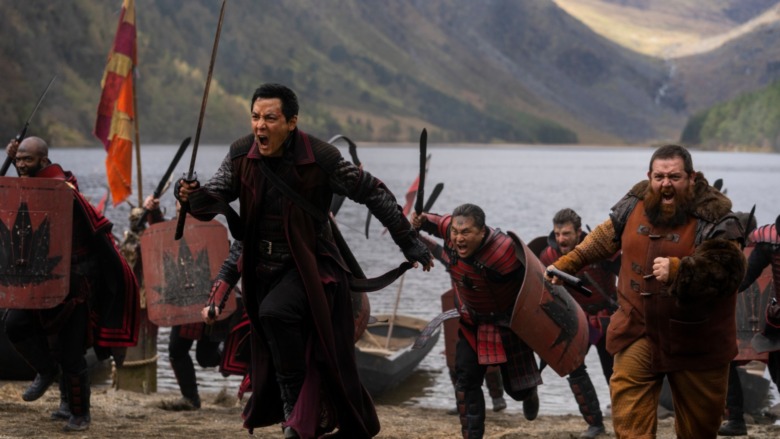 Aidan Monaghan/AMC
Though the series is no longer active, it's still ready to be rediscovered on Netflix, where the six-episode first season, 10-episode second season, and 16-episode third season are currently streaming. The series will make a great binge for anyone looking for a new martial arts series after finishing the most recent season of Warrior on HBO Max.
In addition to Wu and Knight, "Into the Badlands" stars Emily Beecham as the Widow, a rival baron who wants to use M.K.'s powers to take over the Badlands, and Ally Ioannides as her daughter Tilda, an extremely skilled and deadly fighter. The Cornetto Trilogy's Nick Frost joined in season 2 as Baije, a scoundrel who Sunny meets in a labor camp and helps him on his journey (Frost joined to inject some humor into the otherwise deadly serious show, he told TV Guide). Other notable cast members throughout the show's run include Game of Thrones' Dean-Charles Chapman, Avatar's Stephen Lang, 9-1-1's Oliver Stark, and Alien's Lance Henriksen.
The series was created by Alfred Gough and Miles Millar, who previously created "Smallville," and will next serve as the showrunners of the upcoming Tim Burton-directed "Addams Family" series, "Wednesday."