The Real Reason Chilling Adventures Of Sabrina Was Canceled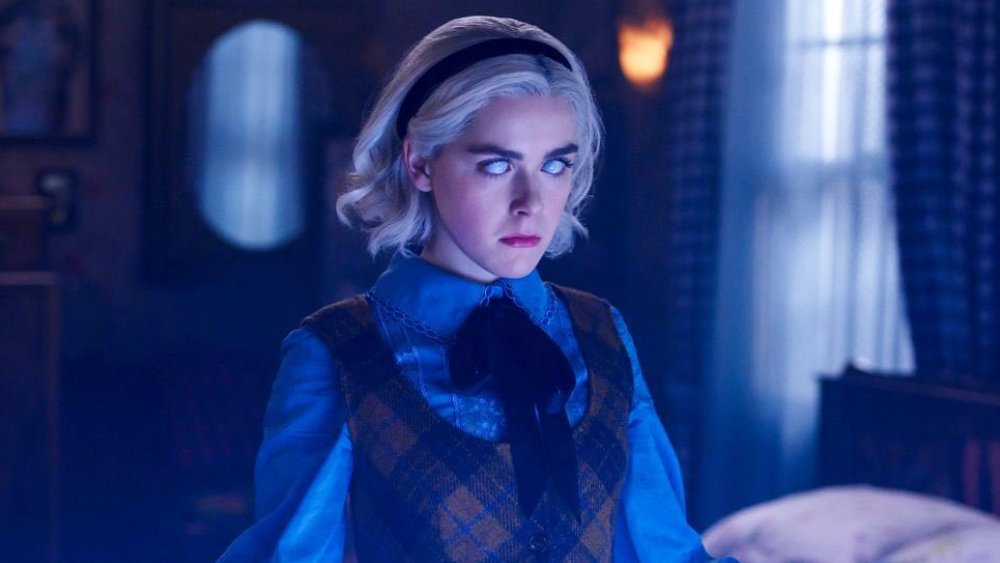 Netflix
The end is officially nigh for everybody's favorite teenage witch and her Fright Club friends. And by nigh, we mean really, really nigh. 
Per Variety, Netflix has announced that the new season of its Riverdale-adjacent teen fright-fest Chilling Adventures of Sabrina will be its last. Fortunately, Chilling Adventures of Sabrina season 4 managed to complete production prior to pandemic-related shutdowns earlier this year, and while no official release date has been announced, Part 4 is still very much expected to hit the streaming platform later in 2020.
Along with news that the Sabrina saga would be ending with Part 4, Netflix also announced that the final eight-episode run would be split into two, four-episode mini-seasons — promising Chilling Adventures of Sabrina will end with "a spooky, sexy, and supernatural series finale."
That'll hardly come as a surprise to fans, as "spooky, sexy, and supernatural" have more or less been the modus operandi for Chilling Adventures of Sabrina since it made its debut on Netflix in the fall of 2018. Over the series' ensuing seasons (and an absolutely brilliant standalone holiday episode), Sabrina Spellman (Mad Men's Kiernan Shipka) and her motley crew of human and witchy allies have faced all sorts of devious spirits and demons — up to and including Satan himself — in the haunted town of Greendale. And since this is a spiritual companion to Riverdale, a steady dose of angsty teen shenanigans has permeated Chilling Adventures from the very start.
Fans and critics alike have truly enjoyed Chilling Adventures of Sabrina — which has yet to take any of the mind-bogglingly bizarre narrative turns that Riverdale has — so it's understandable that many are wondering why Netflix pulled the plug on the show.
What may have been working against Chilling Adventures of Sabrina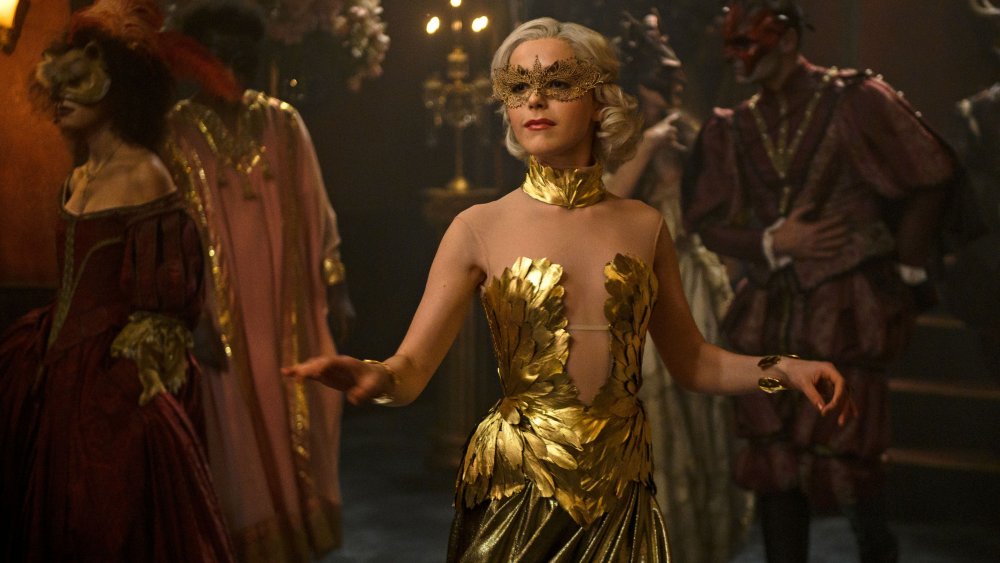 Netflix
Netflix hasn't yet revealed an official reason why Chilling Adventures of Sabrina is ending with season 4, but there could be something important at play here: Netflix original series rarely even make it past a third season in the first place.
It's become well-known in the entertainment world that even Netflix's most ardently loved series often only get about three seasons before they're killed off. Some series — like Orange Is the New Black and House of Cards — lived longer than that, but it's worth noting that those were early Netflix originals, and the trend seems to have come into play in recent years. Even Ozark, the dark and gritty drama starring Jason Bateman, got the chop just a few weeks prior to this writing. Netflix confirmed that the Emmy-nominated series would end with a fourth season – and though that's a run one season longer than the new norm, it's not much of an extension, and especially for a show as well-loved as Ozark.
According to Ampere Analytics analyst Fred Black, the reason for this may be because "VoD services seem determined to drive subscriber growth through a continuous pipeline of new content" (via Business Insider). Out with the old to make way for the new? Perhaps that's Netflix's approach, and Chilling Adventures was living on borrowed time after its third season. On the flip side, maybe the streamer can sense when to end a series before it stays past its welcome. After all, there's little worse in the TV world than watching a show go on for far too long.
Chilling Adventures of Sabrina should bring serious fire to its final season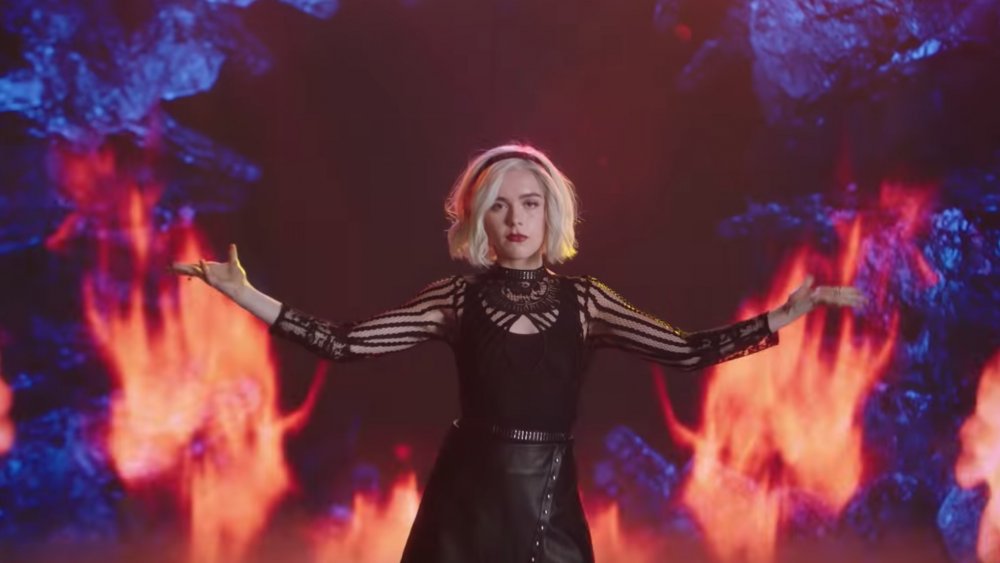 Netflix
As sad as it will be to see Chilling Adventures of Sabrina go, there's every reason to believe it's set to go out with a bang. Fans can take heart knowing that the Chilling Adventures of Sabrina creative team has no intention of softening the show's marvelously occult-y edges through the final season. Judging by series showrunner Roberto Aguirre-Sacasa's comments, he seems genuinely excited about what's ahead — and is beyond thankful his team is able to wrap up the spook-tacular Spellman Saga on their own terms.
"Working on Chilling Adventures of Sabrina has been an incredible honor from day one. The cast, beginning with Kiernan as everyone's favorite teen witch, has been an absolute joy. I am beyond thankful to the crew, writers, editors, assistants, and everyone for pouring so much love into this dark dream of a show," he said (via Variety). "I'm also grateful to our partners at Netflix, Warner Bros., Berlanti Television, and Archie Comics for letting us tell the story we wanted to tell, the way we wanted to tell it. We can't wait for everyone to see Part Four."
The good news is the entire cast of Chilling Adventures of Sabrina will return to fight alongside Sabrina for Part 4. As for what frightful delights lay ahead for Sabrina and the Fright Club, it seems Part 4 is shaping up to be a super-sized, Lovecraftian freak show. It's set to see Sabrina dealing with a troubling paradox of her own creation and facing off against the beastly Eldrich Terrors, which were summoned to Greendale in the waning moments of the Part 3 finale. 
Per Aguirre-Sacasa's additional comments to The Wrap, "each episode of Part 4 is like its own mini horror movie," and the overarching narrative plays "a little bit like a demonic version of The Crown." 
Disheartening cancellation news aside, it certainly sounds like some serious hell-fire is in store for Chilling Adventures of Sabrina's final season.