Chris Diamantopoulos Discusses Red Notice And True Story, Voice Work, And Russ In Silicon Valley - Exclusive Interview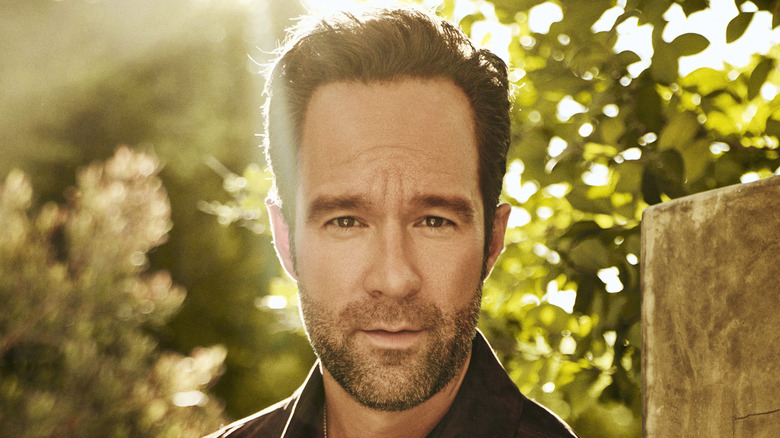 Austin Hargrave
With pivotal roles as a pair of fearsome criminals in the new Netflix movie "Red Notice" and series "True Story," November 2021 has been a month of transformation from comedy to drama for Chris Diamantopoulos. Playing nearly 100 roles since he kicked off his amazing showbiz run since 2000, Diamantopoulos has made an enormous impact in comedy with hit series like "The Office" and "Silicon Valley." The latter features Hanneman as the monstrously inappropriate billionaire investor Russ Hanneman, whose dialogue is so brutally non-PC that anyone who dares repeating his words out loud today is taking their livelihoods and careers into their own hands.
The interesting thing is, while Diamantopoulos' dialogue as Russ is strictly adults-only, the actor has carved out a huge niche for audiences of all ages as the voice of a Disney icon in the titular role of "Mickey Mouse" and "The Wonderful World of Mickey Mouse." On top of that, Diamantopoulos has voiced Green Arrow in animated DC projects like "Justice League Action" and appeared in voice turns in such hit series as "Family Guy," "American Dad!" and "Inside Job." Plus, there are plenty more animated projects on the way for the Diamantopoulos, including the Disney+ movie "Diary of a Wimpy Kid" and the AMC series "Pantheon."
In writer-director Rawson Marshall Thurber's "Red Notice," now playing on Netflix, Diamantopoulos plays the feared crime lord Sotto Voce. Sotto possesses one of three golden eggs that once belonged to Cleopatra that is being sought by notorious thieves The Bishop (Gal Gadot) and Nolan Booth (Ryan Reynolds), and FBI Agent John Hartley (Dwayne "The Rock" Johnson), who is caught up in their exploits. As if Sotto isn't frightening enough, Diamantopoulos takes his criminal malevolence to the next level in "True Story," debuting on Netflix November 24. The limited series stars Kevin Hart as The Kid, a world-renowned comedy star whose trip back home to Philadelphia turns into a nightmare when he and his brother, Carlton (Wesley Snipes), get involved in a deadly situation with a trio of brutal criminal brothers: Savvas (Diamantopoulos), Ari (Billy Zane), and Niko (John Ales).
In an exclusive interview with Looper, Diamantopoulos discusses his roles in "Red Notice" and "True Story" and working with his acclaimed co-stars. He also reveals how he channeled iconic actor Robin Williams for the 2005 NBC telefilm "Behind the Camera: The Unauthorized Story of 'Mork & Mindy'" and Moe Howard for directors Bobby and Peter Farrelly's 2012 film version of "The Three Stooges" — as well as discussing his animated work and the liberating feeling of playing Russ on "Silicon Valley."
Chris Diamantopoulos says Dwayne Johnson is a 'beacon'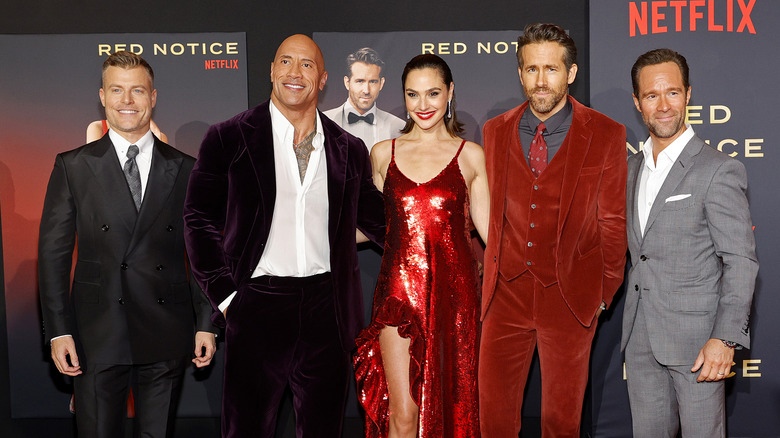 Amy Sussman/Getty Images
Congratulations on everything, Chris. Let's start with "Red Notice." I had the opportunity to speak with this guy years ago before he was a huge superstar. He was definitely a star in the rise, but Dwayne Johnson to me he is one of the most positive life forces in show business today. Did you get sort of a boost the first time you walked on the set with this guy? He exudes positivity.
I couldn't have said it better myself. That is what he is. If he were to become a wrestler again, I would rename him "The Beacon" because he is that. I've had the pleasure of doing two movies with him. I did "Empire State" with him a few years ago, and then we did "Red Notice" together, and he has augmented his charisma and his talent, and his kindness and his physique. It's like every time I see him, he gets better, he gets more positive, he becomes more who he is. He is a natural born leader, he's humble, he's quiet, he listens, he's genial, he's kind. He is reverential of those around him. He learns from people around him. 
I just think that he is a perfect definition of what a movie star should be, and he also happens to be a f****** beautiful man who knows how to work the camera like nobody I've ever met. And much gets lost because of his presence, but let's not also forget that Dwayne Johnson is a good actor. He sells things that no other actor could sell on screen. He gets told how charismatic and how handsome and powerful and all these things that he is, but I don't think we focus enough on what a good actor he is, because he's brought some tremendous characters to life.
Getting into the mind of a villain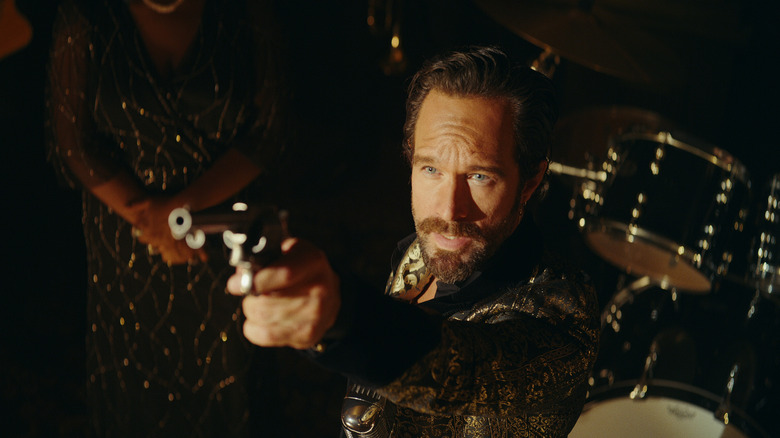 Netflix
What were your initial thoughts when you read Rawson Marshall Thurber's script? Without imagining the film's terrific action sequences, it must have been really fun to see how smart and funny the story was. Plus, it has a badass character by the name of Sotto Voce, and the film has a little James Bond feel, some Indiana Jones-like adventure, and some intrigue. It seems to me that it has everything that an actor could hope for.
I think you're absolutely right about that. When I read the script, I was vibrating with excitement at the opportunity to be able to be in a movie like this — not only because I'm a big fan of Rawson's previous film work and his collaborations with DJ, but also of course because of the opportunity to work with that triumvirate of titans in their industry, Gal and Ryan and DJ. And, then the least of which, [I was getting] do something outside of my typical toolbox of playing this larger-than-life nefarious Bondian villain. It was a great chance to create a new character and to find a new voice and to establish a new bad guy in that cinematic echelon.
Gal Gadot is 'unbelievably funny'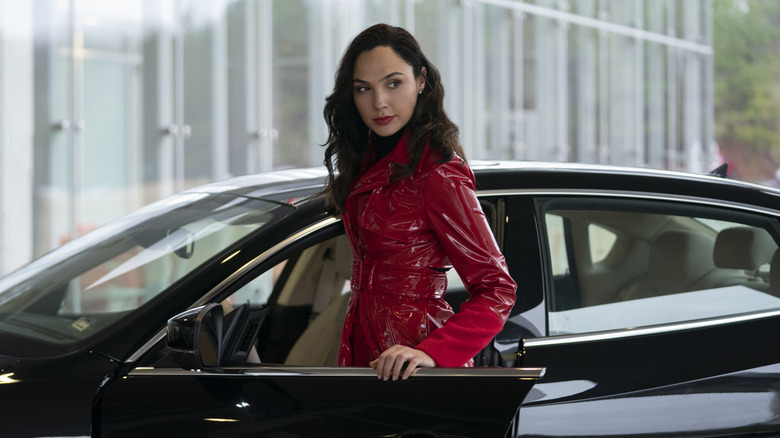 Netflix
You had some great scenes with Gal and obviously the world loves her as Wonder Woman, but were you surprised at how badass she could be? That scene where she sings "Downtown" with those jumper cables. That's some pretty cold stuff.
I was surprised by a lot of things about Gal, the first of which being how unbelievably professional she was and how prepared she was. She knew the script inside out and backwards. And I just find that kind of preparation always so refreshing, particularly when you've achieved the level of success that she's achieved. She was always on time, always ready to go, just a willing collaborator. Her badassness left me with my mouth agape because she's just so in possession of her power and you can't deny it.
But the thing that really struck me about her was how unbelievably funny she was. She has got such a tremendous sense of humor, nd I'm hopeful that she'll do more in that vein in the future because I don't think people realize how funny she is. She's just so bright, and such a lovely talent and a lovely human.
Chris Diamantopoulos says Ryan Reynolds is 'the funniest guy I ever worked with'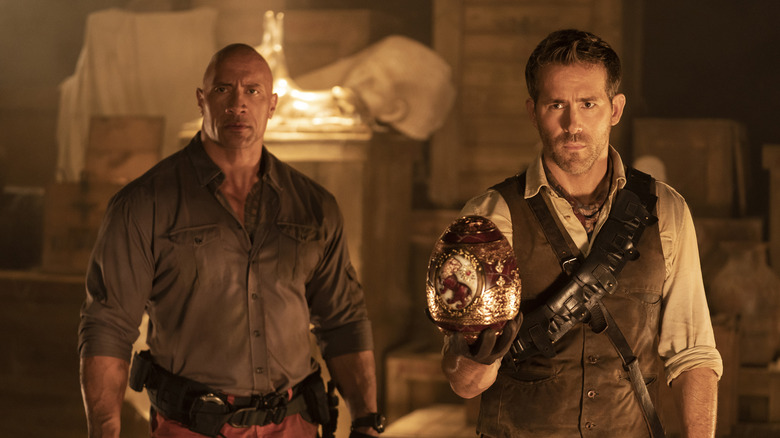 Netflix
Now, you mentioned Ryan as well. Just looking at him, I laugh. Now you're in some serious scenes and lives are at stake, did you break up a lot before you got the camera rolling?
All the time! I've said this before, so looking at him, you laugh and it's interesting because he's such a handsome guy, he's such a leading man and yet he's the funniest guy I've ever worked with. I mean, this is going to sound silly, but he's like Jack Tripper from "Three's Company" crossbred with Bugs Bunny. He really just has this tremendous way of disarming everyone around him and making them feel so comfortable. And what's amazing about him, much like the late great Robin Williams is, he'll deliver a zinger that has everyone on the floor. And then when we do another take, he'll come up with a completely different one liner that's even funnier than that one. He tops himself over and over and over again. It was impossible to get through takes without laughing. I mean, we did it, but it wasn't easy.
Diamantopoulos and Rawson Marshall Thurber created a backstory for Sotto Voce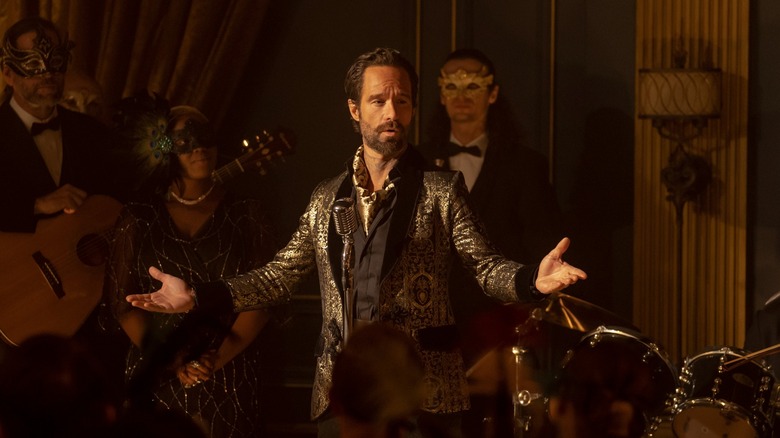 Netflix
I loved your read on Sotto Voce — he's a cold, calm, collected and very deadly villain. What inspired you to go that direction with him? Was it on the page? It really does seem to perfectly fit the tone of the movie, but were there any classic movie characters that influence you in a sort of way? You really had this frightening approach to this character. It was so understated. Were there any influences there?
That's so nice of you to say. Thank you so much, I'm so glad that it worked for you. I had such a great time creating that character. I mean, look, Rawson did such a tremendous job creating a backstory for this character. And the two of us actually collaborated on his specific origin story because when he was first written on the page, he was written as a South American. And because I'm not a South American, I was very mindful of not wanting to play the character that way. And so, we ended up creating this sort of ambiguous Baltic European upbringing, where he actually inadvertently killed his father while his father was wrestling a gun out of his hand, and his father strangled him and thus creating that Sotto Voce voice.
So he does have a brutal beginning and the brutality in his life to doesn't end. And as a matter of fact, Sotto Voce has all of these tattoos on his body, each tattoo is a marker of someone that he has killed. And so that level of brutality certainly led to the understanding of who this monster of a person is. I looked at actors like Alan Rickman or Sean Harris or Claude Rains as analogs for some of the quiet, venomous energy that I was looking for. Mads Mikkelsen [is another]. I had a really fun time creating this character.
He was thrilled to see the dramatic side of Kevin Hart in True Story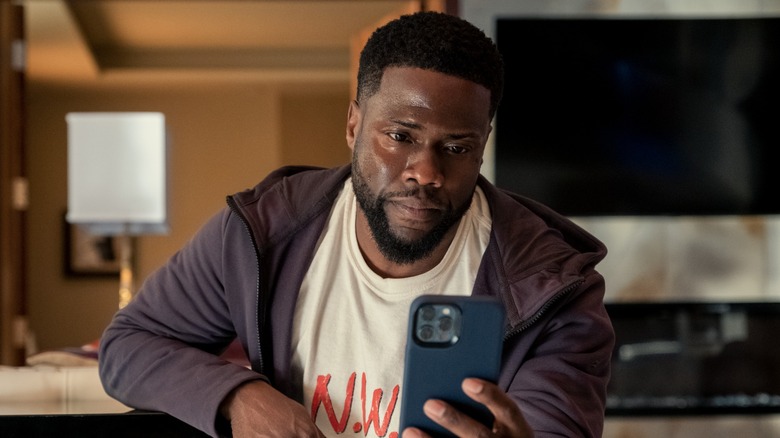 Netflix
It must be thrilling to see a guy like Kevin Hart really go down this deathly serious route [in "True Story"]. Effectively he's playing a version of himself, but we're seeing that version on the other side, if things go wrong and his life becomes a nightmare — and what's really cool is for you as an actor, you're a part of that nightmare.
It was tremendous to watch Kevin work. I had never met him before. I actually had a conversation with Rawson about Kevin, because they had worked together, they had done "Central Intelligence" together with DJ. And he told me, get ready because as much as you revere DJ, the same is going to happen with Kevin. And Rawson was right, because Kevin is such a light on set, such a pro, and I was blown away by his dramatic chops. I mean, as an actor, sparring with Wesley Snipes, the great Wesley Snipes, who is just so magnetic and so incandescent on screen, it was a little bit of a masterclass every day watching these two. And I'm so glad you enjoyed the series, it really does keep you on the edge of your seat.
It's got this Scorsese-esque, almost "Goodfellas" feel, but through the lens of what Kevin Hart's origin story might have been, like a cracked lens. And it was tremendously exciting to be a part of his nightmare. And in this show I play a villain, different tempo than the villain in "Red Notice." And the brutality is sort of up to the next level and I don't typically play non verbose figures, so it was really fun to put the energy into the physicality and not much into the speech or into the voice at all.
Getting in the mind of a brutal criminal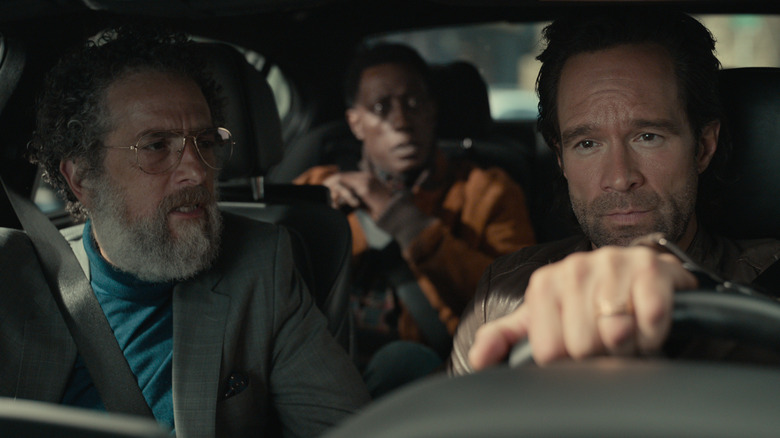 Netflix
Your are definitely on a different level than on "Red Notice." With Savvas in "True Story," this guy is not only frightening, he's unnerving. How do you get into the mindset of such of an evil SOB? Even the texts that Savvas sent to Carlton frightened me.
Yeah. No, they really did a great job. I have to say that's a testament to Eric Newman who wrote and created the show. Because really everything I needed to play this character was on the page. And we had some really important conversations about how this guy carries himself and what his energy is. And he basically was like a lion on the prairie until a gazelle came into his site. Just sitting around not doing much until it was time to be what at nature made him, which was a killing machine.
The Court Jester inspired Chris Diamantopoulos to become an actor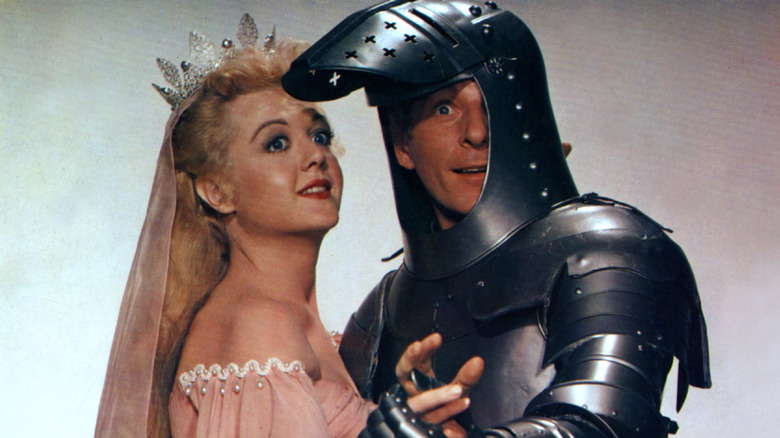 United Archives/Getty Images
You've played, again, a variety of different roles and different genres so to figure out what movie might have inspired you personally is kind of a difficult task. What would be, say for example, the movie, maybe your all-time favorite, just the film that made you want to be an actor. Can you name anything specific that led you down this path?
I sure can. It was 1955, Metro-Goldwyn-Mayer, "The Court Jester," starring Danny Kaye. There are so many other films, I can think of — "Amadeus," and I can think of "The Adventures of Robin Hood." I can think of a slew of them — but it was "The Court Jester." I saw it when I was 9 years old, and it opened my eyes to ... Well, if you see that movie, you see that through every frame of that film, Danny Kaye is just having the best time.
How can you not [love him]? You see Basil Rathbone is having the best time, you see Glynis Johns and Angela Lansbury, you see these people just brimming with the joy of being a part of this. Now, I know that there are probably stories on set from the day that might have been this or that. But as a child, seeing that fantasy come to life in the beautiful, vibrant, technicolor, and hearing those songs and watching that humor and that drama and that epic sword and sandal, mid-evil panache. I just knew that's what I had to be involved with. I've been chasing that ever since I saw it. That was the movie that defined my understanding of what I wanted to do for the rest of my life.
The challenge of channeling Robin Williams and Moe Howard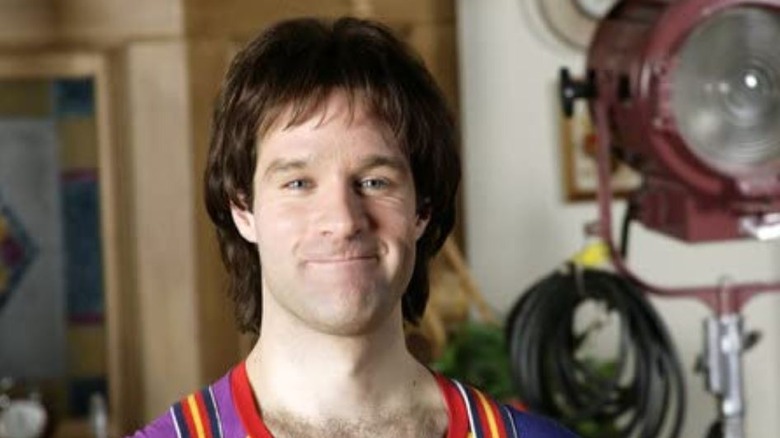 NBC
You dove into the challenges of playing acting icons like Robin Williams and Moe Howard of The Three Stooges earlier in your career. Both had to be daunting challenges, but how difficult was it, given these differences: When you played Robin Williams, he was still with us, but Moe Howard was not. What was more challenging, or are they both difficult in equal measure?
That's a great question. I had tremendous respect for both subjects. So, Robin Williams, rest his soul, was a hero of mine and I loved his movies, and I watched his standup, I mean, before I was even allowed, I watched some of his standup that was really too old for me. I was a huge fan. I had never ever thought, it never even crossed my mind to play him or imitate him or anything like that. But when the opportunity came up in the form of an audition, when I knew that they were making this movie, I thought to myself that, "I don't think I can do this" and "I don't think I want to do this" — and [my wife] said, "Well, who would you cast in this role?" and I couldn't really answer the question. And she said, 'Well if you can't cast anyone in it, if you don't know who you would put in it, then you should throw your hat in the ring."
For me, it was really a chance to ... Really, I was venerating him, I was paying homage to him. And I was giving myself a chance to sort of see how far I could stretch my character acting chops, and see if I could really inhabit another character, find a completely different voice, a completely different stature, a completely different physical being and be somebody else. That was an eye opener for me, and I think it was a gateway to my being able to play Moe in "The Three Stooges."
Now, I was a massive Stooges fan as a child. I knew everything there was to know about the Stooges, but that didn't mean that ... I couldn't even get an audition for that Stooges movie. I had to crash the audition and it took me six months and I think 14 auditions to actually convince them to give me the role. The challenge was making sure that the voice was authentic and real, and not an impression, but just organically coming out, and then sort of finding a way to make the physical presence also feel natural and funny and real. And I had a really great time making both of those projects. I'm proud of both of them.
Providing a voice for a cultural icon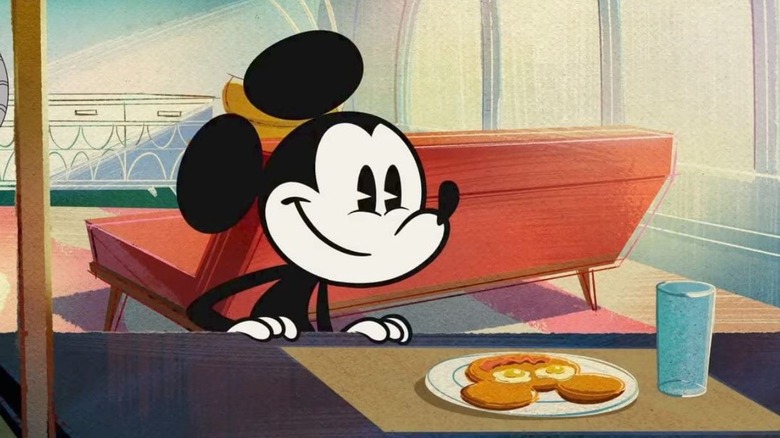 Disney+
You should also be proud of voicing Mickey Mouse. I should point out today is National Mickey Mouse Day. You probably know that already. 
That's right. Yes, I do. 
Also, it's the first anniversary of the release of "The Wonderful World of Mickey Mouse." So, congratulations on that one-year anniversary. Now, again, talking about as iconic a role as you can get, was there pressure on yourself to deliver? Because now we're talking about a worldwide audience here.
Yeah. I wear my involvement with Mickey Mouse like a badge of honor. It's the best job I've ever had, and it's not a job, it's the most fun I've had as a performer. And yes, I'm always nervous before I do Mickey, because Mickey means so much to so many people, including me and I have three small children. So, making sure that Mickey is represented well is at the top of my list. It wasn't something that I thought that I could necessarily do until I realized that I could do it.
And then when I realized I could do it, I didn't want anyone else to do it, I wanted to be the one doing it because there is nothing more fun than standing behind the mic and being able to say, (doing his Mickey Mouse voice) "Well hot Tom!" It's the greatest thing ever. And I've had the opportunity to sing as Mickey Mouse. I got to voice the beautiful Runaway Railway ride at Disney World. I've had some tremendous opportunities with that whole team, and I couldn't be more grateful.
Chris Diamantopoulos would like to play a live-action version of Green Arrow
DC Entertainment/Warner Bros. Animation
Also, you are so deep into the voice role realm. "Family Guy," "American Dad!" "Inside Job," the "Diary of a Wimpy Kid" movie coming up. But also, you got to play around in the DC Universe voicing Green Arrow on some animated projects. If you had the opportunity to join the DC live-action realm, is there a certain character you'd like to get a crack at? You kind of have an inside track on [Green Arrow], but would there be another character perhaps that you'd like to stab at?
That's a really great question. I feel like I'd be a pretty great Lex Luthor, actually, taking that villainy, but taking it a little bit more back to what Gene Hackman did, I think. I think Lex Luthor would be great fun actually, but gosh, it's just such a terrific universe. They did a Green Arrow graphic novel called "The Longbow Hunters," where Oliver Queen — Green Arrow — is a little older, a little more weathered, and it's a more grown-up take on that subject matter that I thought would be a terrific limited series. I'd love a crack at that. It'd be great to do a live-action Oliver Queen. I wouldn't say no to that.
Tres Comas, Russ Hanneman!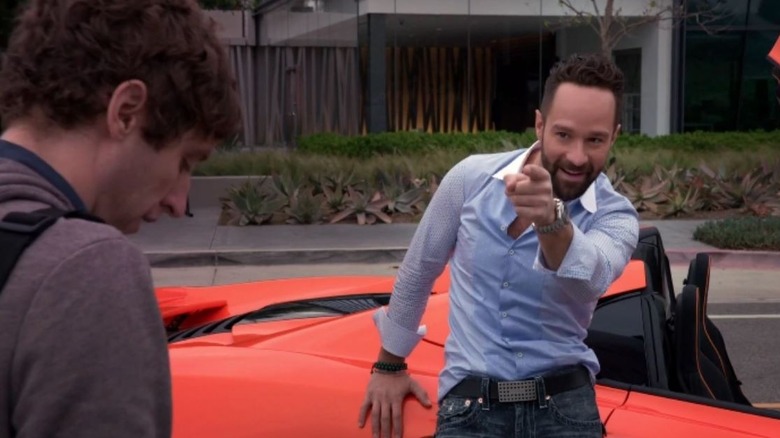 HBO
I'm hoping that you loved playing Russ Hanneman on "Silicon Valley." We're talking about one of the most inappropriate ogres of a character, but he is so damn laugh-out-loud funny. What do you think contributed to the success of that show? It has to be the writing, I would imagine, especially for a character like Russ for you play. 
It is the writing. It begins and ends with the fact that Alec Berg and Mike Judge and the writers on that show are just so clever, taking a subject matter and a world that should be mundane and turning it into the most fascinating and ridiculous fodder for us to just gape at. And certainly, with regard to my character, they just drew this, as you said, this bore of a human, the worst man in America, just really ... I mean, listen, it's "Tres Comas, my friend" [lifts up a Tres Comas tequila bottle to show]. That says it all. Yeah. He really was fun to play though. I mean, that was a liberating experience for me because when you know everybody is going to hate you, you've got nothing to worry about. So, if he's meant to be the one that everyone hates, well, then have at it — and sure enough you find those little moments of humanity or insecurity where people go all the way around the circle of, "I hate this guy," to "Hell, I kind of love this guy." You know what I mean? Which is very gratifying as an actor.
The character you love to hate! I love this character.
Yeah, sure. Absolutely. No, I had an absolute blast. Russ is one of my favorite things that I've ever had to do.
Plus, you made me think of using three commas in a way that I never thought of before!
There you go! I changed punctuation forever.
"Red Notice" is streaming exclusively on Netflix. "True Story" debuts on Netflix November 24.