Red Notice Is The Dwayne Johnson And Ryan Reynolds Team Up We've Been Waiting For
This content was paid for by Netflix and created by Looper.
Get ready to watch some of Hollywood's biggest stars collide for an action-adventure extravaganza like no other when "Red Notice" arrives on Netflix on Friday, November 12. The film centers on an international heist scheme that brings together an unlikely pair in the FBI's greatest profiler and one of the world's most notorious criminals. They'll have to join forces to hunt down and capture an elusive art thief who's the subject of an Interpol-issued red notice.
Not only does the film feature a dazzling trio of Hollywood's biggest screen stars — along with some serious creative talent behind the scenes — but the movie is also brimming with jaw-dropping locations from around the globe, as well as intense action set pieces that will truly make for an exciting at-home theatrical experience. Here's a look at what you need to know about "Red Notice" before it arrives in your streaming queue.
An array of all-stars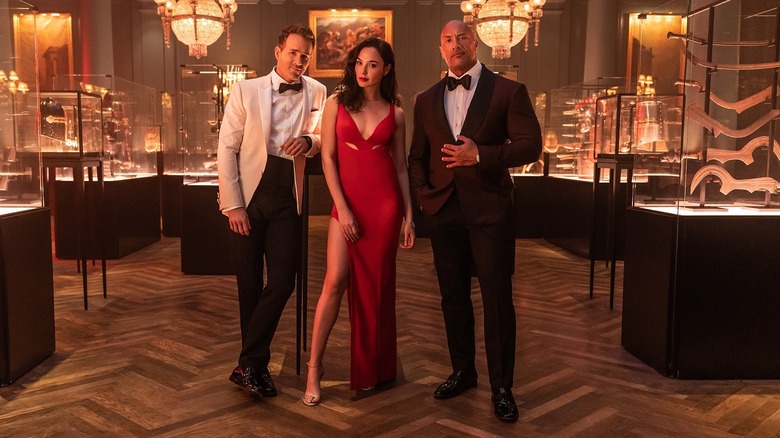 Frank Masi/Netflix
"Red Notice" features not one, not two, but three of the biggest marquee names in Hollywood. Dwayne "The Rock" Johnson stars as FBI Agent John Hartley, who specializes in tracking down the hardest-to-find criminals around the world. Johnson is, of course, one of the biggest blockbuster stars in all of Hollywood, after channeling his fame as an A-list pro wrestler into an auspicious acting career. Among his most recent box office wins in a slew of successes are installments in the "Fast and Furious" franchise, the new "Jumanji" films, "Moana," and "Jungle Cruise."
Ryan Reynolds also stars in the film as Nolan Booth, a talented and fast-talking art thief who's also wanted by Interpol but finds an unlikely ally in Hartley, who needs his help to catch an even bigger target. Like Johnson, Reynolds hardly needs any introduction because he's been a force in Hollywood for decades. Though the actor first made his mark with his comedic work in films like "Van Wilder," "Waiting...," and "Just Friends," he soon became an action sensation with leading roles in hits like "Deadpool," "The Hitman's Bodyguard," "6 Underground," and, most recently, "Free Guy."
Meanwhile, Gal Gadot stars in "Red Notice" as "The Bishop," a ravishing woman who also happens to be the world's most-wanted art thief and the subject of Hartley and Booth's partnership and pursuit. Judging by the previews, the ensuing game of cat-and-mouse globe-trotting will be quite a rush for her character, who doesn't seem afraid of either of the gents on her tail. Gadot previously worked with Johnson on the set of the "Fast and Furious" films, and she may also be recognized for her roles in films like "Date Night" and "Triple 9." But there's no doubt that she became a household name thanks to her breakthrough role as Diana of Themyscira in the DC Extended Universe, which has seen her headline two standalone Wonder Woman" films, as well as the superhero team-up movies in the DC movie universe — "Batman v Superman: Dawn of Justice" and "Justice League."
Standing alone, any one of these stars have proven to be capable of carrying a film, so with their talents combined, there's no doubt this will be a must-watch. And if that wasn't exciting enough, there's even more reason to look forward to "Red Notice" when you take a peek behind the camera.
A versatile visionary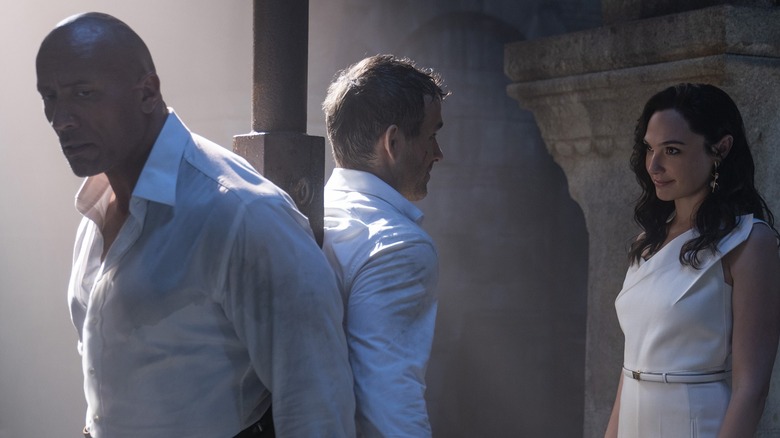 Frank Masi/Netflix
It's not just the on-screen talent that makes "Red Notice" a thrilling release. The film also boasts a writer-director with serious chops in Rawson Marshall Thurber. In fact, Thurber has previously collaborated with Johnson on two separate occasions. First, Johnson co-led the cast of Thurber's 2016 action-comedy "Central Intelligence," alongside Kevin Hart, and then he also headlined Thurber's heart-stopping 2018 actioner "Skyscraper." Clearly, the two have developed a professional groove over these several years of working together because in each of their films, Johnson's natural charms and good sense of humor are on full display alongside his strength and heroism. Thurber is also known for his work in other standout comedy films before he began working with Johnson, including writing and directing "Dodgeball: A True Underdog Story" and "We're the Millers."
Speaking to MovieWeb ahead of the film's production, Thurber described the story in "Red Notice" as "an international heist picture, kind of in the vein of 'Ocean's Eleven' meets 'True Lies,' by way of 'The Thomas Crown Affair.'" He also told ComingSoon that audiences can expect to see "beautiful people, beautiful locations, beautiful clothes, and a diamond thief" in the picture, and that it will also be a "great blend of fun, sizzling heist action with a light touch and a lot of laughs." In other words, look for some of Thurber's signature wit to complement the stunning action pieces when the star-studded "Red Notice" hits Netflix on November 12.