Sheriff Makes Revealing Statement About Alec Baldwin Gun Incident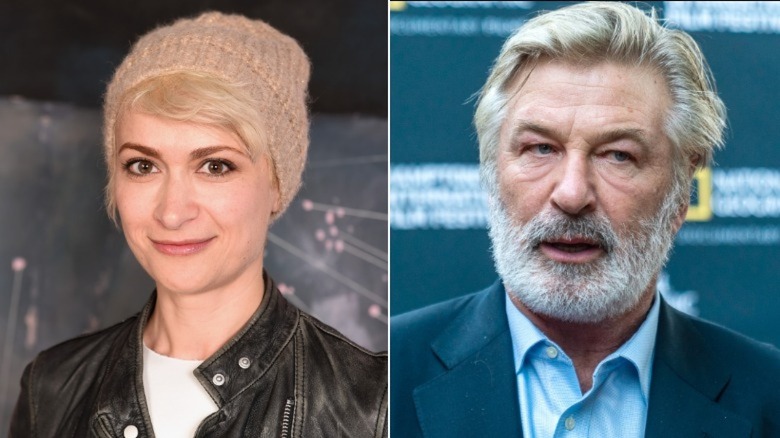 "Rust" is — or, rather, was supposed to be — an independent cowboy film starring Alec Baldwin and Jensen Ackles about a young boy who has to run from the law after accidentally killing a man. Disturbingly, life has imitated art. Production is now on indefinite hiatus after the tragic accidental shooting that resulted in the death of Director of Photography Halyna Hutchins. Local law enforcement is currently in the process of investigating the incident in order to find out exactly what happened, and who is responsible.
Here are the facts we know so far: Baldwin was handed a gun by Assistant Director David Halls, who had announced that the gun was "cold," which is industry terminology for a gun that isn't loaded. While rehearsing the scene, Baldwin accidentally discharged the gun, shooting Hutchins through the chest and wounding Director Joel Souza, who was standing behind her. Hutchins died shortly after being flown to a nearby hospital, while Souza's injury was treated and he was released. Now, it appears that the director's thankfully comparatively minor injury may have provided important information, since a piece of evidence obtained from his shoulder has led to a major breakthrough in the case.
A lead fragment removed from Souza's shoulder suggests live rounds made it onto the set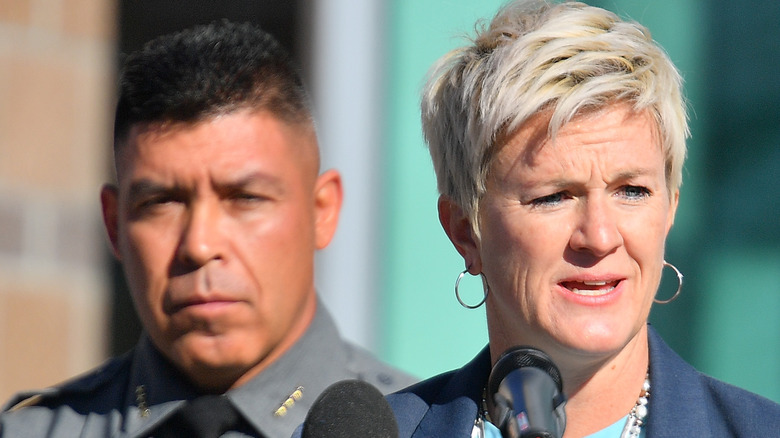 Sam Wasson/Getty Images
A lead fragment was surgically removed from Director Joel Souza's shoulder post-shooting, suggesting that a lead projectile was fired from the gun, Santa Fe County Sheriff Adam Mendoza revealed at a joint press conference with Santa Fe County District Attorney Mary Carmack-Altwies, according to The Washington Post. Mendoza also stated that there are around 500 rounds of ammunition among the evidence the authorities have collected from the scene of the shooting incident, and they appear to be a "mix of blanks, dummy rounds and what we are suspecting are live rounds."
According to USA Today, the only types of bullets that should be on a movie set are either blanks or dummy rounds. Blanks contain absolutely no lead whatsoever, so a misfired blank causing deadly injuries is rare if fired at a proper distance. Dummy rounds, on the other hand, do contain the lead tip that live rounds do, but none of the gunpowder — making it impossible to launch with enough velocity to kill. This has led investigators to believe that live rounds somehow made their way on-set.
Civil lawsuits are obviously a possibility in a case like this, but if anyone is found responsible for bringing live ammunition onto a movie set, there's a chance that criminal charges could also be filed. "We haven't ruled out anything. Everything at this point, including criminal charges, is on the table," Carmack-Altwies told The New York Times.  She also noted that in all likelihood, due process will take its due time. "It's probably weeks, if not months, of follow-up investigation that we're going to need to get to the point of charging," she said.
Everyone involved is a person of interest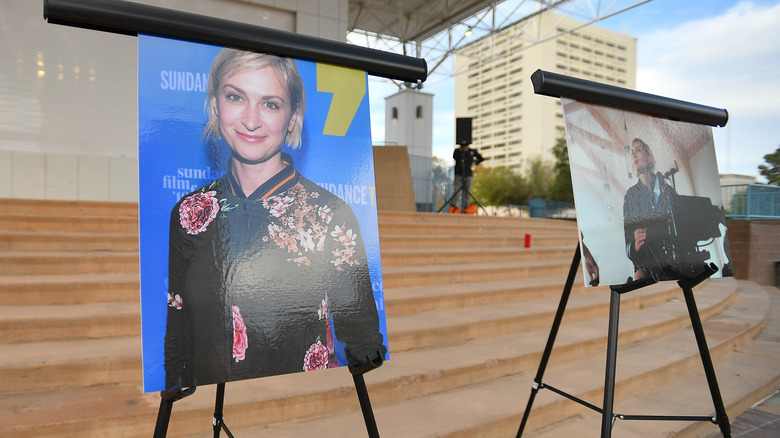 Sam Wasson/Getty Images
The investigation is still underway and it remains to be seen what, exactly, the lead fragments in Souza's shoulder were. The situation is particularly complicated because in a normal situation, the number of people who have access to the guns used in a production is tightly controlled. "No crew member should be handling a weapon of any kind other than the armorer, designated prop person or actor. Full stop," armorer Jeremy Goldstein told The Washington Post. In the "Rust" incident, the gun was handled by at least one person who shouldn't have — David Halls, the Assistant Director who' been linked to previous firearm incidents (per CNN). According to The Wrap, "Rust" armorer Hannah Gutierrez-Reed may not be without former incidents either, as Nicolas Cage allegedly confronted her about her "rookie" behavior on the set of the movie "The Old Way." 
Halyna Hutchins' father has specifically stated that he doesn't hold Alec Baldwin responsible for the incident, and the actor's own emotional response to Hutchins' death confirmed that he's cooperating with the authorities. Nevertheless, as District Attorney Carmack-Altwies told NBC's Top Story with Tom Llamas (via Twitter), nothing's off the table at this stage, and everyone involved remains a person of interest — up to and including the actor. "[Alec Baldwin is] the one that pulled the trigger, he's the one who was holding the gun, and so, he's very important," Cartmack-Altwies said. "Does that mean that charges will be filed? Not necessarily. It also doesn't mean that they won't be filed."
This story is developing.