Out Of Every American Horror Story Character, One Stands Above The Rest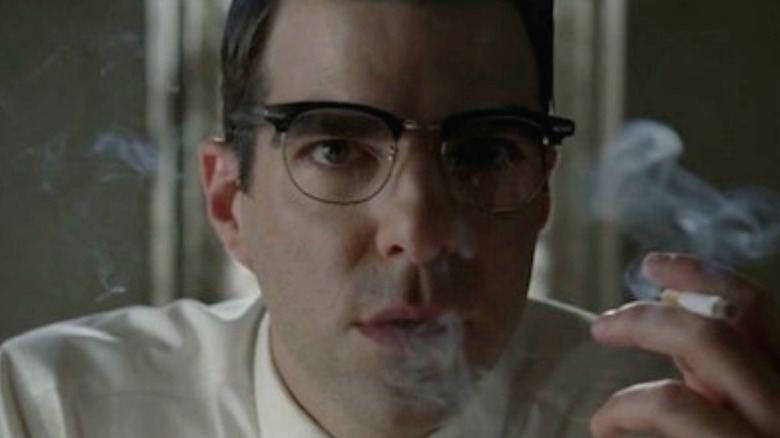 FX
Over the course of its decade-plus run, Ryan Murphy and Brad Falchuk's "American Horror Story" has gifted fans with an almost incalculable list of memorable characters. A relatively high percentage of that list — more than one from each season, in fact — are often referred to as iconic. To name just a few, there's the always controversial Tate (Evan Peters) from "Murder House," the beloved Liz (Denis O'Hare) from "Hotel," the formidable and historical Marie Laveau (Angela Bassett) from "Coven," the unforgettable Myrtle Snow (Frances Conroy) from the same season, the bone chilling Bloody Face aka Dr. Oliver Thredson (Zachary Quinto) from "Asylum," and, of course, basically every character Jessica Lange has ever portrayed (and that's to say nothing of Billie Lourd's Montana Duke from "1984," John Carroll Lynch's Twisty the Clown from "Freak Show," or Adina Porter's Lee in "Roanoke.") Suffice to say, choosing just one character from the "American Horror Story" universe who truly stands out amongst such stiff competition is no simple matter.  
And yet, despite the fact that the series consistently puts forth characters that garner passionate followings all their own, there is one character in particular that truly represents all that "American Horror Story" endeavors to accomplish. That character is — despite (and partially as a result of) viewers' split response to her — Sarah Paulson's journalist, Lana Winters, whom audiences first met in the "Asylum" season. 
Lana Winters is a microcosm of the series' recurring themes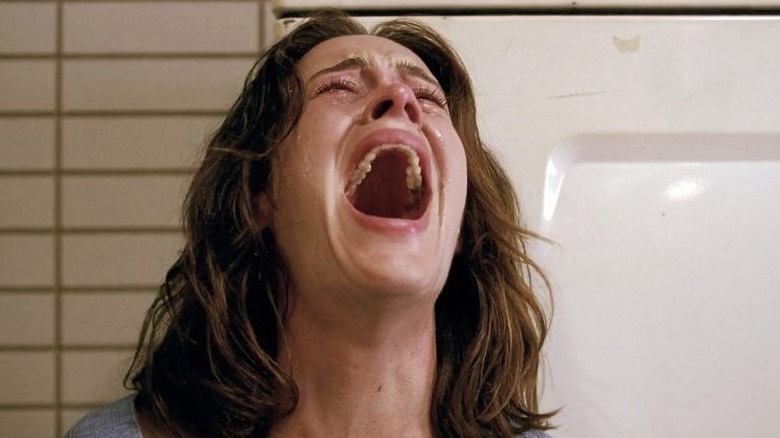 FX
Lana Winters acts as a one-stop-shop for many of our worst fears, and makes tangible the recurring themes that "American Horror Story" endeavors to explore. 
"Asylum" hits on a deeply rooted fear shared by most individuals — that is, that the effort to maintain our convictions and sanity in an insane world will result in that world perceiving us as "insane." Lana is a healthy, rational woman when she's locked away at Briarcliff. Not only is she stripped of her identity and agency in the asylum, she's also forced to undergo aversion therapy to further destroy what she knows to be a perfectly natural sexual preference. Lana is gaslit on the most intimate level, and although literature and film have investigated this dissonance between what's real and what we're told is real for decades ("Brave New World" comes to mind, as does "The Matrix"), it's become an increasingly more immediate one, which "AHS" has delved into on multiple occasions.
Lana's arc also encapsulates a number of other horrors that "AHS" touches on, including the fear of being othered, silenced, imprisoned — even raped, assaulted, or killed — simply for being who we are (see: "Freak Show"). Finally, Lana's pregnancy as the result of a violent rape, and her understandable giving up of a child who'll one day become a serial killer, hits on the fear that we might be seen as responsible for our own demise or the demise of others (see: Constance and Tate's storyline in "Murder House"). 
In addition to speaking directly to a number of Murphy's overarching themes, Lana speaks to the viewer of such horrors on another level. In response to one of the (many) "why do people like Lana Winters" threads on the AHS subreddit, user LittlePugBigSlug explained, "It's more about empathizing with her. She's so complex that a part of her is like so many of us, and that's what we latch on to [...] We see ourselves in her."
Lana Winters' story is one of the most horrifying in the AHS timeline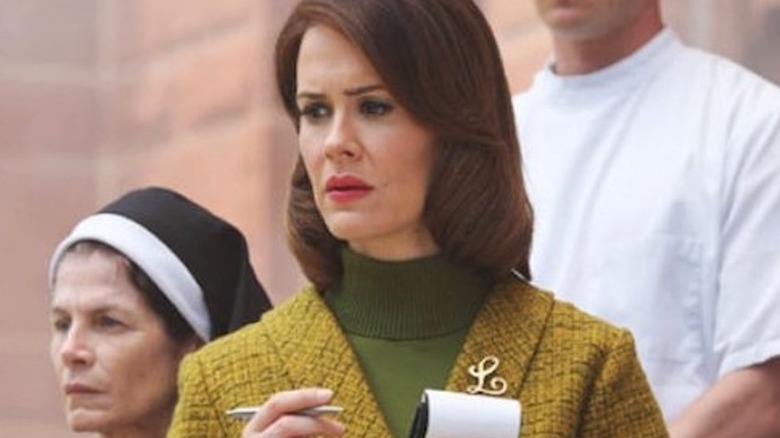 FX
It's no wonder, then, that numerous outlets — including, but not limited to, TV Line, The Line Up, Gay Times, and Entertainment Weekly, have ranked Lana Winters amongst the top characters in "AHS" history. Moreover, as EW points out, "Apparently the show knows how much the people love this Sarah Paulson character, as Lana has made appearances in three seasons so far."
Not only does Lana embody the fears which "AHS" concerns itself, she also reveals just how valid those fears are by being at the center of such a divided viewer response. Finally — and perhaps even most importantly — in a series that sees the majority of its protagonists undergo some form of "trial by trauma," Winters represents an intentionally un-cinematic response to her ordeal. In a Reddit thread entitled "Am I the only one who doesn't really like Lana?" (spoiler alert: they weren't), user LucyAndDiamonds defended Winters, pointing out that she's "an accurate representation of a trauma survivor [...] like others with PTSD, (Lana) withdrew and escaped. She fabricated parts of her story she was too ashamed to confront. She reimagined her world. That's very normal."
Horror as social commentary is at its best when it speaks both the pathos of society, and to that of the individual. In allowing Lana — for all that she represents in terms of the big picture — to have a relatable response to being institutionalized, kidnapped, raped/impregnated, and tortured, Murphy created perhaps his most "American Horror Stor(iest)" character to-date. 
Lana Winters isn't just of the "AHS" universe. She is, in every way, part of the viewer's real-life universe, also. The notion that "that could happen to me," a fear Winters embodies with startling realism, is scarier than any hellmouth, monster, or demon.