Where The Cast Of Final Destination Is Today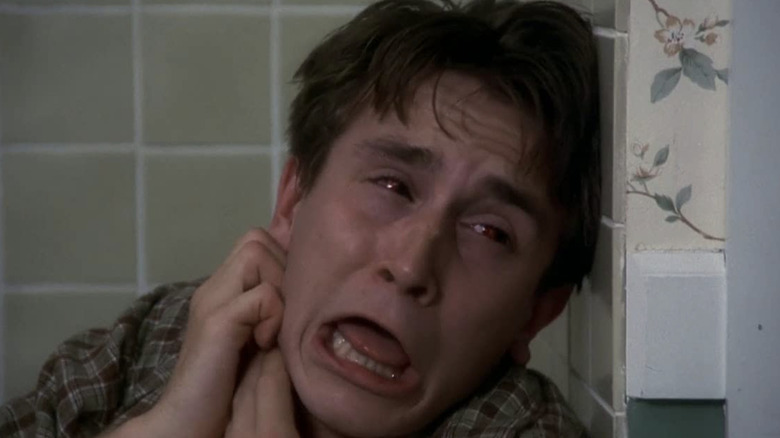 New Line cinema
The worst kind of horror is the one that creeps subtly unseen. When a deranged killer like Jason Voorhees is on the loose, at least you can trust your eyes to spot the danger you're attempting to flee — unless he takes you by surprise from the shadows like a monstrous ninja. The most anxiety-inducing moments in life are simply times when we lose control. There are a multitude of other forces at play in the universe and, many times, they affect human populations. When combining these elements, creating both forces unseen and uncontrolled, it amounts to a terrifying and deadly concoction. "Final Destination" gave audiences a taste of this terror. 
The film's hook is as compelling as a car crash on the side of the road: After a high school student, Alex Browning (Devon Sawa), has a vision of his own demise — as well as the rest of his classmates as they set off for a flight to France — he cheats death by avoiding a disastrous plane trip. Many of his classmates follow, in an attempt to defuse his seemingly random hysteria over the matter. Moments later, they witness the plane take off and explode in air. From that point forward, death set its sights on these would-be passengers of doom. 
How does one combat an invisible force like death? This is no manifestation of the grim reaper roaming around axing people, but death itself, using the world to entrap and kill those who have cheated its design. While the film didn't sit particularly well with critics, it was a box office success that spawned a franchise of sequels. The cast included many faces familiar to teen-centric films of the time, and some would go on to have enduring careers in Hollywood. Let's take a look at where the cast of "Final Destination" is today.
Devon Sawa as Alex Browning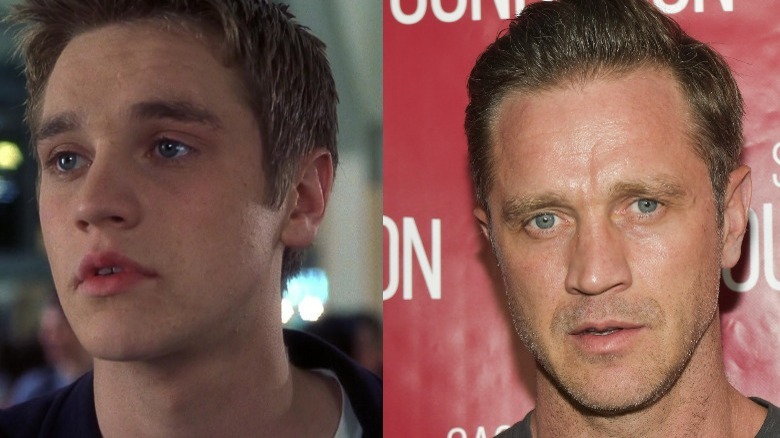 New Line Cinema/Rodin Eckenroth/Getty Images
Alex Browning kicks off the rollercoaster ride of anxiety and death by protecting himself and others from an early grave via an airplane take-off gone awry. Somehow, Alex is bestowed with a premonition of the explosive moment that feels all too real once he starts realizing that everything is proceeding exactly according to his supposed "dream." As feared, the airplane explodes in air shortly after take-off leaving him and his peers shell-shocked that his crazed ravings about the disaster came to fruition. For the remainder of the film, he learns all he can about death's supposed design to self-correct its mistake for missing these unfortunate souls in their original pre-destined demise.
Many of Devon Sawa's most identifiable roles occurred in the '90s and early '00s. However, he's stayed busy in the industry to this very day. In his formative years, he starred in '90s classics including "Casper," "Little Giants," and "Now and Then." Immediately following his portrayal of Alex Browning in "Final Destination," Sawa would appear in the iconic Eminem music video "Stan" portraying the title character of that song. He also held a starring role in the 2002 teen comedy "Slackers," about a bunch of college kids who perfect the art of cheating in school. He then went on to appear in several TV series including "NCIS: Los Angeles," "Nikita," and "Hawaii Five-0." Currently, Sawa can be seen in the "Chucky" TV series.
Ali Larter as Clear Rivers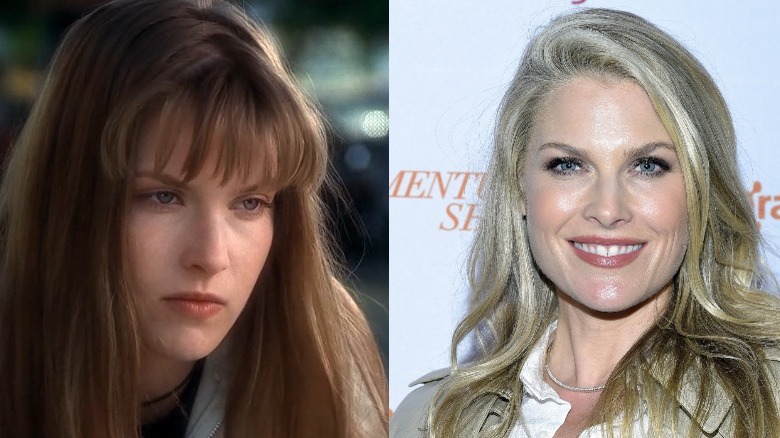 New Line Cinema/Michael Tullberg/Getty Images
Something of an outcast, Clear Rivers didn't seem to have a family present to pick the poor girl up from the airport after her near-tragedy. Her dad was killed when she was young, and her mother had basically abandoned her. Despite this dark past, she was smart and in touch with her own instincts, analyzing and sensing her surroundings and feelings to help determine a next move. Sharing a clear connection with Alex, she had all the necessary tools to achieve final girl status. 
Leading into her role on "Final Destination," Ali Larter had previously appeared in prominent late-'90s films including "Varsity Blues" and "House on Haunted Hill." Later, she'd reprise her role as Clear Rivers in "Final Destination 2." Larter skyrocketed to a new level of fame as one of the key characters on 2006's "Heroes," a top-rated TV show upon its debut that lasted until 2010. Eventually, Larter would take on the role of popular video game character Claire Redfield in the film adaptations of the "Resident Evil" video game franchise, and she has also landed recurring roles in TV series like "Legends," "Pitch," and "The Rookie."
Kerr Smith as Carter Horton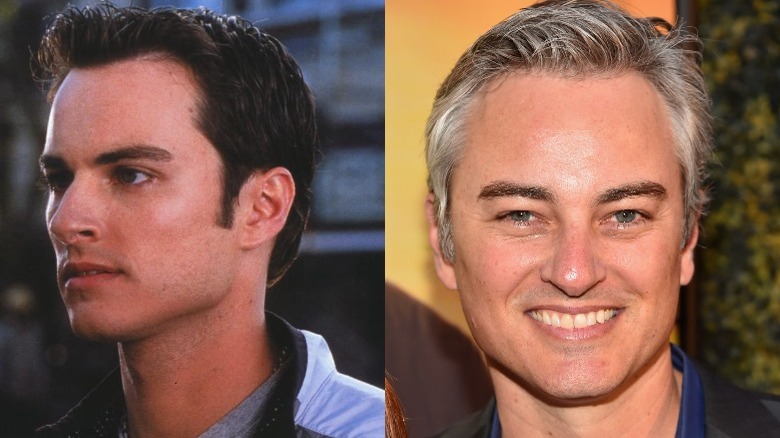 New Line Cinema/Alberto E. Rodriguez/Getty Images
As always, an angsty teen bully is in every crowd of adolescent teenagers. Carter filled that role capably, displaying a healthy heaping of aggression toward Alex, even after the tormented teen saved his life. 
When his girlfriend tragically dies in a traffic accident, he starts to open up to the idea that maybe there's something to what Alex had to say. At one point, he almost decides to end it all for the remaining crew as he speeds through traffic. Angered by the idea that something else controls his fate, he almost does the work himself so death won't have to. Despite his recklessness, he manages to survive until the very last moment of the film.
Kerr Smith made an enduring career in television just after his role in "Final Destination." He'd make appearances in numerous shows including "NCIS," "The Outer Limits," "CSI: Crime Scene Investigation," and "The Forgotten." He'd hold recurring roles in popular series such as "Dawson's Creek," "Charmed," "Justice," "CSI:NY," "Life Unexpected," and "Riverdale." In the world of film, he'd even make a return to horror briefly for "My Bloody Valentine 3D."
Kristen Cloke as Valerie Lewton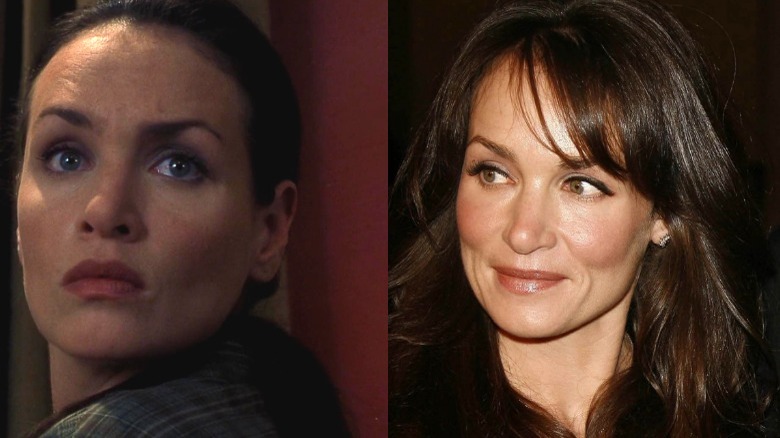 New Line Cinema/s_bukley/Shutterstock
Mrs. Lewton was the only teacher to remain behind with the students who exited the plane. While being supportive of Alex and attempting to calm him during his apparent freak-out, she instantly wrote him off following the explosion, shaken by what transpired; Alex and his ability to forecast doom absolutely terrifies her and she wanted no part in it. 
After Alex discovers death's design to be following the same trajectory as the survivors' deaths would've occurred in the airplane, he checks on Mrs. Lewton to ensure she is still breathing and potentially warn her. However, she has the FBI intervene and remove Alex from her property. Unfortunately, she has only opened herself up to the real threat — which completes its objective with extreme prejudice.
Prior to her portrayal of the tormented high school teacher, Kristen Cloke had already made a mark in television. She'd held recurring roles in the brief 1994 series "Winnetka Road" which also starred Ed Begley Jr. and Josh Brolin. Cloke also appeared in several episodes of "Space: Above and Beyond" from 1995 to 1996. Following "Final Destination," she continued to make appearances in TV shows including "Felicity," "Men of a Certain Age," and "Pretty Little Liars." She'd also have a role in the 2017 Oscar-nominated film "Lady Bird." Her most recent role was a small voice-only part in a 2018 episode of "The X-Files."
Daniel Roebuck as Agent Weine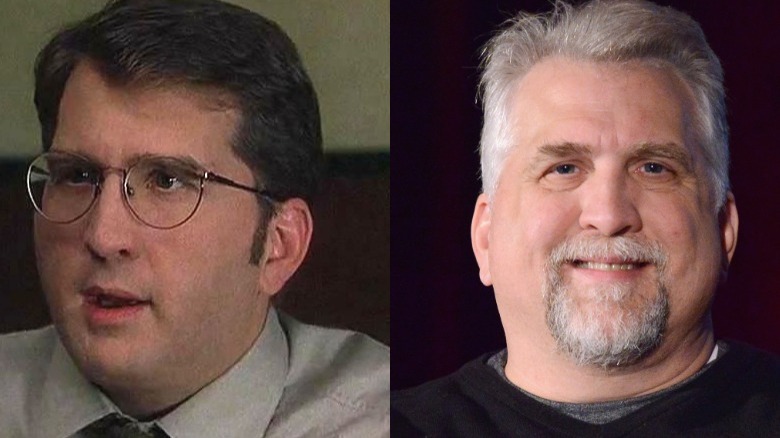 New Line Cinema/Albert L. Ortega/Getty Images
At first, Alex was immediately under suspicion by federal agents investigating the airplane explosion. Even not knowing that there was a supernatural plan at work, it seemed awfully suspicious that one student's alleged premonition came true. It most certainly was not a coincidence. 
Agent Weine and his partner, Agent Schreck, were on the case. Both were constantly breathing down Alex's neck, despite not really having any evidence to charge him with any wrongdoing.
Daniel Roebuck has stayed extremely busy over the years, boasting a massive filmography. Prior to his role in "Final Destination," Roebuck had appeared in several TV series beginning with "Dungeons & Dragons" in 1983. He also appeared in "The Dirty Dozen," "Capital News," "Star Trek: The Next Generation," "Matlock," "Lois & Clark: The New Adventures of Superman," and many more. After "Final Destination," Roebuck continued working heavily in television appearing on "The Drew Carrey Show," "The West Wing," "Lost," "Nash Bridges," "A Minute with Stan Hooper," "Bones," "CSI: Miami," "Weeds," and "The Man in the High Castle" among countless others. He's also appeared in many films including horror maestro Rob Zombie's "Halloween II," "Lords of Salem," and "3 from Hell." Roebuck has even voice-acted roles in popular video games including "L.A. Noire," "Dead Rising 3," and "Star Wars Jedi: Fallen Order." With several projects in pre-production, Roebuck doesn't seem to be slowing down any time soon.
Roger Guenveur Smith as Agent Schreck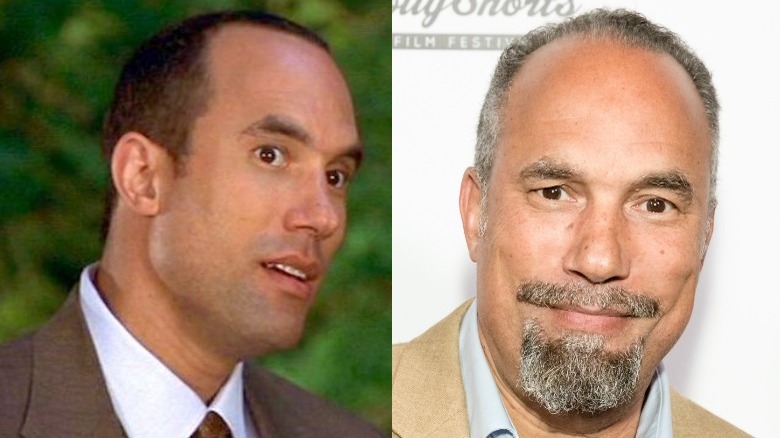 New Line Cinema/Greg Doherty/Getty Images
After Alex arrived at Mrs. Lewton's house, it was Agent Schreck who forcefully put him in the back of his car for a good ol' fashioned interrogation. Like his partner Agent Weine, Schreck took the high school kid to task, probing him with questions about his strange activities surrounding those who are dying. After the agents first released Alex from custody, Schreck told a bewildered Weine that Alex gave him the creeps, so much that he almost began to believe his ramblings on death's design.
Much like his partner, the man behind Agent Schreck has also enjoyed a healthy career over the years. Early in his career, Roger Guenveur held roles in prominent films like Spike Lee's "Do the Right Thing" and "Malcom X." He also made several appearances as Miles Christopher in "All My Children" from 1997-1998. After "Final Destination," he'd appear in other popular films including "American Gangster," "Fighting," and "Empire State." Also, like Roebuck, he'd lend his vocal talents to video game projects including "Star Wars: Knights of the Old Republic II" and "Syndicate."
Chad Donella as Tod Waggner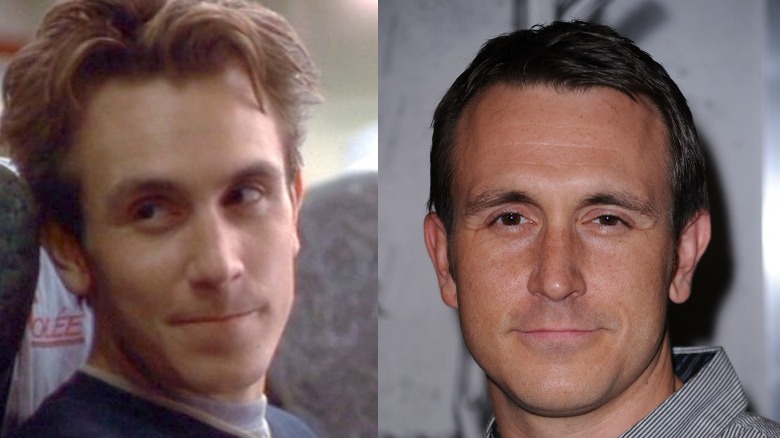 New Line Cinema/Frazer Harrison/Getty Images
Alex's best friend Tod and his brother also boarded the plane bound for France. Unfortunately, although Tod disembarked the aircraft, his brother stayed and perished with the rest of the students. Over the coming weeks, Tod's family grieved over their loss — however, Tod found himself with a newfound appreciation for life, and became determined to simply try and help his parents come to terms with what had occurred. Death's own sadistic game, however, would mark Tod for death first following the explosion. In a bathroom mishap gone wrong, Tod became the first of the survivors to fall prey to the inevitable in "Final Destination."
Chad Donella's work in film has been limited over the years. He's appeared in flicks like "Saw 3D" and "Taken 3." Beyond that, however, most of his work has occurred in the realm of television. He's made several appearances in TV series including "The X-Files," "Smallville," "Monk," CSI: Crime Scene Investigation," "NCIS," "Lost," and "Scandal." He has also held a couple of recurring roles in "Majority Rules!" and "Blindspot."
Sean William Scott as Billy Hitchcock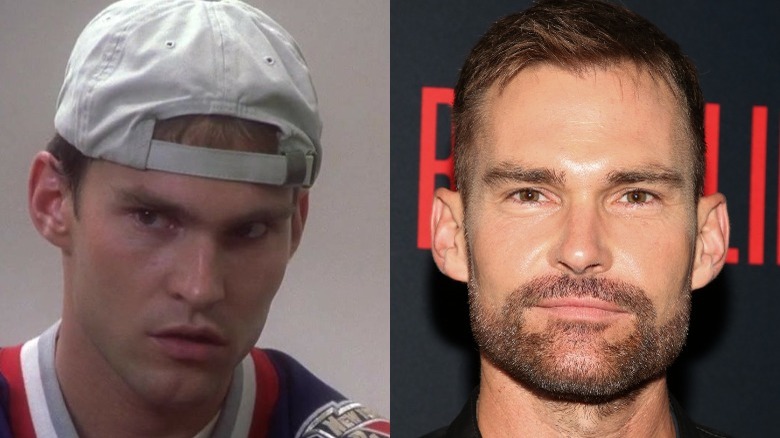 New Line Cinema/Paul Archuleta/Getty Images
The character of Billy Hitchcock really just amounted to no more than a leaf blowing about in the wind. He never really did anything of consequence, as he was forced off the plane by Alex's tirade. Later, he was seen making his way around town until his inevitable demise. After Alex saved Carter from his own turn at death, Billy walked right into the line of fire as a passing train shot a plate of metal at the poor kid. Sadly, Billy was never much more than fodder for the invisible nightmare that stalked the students.
Funny man Sean William Scott would actually have arguably the biggest career of anyone on this list, breaking through with the role of Steve Stifler in the 1999 film "American Pie." After "Final Destination," Scott would continue to be a popular actor in teen comedies appearing in films like "Road Trip," "Dude, Where's My Car?," "Evolution," "American Pie 2," "Old School," "American Wedding," and "American Reunion." He starred opposite of Dwayne Johnson in "The Rundown" and would also star in several other action comedy films like "The Dukes of Hazard," "Cop Out," and "Goon." Scott also provided the vocal talent behind the animated character Crash in the "Ice Age" series of films. Most of his career has been on the big screen; however, he's currently playing the role of Father Joe in the ongoing FOX series "Welcome to Flatch."
Tony Todd as William Bludworth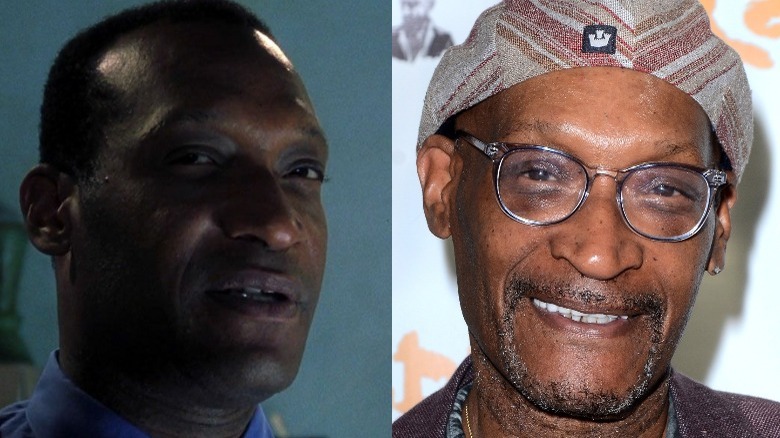 New Line Cinema/Kathy Hutchins/Shutterstock
The enigmatic mortician, who knows the most about death simply because he is surrounded by it on a daily basis, didn't calm Alex Browning or Clear Rivers' fears. "In death there are no accidents, no coincidences, no mishaps, and no escapes," Bludworth bluntly told the troubled teens. It was through Bludworth that Alex and Clear learned that death has a design and that there are consequences for cheating death. He told Alex that it was up to him to figure how and when fate would return for him. Ominously, as Alex and Clear left Bludworth's domain in the mortuary, he told Alex: "I'll see you soon."
The Candyman himself, Tony Todd has solidified his claim to fame in the horror genre. While synonymous with his terrifying role in the horror genre classic "Candyman," Todd has enjoyed a vast career in Hollywood. He's appeared in several prominent films of the '80s and '90s including "Platoon," "Night of the Living Dead," "The Crow," "Lean on Me," and various "Candyman" incarnations and sequels. After "Final Destination," he'd appear again as Bludworth in "Final Destination 2" and "Final Destination 5." Sticking with his horror roots, he'd appear as Reverend Zombie in the horror-comedy "Hatchet" — a film about unsuspecting tourists in the south being viciously murdered by a crazed, ghostly being named Victor Crowley. Todd also appeared in countless television series including "Smallville," "Angel," "24," "Stargate SG-1," "The Young and the Restless," and the "Scream" tv series. He has voiced many roles within the video game industry, with credits including "Call of Duty: Black Ops II," "Layers of Fear 2," "Half-Life: Alyx," and is voicing the alien-symbiote Venom in Sony's "Spider-Man 2" game. Todd's most recent appearance was a thrilling cameo in Nia DaCosta's "Candyman," as the Daniel Robitaille version of Candyman.
Amanda Detmer as Terry Chaney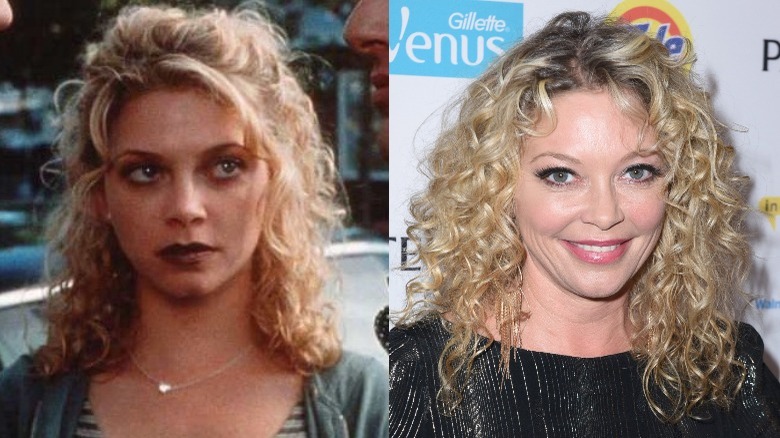 New Line Cinema/Vivien Killilea/Getty Images
Easily the better half of Carter Horton, Terry Chaney grew impatient with her boyfriend's fixation on Alex and Carter's constant need to provoke him. Like most of the characters in the group, it was easy to tell that Terry felt the weight of survivor's guilt. After Alex and Carter got into another argument, she refused to continue letting the tragedy that befell their fellow students dominate her life. Unfortunately, she didn't have much life left to live. As she turned to angrily cross the street, an oncoming bus brought Terry's story to a close — a horrific ending, but also a crowd-jumping pleaser, perhaps one of the most infamous in post-2000 horror cinema.
Terry Chaney was just blossoming during her time on the set of "Final Destination." Following the horror film, she'd appear in "Boys and Girls," "Saving Silverman," "You, Me and Dupree," and "The Majestic" opposite Jim Carrey. She'd even land a leading role in the film "Kiss the Bride." Her most recent feature-length movie was the Netflix original film "A California Christmas" in 2020. Chaney also appeared in several TV movies and ongoing series. Her most prominent roles were appearances in "What About Brian," "Necessary Roughness," and "Empire," where she played the role of Tracy Kingsley.
Brendan Fehr as George Waggner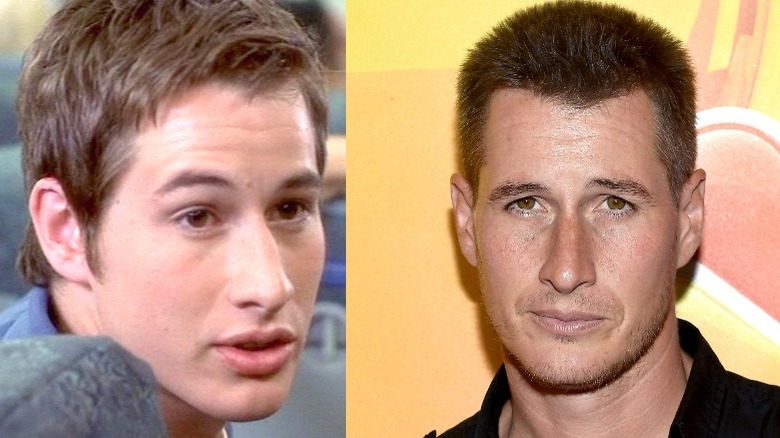 New Line Cinema/Matt Winkelmeyer/Getty Images
George was Tod's brother. Unlike Tod, however, he failed to deboard the plane when Alex attempted to warn the passengers of their potential deaths. George took notice of an infant while boarding the plane, ironically stating that having youngsters aboard is a good thing because it'd take an incredibly messed-up god to allow the plane to crash. When Alex began to meltdown, George would press his brother to go with Alex and ensure that he is alright — and that was the last we'd ever see of George.
Brendan Fehr continued a career in film and television, but mostly television. He held smaller roles in big-budget films like "X-Men: First Class" and "Guardians of the Galaxy." However, most of his work in feature-length films were independently produced. He starred in the indie fantasy "The Other Side of the Tracks" in 2008, as well as making appearances in other independent films including horror-slasher "Silent Night" in 2012. Following "Final Destination," most of Fehr's prominent performances were in television series. He held recurring supporting roles in "Roswell," "CSI: Miami," and "Bones." He also appeared in "Nikita," "Longmire," "Better Call Saul," and "Wynonna Earp."
Forbes Angus as Larry Murnau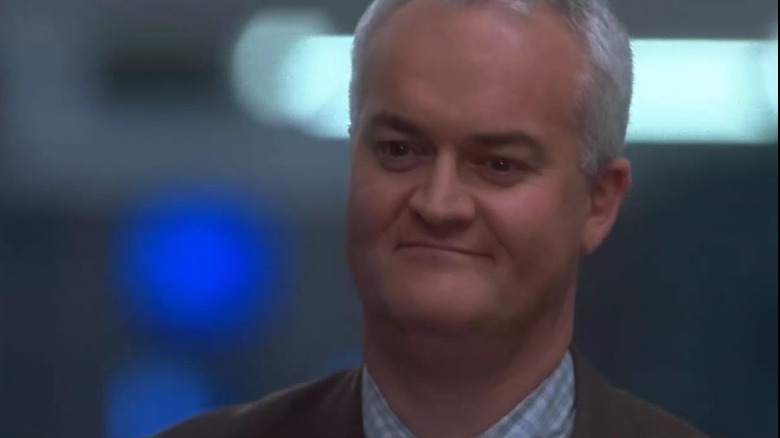 New Line Cinema
Larry Murnau was one of the teachers present during the students ill-fated trip to France. In an effort to keep the peace following the scuffle between Alex and Carter aboard the plane, he offered to stay with the teens that were removed. However, Valerie Lewton insisted that she stay and he goes. She tells him that she'll catch up with the rest of the class on a new flight in a few hours. Unsuspecting of Alex's rantings, the plane's explosion killed Murnau along with the other students aboard. Later, Lewton came to terms with her guilt over sending Murnau back onto the airplane. Who could have possibly known?
Forbes Angus got his start in showbiz back in 1990, when he appeared on the "21 Jump Street" TV series. He'd continue to perform on the small screen in TV series including "MacGyver," "The Commish," "Hawkeye," and "The X-Files." After his appearance in "Final Destination," he'd largely go back to a full career in television. His credits included smaller roles in prominent series like "Psych," "Fringe," "The Man in the High Castle," "iZombie," and most recently "Firefly Lane."
Lisa Marie Caruk as Christa Marsh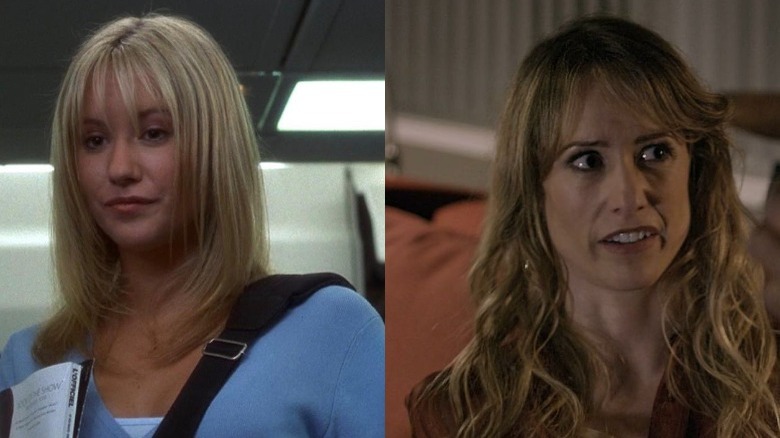 New Line Cinema/Amazon Prime
Tod and Alex had eyes for Christa Marsh and her friend. Early on, Tod goaded Alex into getting the two girls' attention. Eventually, Christa asked Alex to switch seats with the girls so they could sit together. In an attempt to sit next to them, Tod faked a medical excuse for not being able to do the switch. He attempted hand signals to Alex in order to get him to reject their request, but Alex complied regardless. This moment ultimately set the stage for the order in which death's design would occur in the film.
The role of Christa Marsh marked Lisa Marie Caruk's first big-screen appearance. She'd later be endangered in the air once again, appearing in the campy Samuel L. Jackson action film "Snakes on a Plane." Most of her acting work resides these days in made-for-television movies and shows. She has appeared in "Smallville," "Stargate: Atlantis," and "Supernatural." Most recently, Caruk appeared in an episode of "Loudermilk" in 2017.
Christine Chatelain as Blake Dreyer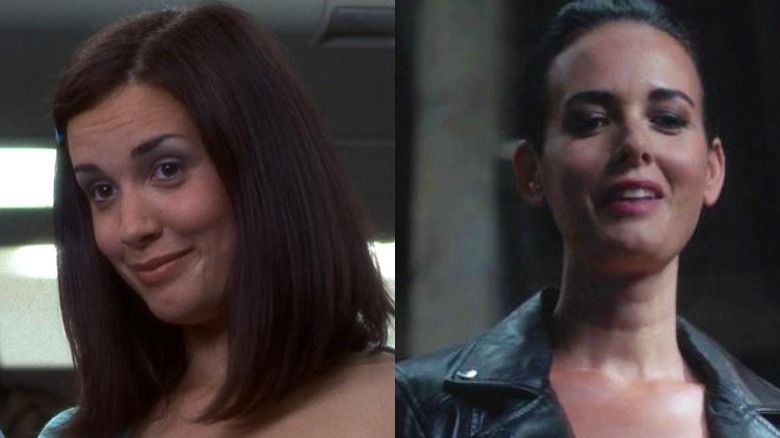 New Line Cinema/CW
Blake Dreyer was Christa Marsh's other half. The two were inseparable, and always seen together throughout the airport. Once aboard the plane, they attempted to stay together. Unfortunately, the two girls were casualties of the devastating explosion shortly after takeoff.
Like her "Final Destination" best friend, Christine Chatelain largely maintained a career in television. She'd appear in several shows including "Andromeda," "Psych," "Supernatural," "Smallville," "The Man in the High Castle," and "When Calls the Heart." Chatelain had a recurring role on the Canadian TV series "The Collector." Most recently, she appeared in an episode of the police procedural drama "Take Two" in 2018.
Barbara Tyson as Barbara Browning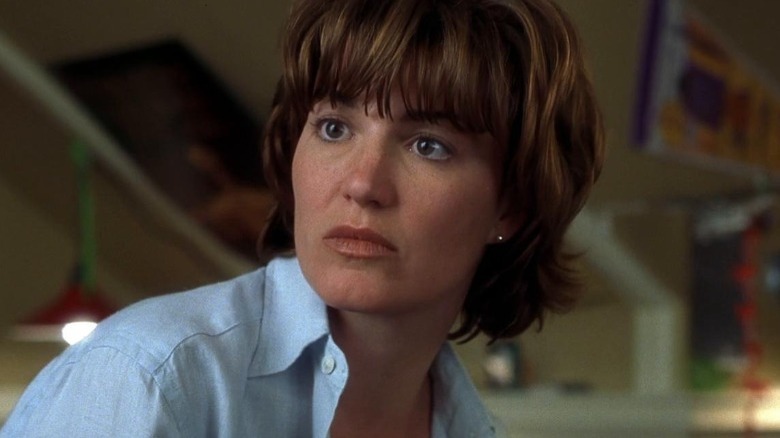 New Line Cinema
Like any normal parent, Barbara was elated to see her son alive and well as she arrived at the airport following the explosion of the jetliner.
Earlier, as Alex was packing, Barbara noticed her son's suitcase still had a tag on it from the prior flight. She went to remove it, but Alex stopped her, stating that the tag survived the last trip without the plane crashing, so she should leave it on for luck. If you haven't figured out by now, the foreshadowing in this film is not terribly subtle. Asking Alex where he got a crazy idea like that, she ripped off the tag from the luggage anyway — apparently damning her son to certain death by her attempt to care for his things. Who knows? Maybe Alex's mom did remove the one thing protecting the entire flight from death's grasp.
Barbara Tyson has appeared in several major TV series during her career, including "The Twilight Zone," "ER," and "Cold Squad." She also held a starring role in the Canadian series "Neon Rider." Tyson would later appear in roles with series like "The Outer Limits" and "Peacemakers." Her most recent role work could be found in the delightfully-titled 2020 Hallmark TV film "You're Bacon Me Crazy."
Robert Wisden as Ken Browning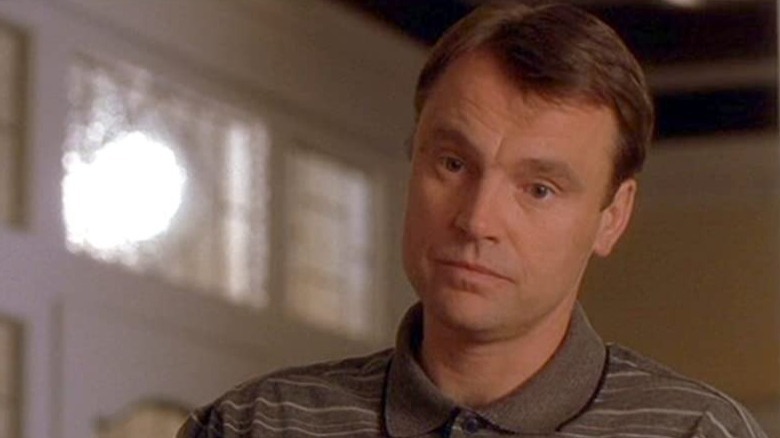 New Line Cinema
Alex's father, Ken, encouraged his son to have a great time during his 10-day trip to France. Recognizing the moment as Alex's first time truly being on his own away from his parents, it represented a moment that Ken christened as the start of a full "life ahead of him." Once again, another ironic statement, heralding the grisly fate awaiting his son's peers.
Zack Snyder's 2009 noir comic book-centric film "Watchmen," which was adapted from Alan Moore's graphic novel of the same name, gave Robert Wisden the chance to test his Nixon impersonation. During an alternate history, Nixon's Watergate scandal was suppressed and the President was actively leading the country in a climactic stand-off with Russia as threat of thermonuclear war loomed large over the world. Wisden embodied the infamous President in the film. Earlier in his career, he appeared in several TV series including "The Outer Limits," "Highlander: The Series," "Stargate SG-1," "Smallville," and "Battlestar Galactica." His most recent appearance was in the Hallmark TV film "Five Star Christmas," which aired in 2020.