The Untold Truth Of The Chucky TV Show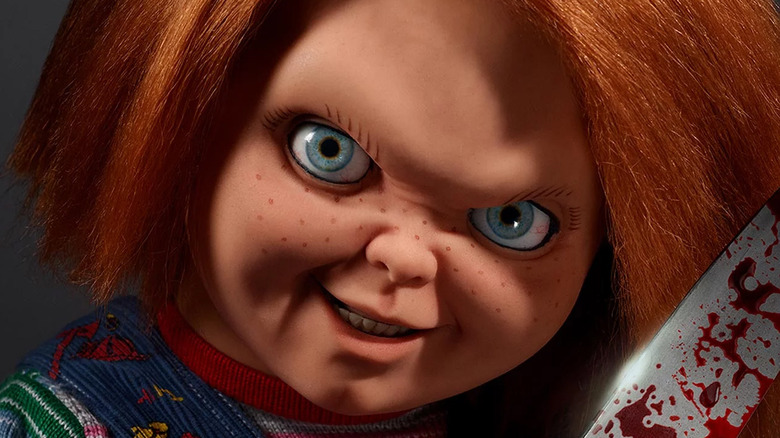 Syfy/USA Network
Chucky's journey to the small screen has been a long time coming. An iconic slasher villain whose peers include the likes of Michael Myers and Jason Voorhees, Chucky — the red-haired, overall-wearing doll possessed by the soul of a serial killer — first hit the big screen in the 1988 feature "Child's Play." Six sequels and one reboot later, the demented doll is back to terrorize our nightmares with a deftly-wielded kitchen knife in the 2021 "Chucky" TV series.
Buzz surrounding a possible "Child's Play" show began circulating all the way back in 2018, when series creator and longtime writer Don Mancini posted a cryptic gif on Twitter. News of the show's development was confirmed in early 2019. Fans were crushed when the long-awaited series was postponed indefinitely (via Deadline), due to the COVID-19 outbreak. But you can't keep a Good Guy Doll™ down. "Chucky" is bound for the small screen in October 2021 and will air on both the USA Network and Syfy. 
"Chucky" is sure to attract long-time franchise fans while hopefully pulling in some uninitiated eyes. Want to know more about the sinister series? This is the untold truth of "Chucky," 2021's scariest TV show.
The dual Chucky continuity controversy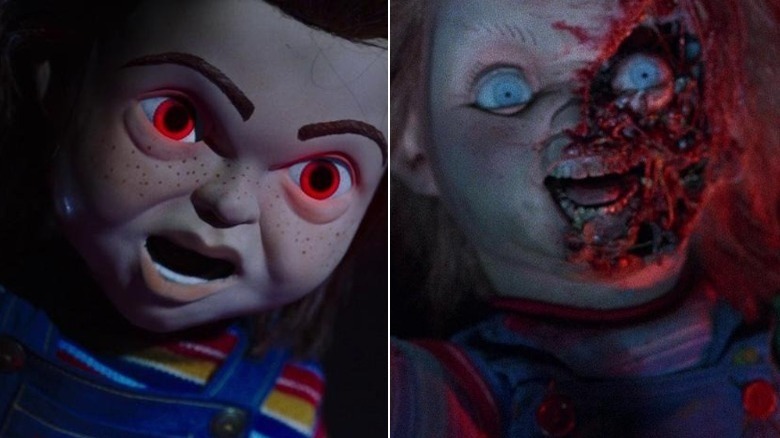 United Artists Releasing/Universal Pictures
Slasher films are no stranger to reboots, remakes, and stark new directions. But the "Child's Play" franchise has always been different. Sure, the series has changed over the years, careening from straight-faced thrills into decidedly campier (and increasingly meta) territory. But the creative team has remained remarkably consistent — that is, until the reboot. 2019's "Child's Play" was the first Chucky film not to involve longtime writer Don Mancini (via Slate). Likewise, Brad Dourif, who has voiced the stab-happy doll for three whole decades, was replaced by Mark Hamill.
This caused a fair bit of drama, with Mancini refusing to give his blessing and snubbing an executive producer credit. As Mancini told director Mick Garris on Garris' podcast, "Obviously my feelings were hurt ... they just wanted our approval which I strenuously denied them ... it's not just a paycheck. It's very personal."
With a possible sequel to the 2019 reboot on the table (via Bloody Disgusting) and the old gang getting back together on the small screen, you might be wondering: How is this legally possible? Well, MGM owns the original 1988 "Child's Play" movie rights, allowing them to make their own rebooted version with their own creative team. Meanwhile, various studios distributed the original's subsequent sequels, chief among them Universal Pictures, who will be distributing the TV series. Thus, there are two distinct Chucky timelines: The 2019 reboot timeline, and the original Mancini-helmed timeline, which will be continuing on the small screen.
Don Mancini is back in charge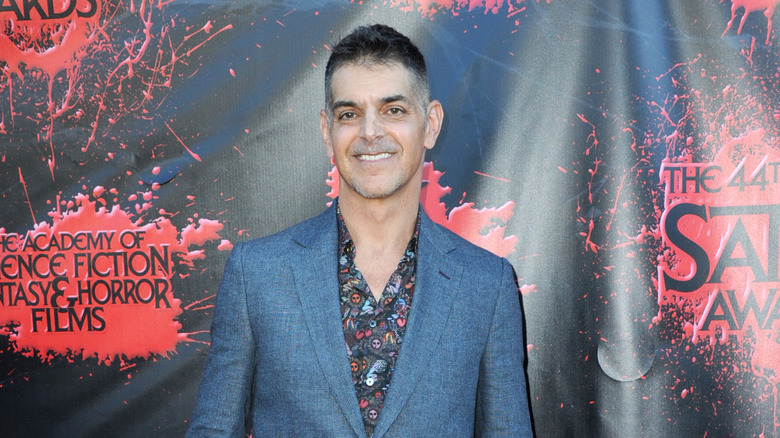 Albert L. Ortega/Getty Images
There's vindication, and then there's Don Mancini getting to retain control over the character he's dedicated three decades of his life to. While Mancini was offered a hands-off executive producer credit on the 2019 remake (which he refused), on TV's "Chucky," Mancini is fully and enthusiastically at the helm. In addition to serving as an executive producer, Mancini is set to write all 10 episodes of the inaugural season, and will direct the first episode, "Death by Misadventure" (via Collider). Speaking to Syfy Wire, Mancini explained that, generally, the show will aim to "look at what it means to be a kid today in the 21st century, as distinct from what it was like to be a kid in the 1980s, when we first showed up on the scene ... I think the prospect of seeing Chucky sharpen his skills and add to his toolbox ... that's something I think people will find pretty interesting."
Chucky's producers have plenty of genre experience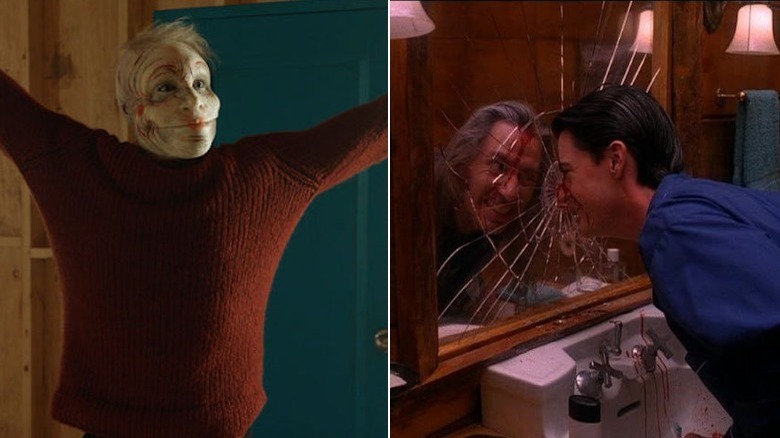 NBC/CBS
While long-time "Child's Play" fans will no doubt recognize the weight of Don Mancini's presence, the show's other bigwigs may require an introduction. Joining Mancini as executive producers will be David Kirschner, Nick Antosca, Alex Hedlund, and Harley Petyon.
If you're no stranger to Syfy, you'll likely recognize Antosca and Peyton from the critically-acclaimed horror anthology series "Channel Zero." Created, written, and overseen by Antosca, this series boasts four seasons of contained storylines based on popular "creepypasta" posts. Peyton served as a writer and producer on the latter two seasons of the show. Eagle-eyed readers might also recognize Peyton as the writer and producer of another haunting, surreal, and skin-crawling series: The culture-shaping TV sensation that is "Twin Peaks."
Kirschner's name should be ringing a couple of bells for "Child's Play" aficionados as well. He served as a producer on "Child's Play," "Child's Play 2," "Child's Play 3," "Bride of Chucky," "Seed of Chucky," "Curse of Chucky," and "Cult of Chucky." He's stayed true to the franchise through various tonal bobs and weaves, and his presence in a producer role on the 2021 series is further testament to the project's commitment to getting the gang back together. Plus, Kirschner's experience with spooky small screen projects like "The Last Halloween," "The Halloween Tree," and the short-lived 1992 "Addams Family" series is bound to come in handy.
The plot revolves around a vintage Chucky doll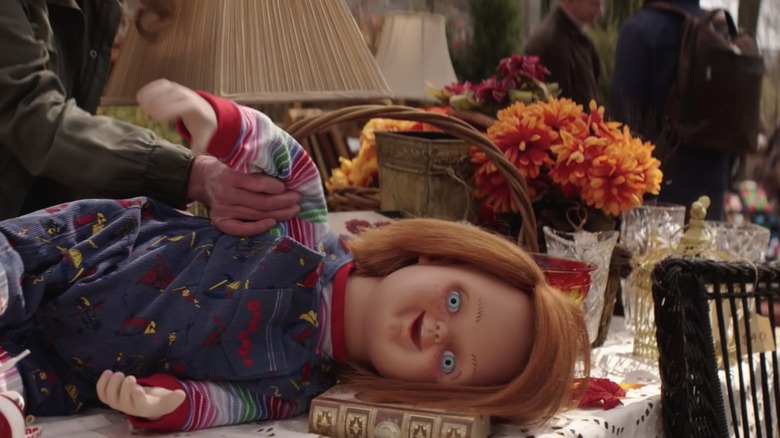 Syfy/USA Network
Behind-the-scenes tidbits are all well and good, but what about the show's plot? Per an official synopsis from Syfy, "Chucky" kicks off when a vintage Chucky doll shows up at a yard sale in a sleepy small town. A more extensive "Chucky" trailer reveals that the series revolves around a teenage artist named Jake (Zackary Arthur) who purchases Chucky to use in his art.
The town's populace is thrown into chaos when brutal murders expose major secrets. The arrival of figures from Chucky's past mixes things up even more dramatically. The series will also explore the sordid details of Charles Lee Ray's backstory, revealing how he went from a seemingly ordinary child to a gruesome killer.
Basically, "Child's Play" fans are getting two whammies for the price of one: A murderous backstory and a brand new slash-happy adventure that stays true to the worldbuilding of past films. The most recent entry in Mancini's "Child's Play" saga, 2017's "Cult of Chucky," expands the purview of Chucky and Tiffany's mystical abilities, allowing them to possess not only dolls, but humans, too. As a result, anything is possible — and that's pretty dang exciting.
The show marks Chucky's first major foray onto the small screen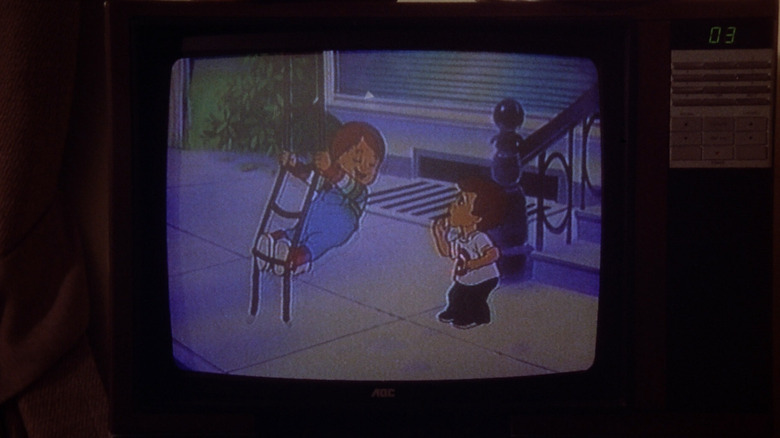 United Artists Releasing
Everyone's favorite homicidal doll has made the odd television appearance here and there. Chucky shows up on the "Robot Chicken" episode "Plastic Buffet," where the possessed Good Guy doll falls in with some chillingly soulless Cabbage Patch Kids. Fun fact: The skit features Mark Hamill as the voice of Chucky 14 whole years before the 2019 reboot! Chucky has also appeared on the small screen while promoting the franchise, perhaps most memorably in a 1998 Weekend Update segment on "Saturday Night Live," during which Chucky tries to massacre Colin Quinn. Furthmore, Chucky's been on at least five episodes of "The Simpsons," including the 2004 banger "The Ziff Who Came to Dinner." 
But for all the Easter eggs, cameos, and Superbowl commercials that have featured the murderous freak of nature, Chucky has never had a television show to call his own ... until now. Good for him! Follow your dreams, everyone! Just, maybe with less homicide.
The Chucky series will go back to its scary roots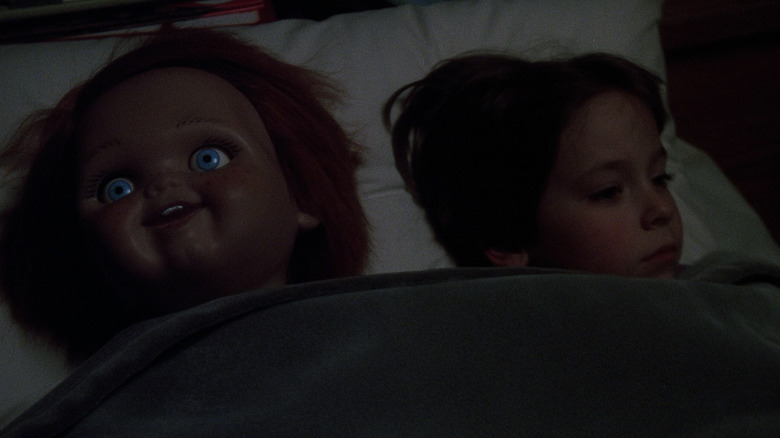 United Artists Releasing
The "Child's Play" franchise has undergone several tonal shifts over the course of its run. While the series has always dabbled in a little silliness (it's about a killer doll, after all), things took a hard turn for the meta with 1998's "Bride of Chucky." From then on, the series has leaned further and further into camp and complexity, from self-replicating Chucky dolls to plastic offspring — plus many knowing winks at the camera.
"One of the things that we've always tried to do over the course of the decades and the different movies, is we just try to switch it up a lot," Mancini told Syfy Wire. "From film to film, I've always tried to create a different tone ... we've gone from straightforward slasher to comedy to crazy satirical comedy and back to straightforward horror again." 
That's right, folks. Per Mancini, the mission of the TV show will be to "preserve the straightforward scariness of the original film" while balancing the "ever-expanding tapestry of consistent story that we've spun over the course of seven movies and 30-some years." Classic scares and classic characters? Sounds good to us.
Mancini credits other small-screen horror projects for inspiring Chucky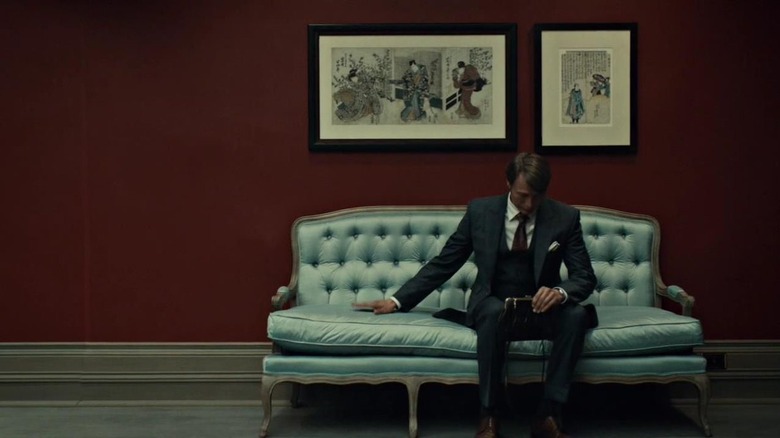 Sony Pictures Television
In his exclusive chat with Syfy Wire, Don Mancini credited his involvement with two notable horror series for sparking his desire to bring Chucky to the small screen: Syfy's horror anthology "Channel Zero" and NBC's thriller procedural "Hannibal."
Mancini co-authored three episodes of "Channel Zero," two of which were penned alongside "Chucky" co-producers Nick Antosca and Harley Peyton. Likewise, Mancini wrote two episodes of "Hannibal." Mancini has been writing for the small screen since the early 1990s, including the episode "Fitting Punishment" for HBO's "Tales from the Crypt," which notably features an all-Black cast. That experience, combined with writing credits on not one, but two of the most critically acclaimed horror shows in recent memory, is definitely enough to fill one with confidence. 
"What Bryan Fuller was doing with ["Hannibal"] felt like fan fiction made by experts, and I really love that aspect of it," Mancini told Syfy Wire. "So I feel like, in a way, we're doing that with Chucky now. I'm working with all these really talented writers, all of whom are huge Chucky fans ... it's great to hear their ideas and just to start incorporating stuff into [the show] I might not have thought of."
The cast is stacked with old faves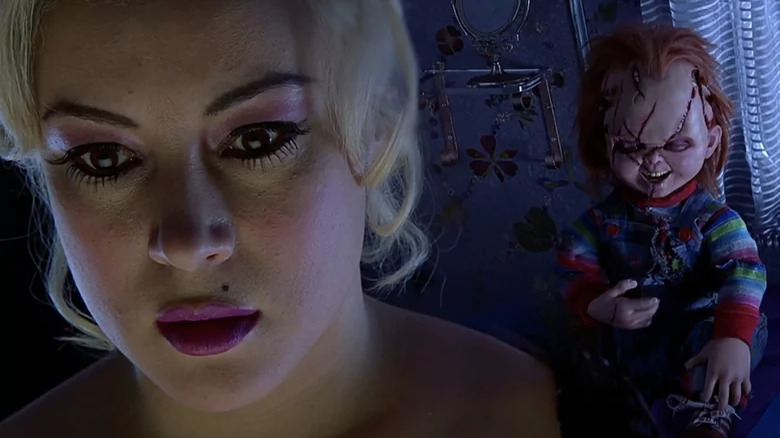 Universal Pictures
In what is sure to be a major draw for long-time fans, "Chucky" sees the return of a veritable rogues' gallery of the franchise's most beloved talent. First and foremost, Brad Dourif, longtime voice of the pint-sized psychopath, is back in the recording booth. Dourif is joined by series favorite Jennifer Tilly, the voice of Chucky's paramour, Tiffany Valentine, as well as a meta version of herself. The cast is rounded out by Fiona Dourif, who will be reprising the role of Nica Pierce. 
Longtime franchise fans will also be interested to know that Alex Vincent is back as Andy Barclay, the child who first comes into possession of the homicidal doll way back in 1988's "Child's Play." Fittingly, Christine Elise McCarthy from "Child's Play 2" will be returning to the role of Andy's sister Kyle. The band is back together, and fans couldn't be more pleased.
Chucky will feature some interesting new blood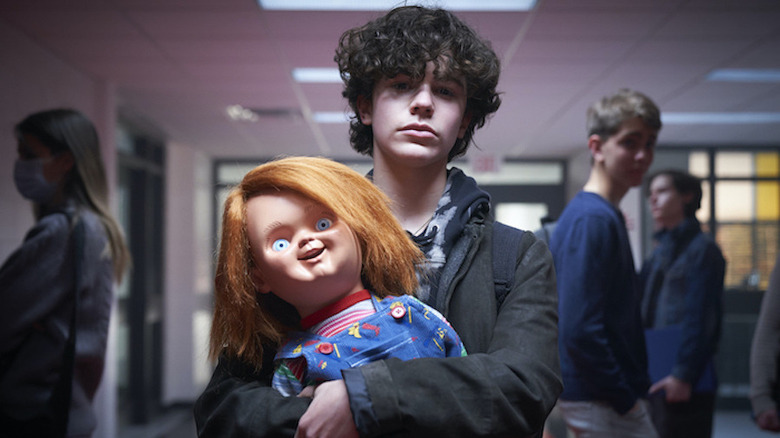 Syfy/USA Network
Unlike his knife-wielding creation, Don Mancini is no dummy. You must balance the old and familiar with the new and exciting in a project like "Chucky." As a result, expect to see an intriguing smattering of new faces on the small screen series. "Chucky" will feature Devon Sawa ("Final Destination"), Barbara Alyn Woods ("One Tree HIll"), and Lexa Doig ("Jason X"). A fresh crop of young talent will also be present, including Zackary Arthur ("Transparent"), Teo Briones ("Ratched"), Alyvia Alyn Lind ("Daybreak"), and Björgvin Arnarson ("The Seventh Day").
Mancini has described Jake, the series' protagonist, as "a young artist [making] sculptures with doll parts. He finds Chucky at a yard sale" (via EW). Mancini has further noted that having "the protagonists [be] kids" is part of a larger plan to bring "Child's Play" back to its roots. "But since, with the first couple of movies, we'd already delved into having little kids, I wanted to explore something different," Mancini explained, "So this time we're exploring young teenagers."
Mancini announced the series on April Fool's Day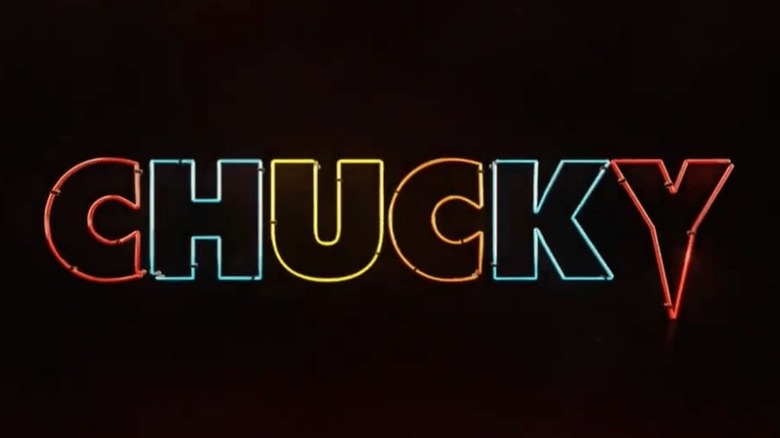 Syfy/USA Network
There is something deeply, chaotically funny about making a sincere announcement on April Fool's Day. We'd like to think Chucky would be proud. Now, to be clear, plenty of earnest things have been announced on the goofiest day of the year. On 2004's April Fool's Day, Google introduced the world to a little something called Gmail. Apple Computer was founded by Ronald Wayne, Steve Jobs, and Steve Wozniak on April 1st, 1976. See? Plenty of serious things happen on April 1 — including the announcement of the "Chucky" TV series.
"This is no April Fools' joke," Don Mancini posted to Instagram on April 1, 2021. "#CHUCKY the series is officially in production and coming to @USA_Network and @SYFY this fall." Announcing the small screen debut of a wise guy like Chucky on April Fool's Day is deliciously on-brand. That said, considering reports of the series being in development have been kicking around since early 2019, anyone already following Mancini on social media likely knew this was a long time coming.
Chucky won't span too many episodes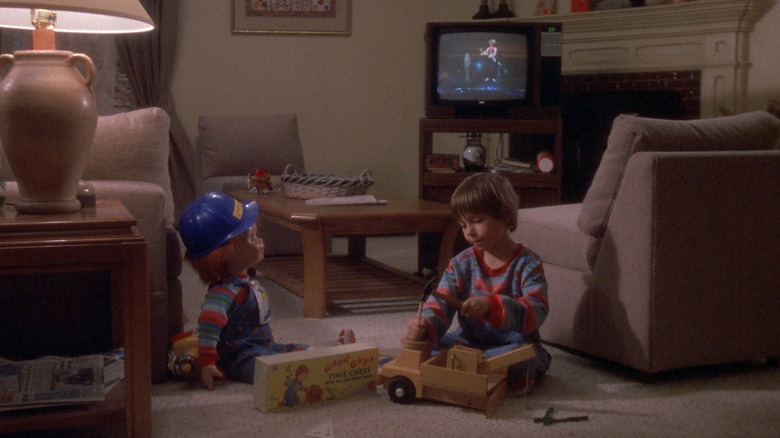 United Artists Releasing
Knowing the number of episodes slated for a TV season tells a fan a lot. Will the show in question be compressing its story into a smaller amount of hour-long episodes or a whole bunch of half hour installments? Will it include any two-parters or extra long episodes? These details offer insight into any given series, and "Chucky" is no exception.
In an exclusive statement to Syfy Wire, Mancini teased the channel's upcoming marathon of "Child's Play" movies as "a tasty aperitif in anticipation of Chucky's upcoming savory 8-course SYFY/USA TV series." While there is still some confusion over just how many episodes we're getting (Newsweek claims 10 episodes are coming), both counts are in a compact sweet spot. Celebrated series as diverse as "Stranger Things," "Broachurch," and "Big Little Lies" do a lot with a small number of episodes. "Chucky" is in good company.
Chucky will feature old fashioned animatronics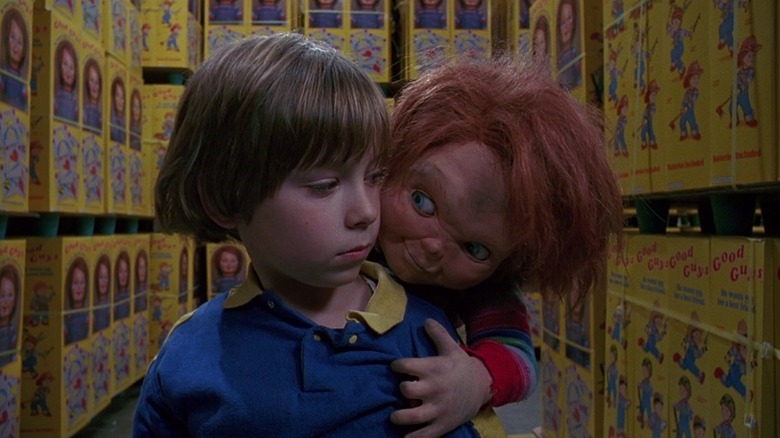 Universal Pictures
From its creative team to its tone, "Chucky" is committed to getting back to basics. Fittingly, this will also be true regarding the technical wizardry that has been bringing Chucky to life since the 1980s. No, not voodoo: animatronics! Robotic movements made possible by metallic joints have always been intrinsic to Chucky. Past "Child's Play" films have integrated CGI (including the 2019 remake), but it's undeniable that practical effects, from puppetry to stunt doubles, are an essential part of Chucky's charm.
As a result, it was crucial to reassure fans that "Chucky" will keep up the servo-motor-powered tradition. Promotional videos reveal a glimpse of what's under Chucky's skin (and a truly memorable shot of multiple unfinished Chucky heads). "We've taken a lot of pains to mimic the specific look of the doll himself from 'Child's Play 2,'" Mancini explains. "It's the creepiest version, but weirdly also the cutest."
Chucky's infamously foul mouth will be intact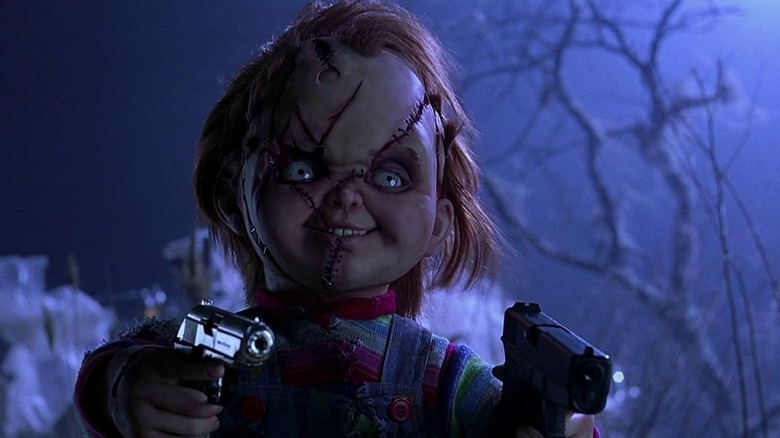 Universal Pictures
Let's name a couple of Chucky's defining character traits, shall we? He's pint-sized, irritable, selfish, and homicidal. Oh, and he swears like a sailor. Seeing a child's plaything (albeit a decidedly unsettling and often badly mutilated one) unleash a torrent of dirty words is memorable, to say the least. If there is any doubt that this hunk of plastic is possessed by the spirit of a deranged maniac, his love of four-letter words erases it. This probably isn't what the manufacturers meant when they advertised their "talking" doll, but it serves them right for not being specific.
Appearing alongside executive producer Nick Antosca on San Diego Comic-Con's 2020 "Scary Good TV" panel, Don Mancini assuaged fans' fears that the small screen would limit Chucky's ability to, uh, express himself. "When [Antosca] and I set up 'Chucky' at Syfy, one of the first things we had to make sure of was that Chucky could drop his F-bombs, because it's such an intrinsic part of his character," he explained. "Fortunately, before we signed on the dotted line, they confirmed, yes, he can. I think he can drop, like eight F-bombs per episode, or something like that ... and I think there's variations depending on what time it airs." As Chucky would say, **** yeah.
Chucky will debut in October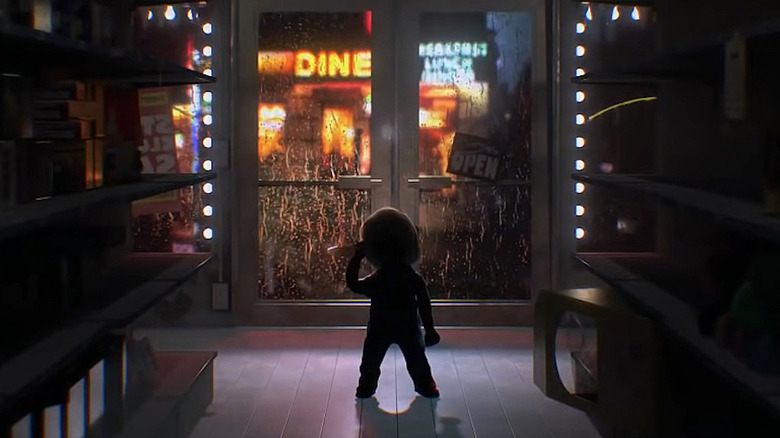 Syfy/USA Network
Per the "Chucky" trailer, we can expect to welcome the pint-size menace to our screens at 10 p.m. EST on October 12, 2021. Given the spooky subject matter at hand, this absolutely feels like the right call. Sure, horror is a genre that can be readily enjoyed all year round. But there's something extra special about enjoying spooky content amidst rotting leaves, blazing jack-o-lanterns, and the lead-up to Halloween. If the trick-or-treater-stuffed trailer is anything to go by, we're in for a seasonally appropriate treat. 
Notably, Syfy will be releasing a modern retelling of Amy Holden Jones' iconic "Slumber Party Massacre" around the same time. Fans of '80s horror, your moment has clearly arrived. It's time to start stocking up on candy corn and hot apple cider — this fall is set to be a spooky one. Just remember to keep a sharp eye out in the toy aisle for dolls with a violent gleam in their eye.