The NCIS Character You Forgot Kerr Smith Played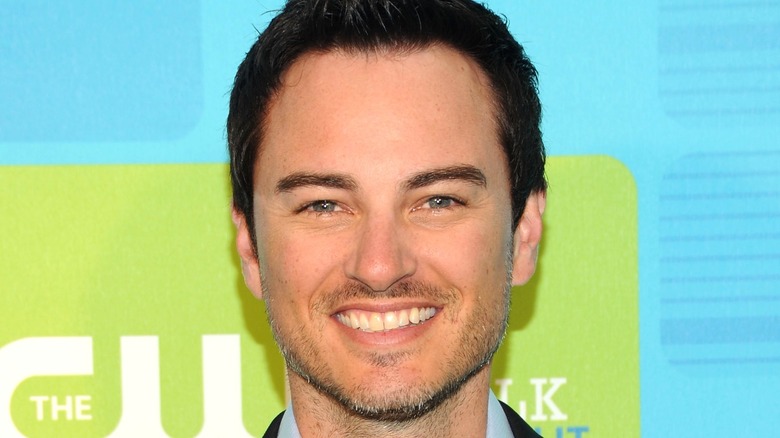 Jason Kempin/Getty
Kerr Smith has popped up in a wide range of TV series and films over the years. While some know him for his involvement with the infamous "Final Destination" horror movie franchise, others might recognize him foremost for his recurring role as Principal Honey on the oft-controversial CW drama series "Riverdale," his recurring role as Kyle Brody on "Charmed," or his starring role as Jack McPhee on "Dawson's Creek." The actor has even managed to appear on three separate shows in the "CSI" franchise as three completely distinct characters.
However, fans of the actor's varied list of credits may have forgotten his exceptionally villainous turn on one of the biggest TV drama series of all time. As it happens, Smith had a small role in the long-running police procedural show "NCIS" during which he became one of the series' most cunning killers and compelling antagonists in a brief stint of just two episodes.
Smith played a vicious killer on NCIS
The main conflict of the 8th season of "NCIS" was an immensely personal one for the central team of investigators. As former and current members of the NCIS organization were targeted by a ruthless serial murderer known as the Port-to-Port Killer, the team raced to catch the villain. The conflict came to a head in the final two episodes of Season 8, "Swan Song" and "Pyramid," respectively, when the killer, played by Kerr Smith, finally made his on-screen appearance.
The episodes reveal the murderer's backstory, explaining that he used to be a Navy lieutenant named Jonas Cobb before being recruited for a covert U.S. military project called Frankenstein. The operation involved special training that turned Cobb into a cold-blooded assassin. However, the mental strain eventually broke Cobb, and he went rogue, seeking revenge on those involved with the project. Though Special Agent Gibbs (Mark Harmon) and Director Vance (Rocky Carroll) were eventually able to put an end to Cobb's path of vengeance during a final standoff, the damage was already done. When the dust settled, Smith had claimed at least nine victims, including Gibbs' mentor, Special Agent Mike Franks (Muse Watson).
Although his role was brief, Smith made a splash on "NCIS" as the Port-to-Port Killer. His plight led to some of the most emotionally devastating moments across the show's history and sent the team reeling in a way that few other villains in the series have managed to accomplish.