Ant-Man And The Wasp Starts Shooting In June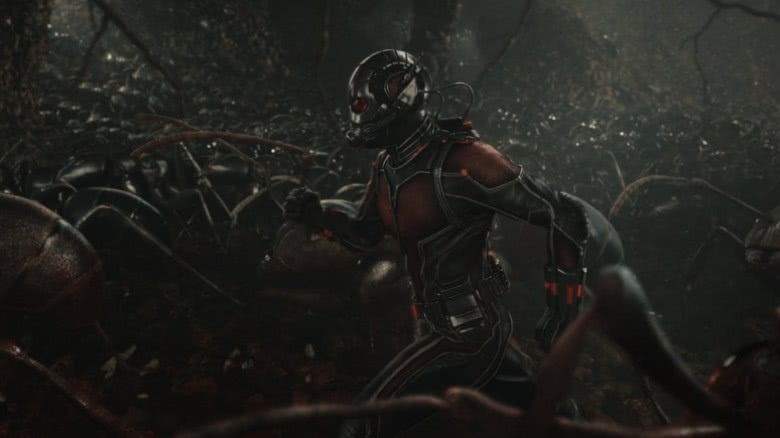 Marvel is slowly revealing its shooting schedule for the next few years, with the studio announcing that Avengers: Infinity War and the untitled fourth Avengers movie will shoot back-to-back (rather than concurrently) this summer and fall. Brie Larson's Captain Marvel will also begin production in February of 2018.
Now, Kevin Feige has told Collider that Ant-Man and the Wasp, the highly anticipated sequel to the 2015 movie starring Paul Rudd, will start filming in June.
The stars of Ant-Man and the Wasp have teased a production date of this summer, but now we know more specifically when everyone will show up on the set. Rudd is set to return as the title character alongside Evangeline Lily as Hope van Dyne. Other cast members have slowly been confirming their returns as well, with Michael Douglas posting on Facebook that he is in, and Michael Pena (who plays Scott's former cellmate Luis) and David Dastmalchian (who plays Russian hacker Kurt) also saying they're coming back.
A few cast members are still unsure, with Judy Greer, who plays Scott's ex-wife, saying that she hasn't gotten the call yet. There's also no word yet on T.I., who played the third member of Scott's criminal gang, although it's likely that both he and Greer will make an appearance.
Director Peyton Reed has confirmed that, despite rumors to the contrary, Jeremy Renner's Hawkeye won't be in the movie, although it's possible that another Avenger could show up, considering the movies will be filming in Atlanta at the same time.
Ant-Man and the Wasp will bring new tech into the movie's world, with Reed teasing that the new suits will be able to do "new and stranger" things. Concept images recently shown to reporters also teased the possible inclusion of Hope's mother Janet, placing her original suit alongside those of Ant-Man and the Wasp. Reed teased that "only time will tell" if Janet will return from the quantum realm for the sequel.
It will be quite a lot of time before we tell, as Ant-Man and the Wasp isn't due out until July 6, 2018. In the meantime, take a look at some of the dumb things in Ant-Man that everybody just ignored.