15 Movies Like Under The Tuscan Sun That Romance Fans Need To Watch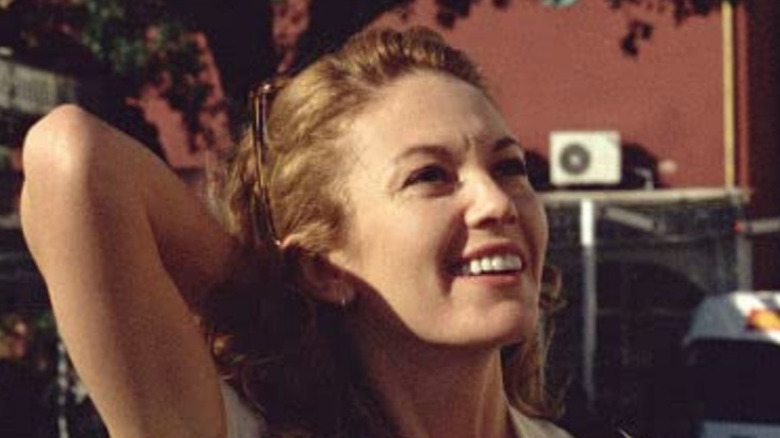 Buena Vista Pictures Distribution
2003's "Under the Tuscan Sun" follows a woman's journey to Italy, where she discovers herself in ways she'd never imagined. Based on Frances Mayes' memoir of the same name, this Audrey Wells film stars Diane Lane as Frances, a San Francisco writer whose husband leaves her and takes their house, too. Her best friend, Patti (Sandra Oh, whose wife is played by Kate Walsh, for you "Grey's Anatomy" fans), sends Frances to Italy to boost her spirits. Through a series of serendipitous events, Frances buys a house in Tuscany. As she fixes up the house, Frances finds a whole new world, including a brief romance with an extremely handsome man (Raoul Bova). More importantly, she finds herself in this place so far outside her comfort zone.
"Under the Tuscan Sun" was a hit with audiences seeking a feel-good romance set in a beautiful location. It explores self-discovery, life transitions, the experience of joy, and breaking the mold. Luckily for fans, there are many romance films like "Under the Tuscan Sun" that look at these themes. While not all of these movies bring the protagonist to a new location ("Enough Said," "Gloria") and others don't feature a female protagonist ("Forgetting Sarah Marshall," "A Good Year"), they all share a reckoning with the self and, with it, the discovery of life, love, and home. Here's a look at similar films, presented in no particular order. 
Before Sunrise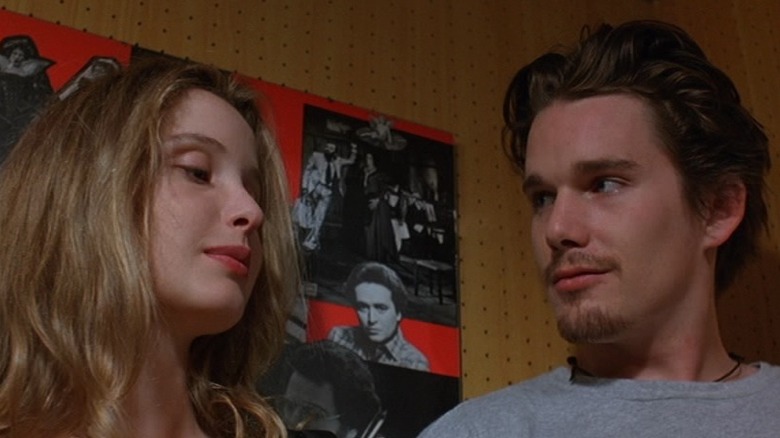 Columbia Pictures
Richard Linklater's 1995 film "Before Sunrise" follows two strangers as they spend 24 hours together. American Jesse (Ethan Hawke) and ​​French university student Céline (Julie Delpy) meet on a train and decide to spend a day in Vienna together walking and talking. Jesse is a cynic, while ​​Céline is a romantic. The two challenge each other on their views and find that opposites attract. Sometimes, it's easier to be vulnerable with a stranger in a strange land and the film captures that dynamic perfectly, establishing a believable and dynamic connection between this potential couple.
The minimalist film employs Linklater's trademark dialogue and style of capturing a moment in time and was a critical success, with a 100% rating on Rotten Tomatoes. While its style, plot, and main characters differ from "Under the Tuscan Sun," at its heart, the film is about self-examination and the willingness or opportunity to engage with that process when you're outside what's familiar.
"Before Sunrise" is the first of three films that follow the development of Jesse and Céline's relationship. 2004's "Before Sunset" reunites Jesse and ​​Céline in Paris, while 2013's "Before Midnight" brings them to Greece. Whether you watch one film or all three, you'll find yourself pulled into the world of Jesse and ​​Céline and feel like you're walking along with them in some of the most beautiful places in the world.
A Good Year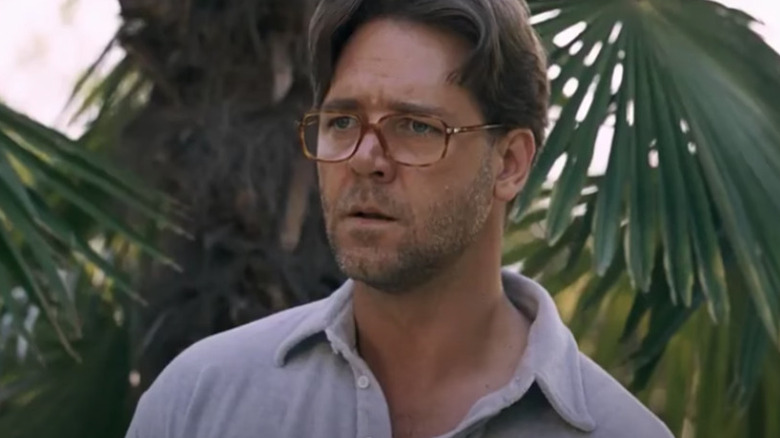 20th Century Fox
Although both Russell Crowe and Ridley Scott had made names for themselves in the action and sci-fi worlds, the two united for an unexpected trip to France in 2006's "A Good Year." Directed and produced by Ridley Scott, the film follows Max (Russell Crowe), a workaholic London trader. Max's uncle, Henry (Albert Finney), dies and leaves him his vineyard in Provence, France, where Max had spent his childhood. Max goes to the vineyard to sell the property, where he meets Fanny (Marion Cotillard), a skeptical cafe owner, and Christie (Abbie Cornish), who claims to be Henry's illegitimate daughter. The fast-paced world that Max knows has no place in the south of France and he finds himself torn between staying on the vineyard and returning home.
A far cry from the worlds of "Gladiator" or "Alien," "A Good Year" brings viewers into the slower pace of the countryside. You can almost smell the grape leaves and feel the warmth of the dappled sunshine as Max tries to adjust and settle into life on the vineyard. Like "Under the Tuscan Sun," the film explores the age-old question of where one's home is and shows that sometimes, you need to leave what you know in order to find that home.
Shirley Valentine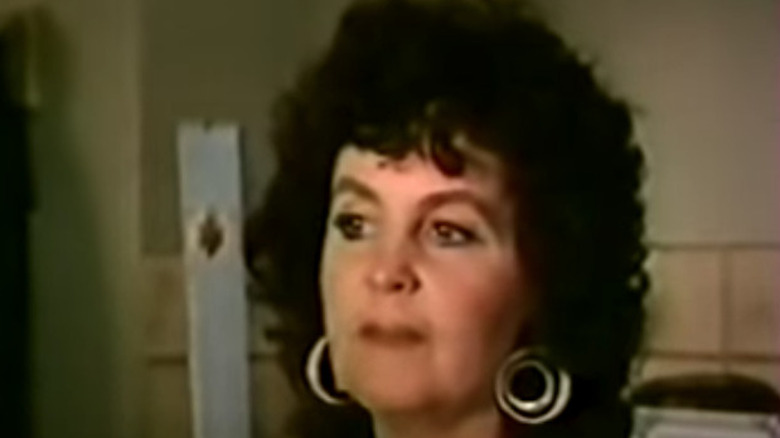 Paramount Pictures
1989's "Shirley Valentine" follows Pauline Collins, an unhappy housewife who shakes up her life by taking a trip to Greece. Shirley Valentine's life hasn't turned out quite how she expected: her husband has become dismissive and demanding, her daughter sees her only as a caretaker, and Shirley has literally taken to talking to the walls. So, when a friend wins a trip to the Greek island, Mykonos, Shirley unexpectedly puts herself first and jumps at the chance to go. Shirley's friend immediately leaves her to pursue a love affair and Shirley goes off on her own to explore Mykonos. 
This was still the heyday of the Greek island (back when it was a place of freedom and magic and not just a celebrity destination), which is captured in the film. Shirley begins a romance with Costas (Tom Conti), a taverna owner, and does things she's never done, like swim naked. In her words, she falls in love with the idea of living and this is what the film expresses so well. Audiences evidently agreed, as "Shirley Valentine" became one of the highest-grossing independent British films to date and was nominated for a number of awards, including Best Actress in the Academy Awards. Like "Under the Tuscan Sun," "Shirley Valentine" tells the tale of a middle-aged woman trading her stifling life for a new one. Viewers today can continue to enjoy this warm slice of life under the Mediterranean sun.
The Holiday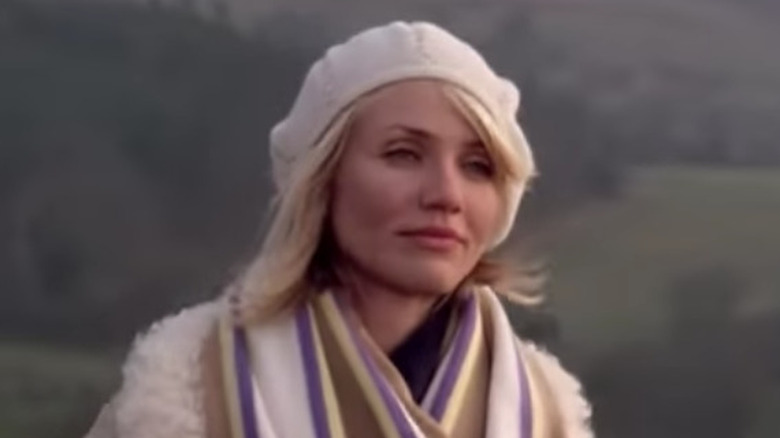 Sony Pictures Releasing
Arguably, fans of "Under the Tuscan Sun" should enjoy any Nancy Meyers film, as they all explore women finding themselves literally and figuratively in beautiful settings. However, Meyers' 2006 feature, "The Holiday," takes that to another level as the film takes place in both Los Angeles and England. "The Holiday" follows two women, England-based Iris (Kate Winslet) and LA-based Amanda (Cameron Diaz), who decide to do a home exchange to deal with their respective heartbreaks.
Iris and Amanda are both fish out of water in their new homes, but they settle in with the help of new friends, neighbors, and love interests. Amanda meets Iris' very handsome brother, Graham (Jude Law), while Iris falls for Ethan (Jack Black). Although the plot is a bit predictable, the film leans into the comfort of that familiarity and romantic comedy tropes, which can leave viewers feeling good at the end. With its great cast, beautiful locations, and that undeniable Meyers touch, "The Holiday" is like a cozy blanket for any fan of the genre.
How Stella Got Her Groove Back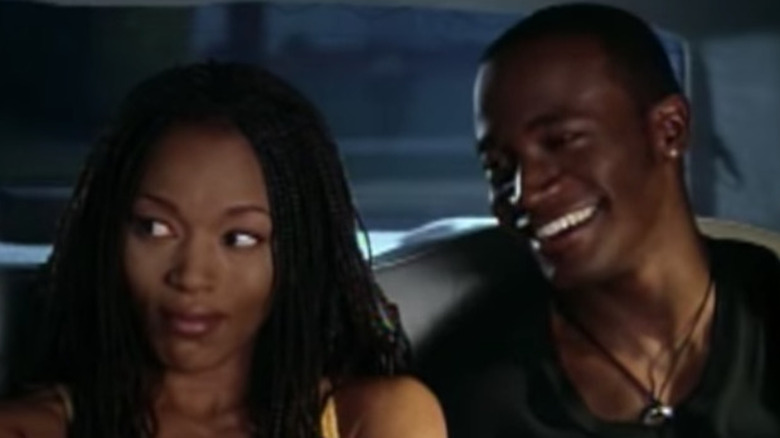 20th Century Fox
In this 1998 rom-com/drama, 40-year-old Stella (Angela Bassett) decides to take a much-needed break from work and her kid with a trip to Jamaica. She leaves the world of finance and maternal responsibility behind for the turquoise waters of the Caribbean, where she meets Winston Shakespeare (Taye Diggs in his film debut), an attractive islander. Winston is 20 years younger than Stella, so she initially doesn't take him seriously. But soon, he breaks down her defenses and shows her a new world as she realizes that maybe she can have it all: love, work, and a whole lot of fun.
The film was adapted from Terry McMillan's 1996 novel of the same name and was a box office success, grossing nearly $40 million worldwide. Its popularity could be attributed to the chemistry between Angela Bassett and Taye Diggs, the amazing supporting cast (Whoopi Goldberg and Regina King, anyone?), and its epic soundtrack featuring music by Janet Jackson and Shaggy. But perhaps it's Stella's journey of self-discovery that makes the film a romance classic more than 20 years after its release. Getting your groove back means getting back to yourself; this film shows audiences that you can do that in all sorts of ways, whether you book a trip to Jamaica or Italy.
L'Auberge Espagnole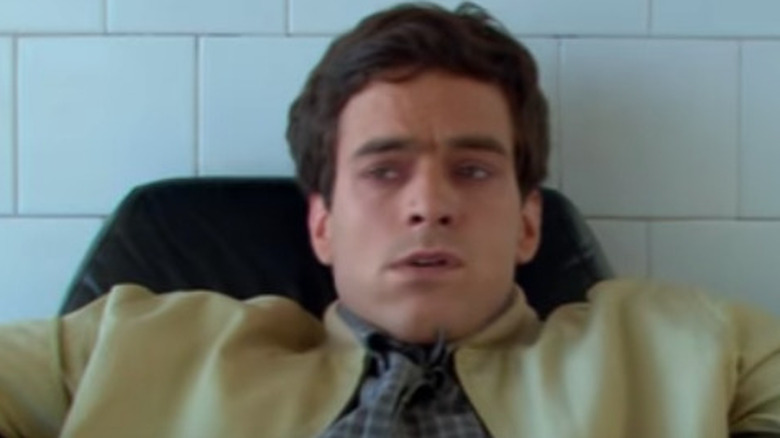 Mars Distribution - Filmax
Cédric Klapisch's 2002 film "L'auberge Espagnole" (also known as "The Spanish Apartment") perfectly captures the fantasy of studying abroad, whether it's something you've done or not. This French-Spanish co-production stars Romain Duris as Xavier, a French business student who decides to spend a year in Barcelona with a foreign exchange program. He moves into an apartment with students from England, Spain, Germany, Belgium, and Denmark. 
Xavier's year in Barcelona is filled with love, heartbreak, parties, and miscommunication galore. "L'Auberge Espagnole" offers viewers a tour of Barcelona through the eyes of a foreigner who eventually comes to feel like a local, and the city shines as a character of its own. The film stars the hottest young European actors at the time, such as Audrey Tautou and Cécile de France, and went on to spawn a sequel, 2005's "Russian Dolls."
"L'Auberge Espagnole" embodies the joy of self-discovery in a new location as Xavier faces the challenge of finding his place in the melting pot of Barcelona, much like Diane Lane does in her Tuscan village. The film's charm lies in its ability to bring viewers into the mix with Xavier. No matter where you are in life, you might find yourself transported to another time and place with this multi-cultural European delight.
Desert Hearts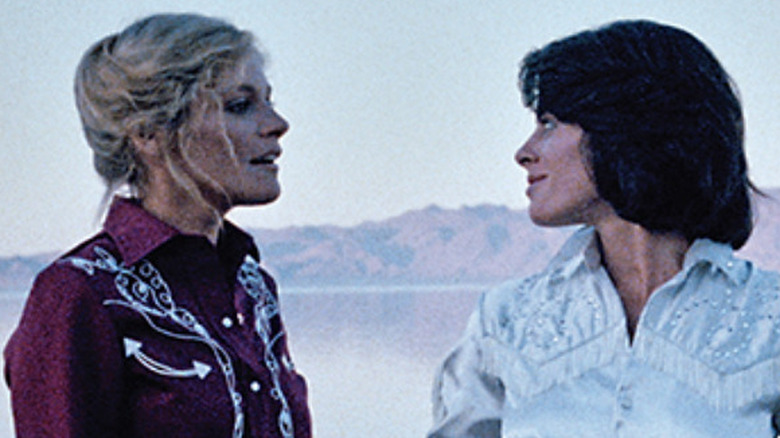 The Samuel Goldwyn Company
Donna Deitch's 1985 LGBTQ romance "Desert Hearts" transports audiences to the Nevada desert in 1959. Based on Jane Rule's 1964 novel "Desert of the Heart," the film follows Vivian (Helen Shaver), a New York university professor who travels to Reno to get divorced. Divorce wasn't so easy to come by in the 1950s, particularly if you were a woman initiating it, so Reno became the "divorce capital of the world" as it could be processed quickly regardless of the circumstances of the relationship's demise. In Reno, Vivian meets Cay Rivers (Patricia Charbonneau), a free-spirited sculptor, who challenges Vivian's rigidity. The reserved, closed-off Vivian falls for Cay's openness. Under the blinding sun and infinite stars of the desert, the two fall in love.
"Desert Hearts" is one of the first films to portray a lesbian relationship positively. "Desert Hearts" offers a portrayal of love that is healthy and hopeful, which has contributed to its becoming a beloved LGBTQ classic. The stark setting and the 1950s look add elements of style as viewers travel with Vivian to this strange and surprising land out west. In the beginning, the 35-year-old protagonist believes she knows herself and what she wants; like "Under the Tuscan Sun," it takes a change in location to initiate a change in heart.
Forgetting Sarah Marshall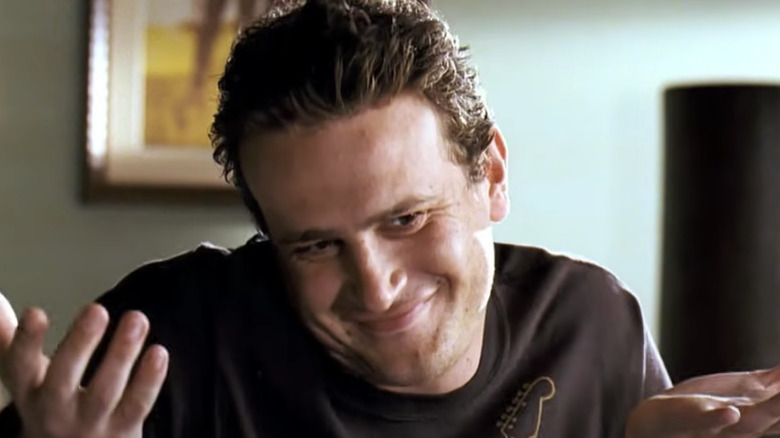 Universal Pictures
Nicholas Stoller's 2008 romantic comedy "Forgetting Sarah Marshall" is the most comedic inclusion on this list, but its basis in the real sorrow of a breakup makes it fit right in. Jason Segel wrote and starred in this film as Peter, a music composer whose girlfriend, Sarah Marshall (Kristen Bell), dumps him suddenly. Distraught over the end of their relationship, Peter finally gets out of his sweatpants to take a trip to a resort in Hawaii, where he meets Rachel (Mila Kunis), the hotel concierge. Of course, Sarah is at the same resort with her new boyfriend, Aldous Snow (Russell Brand, who reprises this role in "Get Him to the Greek"). Peter is confronted with the past and future — who he was and who he wants to be — as he wavers between his relationships with Sarah and Rachel.
"Forgetting Sarah Marshall" is part of the Judd Apatow canon and draws from Jason Segel's life, naked breakup and all. It's this authenticity that makes it a hit with rom-com and comedy fans alike. The film's stellar supporting cast, which includes Bill Hader, Jonah Hill, and Jack McBrayer, balances the laughs with the sweetness of Peter, who's just trying to figure it all out. The lesson in "Forgetting Sarah Marshall" is similar to that in "Under the Tuscan Sun": We can't love anyone until we love ourselves, and sometimes you need to put on a Dracula-themed puppet show to do that.
Eat Pray Love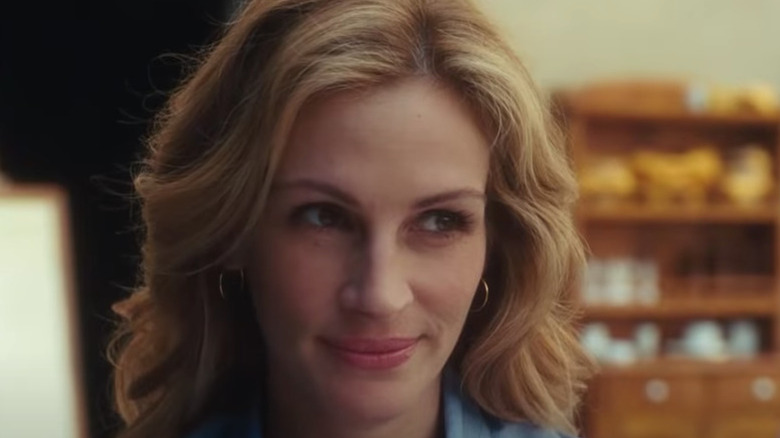 Sony Pictures Releasing
Based on Elizabeth Gilbert's 2006 best-selling memoir, 2010's "Eat Pray Love" stars Julia Roberts as a woman who travels the world to find herself. Roberts plays Elizabeth, who seemingly has it all — a husband, house, career — but isn't satisfied on a deep level. So, she ends her marriage and decides to embark on a long (and expensive) journey of self-care by going to Italy, India, and Indonesia, where she learns how to eat, pray, and love.
Although the film got mixed reviews from critics, it was a box office hit, making over $200 million worldwide. Audiences found comfort and excitement in Elizabeth's journey, which ends in love but primarily is devoted to learning to love herself. It's worth noting that many have criticized the film and book as existing in a bubble of whiteness and wealth, as Gilbert has the money to travel for a year and go to a place like Indonesia to "save" a woman on her terms. In some ways, "Under the Tuscan Sun" falls into the same category, but one can keep this in mind while still enjoying these films as literal and figurative journeys to beautiful and unexpected places.
Leap Year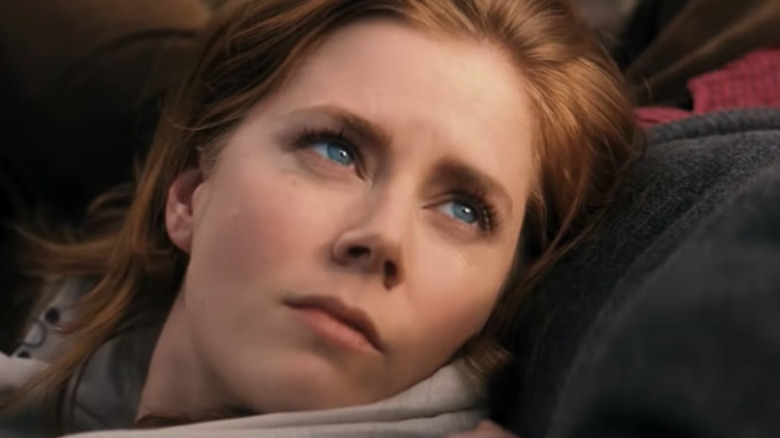 Universal Pictures - Optimum Releasing
The 2010 romantic comedy "Leap Year" brings Amy Adams' Anna to Ireland, where she intends to propose to her boyfriend. Anna and Jeremy (Adam Scott) have been together for four years, but Jeremy still hasn't proposed. The Irish tradition of Bachelor's Day holds that a woman can propose to a man on Leap Day (February 29) and he can't refuse. Jeremy is at a conference in Dublin, so Anna decides to throw her luck in with the Irish and propose to him there, but she gets stuck in the countryside. She enlists the help of an innkeeper, Declan (Matthew Goode), to get her to Dublin. While Declan is cranky and skeptical, he's soon charmed by her romantic, free nature. As they travel through Ireland, Anna starts to wonder what exactly she's getting from her relationship with Jeremy and what values are holding them together.
In the same way that "Under the Tuscan Sun" brings the fantastic Italian landscape to the forefront, "Leap Year" showcases the Irish countryside, a place with undeniable magic that could inspire anyone to dream of a new life. Amy Adams had already established her place in the world of rom-coms with 2007's "Enchanted," and she brings the same earnestness to Leap Year opposite Matthew Goode's cynicism. Although the film didn't do so well with critics or the box office, it's a comfortable addition to the genre of women traveling abroad to find themselves in surprising ways.
Gloria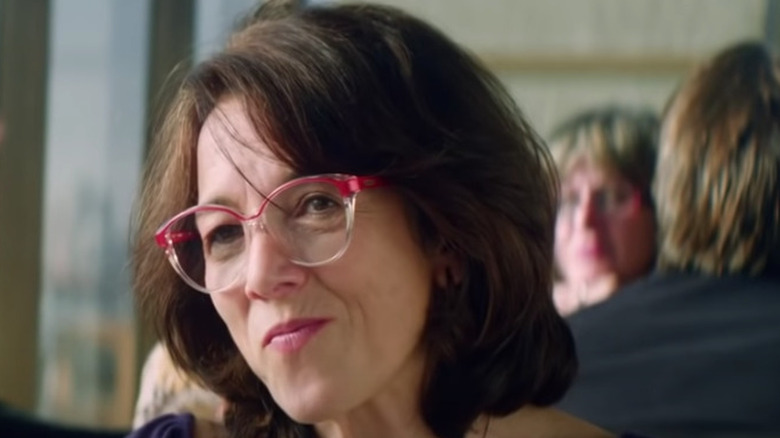 Samuel Goldwyn Films
Chilean director Sebastián Lelio had already made a name for himself on the international stage by the time he released his fourth film, the 2013 romance drama "Gloria." Paulina García plays the titular character, a 58-year-old Chilean woman who's been divorced for 10 years. Her kids have grown up and she's itching for some excitement, so she starts going to singles discos, where she meets Rodolfo (Sergio Hernández), an older man who is very attached to his two adult daughters. Gloria navigates this new relationship while trying to set her own boundaries and in the end, she returns to herself, the person she needed all along.
"Gloria" premiered at the Berlin International Film Festival to rave reviews and a Best Actress award for Paulina García. The film currently has a 99% rating on Rotten Tomatoes as critics and audiences alike have loved the film's exploration of that rare protagonist, the middle-aged female, and its realistic and heartfelt tone. "Gloria" offers viewers a glimpse of a flawed woman who's trying to find what's right in this later stage of her life and sometimes has to do so by just dancing and letting loose. Lelio decided to bring "Gloria" to new audiences with "Gloria Bell," an English-language remake starring Julianne Moore and John Turturro. Both versions are great additions to the lineage of "Under the Tuscan Sun."
Paris Can Wait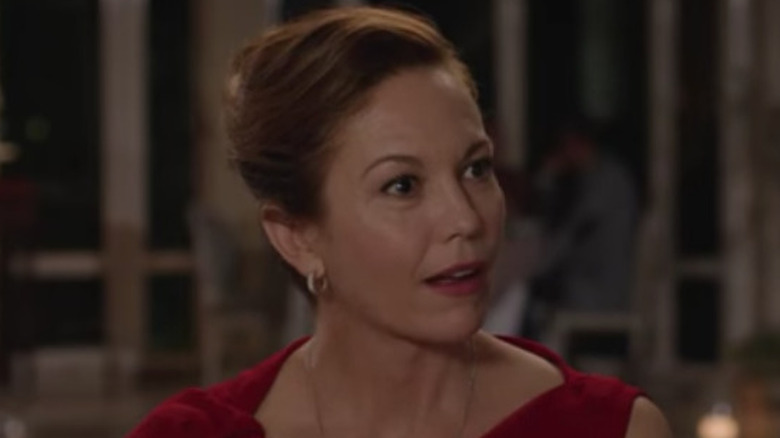 Sony Pictures Classics
Eleanor Coppola's autobiographical narrative feature debut "Paris Can Wait" brings Diane Lane on another romp through Europe, this time in France. Anne (Diane Lane) is married to Michael (Alec Baldwin), a film producer who needs to go to Paris after the Cannes Film Festival. Anne can't fly due to an ear infection, so Michael's producing partner, Jacques (Aunard Viard), offers to drive her instead. A gorgeous road trip ensues, filled with mouth-watering French food as Jacques is a bon vivant, incapable of going more than an hour without a gourmet meal. They connect on the journey as Anne starts to reveal herself to this person who is open to life in a way her husband isn't.
Eleanor Coppola (married to Francis Ford Coppola) is known for her documentaries, particularly those that go behind the scenes of her family members' films, such as Francis Ford Coppola's "Apocalypse Now" and Sofia Coppola's "Marie Antoinette." Inspired by an experience in her own life, Coppola wrote "Paris Can Wait" as a way of exploring her own stifled creativity after focusing for so long on her family members. Although "Paris Can Wait" was released 13 years after "Under the Tuscan Sun," Diane Lane shows again that she can easily play a woman discovering herself abroad.
Enough Said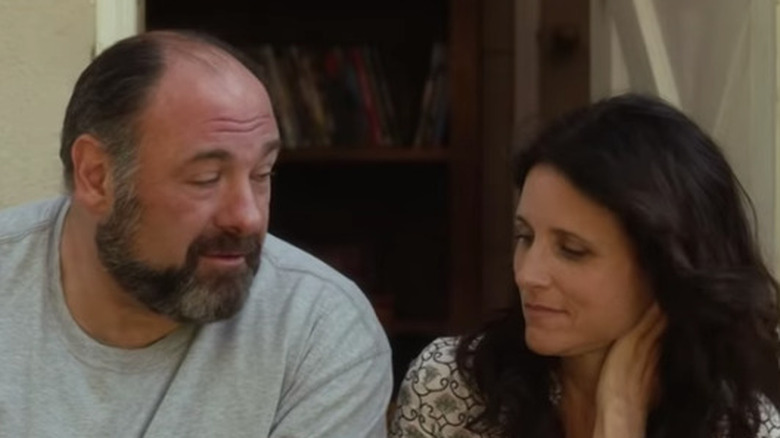 Fox Searchlight Pictures
Writer-director Nicole Holofcener has been known for her romantic dramedies that straddle the line between humor and emotion, and her 2013 film "Enough Said" captures that balance perfectly. Eva (Julia Louis-Dreyfus) is a massage therapist whose daughter is about to go to college. At a party one night, she meets Albert (James Gandolfini). They start dating and she soon realizes that Albert is the ex-husband of Marianne (Catherine Keener), a new friend and client, whom Eva starts using to get information about Albert. As she struggles to deal with this imbalance of knowledge and her daughter's impending departure, Eva finds that sometimes, the best thing to do with control is to let go of it.
James Gandolfini made his last screen appearance in "Enough Said," which sadly was released after he died and was ultimately dedicated to him. While one would expect a comedy legend such as Julia Louis-Dreyfus to comfortably navigate the humor of the film, Gandolfini's sweetness is more of a surprise if you're used to watching "The Sopranos" in full once a year. Their easy chemistry grounds the film, which is bolstered by an incredible supporting cast of Toni Colette, Ben Falcone, and Michaela Watson. Nicole Holofcener once again proves that she is a master of the female-centered romance.
Amélie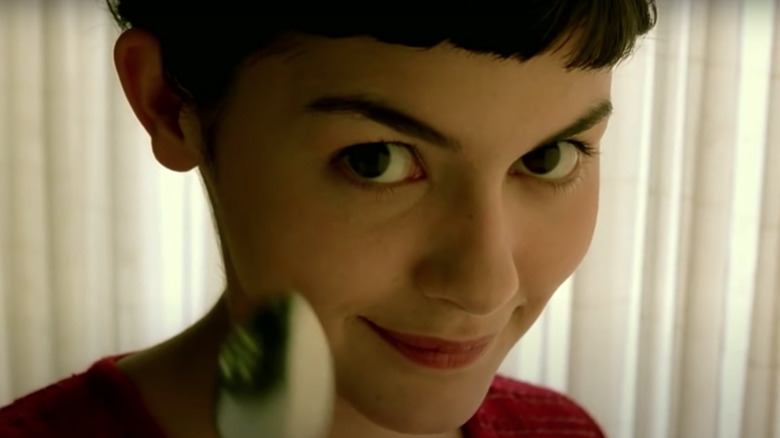 Miramax
In 2001, it felt like one couldn't get away from the world of "Amélie," Jean-Pierre Jaunet's surreal look at the life of an overly imaginative, highly introverted French woman. Audrey Tautou plays Amélie, who lives as much in fantasy as in reality and who is committed to bringing happiness to others. Amélie is secretly a master schemer, bringing people together without them knowing and constantly trying to manipulate situations to go her way (typically for the greater good). She's so focused on everyone else that she neglects to look after herself, until she meets Nino (Mathieu Kassovitz), a man who makes her realize that she can be the puppetmaster of her own life.
Jean-Pierre Jaunet was previously known for his highly stylized films such as "Delicatessen" (1991) and "The City of the Lost Children" (1995). His quirky style attracted audiences worldwide with the release of "Amélie," which is one of the highest-grossing French-language films in the United States and one of the most successful French films ever with $174 million in ticket sales worldwide (its budget was $10 million). It was a critical success as well, as it won four César awards and was nominated for five Academy Awards, including Best Original Screenplay. Unlike "Under the Tuscan Sun," Amélie doesn't leave her home to find herself. Instead, she creates a new world within the one she knows. 
Imagine Me & You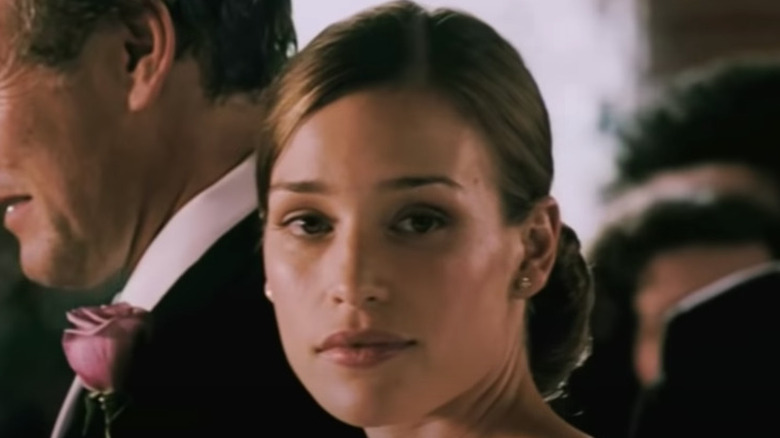 Fox Searchlight Pictures
Fans of "Game of Thrones" may be shocked to see the usually heartless Queen Cersei (Lena Headey) bare her heart in this 2005 British LGBTQ romantic comedy. Piper Perabo plays Rachel, who gets married to Heck (Matthew Goode). Her wedding day proves to be a new beginning that she didn't quite bargain for as she meets Luce (Headey), the wedding florist. The two of them build a friendship that turns romantic, as Rachel can't deny her feelings for Luce. Rachel struggles to listen to her heart, which is torn between the man she just married and the woman she just met, and finds that sometimes, the thing you're supposed to do isn't always what's best for you.
Like "Desert Hearts," "Imagine Me & You" falls into the growing genre of non-tragic lesbian or queer films. While the film isn't about a character going to a new location, Rachel's metaphorical journey of self-discovery is similar to Frances' in "Under the Tuscan Sun." Shirking the traditional rom-com tropes, there aren't "villains" here; Heck is as understanding as can be while dealing with his own heartbreak, and neither Luce nor Rachel is cavalier about their choice to have an extramarital affair. There are often forks in the road when it comes to love and it's not always clear which one to take, which is a question that "Imagine Me & You," like other great romance films, tries to answer.