The Real Reason We Don't Hear Much About Russell Brand Anymore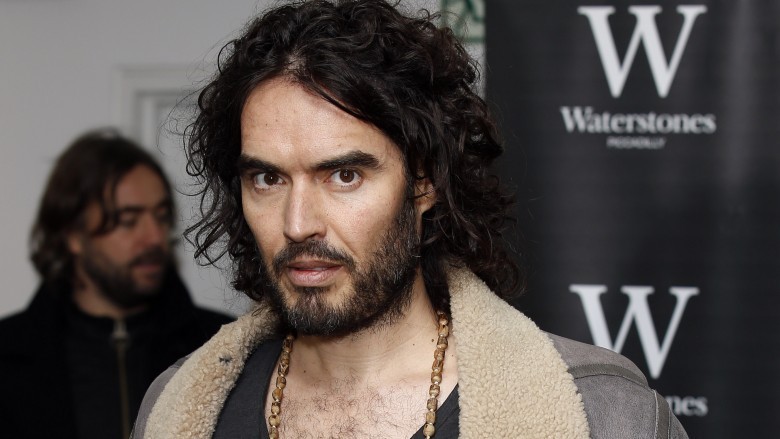 Getty Images
We may receive a commission on purchases made from links.
Russell Brand hasn't exactly disappeared, but it's been awhile since Hollywood decided he was the next big star. The lanky, whip-smart British comedian hosted awards shows, starred in hit movies like Forgetting Sarah Marshall, and even enjoyed a short-lived celebrity marriage—but these days, he isn't seen much at the multiplex. Let's take a look at the reasons Russell Brand has been absent from the big screen lately.
Get Him to the Greek didn't do that well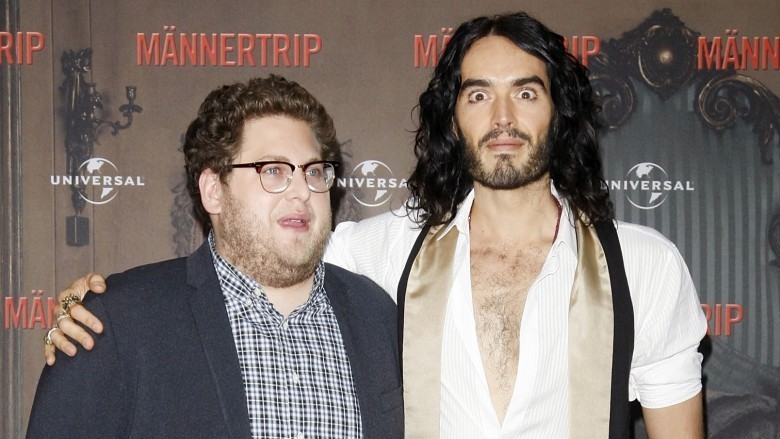 Getty Images
Brand earned raves as the breakout star of Forgetting Sarah Marshall, a movie already notable for launching Jason Segel's big-screen writing and acting career. Brand played the ostensible villain, pretentious British rock star Aldous Snow—a part that Brand made entirely likable (and probably let him bring his own wardrobe to the set). Brand, or maybe Aldous, was such an audience favorite that the producers of Forgetting Sarah Marshall put together Get Him to the Greek, a spinoff movie for the character. Costarring Jonah Hill as a label employee who has to get Snow to an important concert at the historic Greek Theater in Los Angeles, the movie didn't click with audiences the way Forgetting Sarah Marshall did. It would seem audiences prefer their Russell Brand in small doses.
The debacle of the 2008 MTV Video Music Awards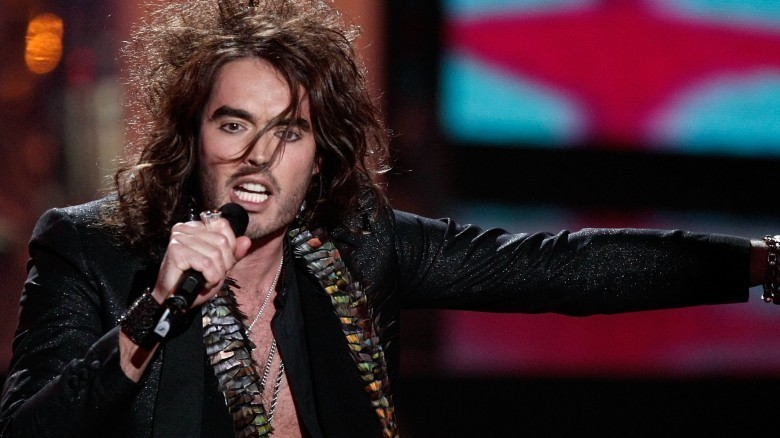 Getty Images
Among his first high-profile gigs in America: hosting the 2008 MTV Video Music Awards. It made sense: the awards show had a long history of using comedians as its hosts (Dennis Miller, Roseanne, Chris Rock). Unfortunately, it didn't go well. While he was expected to make fun of sacred cows, Brand went too far for a lot of people: He mocked the Jonas Brothers, ridiculing their public pledges to abstain from sex until marriage and the purity rings they wore to signify it. Later in the show, fellow purity ring wearer Jordin Sparks defended the brothers, saying on stage before she presented an award, "It's not bad to wear a purity ring because not every guy and girl wants to be a slut, okay?"
Later in the show, Brand stayed on the subject, joking, "I'd like to take this opportunity to say, no one ever have sex again. It's a mad idea. What a way to spend an evening!" Nick Jonas ultimately shrugged it off, telling MTV, "It's cool to see that he recognizes we're gentlemen." Jonas jokes are hardly the worst way Brand attracted attention at the 2008 VMAs. Just after endorsing Barack Obama in the upcoming presidential election, he noted that Obama would be a nice change from then-President George W. Bush, who Brand called "a r******* cowboy."
His Arthur remake flopped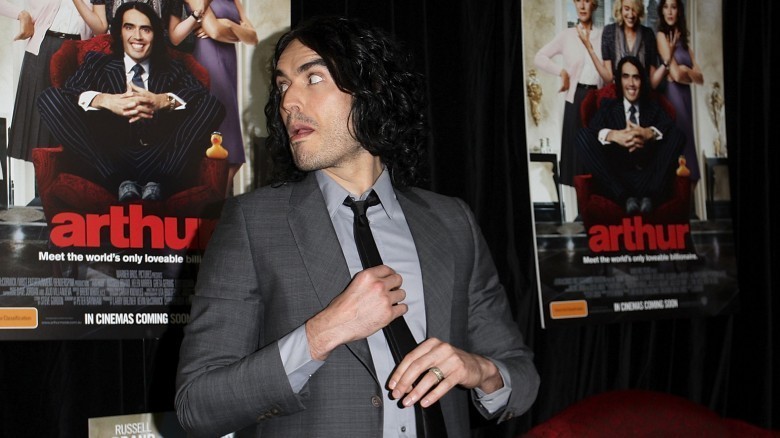 Getty Images
When director Paul Feig, Leslie Jones, and women everywhere bore the brunt of frustration from grown-up '80s kids who claimed their childhood was ruined by the 2015 remake of Ghostbusters, Brand must have felt their pain: in 2011, he filmed a remake of the Oscar-nominated 1981 comedy Arthur. Starring Brand, replacing Dudley Moore in one of his signature roles, the remade Arthur was rounded out by the excellent Greta Gerwig and Helen Mirren (the latter gender-reversing the butler role played by Sir John Gielgud in the original). Brand, who has a history of addiction, played a believable sad drunk. But remakes have an uphill climb, and audiences failed to turn out, slowing his film career's momentum.
He's had more success with voiceover roles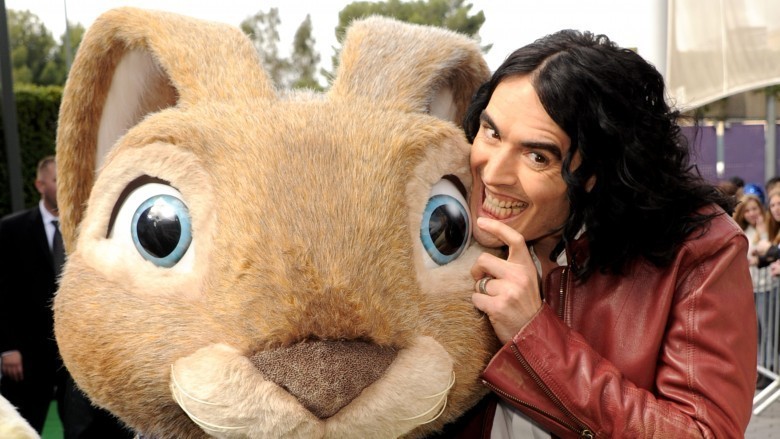 Getty Images
Maybe instead of watching him look and act like a rock star, audiences would rather see Brand disappear into a role. Literally—to where they can't even see him. As proof, he's put together a pretty impressive track record voicing animated characters. He provided the voice of E.B., or the Easter Bunny, in the 2011 hit Hop, and the ancient, bumbling Dr. Nefario in two Despicable Me movies. More recently, he was part of the cast of the hit animated musical Trolls.
His talk show was canceled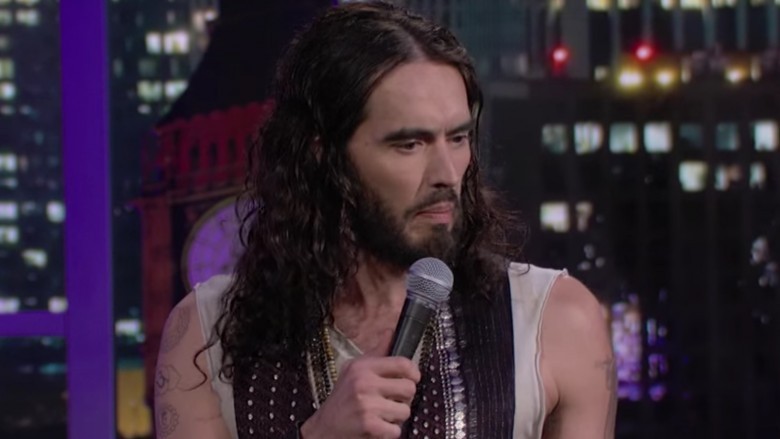 FX got into the hot Russell Brand game in the summer of 2012 by signing the comedian on for a weekly late-night talk show called Brand X. It struggled to find a niche in the crowded late-night comedy arena, and Brand and producers changed formats a few times. When the show debuted, it was little more than a sounding board for Brand to speak, joke, and riff about a political or social issue; later on, he experimented with celebrity interviews, then an audience advice segment, then debating members of hate groups—and multiple sidekicks, such as political commentator Matt Stoller and former Sex Pistols guitarist Steve Jones. After roughly two dozen episodes over the course of a year, Brand X was branded a failure and canceled.
His sitcom pilot wasn't picked up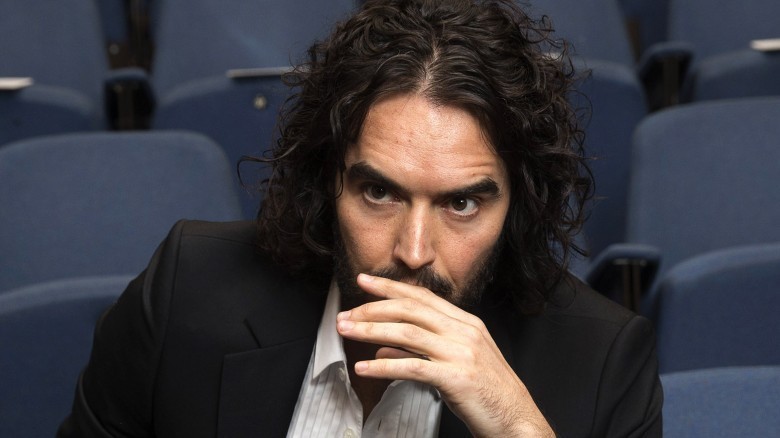 Ironically, FX got rid of Brand being himself on Brand X so they could make a show where he pretended to be himself. In the same press release announcing the cancellation of Brand X, FX head John Landgraf said the network had another Brand project in store, a single-camera documentary-style sitcom in which he'd play a version of himself. Landgrad actually likened the show, which he'd ordered to pilot, to HBO's Curb Your Enthusiasm. Ironically, the network ultimately curbed its own enthusiasm, declining to order the show to series.
His contentious divorce from Katy Perry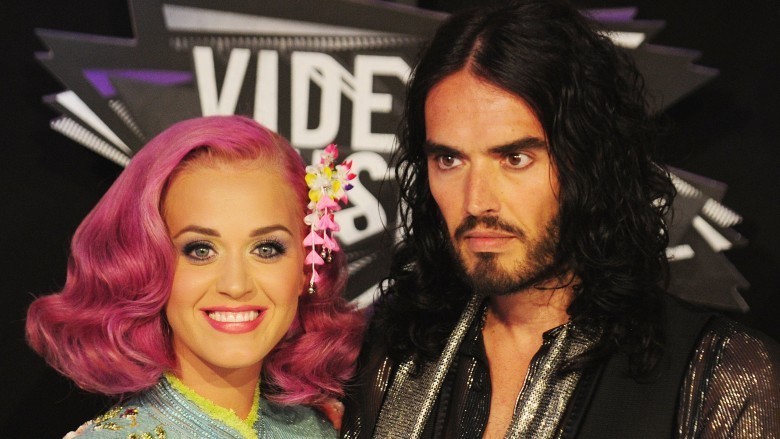 Getty Images
Brand reached peak fame in October 2010 when he married Katy Perry, one of the biggest pop stars of the day. It seemed like a bit of a mismatch: she was a squeaky clean all-American pop star; he was a former heroin addict and a stand-up comedian. They were both, at the very least, cheeky and good-looking, which was one of the things that kept the marriage afloat for two years...until Brand broke up with her via text message. Perry has spoken out about the pain and sadness of the divorce, and initially pinned the split on their busy schedules. Brand later blamed his exit from the marriage on Perry's commitment to what he called a "vapid, vacuous" celebrity lifestyle, but he still came out of the whole ordeal looking pretty bad.
He's written quite a few books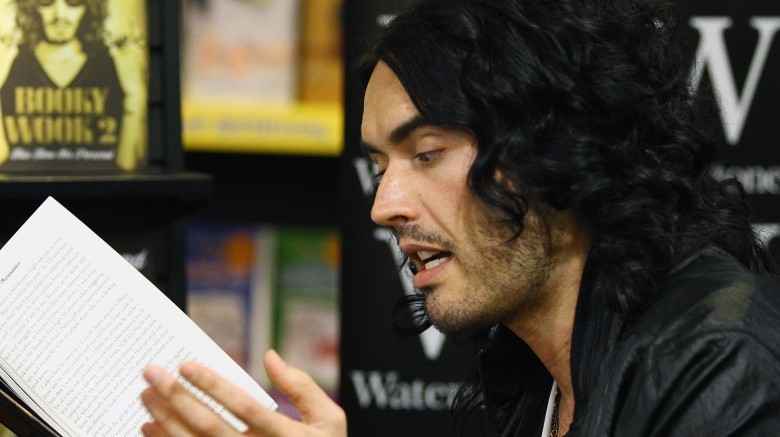 Getty Images
Movies? Who has time for movies? In addition to all his other projects, Brand has somehow found the time to write and publish a whopping six books. They are: My Booky Wook and My Booky Wook 2: This Time It's Personal (both comic memoirs); Articles of Faith and Irons in the Fire (collections of columns he wrote for The Guardian about soccer); Revolution (political essays); and, for the kids, The Pied Piper of Hamelin: Russell Brand's Trickster Tales.
He's making documentaries now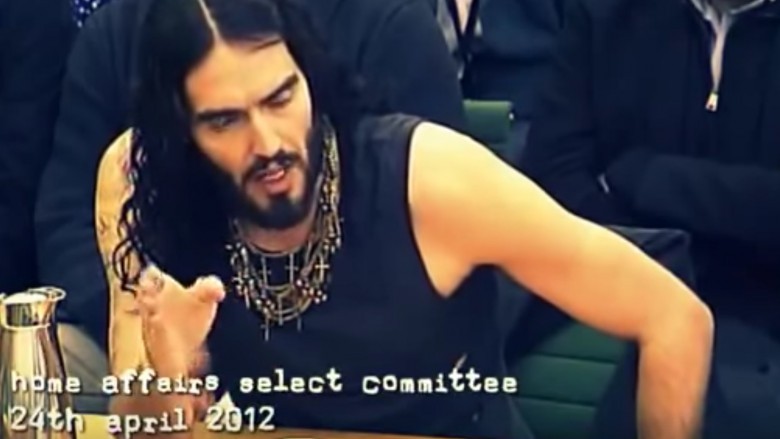 Always a political comedian and a curious guy, Brand has increased his interest in politics in recent years, and he now spends most of his professional life making documentary films about political causes. Along with acclaimed director Michael Winterbottom, in 2015 he made The Emperor's New Clothes, a film about the hilarious topics of the disappearing middle class, economic disparity, and the recent recession. In 2014, he was hired by BBC3 to make a documentary about the war on drugs, and whether it had failed. Russell Brand: End the War on Drugs found Brand going to other countries to research their progressive drug policies (such as safe and clean spaces in the Netherlands where heroin addicts can shoot up without spreading diseases). It was a subject close to Brand's heart. A recovering addict, he also made the 2012 BBC doc From Addiction to Recovery.
He has a web series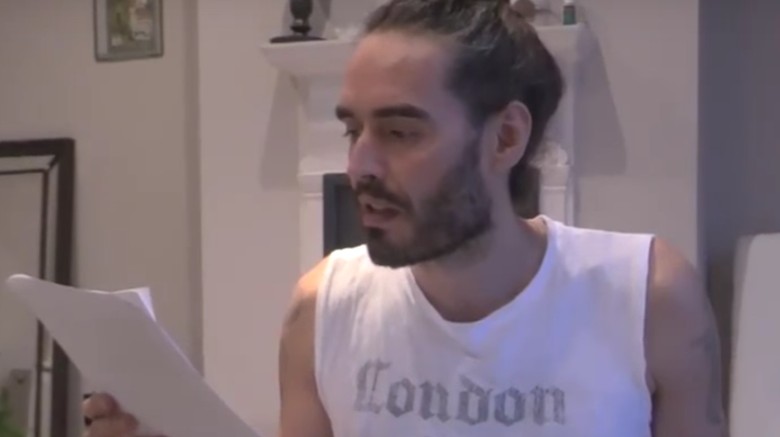 In between making full-length, in-depth documentary films primarily about individual issues facing the poor and those living on the fringes of society, Brand has a YouTube series called The Trews: True News with Russell Brand. He's already made more than 380 episodes of the series, in which he delivers the news while analyzing and making fun of it, then invites on experts and pundits for further discussion. Think of it as a far left, egalitarian, DIY version of The Daily Show.
Where does he go from here?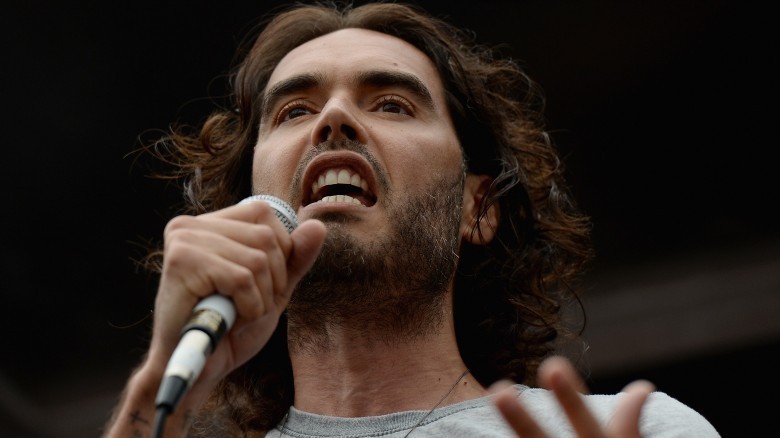 Getty Images
Brand was never a monster movie star to begin with. He's had some key memorable roles, but he's never sustained himself as someone people specifically came to see in a film (or would watch on TV). He's an enhancement to his casts, sure. But he's primarily a funnyman, and he can exercise that skill during comedy sets, speaking engagements, and in books. Brand appears to be at his best when speaking to a crowd with a mic in his hand—or alternately, when he's being compassionate about the struggles of man in his documentaries or on The Trews. His days as a leading man in the film industry seem to have ended as quickly as they began—but if Brand ever comes back as part of some big Judd Apatow-produced comedy, we'll be there.