Things Are Looking Up For The Enchanted Sequel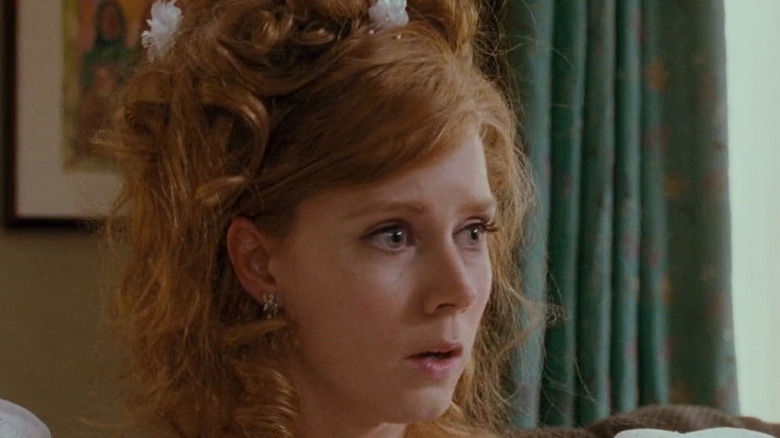 Walt Disney Studios
In 2007, the ever-charming musical fantasy "Enchanted" was released into the world. Between the self aware homage-parody storyline and the ultra talented Amy Adams — most recently seen in the psychological thriller "The Woman in the Window" — in the leading role, "Enchanted" had a whole lot going for it — and it's no wonder a sequel is in the works.
Directed by Kevin Lima, "Enchanted" follows a princess named Giselle (Adams), who lives in the animated fairy tale kingdom of Andalasia. All Giselle wants is to marry her true love, Prince Edward (James Marsden), but the prince's evil stepmother, Queen Narcissa (Susan Sarandon) is afraid to lose her power if her son marries. Wanting to stop the wedding, Queen Narcissa pushes Giselle into a well that transports her out of Andalasia and into the — live-action — world of modern New York City. Suddenly completely out of her realm, Giselle must navigate the foreign world of NYC. There, she meets and falls for divorced single dad Robert Philip (Patrick Dempsey).
Talks of an "Enchanted" sequel have been happening for quite some time now: in 2018, Adams appeared on The Talk where she confirmed they were "working on" a sequel (via Deadline). Since that was a few years ago now, fans may have been wondering when this project would be starting its production. Well, we've got some good news for all "Enchanted" fans ...
The sequel, Disenchanted, has officially started filming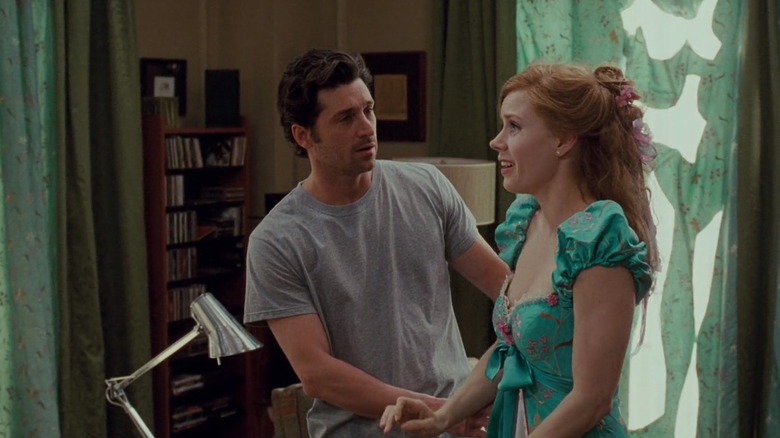 Walt Disney Studios
In December of last year, Disney announced (via Deadline) that the sequel, titled "Disenchanted," was officially happening and would be released straight to the Disney+ streaming platform. Now, a few months later, production has officially begun. A couple days ago, the sequel's director, Adam Shankman, teased some "huge news" on Instagram. And the news was huge indeed — in his next post from today, Shankman confirmed that production has officially begun on "Disenchanted." After listing some of the cast members who will appear, Shankman concluded his post, "And we cannot wait to show you what we are cooking up for Giselle and the whole crazy brood. Me thinks you will likee. A LOT."
Adams will, of course, be returning to reprise her role as Giselle. She's joined by many of the main cast members of the original films — Dempsey, Marsden and Idina Menzel —- who are all set to return. Some of the new cast members include Maya Rudolph as the new villain, Malvina Monroe, as well as Yvette Nicole Brown, Jayma Mays, and newcomer Gabriella Baldacchino (via Screen Rant).
According to The DisInsider, the synopsis reads as such: "The film will see Giselle, Robert, and Morgan moving to a new house in the suburbs, overseen by Malvina Monroe, the main villain of the film. After problems begin to arise, Giselle makes a wish to transform their lives into a perfect fairytale. However, the spell backfires dramatically and puts Giselle in a rush against the clock to save both her family and her Kingdom of Andalasia before the clock strikes midnight."
While there's no release date announced as of yet, we can't wait to see the continuation of Giselle's story play out.