DC Reportedly Looking To Shoot One More Movie This Year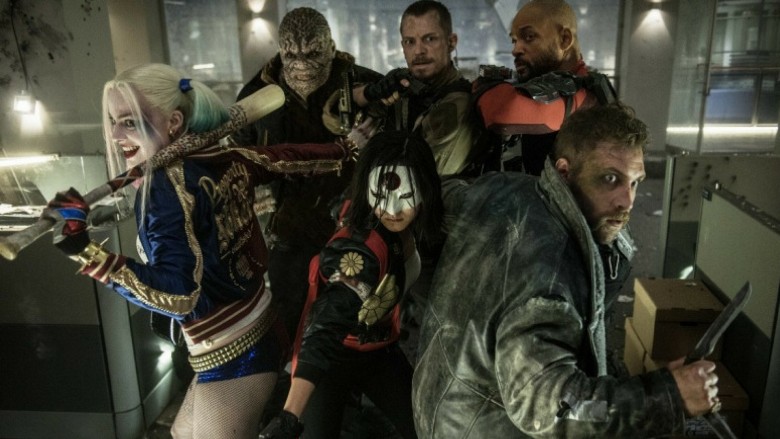 With The Batman likely not shooting until 2018, Warner Bros. is looking at scripts for some of their other gestating DC projects to see if any will be ready to go to fill in its place in this year's shooting schedule, according to Variety film reporter Justin Kroll. The five films being considered to move up into The Batman's spot are reportedly Gotham City Sirens, the all-female led Suicide Squad spin-off from David Ayer; The Flash, starring Ezra Miller as the Scarlet Speedster; Green Lantern Corps, which was initially scheduled to hit theaters in 2020; Dark Universe, which will focus on the mystical side of the DCEU; and Suicide Squad 2.
Many of the aforementioned projects seem as though they are pretty far from being ready to go. Sirens will likely feature an all-star cast to back up Margot Robbie's Harley Quinn, and, although Ayer has been dropping cryptic hints about the film's villain, he has yet to announce who will fill out the team. The Flash, meanwhile, hasn't found a new director months after Dope's Rick Famuyiwa dropped out due to creative differences. The Hollywood Reporter also said the script, which had most recently been worked on by Famuyiwa, will undergo a rewrite from Joby Harold (King Arthur: Legend of the Sword).
Green Lantern Corps is expected to feature two popular Lanterns, Hal Jordan and John Stewart, and, although there are two screenwriters attached (via THR), no casting announcements have been made for either of the main roles, and there is no one in the director's chair yet. However, Henry Cavill has been hinting for a while now that the studio has someone in mind to play Hal (the name most frequently being thrown around is The Social Network's Armie Hammer), which could mean that Green Lantern Corps is closer to being ready to go than we realize.
Dark Universe might be the most mysterious and out-there project of all of the ones mentioned, as details on the movie have been kept pretty tightly under wraps. The movie, which is set to do for DC what Doctor Strange did for Marvel, is expected to feature some more magical characters like John Constantine, Swamp Thing, Deadman, Zatanna, and Etrigan the Demon. The movie does have a director in the form of Doug Liman (Edge of Tomorrow), who signed on last August, and a script from Michael Gilio (Jolene), but no information on the film has been released since Liman joined. Liman did tell IGN that he thought his take on the project would "sort of turn the comic book genre on its head," something that might be just what the struggling DCEU needs right now.
Suicide Squad 2 is a tough project for DC, as they are likely looking to avoid the negative reviews and fan reception that plagued the original. The movie recently landed a screenwriter in The Legend of Tarzan's Adam Cozad, and they have been rumored to be looking into directors, including Mel Gibson. With the cast already nailed down, this might be the movie that's closest to being ready to go; however, it remains to be seen if DC wants to go ahead with the sequel this close to the ill-received original or if they would be better off giving the franchise a little bit more time to grow. There could also be some difficulty with clearing the schedules of the film's busy actors to shoot later this year.
The hole in the DC schedule comes due to production on The Batman likely being delayed due to director Matt Reeves' involvement in War for the Planet of the Apes. The delay comes amid a number of problems for the film, including star Ben Affleck dropping out as director and rumors that the script will require major rewrites. If a film does move up to take The Batman's place, it will join Aquaman, set to begin filming this summer, which recently had its release date pushed back a couple of months, potentially to take over Avatar 2's lucrative spot right amid the center of the holiday box office. It is unclear how moving up the shooting schedule on one of the studio's other films would affect the release date schedule, although it's possible that whatever movie moves up could take over The Batman's planned 2019 release.
Kroll does note that, if scripts for the projects aren't ready to go, the studio is okay with just shooting Aquaman this year. However, if a movie does end up moving to an earlier filming start, we should start to hear casting announcements and other exciting tidbits soon. In the meantime, get ready for the next few years by seeing every movie that DC has planned for their extended universe.