Thor: Ragnarok's Valkyrie Tessa Thompson Talks Representation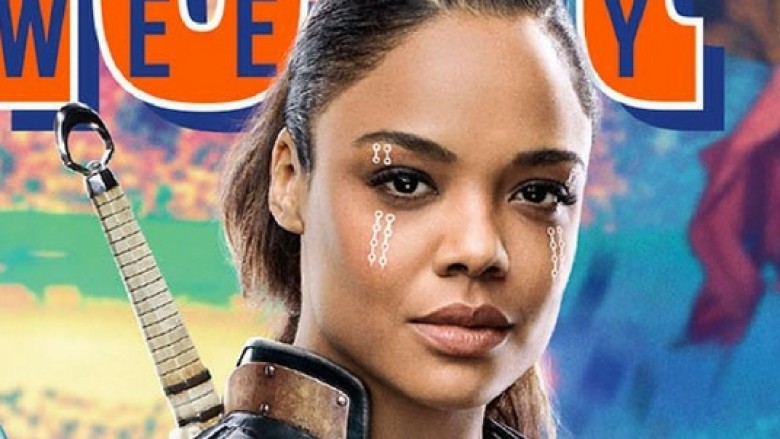 EW
Tessa Thompson doesn't care if you don't think she's right for the part of Valkyrie in Thor: Ragnarok. The Creed and Veronica Mars actress has been the subject of controversy since her casting as the Norse warrior, as some fans were upset that she looked nothing like the character from the comics. However, Thompson says that representation is more important. "I think the unfortunate thing about a lot of these fantasy movies is when they're based on source material, a lot of these comics were written in a time when that wasn't a part of the conversation as far as having representation," Thompson told Entertainment Weekly.
Thompson said that this is "such an exciting time" to be part of the MCU, citing the cast of Black Panther as an example of the studio's increasing diversity. "I think it's really important for little boys and little girls to go to these movies and see themselves reflected on screen," she said. "I'm really excited about this generation of young women that can look at a screen and see some brown people in space."
Thompson's Valkyrie will encounter Thor on the desolate planet Sakaar, where, through a "business relationship" with Jeff Goldblum's Grandmaster, she will end up getting the hero involved in a gladiatorial contest. During that time, he will encounter Mark Ruffalo's Hulk, who he will eventually team up with to find his missing father Odin and take back control of Asgard from Loki (Tom Hiddleston) and Hela (Cate Blanchett).
"She's a real, real badass," Thompson said of Valkyrie, noting that director Taika Waititi sent her a picture of Sarah Connor in Terminator 2 which she used as her training inspiration. Valkyrie is outfitted with leather armor and chain mail on her arms, plus two daggers and a "very special" sword. However, Thompson did note that she ran into one problem with her costume, saying that she constantly tripped over the cape on one of her first days on set. "It was really fun to have Chris and Tom Hiddleston be like 'Oh, get the short cape!'" she said. "I was like, 'Oh I didn't know I could get the short cape!'"
For Thompson, Thor: Ragnarok could be just the start in the MCU. When asked if she could potentially make a return for Avengers: Infinity War, the actress teased that "you never know where people will pop up." "She's part of the tapestry now," she said. "For me, it's exciting to join at a time with young actors like Brie Larson and Chadwick Boseman and Michael B. Jordan. We're all hopefully going to meet in one of these movies."
Thompson, one of our actors who we think will blow everyone away in 2017, can be seen when Thor: Ragnarok hits theaters on Nov. 3.