More Thor: Ragnarok Plot Details Revealed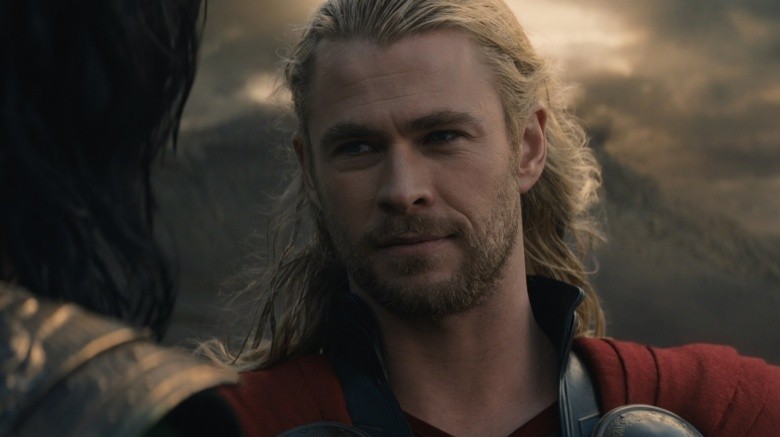 Thor's hip new haircut has an explanation. In an interview with Entertainment Weekly, the franchise's stars revealed more plot details about the upcoming Thor: Ragnarok, including how the hero got his new do and how he lost his hammer.
The movie kicks off with Thor (Chris Hemsworth) finding out that his brother Loki (Tom Hiddleston) has been pretending to be their missing father Odin (Anthony Hopkins), leading to some free-wheeling governance on Asgard that has resulted in the release of Cate Blanchett's Hela. When Thor tries to fight the Goddess, she sends him to Sakaar, a planet ruled by Jeff Goldblum's "charming but nefarious" Grandmaster. There, he meet Valkyrie (Tessa Thompson), a member of a group of elite women warriors who Thor is, according to Hemsworth, a "fanboy" for.
Valkyrie brings Thor to the Grandmaster, who forces him to cut off his hair, lose the hammer, and become a Gladiator. This leads to the movie's Thor/Hulk battle, with the green giant already entrenched as the planet's most popular fighter. Mark Ruffalo promises that the character will be much more developed in Ragnarok than in previous Marvel films, saying, "He's much more of a character than the green rage machine you've seen in the Avengers movies. He's got a swagger. He's like a god."
Thor and the Hulk eventually team up for a superhero road-trip, which director Taika Waititi says was inspired by movies like 48 Hrs., Withnail and I, and Planes, Trains, and Automobiles. Along the way, the two meet up with another famous Marvel hero, Benedict Cumberbatch's Doctor Strange, who will help Thor find Odin. According to Marvel Studios president Kevin Feige, the meet-up will be one of the few parts of the film that takes place on Earth.
Waititi says the film will "dismantle and destroy" the old idea of the franchise so that they can rebuild it "in a new way that's fresh." "Everyone's got a slightly new take on their characters, so in that way, it feels like [this is] the first Thor," he said.
Thor: Ragnarok is due out Nov. 3, but, in the meantime, see which of the film's characters we think may die in Marvel's Phase Three.