15 Shows Like Longmire You Need To Watch Next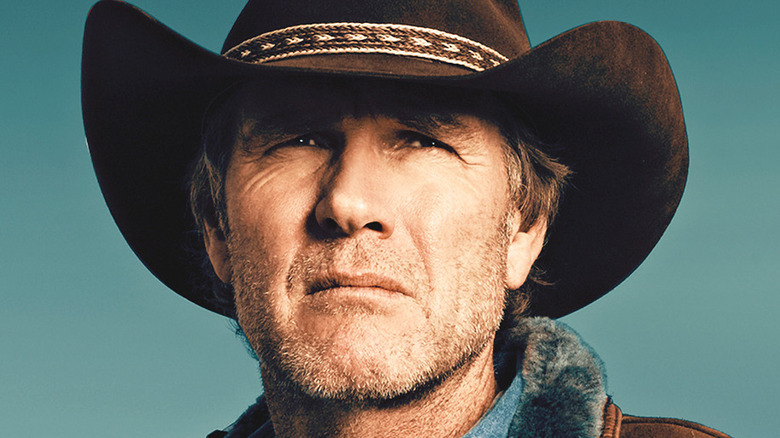 Netflix
Ever since streaming platforms arrived to challenge the regular networks for TV dominance, there have been calls for canceled shows to be picked up by Netflix, Hulu, and the rest of their digital ilk. "Longmire" is one of those lucky shows that got a second chance. The series, which is based on the "Walt Longmire Mysteries" series of novels by Craig Johnson, stars Robert Taylor as the titular character, who serves as sheriff of Absaroka County, Wyoming. Katee Sackhoff co-stars as Victoria "Vic" Moretti, the sheriff's deputy. They're joined by a talented cast including Lou Diamond Phillips, Bailey Chase, Cassidy Freeman, and Adam Bartley.
"Longmire" premiered in 2012 and aired for three seasons on A&E. Despite solid ratings, it was abruptly canceled in 2014. Fan outcry led to Netflix rescuing the show, where it enjoyed three more seasons. But alas, "Longmire" eventually came to an end in 2017. Longing for more of that "Longmire" vibe? Here are 15 other shows to catch if you're missing its neo-Western, crime-centric, procedural excellence.
Bosch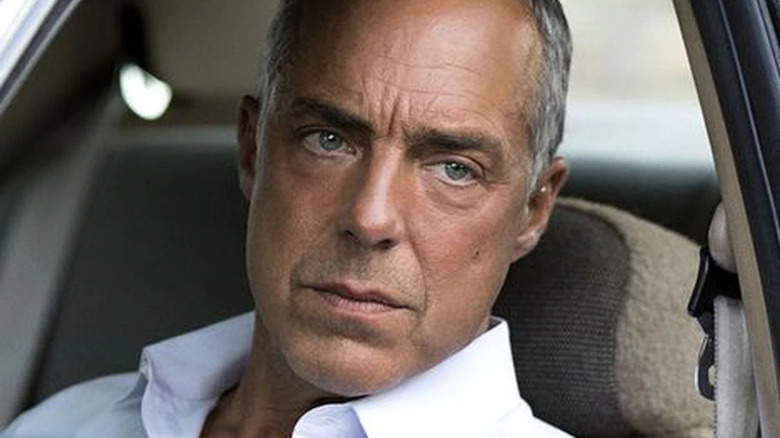 Amazon Prime Video
Amazon Prime's "Bosch" is the perfect example of a show that captures the vibe of "Longmire" without sharing its Western setting. The series stars Titus Welliver, who sci-fi fans may know as the Man in Black from "Lost," as Los Angeles detective Harry Bosch. Not unlike "Longmire," the series is based on a set of novels written by Michael Connelly, including "The Concrete Blonde," "City of Bones," and "Echo Park."
This procedural drama is structured by "case of the week" crimes that Bosch needs to solve. Simultaneously, it features overarching, season-long (and even series-long) story arcs that weave in greater themes. As the seasons progress, Connelly's other "Bosch" books, of which there are over 20, are mined for story inspiration. New characters like Bosch's half-brother, criminal defense attorney Michael "Mickey" Haller, enter the mix and provide all kinds of new storytelling avenues. The series wrapped up its seventh and final season in 2021, but fans didn't have to weep for long: The show quickly earned a spinoff. Fans of "Longmire" are sure to like how "Bosch" intertwines characters, individual episodes, and big-picture plots.
Hell on Wheels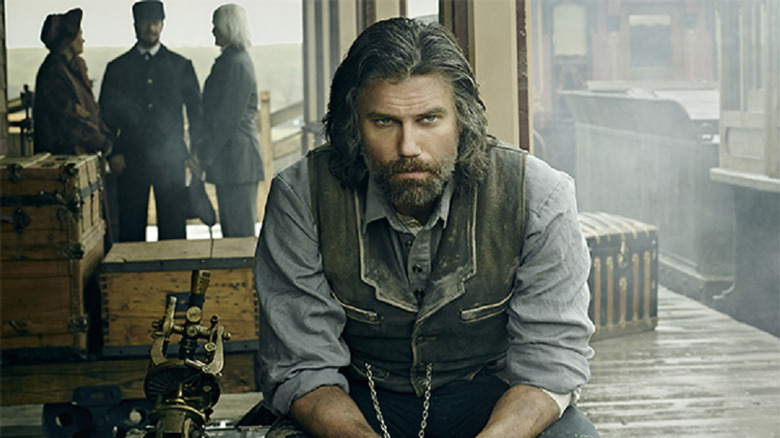 AMC
If you've got a hankering for a real Western after enjoying "Longmire," go back in time with "Hell on Wheels." This historical drama ran on AMC for five seasons from 2011 to 2016. The series is set in the years after the American Civil War, and stars Anson Mount as Cullen Bohannon, a former Confederate soldier who joins the Union Pacific Railroad. Colm Meaney co-stars as Thomas "Doc" Durant, a real historical figure who invested in the first transcontinental railroad, while Common plays Elam Ferguson, a recently freed enslaved person who becomes Cullen's assistant and bodyguard.
The series, and the characters, move across the country as the railroad is built. This allows for many procedural scenarios, all while Cullen tries to track down the Union soldiers who murdered his wife and son. The laborers, surveyors, builders, sex workers, and everyone else who travels along with the encampment refer to themselves as "Hell on wheels," giving the show its title. They're well worth getting to know.
Sons of Anarchy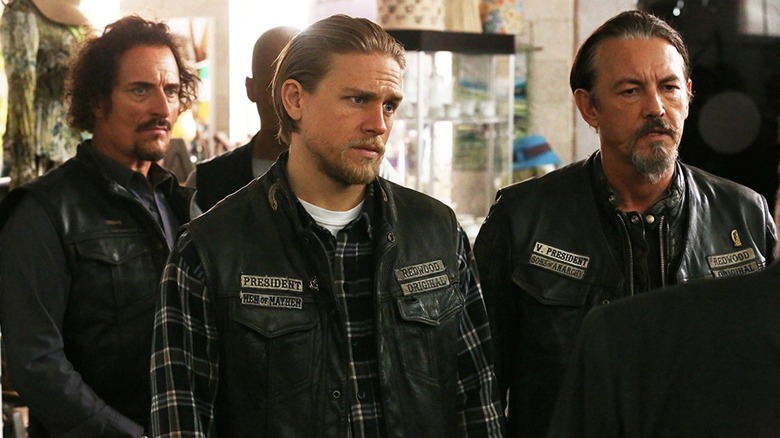 FX
The FX action-drama "Sons of Anarchy" could certainly fill the "Longmire" hole in your heart. The series follows the members of an outlaw motorcycle club rooted in the Central Valley of California. Charlie Hunnam stars as Jackson "Jax" Teller, the vice president (and eventually president) of SAMCRO, a.k.a. the Sons of Anarchy Motorcycle Club, Redwood Original. He begins to question his role in the club after discovering the journals of his deceased father, the club's former president.
Throughout the series, SAMCRO is involved in many illegal activities. So, while this series may be like "Longmire" in many respects, the long arm of the law is considered the bad guy here, always looking to shut down SAMCRO and toss its members in jail. The series also addresses racism in the world of outlaw motorcycle clubs, the role of vigilantism, and government corruption. "Sons of Anarchy" features a star-studded cast including Katey Sagal, Ron Perlman, Drea de Matteo, and Jimmy Smits. Creator Kurt Sutter modeled SAMCRO on the real-life Hell's Angels biker gang, and the show actually features appearances from some famous members over the course of its run.
Bloodline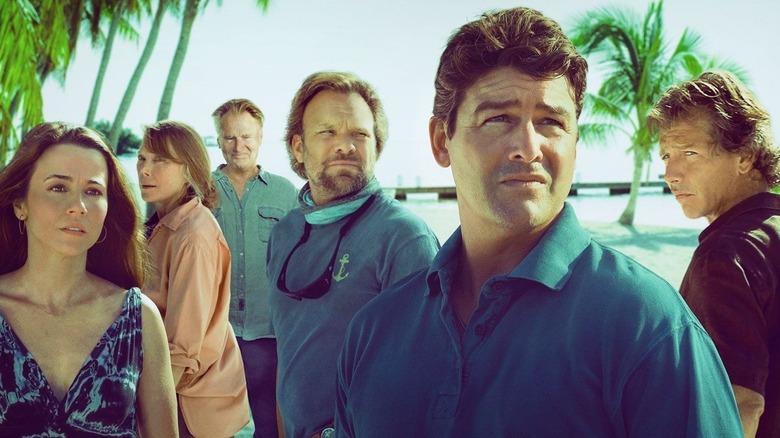 Netflix
The Netflix series "Bloodline" begins with John Rayburn's ominous voice: "Sometimes you know something's coming," he says. "You can feel it. In the air. In your gut. And you don't sleep at night. The voice in your head is telling you that something is going to go terribly wrong and there's nothing you can do to stop it. That's how I felt when my brother came home." As you might guess from this intense introduction, "Bloodline" is seeped in secrets, crime, and tense reunions.
The story follows the Rayburn siblings of the Florida Keys: John (Kyle Chandler), the local detective, Kevin (Norbert Leo Butz), who owns the local marina, Meg (Linda Cardellini), an attorney, and Danny (Ben Mendelsohn), the aforementioned black sheep of the family returning from who-knows-where. His presence causes enough tension to kill off the family patriarch. While "Longmire" might be set out west, "Bloodline" offers up the same thrilling ambiance in a more paradisiacal atmosphere. Come on in, the turquoise water is fine.
Deadwood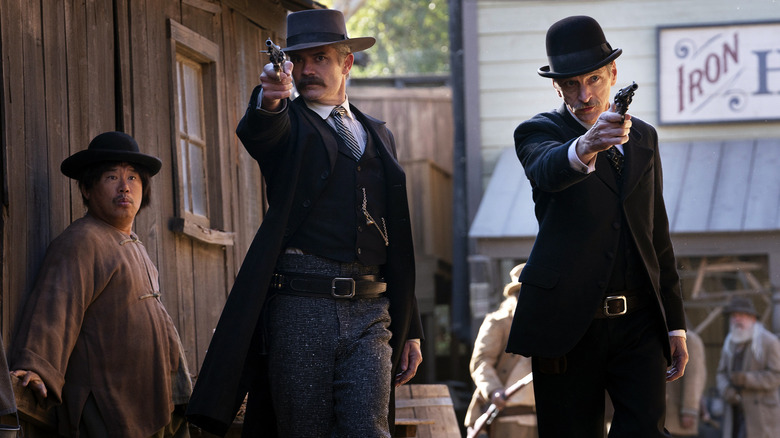 HBO
HBO's "Deadwood" ran for three seasons in the '00s, wrapping up years later with a 2019 movie. The show is a historical Western set in Deadwood, South Dakota in the 1870s. Timothy Olyphant stars as Seth Bullock, a sheriff-turned-hardware store owner. Ian McShane plays saloon owner Al Swearengen. History buffs might notice that both of these men actually existed. Indeed, "Deadwood" includes many actual historical figures, including such luminaries as Calamity Jane and Wild BIll Hickok. As Deadwood grows from a ramshackle spot into a blossoming town, South Dakota itself prepares for a more official, law-abiding existence. That means cleaning up the rabble. Complex drama ensues, weaving together episodic arcs and lengthier storylines involving government corruption, loyalty, and the early days of American crime.
"Deadwood" is well known for its sharp writing and stellar performances. It has also become known for its incredible amount of swearing. One report counts a total of 2,980 f-bombs dropped during the show's three seasons, with one occurring every 1.56 seconds. "Deadwood" offers up the Western procedural ambiance "Longmire" fans crave and a degree of profanity so immense, it's almost awe-inspiring.
Yellowstone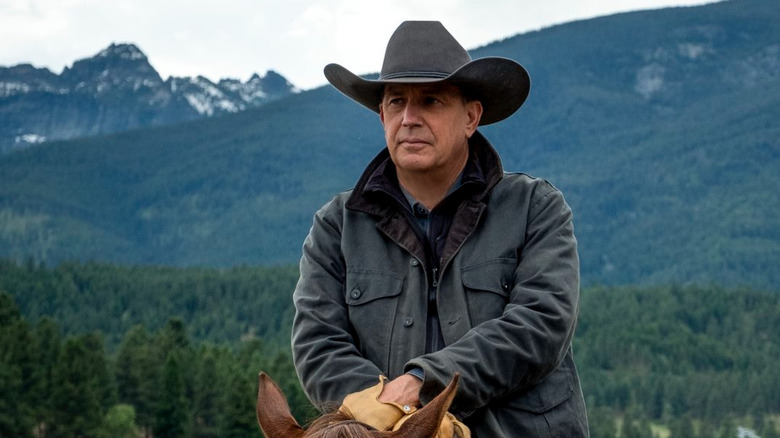 Paramount
If Clint Eastwood is the king of the Western, Kevin Costner is at the very least a prince. From "Dances with Wolves" to "Wyatt Earp" to "Silverado," Costner has solidified himself in the genre. His most recent adventure is a modern one called "Yellowstone," which makes its home on the Paramount Network. The series follows the Dutton family, sixth-generation owners of the largest working ranch in the country. Costner stars as the patriarch, John Dutton. The drama hinges on outsiders' attempts at gaining access to the Duttons' land, conflicts with the neighboring Native reservation, and a whole lot of family secrets.
The Dutton family features three grown kids: Kayce (Luke Grimes), Jamie (Wes Bentley) and Beth (Kelly Reilly). Their lives form much of the backbone of the series, encompassing substance abuse, illicit relationships, and frustrated dreams. All in all, "Yellowstone" is an emotional, exciting, and altogether engrossing drama with Western flair — in short, perfect for anyone who loves "Longmire."
Justified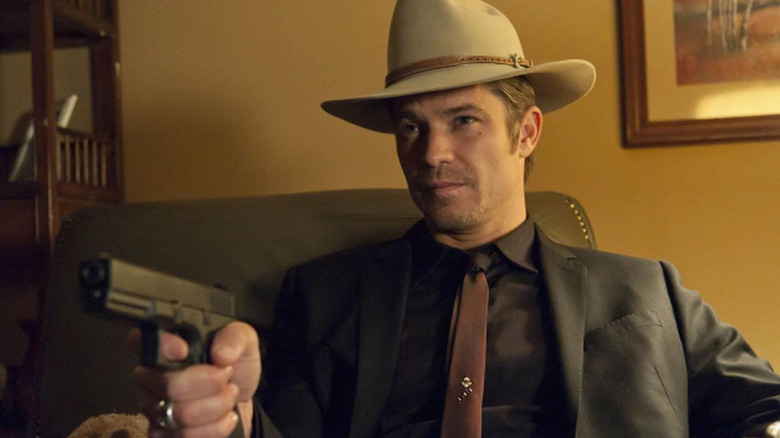 FX
After starring in "Deadwood," Timothy Olyphant travelled into the future some 130 years to star in FX's modern drama, "Justified." He plays Deputy U.S. Marshal Raylan Givens. After shooting a Miami mobster, Givens is transferred to Kentucky, where he happens to be from. It's not a happy homecoming. Drama, violence, secrets, and lies ensue — often tangled together.
"Justified" ran for six seasons and was critically acclaimed throughout its run. Walton Goggins' performance as  Boyd Crowder, a white supremacist preacher who heads up the area's criminal underground, earned particular praise. Other notable cast members include Margo Martindale, Kaitlyn Dever, Sam Elliott, Patton Oswalt, Mary Steenburgen, Michael Rapaport, and Stephen Root.
Much like "Longmore," "Justified" is based on author Elmore Leonard's work, especially "Fire in the Hole." The success of "Justified" inspired Leonard to write another Givens-centric novel, "Raylan." The book came out in 2012, shortly before Leonard's death in 2013.
Tin Star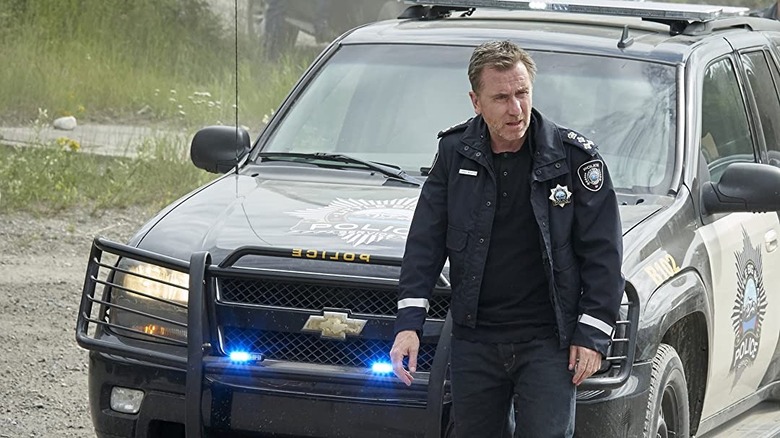 Amazon Prime Video
Here's where we get a little international with this list. "Tin Star" is a British crime drama that revolves around a London detective tasked with becoming the police chief of a Canadian town in the Rocky Mountains. It's "Old West" meets "Old World" — not exactly a common combination, but, as it turns out, a fascinating one. Tim Roth stars as James "Jim" Worth, the detective who moves his family to Canada to escape his troubled past. The weird thing about this show is that when Jim drinks, he becomes his violent alter-ego, Jack Devlin. It's a sort of Dr. Jekyll-Mr. Hyde scenario, set in the Canadian West with British characters. It's intense, surprisingly fun, and a bit weird, all at the same time.
Christina Hendricks co-stars as Elizabeth Bradshaw, an executive with North Stream Oil, the company that dominates the town. She tries to balance Chief Worth's presence with the biker gangs, criminals, and oil workers of the town. "Tin Star" spans three seasons, which first aired on Sky Atlantic, then moved to Amazon. Interestingly, however, Season 3 (or Series 3, as the Brits call it) takes place back in Liverpool, England. This omits the Western feel of the show, but not to worry: It still maintains its crime-thriller ambiance.
Hap and Leonard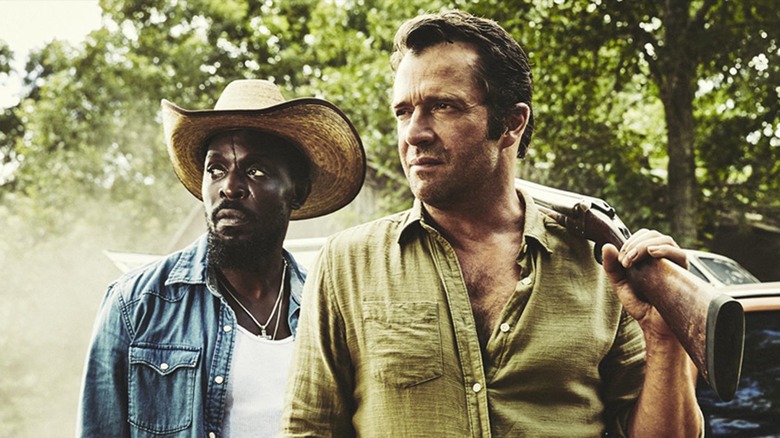 Sundance TV
While some of the shows on this list can get pretty dark and dramatic, "Hap and Leonard" is one that embraces its humor. This mystery crime drama stars James Purefoy as Hap Collins, a blue-collar dude who's spent time in prison, and Michael Kenneth Williams as Leonard Pine, a Black, gay Vietnam veteran. Set in the 1980s, the series takes place in east Texas, where Hap and Leonard team up on a get-rich-quick scheme. Soon enough, they pull ex-wives, townsfolk, other criminals, and lawmen into their fold.
The show was created by novelist Joe R. Lansdale and is based on his "Hap and Leonard" novels. In many ways, it's unlike any other show on this list, blending together comedy, grit, lawlessness, and outright absurdity. If you're longing for that "Longmire" attitude but you'd also like to crack a smile once in a while, "Hap and Leonard" is a great choice.
The Son
AMC
In AMC's "The Son," Irish actor Pierce Brosnan heads to the American West. From that simple starting point, things get complicated, as "The Son" likes to play with time. The main setting is 1917, where Brosnan plays Eli McCullough, the iconic "First Son of Texas." He secures his legacy as a wealthy oil tycoon by murdering, threatening, and deceiving his way to the top.
"The Son" also takes the viewer back to 1850, where a young Eli (Jacob Lofland) learns the ways of the Comanche and becomes a respected warrior. The show also jumps forward to 1988, where Eli's granddaughter Jeannie (Lois Smith) uncovers family secrets. It's a pretty neat setup, and though AMC only gave the show two seasons, it's still worth a watch. The show also stars Henry Garrett, Paola Núñez, Zahn McClarnon, Jess Weixler, David Wilson Barnes, Sydney Lucas, James Parks, Elizabeth Frances, Shane Graham and Kathryn Prescott.
Broadchurch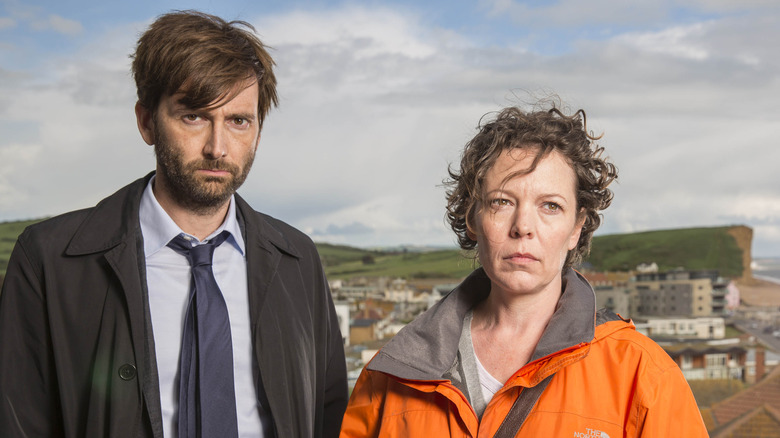 ITV
We're going across the pond again for this next entry. Though ITV's "Broadchurch" doesn't have the Western edge that "Longmire" does, its fascinating portrait of a town in crisis will no doubt lure you in. The series is set in the fictional English village of Broadchurch, where detectives Alec Hardy (David Tennant) and Ellie Miller (Olivia Coleman) are forced to team up, despite the vast difference in their personalities. Season 1 follows their journey as they attempt to solve the enigmatic murder of a local boy.
Broadchurch being a small town, other townsfolk soon become involved. Things grow more and more complex in Seasons 2 and 3, wrapping the whole series up in a twisty, mysterious bow. The setting of the show provides just as much ambiance as the chilling crimes themselves: The white cliffs, gray skies, and rough seas are basically characters unto themselves. If the mystery aspect of "Longmire" drew you in, you'll find "Broadchurch" downright addictive.
Luther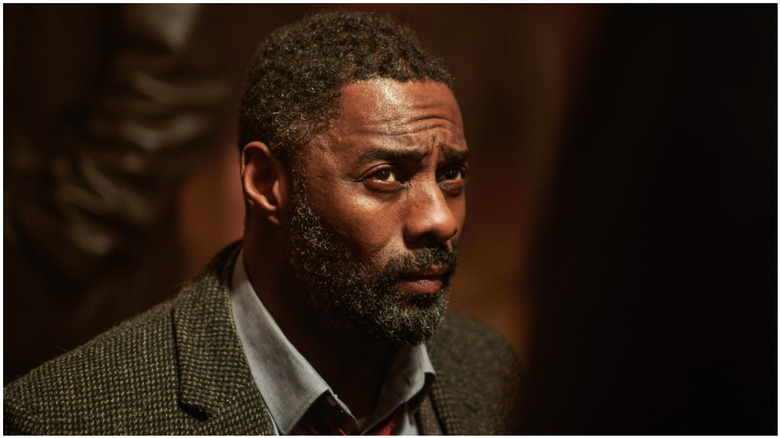 BBC One
We're staying in England for this next entry — but can you blame us? The leading man is just that good. In the BBC One crime drama "Luther," Idris Elba stars as John Luther, a police detective for the Serious Crime Unit (which sounds silly, but is official). Luther often gets sucked into the crimes he investigates, especially those of serial killer Alice Morgan, played by Ruth Wilson. The two spend the majority of the series as both nemeses and companions, infusing this dark crime thriller with electric tension.
Creator Neil Cross has said that he based Luther on a combination of Sherlock Holmes and Columbo, combining the "inverted detective story" style of the latter with Holmes' deductive precision. Luther is technically a miniseries, with only two to six episodes per season, making the entire five-season series totally bingeable. There was supposed to be an American remake, but it fell apart back in 2017. There is still chatter about a "Luther" movie, however — best to get into it now!
Wynonna Earp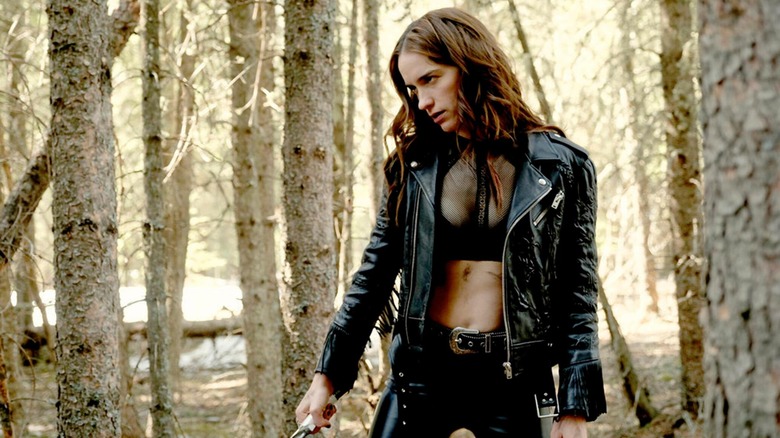 SyFy
Are you up for a little sci-fi-horror to go along with your neo-Western? If so, this comic book adaptation might be right up your alley. SyFy's "Wynonna Earp" stars Melanie Scrofano as the titular character, the great-great-granddaughter of legendary Old West lawman Wyatt Earp. That legacy isn't all it's cracked up to be: She's haunted by the outlaws her ancestor killed, who take the form of undead revenants. Luckily, on her 27th birthday, she discovers that she's inherited the ability to send them back to Hell, with a little help from "Peacemaker," her ancestor's magic gun. 
Helping Wynonna along the way are her sister, Waverly (Dominique Provost-Chalkley), Deputy Marshal Xavier Dolls (Shamier Anderson), Deputy Officer Nicole Haught (Katherine Barrell), and the immortal Doc Holliday (Tim Rozon) — yes, that Doc Holliday. "Wynonna Earp" ran for four seasons on SyFy before being canceled in 2021. Don't count it out just yet, though — the show's passionate fanbase is working overtime to secure the future of "Wynonna Earp."
Godless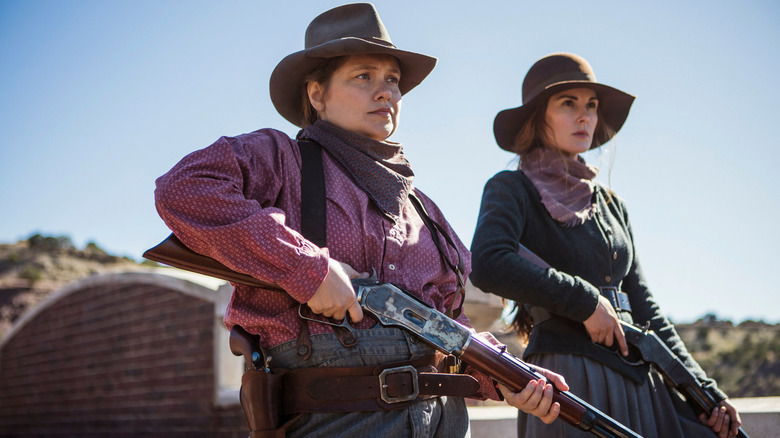 Netflix
If you're short on time and looking for a single-season miniseries to binge, check out Netflix's "Godless." Set in 1884, "Godless" begins when young outlaw Roy Goode (Jack O'Connell) runs out on his cruel mentor. He soon stumbles onto the town of La Belle, New Mexico, a town run and populated almost entirely by women. "Downton Abbey" lead Michelle Dockery stars as a widow named Alice Fletcher, who manages a ranch with her mother-in-law and son. Merritt Wever plays Mary Agnes McNue, the widow of the late mayor.
As it turns out, most of the men of La Belle died in a mining accident, leaving the town's women to run it as they please. Jeff Daniels also stars as Frank Griffin, the venomous outlaw Goode flees, while Sam Waterston plays Marshal John Cook, the lawman hunting Griffin down. The miniseries was a hit, earning its cast and crew a handful of Emmy Awards and a place on multiple best-of-the-year lists.
Banshee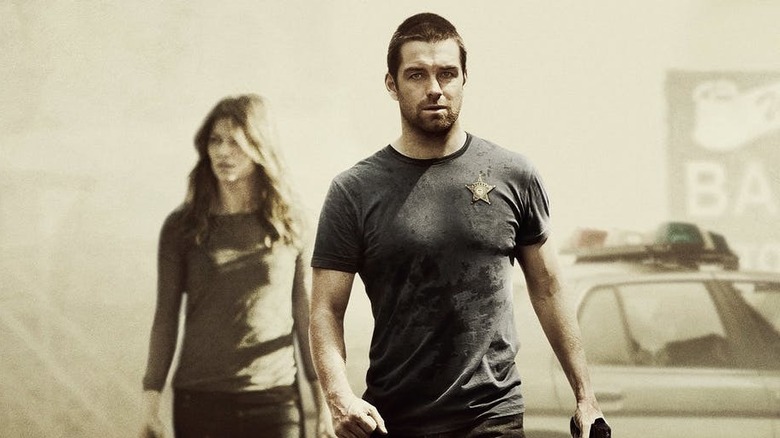 Cinemax
Banshee captures neo-Western style much like "Longmire" does, with a major geographical twist. Set in Pennsylvania Amish Country, "Banshee" stars Antony Starr as an ex-con who assumes the identity of Lucas Hood, the town's incoming sheriff, to hide from a powerful crime lord named Rabbit. When the sheriff is killed in a bar fight, the ex-con, whose name we never learn, swipes his identity and shows up in Banshee, PA masquerading as the town's new lawman. Really, he's looking to reunite with his former flame Ana, Rabbit's daughter, who had a hand in betraying her father as well.
"Banshee" earned mixed reviews: Some watchers love it, while others criticize its intense violence and gratuitous sex scenes. So yeah, it's a bit more wild than "Longmire," but it still utilizes that same gritty, procedural style in a unique setting. The show ran for four seasons on Cinemax and definitely lives up to the lurid nature of that network's reputation. Incorporating Eastern European gangs, New York toughs, and Amish crime bosses, "Banshee" is a bit all over the place — but if you're down with its particular brand of crazy, you'll have a great time.