Read This Before You See Stowaway
This content was paid for by Netflix and created by Looper.
The perils of space exploration will get a philosophical twist in Stowaway. The upcoming film follows the crew of a manned mission to Mars as they unexpectedly find their ranks increased by one when an unlucky launch support engineer is found trapped in a storage compartment. At first, the trio of scientists attempt to welcome their accidental hitchhiker into the mission and show him the ropes of being an astronaut. However, once it's clear that the ship's life support systems have been accidentally destroyed by their new friend — and they only have enough air for three people — they will all have some difficult decisions to make about what they may need to do to survive. This crew may have invested their entire life's work into making it to the red planet to start the process of making it habitable for humans, but their choice still may not be as clear cut or clinical as it seems.
In addition to boasting thrilling action sequences and a tense atmosphere, Stowaway also presents some compelling questions about humanity and the true meaning of survival. Before the film arrives on Netflix, here's a look at what else you should know about Stowaway, including details about both the on-screen and behind-the-scenes talents involved and what to expect from this gripping new drama.
The ultimate nemesis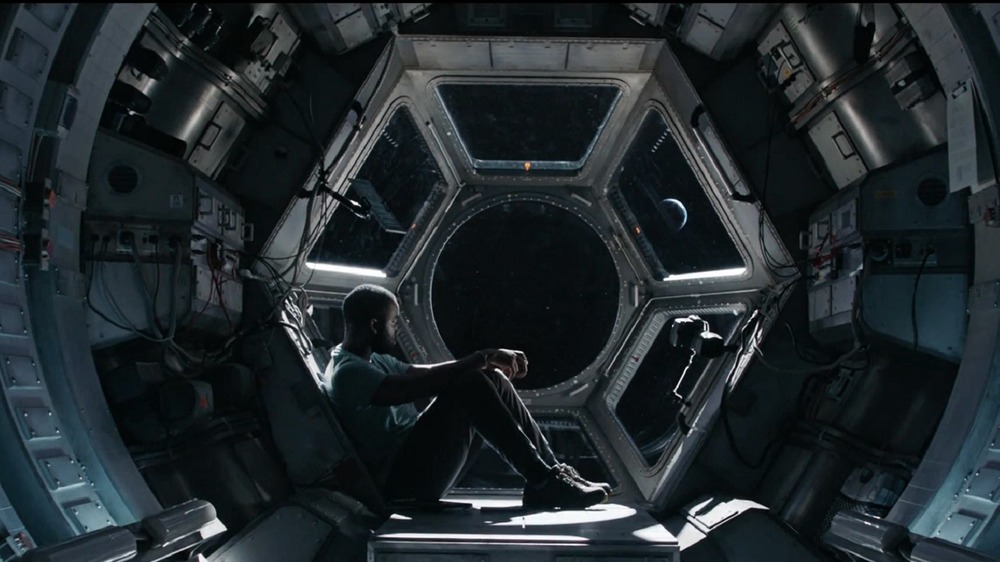 Netflix
Stowaway is directed by Joe Penna from a script he co-wrote with Ryan Morrison. The two previously collaborated on the chilling 2018 survival drama Arctic, which featured Mads Mikkelsen as a man stranded in the snowy wilderness after his plane crashes and who must make several life-or-death decisions in pursuit of rescue. The pair revealed to The Hollywood Reporter that they first wrote Arctic as a film set on Mars, but due to budget constraints, they reworked the pic so that it could be filmed in Iceland instead. But after that film gave the two a chance to prove their movie-making talents, they returned to space for the story in Stowaway.
It should come as no surprise, then, that Morrison has hinted that there are some common threads to be found running between the stories in Arctic and Stowaway, even though they're literally worlds apart. The scribe teased to THR, "The setting is different but, like Arctic, Stowaway is a man-versus-nature story. Both of our films have nature as the bad guy. That's the kind of story we want to tell."
Indeed, in Stowaway, the problems the characters face may be unique in that the astronauts are hurtling through a merciless void with absolutely no chance of outside assistance. But their basic struggle to survive the elements of nature is still a relatively classic one. Of course, in Stowaway's case, the moral conundrum that besets the crew is truly new.
Anna Kendrick, who stars as the ship's medical doctor Zoe Levenson, likens their journey to the "trolley problem" as the team debates whether they are willing to do what it might take to save themselves. Levenson will find herself at odds with her commander and crewmate and says they have to determine, "How much are you willing to risk? Do you roll the dice on everyone dying to save one person?" Decisions, decisions.
In addition to presenting this all-new take on the classic ethical issue, audiences can also look forward to some nifty new space techniques in the film. Stowaway was filmed in the summer of 2019 in Cologne, Germany, and Penna said he came up with some new ways to create the appearance of weightlessness in space, which was important because the characters will endure several stages of gravity shifts as the film progresses.
An all-star lineup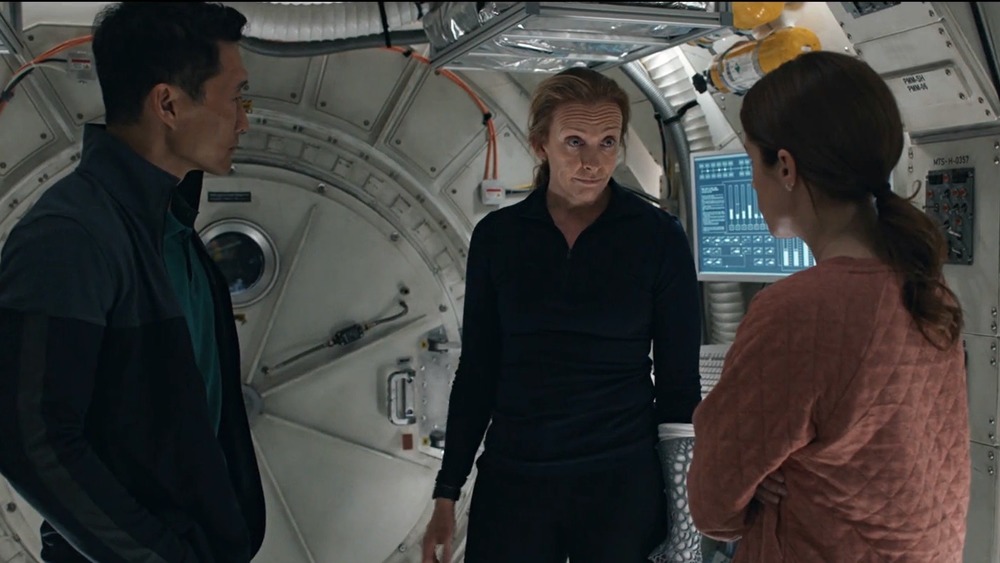 Netflix
The cast of Stowaway is small but stellar. Starring as the titular stowaway Michael is Shamier Anderson, who TV fans might know for his roles as Agent Xavier Dolls in Wynonna Earp, brothers Anton and Dario Blackwood in Goliath, and as Trevor King in Dear White People. Anderson has also impressed with his work in films like Race and City of Lies.
Meanwhile, the ship's commander is portrayed by the one and only Toni Collette, who has been captivating film and television audiences for decades. Some of her most celebrated work coming into this film includes her Golden Globe-nominated roles as Muriel in Muriel's Wedding and as Sheryl in Little Miss Sunshine, her Oscar-nominated turn as Lynn Sear in The Sixth Sense, her Emmy-winning role in United States of Tara, and her Golden Globe- and Emmy-nominated role as Detective Grace Rasmussen in Unbelievable. Most recently, Collette has proven to be a lucky charm for genre-redefining films, as with her unforgettable performance in the instantly classic horror film Hereditary and her standout work in movies like Velvet Buzzsaw, Knives Out, and I'm Thinking of Ending Things.
Daniel Dae Kim also stars in Stowaway as Kim, the biologist of the beleaguered ship, and he's another actor who's been entertaining fans for years. TV lovers will no doubt know Kim for his roles as Jin-Soo Kwon in Lost and as Chin Ho Kelly in Hawaii Five-0, along with his memorable guest roles as Ken Sung in ER, Tom Baker in 24, and Dr. Cassian Shin in New Amsterdam. Kim has also made a splash on the big screen in films like Insurgent, Hellboy, and Always Be My Maybe, and he can be heard as King Micah in She-Ra and the Princesses of Power as well as Benja in Raya and the Last Dragon.
Last but not least, Anna Kendrick has steadily become one of the most important actresses of her generation. Kendrick first broke into the big time thanks to her role as Jessica Stanley in the Twilight Saga film series, and she quickly won critical acclaim — including Oscar and Golden Globe nominations — for her supporting role as Natalie Keener in Up in the Air. Kendrick then became something of a pop culture phenomenon thanks to her musical role as Beca in the Pitch Perfect films. That franchise isn't the only place her singing talents shine; she lent her voice to the role of Poppy in the Trolls World Tour series. Recently, Kendrick impressed critics with her role in the romantic comedy show Love Life and earned herself an Emmy nomination for her performance in the short-form comedy series Dummy.
Put simply, Stowaway boasts a quartet of stars at the top of their game and a pair of creative filmmakers who are willing to brave the depths of the unknown to find certain truths about the world around us.