Read This Before You See I'm Thinking Of Ending Things
This content was paid for by Netflix and created by Looper.
The films of Charlie Kaufman are a little heady, and you don't need a film degree to know that. Being John Malkovich, the first major motion picture made from one of Kaufman's scripts, follows a struggling puppeteer who finds a portal into actor John Malkovich's head. Adaptation, meanwhile, is Charlie Kaufman's Oscar-winning adaptation of the book The Orchid Thief, which follows a protagonist named Charlie Kaufman struggling to write a screenplay adaptation of the book The Orchid Thief.
Charlie Kaufman's movies can often portray existence as something out of a dream — but not one of those good dreams, where you're flying or you've just won the lottery. They're more like the dreams where everyone can tell you're a fraud just by looking at you, and then you're eaten by an alligator. The characters' neuroses manifest outside of their minds, but even reality subverted by anxiety comes with a sense of humor.
Do you really need to know any of this before you watch I'm Thinking of Ending Things, the latest film he's written and directed, slated to hit Netflix on September 4? Maybe, maybe not. But it probably couldn't hurt.
I'm thinking of I'm Thinking of Ending Things things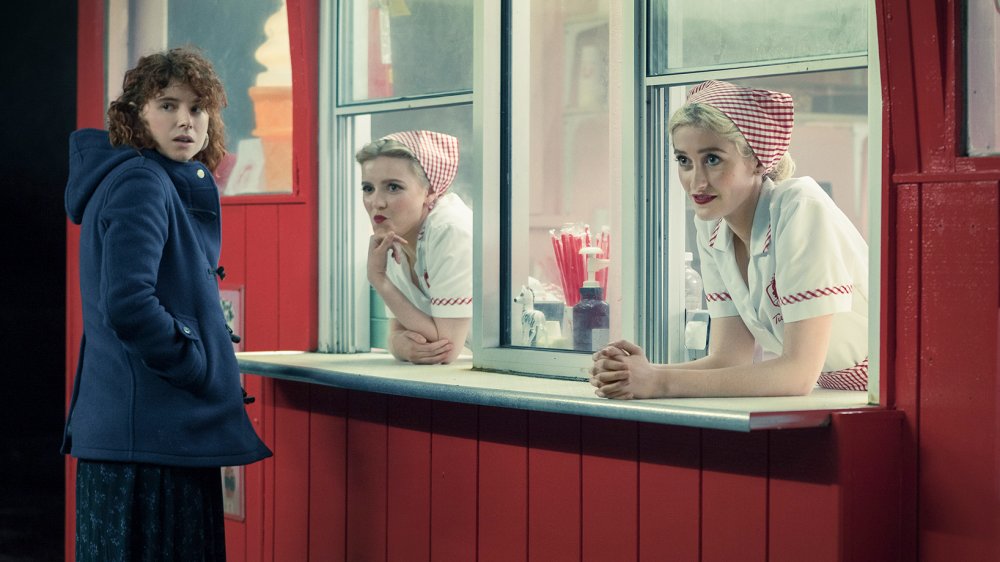 The concept of "meeting the parents" is a familiar one to anyone who's ever been in a relationship. Indeed, I'm Thinking of Ending Things has a pretty standard premise: A woman travels to meet her boyfriend Jake's parents for the first time. But where Meet the Parents was a goofy comedy featuring Robert De Niro asking if Ben Stiller could milk him, Kaufman's film takes a decidedly darker approach.
Based on the 2016 book of the same name by Canadian writer Iain Reid, I'm Thinking of Ending Things is a surreal dive into the woman's relationship with her boyfriend, not to mention her relationship with herself. Both surreal and unsettling, the film offers visions from the past and future, internal monologues that don't quite stay internal, and a very wet, very shaky dog.
What's it all mean? Is there a dark secret in Jake's family's past? Or is she just losing her mind? And will that dog ever stop shaking? It's very distracting!
In 2019, actor Jesse Plemons, who plays Jake, revealed in a GQ interview that Kaufman's adaptation of Reid's book kept "maybe 15 percent of the dialogue." That ought to be your first clue that, like Adaptation before it, I'm Thinking of Ending Things will make something wholly original and unique from the book it's based on.
A tale of two Jess(i)es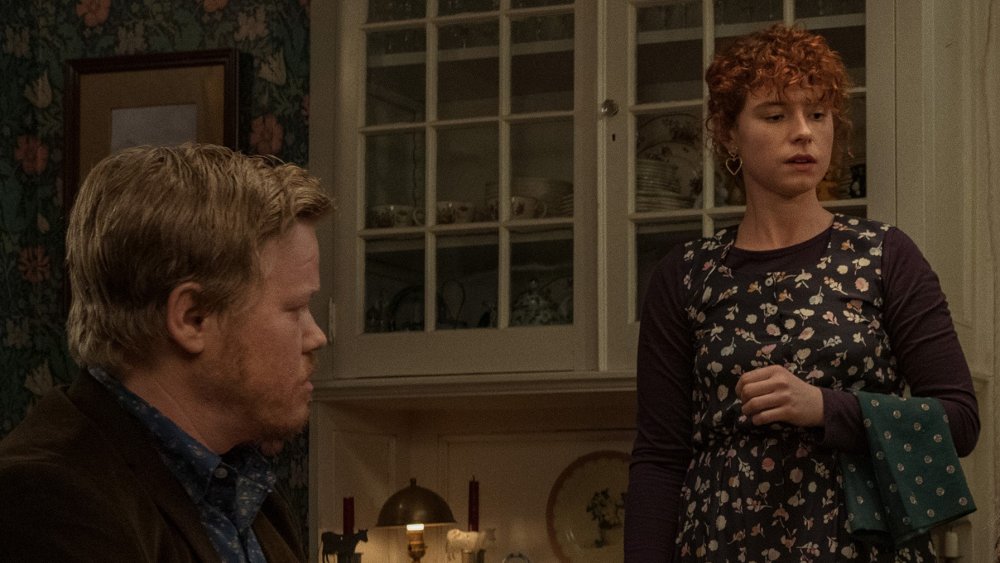 Mary Cybulski/Netflix
There aren't a lot of characters to keep track of in I'm Thinking of Ending Things, with only four actors filling out the main cast. The two leads are Jesse Plemons and Jessie Buckley, who play Jake and his girlfriend, respectively. If you've watched much television or movies over the last few years, you've surely seen them before.
You might know Plemons from his long-running role as Landry Clarke on the show Friday Night Lights. Since then, he's made regularly appeared in prestige TV series, taking on the villainous Todd in Breaking Bad's final season, and the hapless husband Ed the butcher in Fargo's second season, the latter of which earned him an Emmy nomination. His film resume is just as impressive. His portrayal of weird, lonely cop Gary in Game Night is legendary, while he reprised his role of Todd in El Camino: A Breaking Bad Movie, and appeared as Chuckie O'Brien in Martin Scorsese's epic crime drama The Irishman.
Jessie Buckley, meanwhile, has a no less impressive resume under her belt. The Irish actor started her career appearing in UK-based television series and movies, earning lead roles as Moll in The Beast and Rose-Lynn in Wild Rose. She's since been cast in some massively high profile projects. In 2019, she appeared in Judy alongside Rene Zellweger as Rosalyn Wilder, Judy Garland's personal assistant. That same year, she took on one of the more tragic roles in HBO's Chernobyl, playing a pregnant woman who puts herself and her unborn baby at risk to stay with her firefighter husband as he dies from radiation poisoning. And like her costar, she also stars in the as-yet unaired fourth season of Fargo. In 2020, she landed on The Irish Times' list of the 50 greatest Irish film actors of all time.
Parental guidance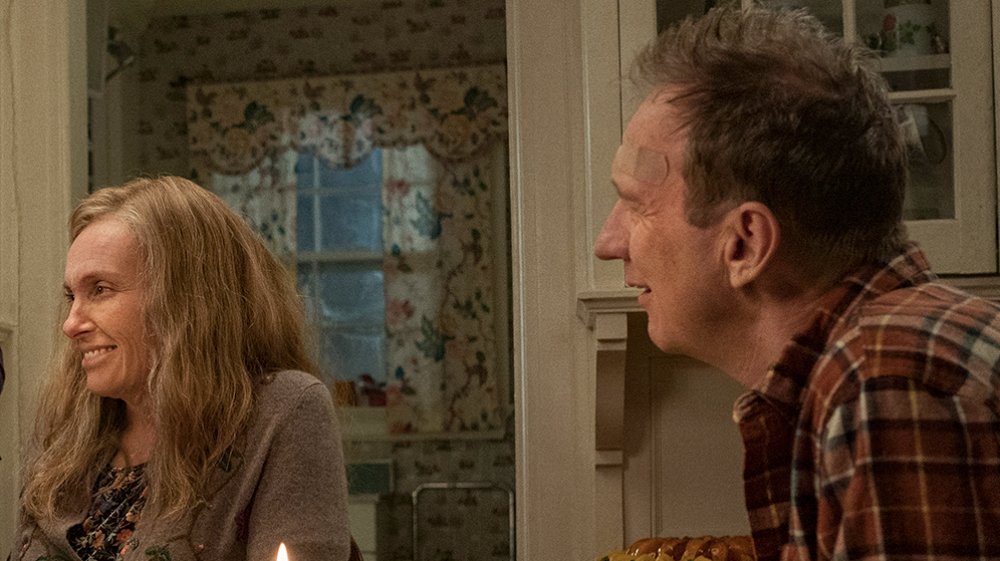 Mary Cybulski/Netflix
Jesse Plemons and Jessie Buckley share the screen with two legendary actors: David Thewlis and Toni Collette, names you surely know and faces you've definitely seen.
Thewlis, who plays Jake's dad in I'm Thinking of Ending Things, may be most recognizable to a certain generation as Professor Lupin from the Harry Potter franchise. But he's been making things weird in films for decades. Some of his standout roles include the lead in 1993's Naked, as well as an extremely brief but thoroughly memorable appearance in The Big Lebowski as Knox Harrington. In 2017, he branched further out into franchise territory, appearing in a major role in the superhero hit Wonder Woman. But it's in 2015 that Thewlis first worked with Charlie Kaufman, giving voice to the protagonist of Anomalisa, a stop-motion film that was nominated for a Best Animated Film Oscar. He's also the third member of the cast to have appeared in a season of the Fargo TV series, playing the dastardly V.M. Varga in season 3.
Jake's other parent is played by Toni Collette, who like Thewlis has been a cinematic chameleon, elevating any film she appears in by virtue of her performance. She first broke through in 1994, playing the lead in Muriel's Wedding, and in 1999 was mom to a kid who just would not stop seeing dead people in The Sixth Sense. From there, Colette landed roles in The Hours and Little Miss Sunshine, which led to starring in her own TV series The United States of Tara. One of Colette's most recent high profile parts came in 2018, in Ari Aster's horror hit Hereditary. And with memorable appearances in 2019's Velvet Buzzsaw and Oscar-nominated Knives Out, Colette is a force to be reckoned with. Of course, only time will tell when she'll be cast in an upcoming season of Fargo.
Being Charlie Kaufman
Matej Divizna/Getty Images
In one way or another, many of Charlie Kaufman's movies are his attempts to untangle the knots within the human mind. Whether that mind happens to be his or not is largely open to interpretation.
Take Kaufman's directorial debut, 2008's Synechdoche, New York. The film, which he also wrote, follows the trials and tribulations of regional theater director Caden Cotard. He spends his mundane existence obsessing over death and struggling to live up to his creative potential. Eventually Caden's ailments, obsessions, and achievements grow more surreal and abstract with each passing minute of film. His leg shakes uncontrollably, he wins a MacArthur Genius Grant, and he spends decades staging the most ambitiously mundane theater production the world has ever seen in a massive Manhattan warehouse. Is Caden's relentless pursuit of artistic truth his life's work? Is it a monumental and magnificent waste of time? It's bleak, hilarious, profound, and pointless. 
Kaufman's films explore the anxieties that come with living and creating. I'm Thinking of Ending Things will dive into the dark parts of the brain and leave you wondering where reality begins and ends — all in the best possible way.