Read This Before You See The Mitchells Vs. The Machines
This content was paid for by Netflix and created by Looper.
If and when the machines finally do rise up, we probably won't want a chaotic and messy bunch like the Mitchells to become humanity's last hope. But that's exactly what happens in the upcoming animated comedy film The Mitchells vs. the Machines.
The film follows the Mitchell family as they attempt to work together to stop the robot apocalypse, after every machine with a chip turns against all of humanity. This is a task that this family is uniquely unqualified for, considering the Mitchells are completely dysfunctional and fail at literally everything they try to do together. These folks can't even have dinner or take a group photo without things going spectacularly awry because they're all such self-proclaimed weirdos and spend all their time tuned out from each other.
We'll have to wait until The Mitchells Vs. The Machines arrives on Netflix on Friday, April 30 to find out how mankind's wackiest war with the robots goes down. But until then, here's a look at what else you should know about this new animated comedy feature.
Earth's finest acting troupe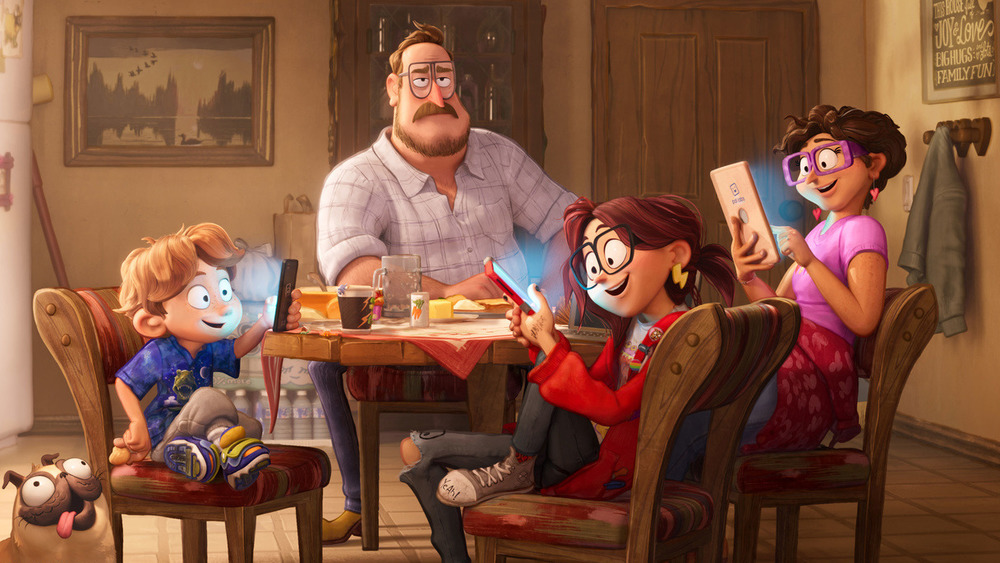 Netflix/Sony Pictures Animation
There are a lot of funny people who lend their voices to the wild cast of characters in The Mitchells Vs. The Machines, not the least of whom is Abbi Jacobson, who voices the lead character Katie Mitchell. Katie is a creative young woman who believes she'll finally find her place in the world at film school, but her dreams are dashed when her father decides to make a family road trip out of dropping her off at college — and then, well, the whole world goes berserk with bots. Fans will no doubt recognize Jacobson thanks to her celebrated work on Broad City, but her voice may be especially familiar to Netflix animation fans, as she previously voiced the character Emily on BoJack Horseman and currently stars as Bean in Disenchantment.
Voicing Katie's nature-loving dad Rick is the one and only Danny McBride, an actor who many TV fans will likely know for his trio of unforgettable HBO comedy characters: Kenny Powers in Eastbound & Down, Neal Gamby in Vice Principals, and Jesse Gemstone in The Righteous Gemstones. In addition to these indelible on-screen roles, McBride has previously impressed with his vocal work in animated films like Sausage Party and The Angry Birds Movie.
Meanwhile, Emmy-winning comedian Maya Rudolph stars as the ultra-positive family matriarch Linda. In addition to being a Saturday Night Live standout and earning acclaim for her work in films like Away We Go and Bridesmaids and shows like Up All Night and The Good Place, Rudolph is also known for her distinct vocal work. The actress currently stars as several animated small screen characters, including Connie the Hormone Monstress in Netflix's Big Mouth, Betty Hart in Fox's Bless the Harts, and Aunt Cass in Big Hero 6: The Series, and those are just the latest of many shows and films Rudolph has stepped up to the mic for.
Olivia Colman also brings her considerable talents to the cast of The Mitchells vs. The Machines, starring as the wily voice of Pal, a piece of tech who does not appreciate the way it has been treated by human beings. Colman boasts an impressive collection of Hollywood trophies: three Golden Globes, including one for her portrayal of Queen Elizabeth II in The Crown, and an Oscar for her portrayal of Queen Anne in The Favourite. In addition to her esteemed on-screen appearances, Colman has also voiced the character Marion in the Thomas & Friends children's series.
The all-star cast of the film also includes The Eric Andre Show and Bad Trip star Eric André, NBA star Blake Griffin, Doug the Pug, Charlyne Yi, Sasheer Zamata, Chrissy Teigen, John Legend, Jay Pharoah, Fred Armisen, Beck Bennett, Alex Hirsch, and Griffin McElroy. And rounding out the cast is the film's own co-writer and co-director Mike Rianda, who portrays Katie's zany little brother Aaron and brings a lot of himself to the role.
A personal project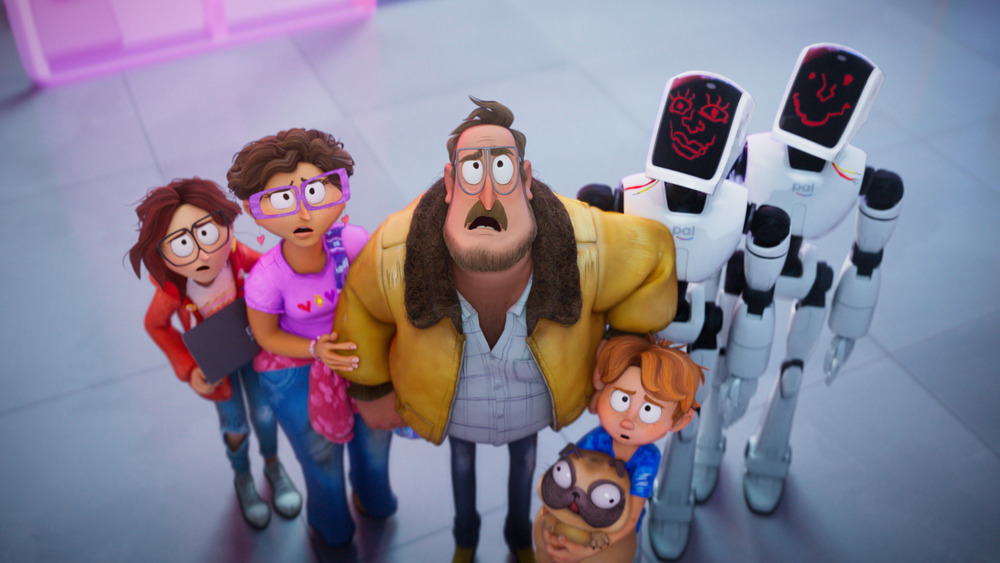 Netflix/Sony Pictures Animation
For Mike Rianda, who makes his feature film debut after writing and providing voice work for several episodes of TV's Gravity Falls, the story of The Mitchells Vs. The Machines is extremely personal. In fact, Rianda drew from his own family and philosophical interests while creating the story of the film.
At the Annecy International Animation Film Festival in June 2020, Rianda talked about his unique inspirations for the film, saying that it combines "two things I really love: my insane family and technology." Rianda directly drew from his own father's personality in crafting the character Rick, as his real-life dad was also an oddball outdoorsman whose wild ideas about getting off the grid were panned but "sometimes ... kind of right." Rianda explained during his panel that he once thought his dad was "a maniac" at times but made "spectacular" woodsy creations — like an outdoor bathtub, so he could be "legally naked in nature" — so he modeled the character Rick as a "guy who thinks that robots are going to rise up and thinks technology is evil" and turns out to be lightyears ahead of everyone else in the world.
Meanwhile, Linda is made in the image of Rianda's mother and aunt, the "glue" of his family, and his own character, the dinosaur-obsessed Aaron, borrows a bit from both himself and co-writer and co-director Jeff Rowe. As Rianda put it, "we were like these little weird obsessive kids." 
Ultimately, for Rianda, the mission with The Mitchells vs. The Machines was to create a movie that features a relatable family at the center that's "just as imperfect and weird and messed up as your family." Luckily for Rianda and Rowe, they have a top-notch production and animation team right behind them for this project.
A stellar team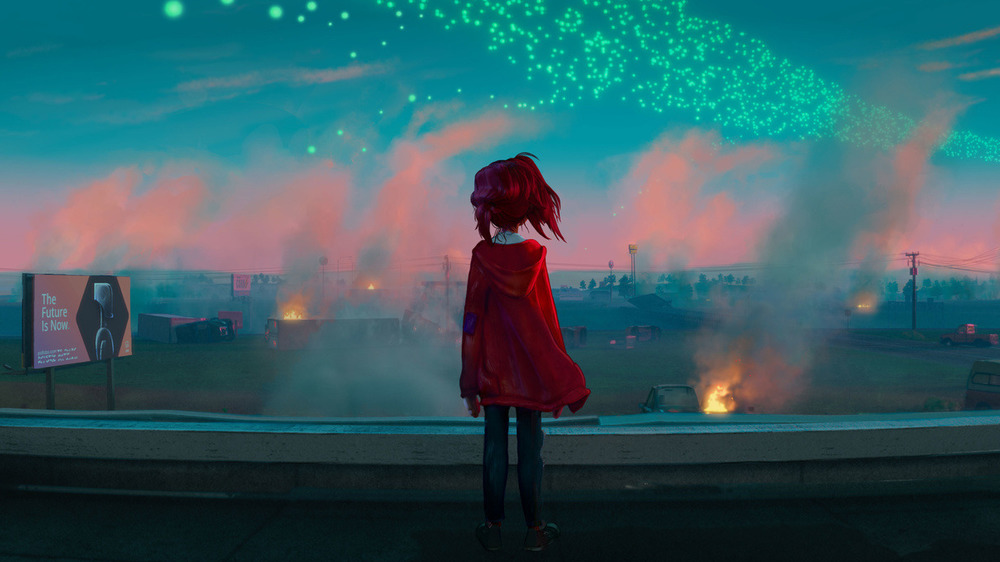 Netflix/Sony Pictures Animation
The team behind The Mitchells Vs. The Machines is responsible for some of the biggest animated movies of the last decade, including The Lego Movie series and Spider-Man: Into the Spider-Verse. Power producers Phil Lord and Christopher Miller worked with Rianda and Rowe to bring their ambitious vision to reality, alongside fellow producers Kurt Albrecht, Daniel Chuba, Carey Smith, and Will Allegra, all of whom have their own impressive credentials.
Rianda said that he and Rowe came into the project with big ideas, and with the support of Lord and Miller in particular — who he calls their "movie uncles" — the filmmakers had the freedom to make their original storyline a reality.
At the same time, they were also open to suggestions on how to bring their imagined worldview to the screen. Rianda told IndieWire that he wanted the human environments of his story to feel familiar and for the "tech world to feel so starkly different." So when animator Arthur Fong came up with some backgrounds inspired by installation artist James Turrell, they went right along with that vision.
Meanwhile, the filmmakers also brought in Into the Spider-Verse's visual effects supervisor Mike Lasker to help hone in on the hand-drawn aspects they wanted to capture the messiness of humanity, even with computer generated imagery for the animation. The success of Into the Spider-Verse in particular assured Rianda that the movie he wanted to make was possible, as he told the audience at the Annecy animation fest that the film's reception means, "People want to see new stories and people want to see fresh animation styles."
You can check out this vision of the battery-powered apocalypse when The Mitchells Vs. the Machines arrives on Netflix on Friday, April 30.