The Untold Truth Of The Good Place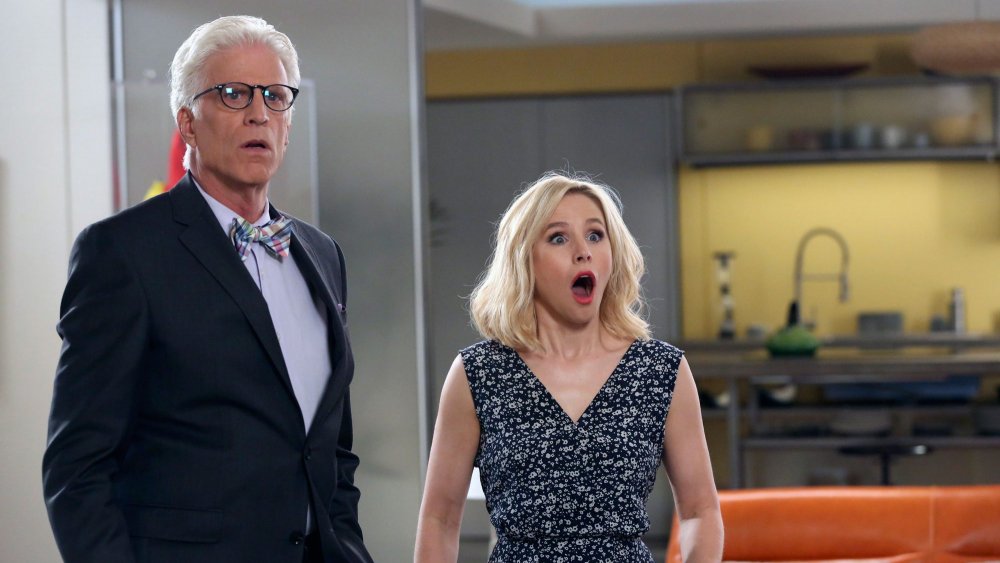 NBC
In 2016, one of the smartest and most heartfelt shows on television kicked off its run with a pretty shocking twist: specifically, all of its main characters were dead. From start to finish, Michael Schur's groundbreaking comedy The Good Place, which ran for four seasons and closed out its run in January of 2020, was packed with twists and turns, and throughout every single season, the show got more complicated and found new emotional depths to explore for its well-meaning, perfectly flawed cast of characters, making it one of the most unique television experiences in recent memory.
When the show opens, Eleanor Shellstrop (Kristen Bell) opens her eyes to see Michael (Ted Danson), who welcomes her into his office to deliver some good news and some bad news. Unfortunately, Eleanor is dead. On the bright side, she's been selected to "live" out eternity in the "Good Place," as opposed to the "Bad Place." However, Eleanor is hiding a big secret: the Good Place is wrong, and she, a self-professed Arizona dirtbag, doesn't deserve to be there at all.
Right from the jump, The Good Place left fans guessing, and behind the scenes, showrunner Schur kept his cast on their toes as well. Here are some things you didn't know about The Good Place, from its inception to its astounding finale. 
Spoilers for The Good Place ahead!
Michael Schur kept The Good Place shrouded in secrecy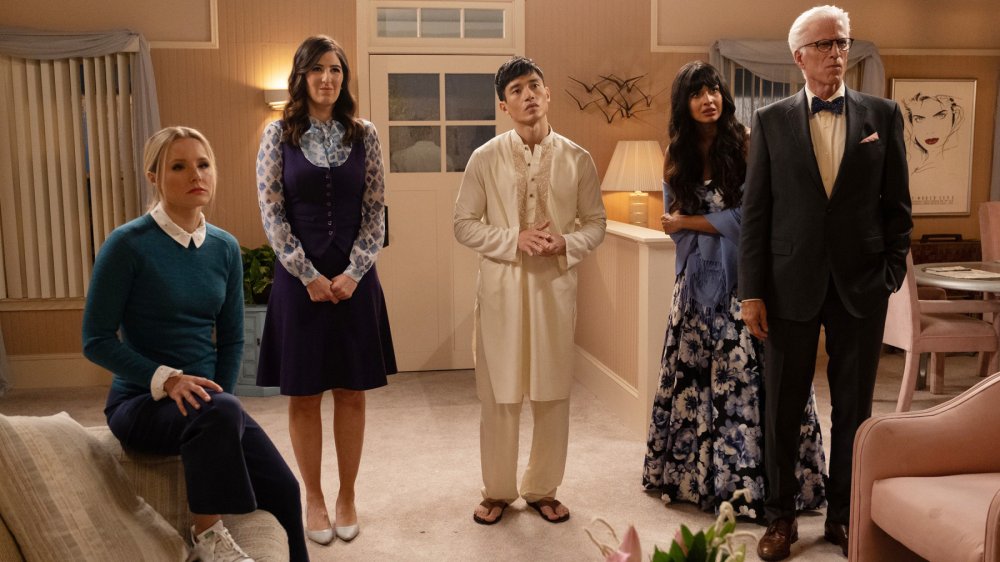 NBC
After his success with lighthearted shows like Brooklyn Nine-Nine and Parks and Recreation, Schur got ambitious with his next project. Before getting started, he approached Damon Lindelof, known for mind blowing shows like Lost, The Leftovers, and Watchmen, for advice, asking the showrunner if his idea for The Good Place was "anything." Apparently, Lindelof was into the idea, as he would go on to serve as one of the series' executive producers.
Before the show even premiered, Schur stayed cagey about what it would be about, even when it came to his cast. Television veterans Danson and Bell were the first two to sign on. None of the other lead actors, including William Jackson Harper, Jameela Jamil, Manny Jacinto, and D'arcy Carden — who play Chidi Anagonye, Tahani Al-Jamil, Jason Mendoza, and Janet, respectively — had any idea what they were auditioning for. Carden, in particular, recalls that she was asked to play a sort of customer service representative on a hotline for "broken dolls," and that she wasn't even given any real pages of the script. Later, her role was described to the press as "Janet della d'Annunzio," a "violin salesman with a chequered past," which couldn't be further from the truth.
Eventually, as the first season led to the show's first jaw-dropping twist — specifically, that Eleanor, Chidi, Jason, and Tahani have been in the Bad Place, which Michael and Janet engineered, the whole time — the actors, save for Bell and Danson, still had no idea what was coming. If The Good Place kept you guessing during its first season, one can only imagine how much of a challenge it was for its actors to perform without knowing the whole story.
The ending of The Good Place brought everything full circle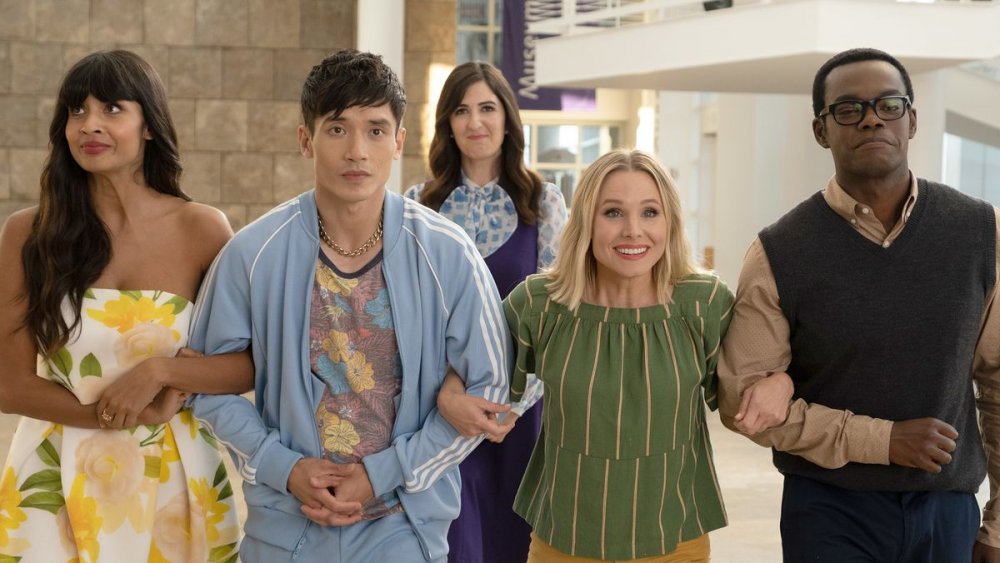 NBC
After four stunning seasons, The Good Place came to a close in January of 2020, with the four main human characters working alongside Michael and Janet to change the afterlife and the living world for the better. On the heels of the reveal that all four were in the Bad Place, Michael simply reboots them and wipes their memories, but after they keep solving the mystery over and over again, Michael and Janet team up with the humans and realize that nobody has made it into the actual Good Place in years, and the entire system is utterly broken.
From there, the "Soul Squad" sets out to save humanity, and ultimately, they do. After coming up with a new "points" system to help humans find their way to the real Good Place, they even help current residents of the Good Place achieve finality with a door that lets them truly pass on.
In an interview with The New York Times, Schur offered an explanation as to the finale's real message, saying that since humans are doomed to fail even though they try to do something right, The Good Place says failure is okay. "What matters isn't that you do everything right. What matters is that you try," he explained. "When you make a mistake, you apologize and then you try something else. The show is suggesting that the real victory of being alive is just putting these things in the front of your brain and attempting all the time to be a better person than you were yesterday."
If you want to relive The Good Place today, this sweet and seriously smart series is available to stream on both Netflix and Hulu.