Phil Lord, Chris Miller To Develop Spider-Man Projects For Sony Pictures Television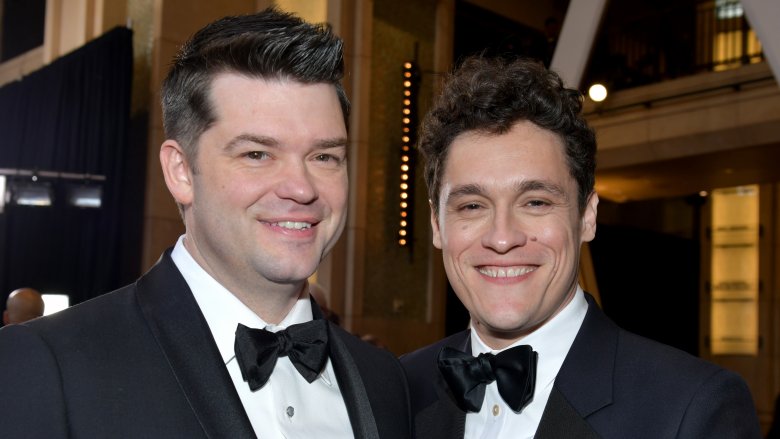 Getty Images
The Spider-Verse is expanding.
Filmmakers Phil Lord and Chris Miller have inked a wide-ranging five-year deal with Sony Pictures Television, and their first priority will be to develop a suite of original series featuring Spider-Man and his associated characters. (via Deadline)
While no financial terms for the deal were reported, industry analysts believe it to be worth nine figures — and judging by their past track record, the red-hot pair will be well worth it. They have a long history in television and film, but their careers were jump-started with the success of 2009's animated feature Cloudy with a Chance of Meatballs, which overperformed at the box office and was received warmly by critics. They proved equally adept at live-action comedy, directing 2012's 21 Jump Street and its 2014 sequel, following up that flick with the most significant and unlikely hit of their careers: The Lego Movie, one of the best animated films of 2014 and a profile booster of the first order.
The duo worked as writers, directors, and/or producers on a laundry list of hit films over the last five years, including Solo: A Star Wars Story, The Lego Batman Movie, and Spider-Man: Into the Spider-Verse, which they produced and which netted them their first Oscar (for Best Animated Feature). On the small screen, they've had various degrees of involvement in series like Brooklyn Nine-Nine, Son of Zorn, and The Last Man on Earth.
According to Deadline's report, the duo were pursued heavily for such a production deal by multiple production houses and at least one streamer, but it was likely their bringing home that Oscar for Sony Pictures Animation (the imprint behind Spider-Verse) that tipped the scales in favor of Sony. The entertainment behemoth famously holds the rights to Spider-Man (shared with Marvel Studios) and a host of ancillary characters, the latter of which are being developed heavily on the feature film side. Last year's Venom was a surprise box office smash, and Sony is hoping to repeat that success with the currently-shooting Jared Leto starrer Morbius. Sony's deal with Marvel is pretty sweet, allowing the former to continue producing its own standalone live-action Spidey films (set in the Marvel Cinematic Universe) while the latter gets to borrow the character to show up in its franchise entries — but Sony's Universe of Marvel Characters movies, despite revolving around characters heavily associated with the wall-crawler, are currently Spidey-free, so it makes sense for the studio to be keen on exploiting the property for small-screen endeavors.
The deal grants Lord and Miller considerable power within Sony's TV division, with free reign to work up projects for network, cable, or streaming as they see fit, as well as the ability to hire outside writing and producing talent for said projects and supervise them. But of course, the crown jewel is expected to be their slate of Spider-Man projects, which we're going to go out on a limb to say might be a good fit for forthcoming streamer Disney+, which is developing its own gaggle of live-action series based on Marvel characters and set within the MCU. Miller and Lord are expected to promptly stuff Sony TV's pipeline with projects of both the live-action and animated variety, although it's not immediately clear if their suite of Spidey series will be one, the other, or both.
In a statement, Sony Pictures Television chairman Mike Hopkins expressed his understandable excitement. "This is a significant milestone for our television business, having the opportunity to work with two of the most creative forces in the industry in both our film and television businesses," he said. "Building on our strong IP and creating new franchises has been a key focus for [Sony], and the best way to do that is to invest in remarkable storytellers like Phil and Chris. We are thrilled to welcome them to the SPT family."
Added SPT president Jeff Frost, "Phil and Chris have reimagined every medium and genre they have touched. Whether it's television, features or animation, they have created their own unique brand and style. We are so excited to be working with these brilliant creators and showrunners and are looking forward to collaborating with them in every aspect of television — comedy, drama, animation and beyond."
The creative dynamic duo chipped in with a few characteristically cheeky words of their own. "We are so grateful to everyone at Sony Pictures Television for choosing to partner with us and expand our enduring relationship with the studio. Together we aim to make groundbreaking work of the highest quality and integrity, and to place that work in convenient proximity to your eyeballs and earholes, wherever you may be."
Well, our eyeballs and earholes are more than ready for whatever the pair cook up, and if Into the Spider-Verse is any indication, they have a heavy emotional investment in the wall-crawler and a knack for choosing talent capable of delivering rich, rewarding Spidey stories. We expect them to get to work in the very near future, and the moment there's breaking news about specific projects and the talent attached to them, we'll be here to report it.