Watch This Before You See Bad Trip
This content was paid for by Netflix and created by Looper.
If you have not yet been introduced to Eric André's unique brand of hidden camera-style hijinks, well, you're in for a wild ride when Bad Trip premieres on Netflix on Friday, March 26. André's pranks in the film are messy and merciless and elicit quite an array of responses from the unsuspecting strangers that get pulled into the hysterical action.
For those of you who have followed the comedian's near-decade of sketches on The Eric Andre Show, you'll already know to buckle up for some wild new escapades. André is joined by several other talented comedy stars who help him take his act across the country in this road trip comedy. You've probably also been waiting to see this movie for quite a while, since its release was initially delayed by the coronavirus pandemic. The good news is your patience will be well-rewarded with plenty of laugh-out-loud moments.
Here's a look at what you should know about Bad Trip before this movie reaches your streaming queue.
The film is about friends and foes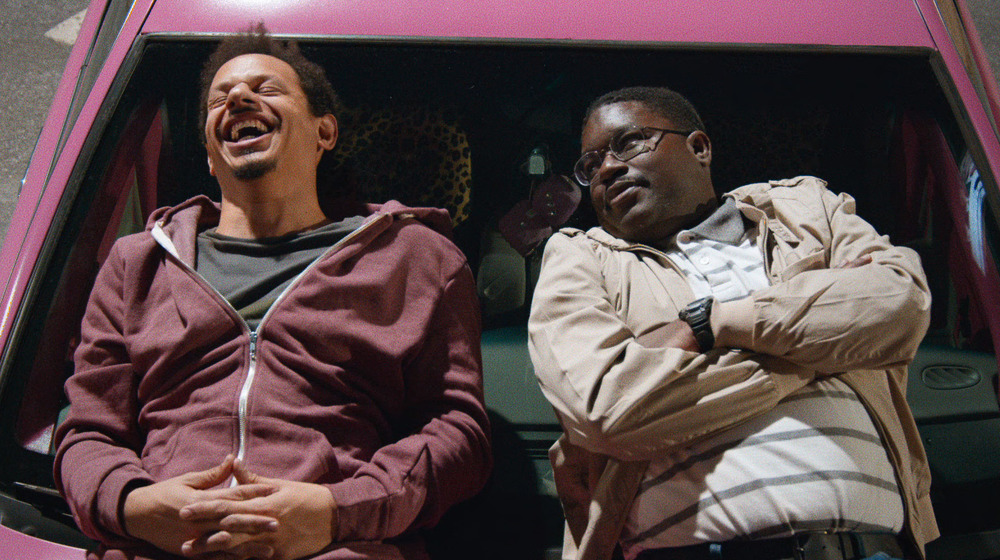 Netflix
Bad Trip features Eric André as Chris, a thirty-something who bounces from one dead-end job to the next. Lil Rel Howery stars as Chris' best friend Bud, whose career situation is also less than ideal, and who's constantly bullied by his vicious sister Trina, played by Tiffany Haddish, who has just been sent back to prison. Chris and Bud are spinning their wheels until Chris has a chance run-in with his former high school crush, Michaela Conlin's Maria Li, who runs an art gallery in New York. Chris then convinces Bud to "borrow" his sister's bright pink cruiser and join him on a trip to the Big Apple so he can pursue a fresh start with the woman who might just change his life.
Of course, what they say about "best laid plans" is even more true when there's barely a plan in place at all. As these guys head north, things go south very quickly. Not only do they run into all manner of unusual complications on the road, but Trina manages to bust out of jail and gets right on their trail after finding out they've stolen her beloved ride. Thus, their buddy-comedy road trip becomes a big chase — and the bystanders the characters come across bear witness to the mayhem and become the unintentional stars of this film.
The bystanders show off the human side of the humor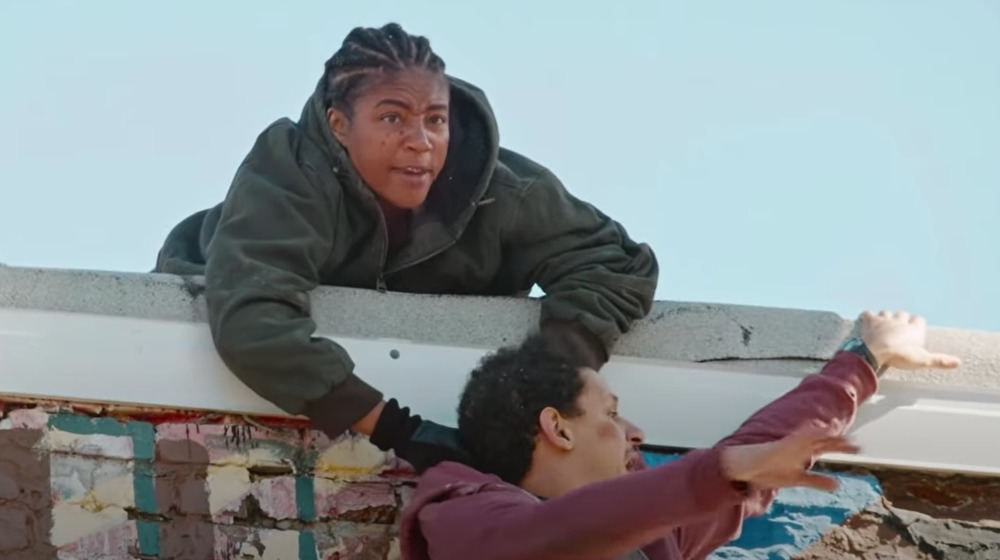 Netflix
There are a lot of pedestrians who stand out for their sidesplitting, and sometimes even scary reactions to all the antics in Bad Trip. But, importantly, they're never the butt of the joke. As André told DCP Entertainment in 2020, "All the pranks showed the good humanitarian nature in people versus making people look dumb or punching down."
It's true: most of the plot of Bad Trip plays out in the company of strangers, who don't quite know what they're watching as the characters publicly humiliate themselves with everything from faux inebriation to dramatic arguments to perilous action sequences. "We're getting plot points from real people who don't even know they're on camera," André said of his approach to the ever-changing storyline. While the guys never waver in their mission to find Marie in the city, the people they meet along the way certainly add some new adventures and unexpected tones to the journey — and their genuine responses to the ruckus elicit some of the biggest laughs of their entire ordeal.
The cast quartet is well established in Hollywood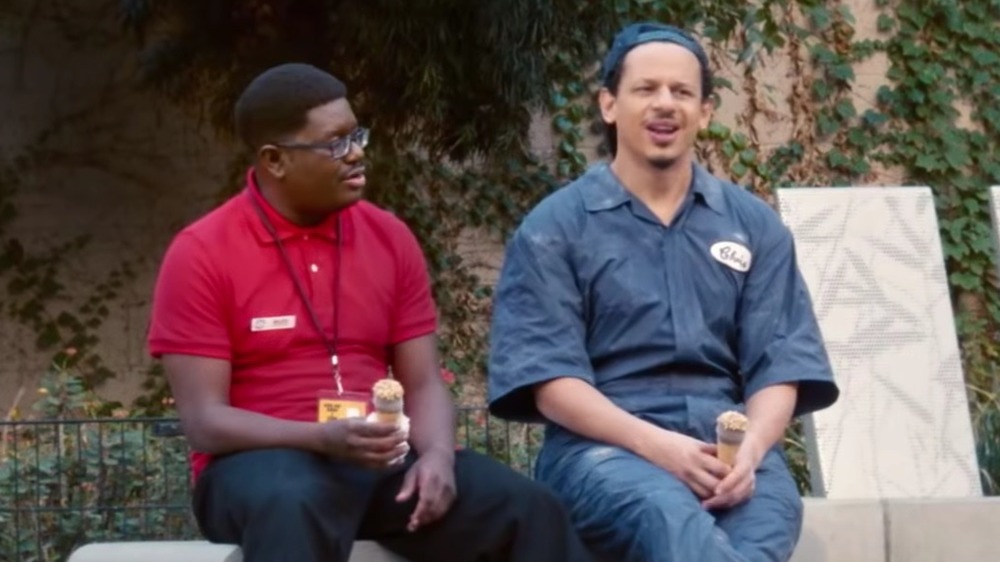 Netflix
Though the unexpecting bystanders steal plenty of scenes in Bad Trip, the four actors at the center of the action are also a stitch, and they've got a long history of making people laugh. 
Eric André is perhaps best known for his work as creator and host of the Adult Swim comedy series The Eric Andre Show, but he's also been seen (and heard) in several other major productions. He starred as Mark Reynolds in ABC's Don't Trust the B—- in Apartment 23 and as Deke in CBS's 2 Broke Girls. He also starred as Sid in The Internship and voiced the character Azizi in the 2019 remake of The Lion King. Most recently, André could be heard as Luci in Matt Groenig's Disenchantment, and his debut standup special Legalize Everything hit Netflix last summer.
Meanwhile, one of Lil Rel Howery's earliest gigs was a voice role alongside André in the FXX animated comedy series Lucas Bros. Moving Co. He soon had a breakout appearance in the comic relief role of Rod Williams in Jordan Peele's 2017 thriller Get Out. Howery also starred as Bobby Carmichael in NBC's The Carmichael Show and as Quentin in HBO's Insecure before creating his own self-titled Fox sitcom Rel in 2018. Fans have since seen him as Zeke Remnick in Showtime's The Chi and as Wayne in Judas and the Black Messiah.
Tiffany Haddish has also enjoyed a meteoric rise in the comedy scene after her breakthrough film roles as Hi-C in Keanu and as Dina in Girls Trip. She starred alongside Howery as Nekeisha in The Carmichael Show and has become a staple on Netflix, starring as Tuca in Tuca & Bertie and as Lelia in Self Made: Inspired by the Life of Madam C.J. Walker. Her standup talents can also be seen in her Emmy-nominated Netflix special Black Mitzvah along with She Ready. And TV fans may know Michaela Conlin for her roles as Angela Montenegro in Fox's Bones and as Sarah Nguyen in Paramount's Yellowstone.
The filmmakers are also very familiar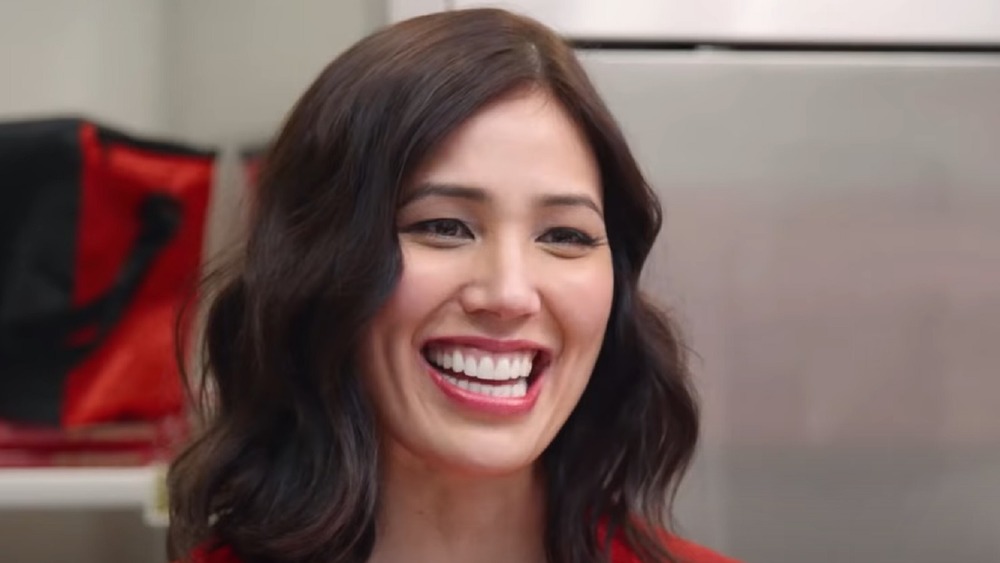 Netflix
Behind the scenes, Bad Trip also boasts a ton of talented creatives whose work you might know. The film is directed by Kitao Sakurai, who has an extensive history working with André on The Eric Andre Show. Sakurai has directed or co-directed nearly every episode of the series and also serves as executive producer. André and Sakurai worked together to create the story of Bad Trip with Dan Curry, who also writes for The Eric Andre Show. They also recruited writers Jenna Park, who worked with Sakurai on his 2018 silent comedy film The Passage, and Anne with an E's Kathryn Borel. The film is produced by Jackass and Bad Grandpa alum Jeff Tremaine, who knows a thing or two about hidden camera prank shows in his own right. 
Don't miss Bad Trip when it arrives with that eye-popping pink sedan on Netflix this March 26.