Why Emile Hirsch's New Movie Son Reminds Him Of These Horror Classics - Exclusive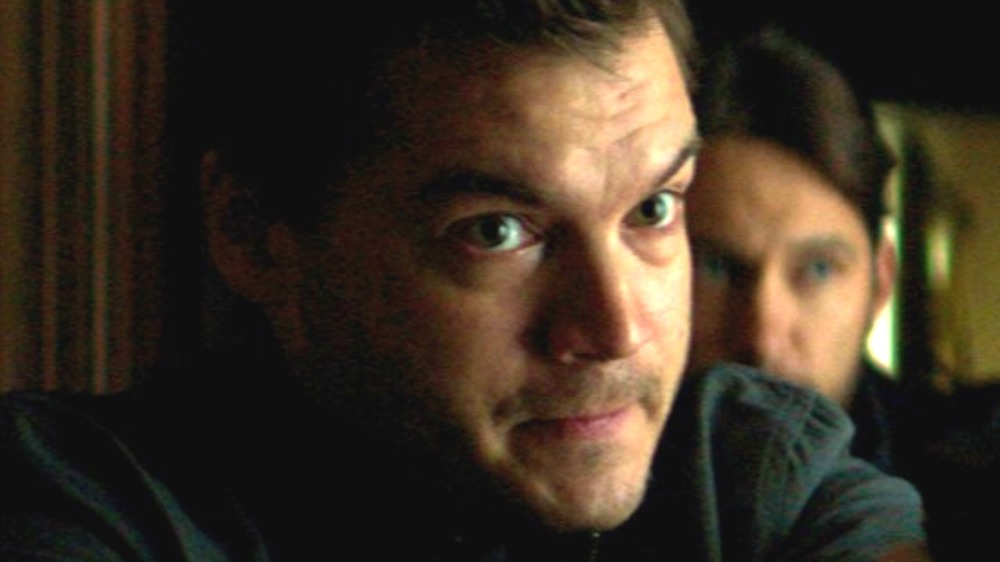 RLJE Films
It's nighttime. You're in the sanctuary you call home and you just tucked your kid into bed. You're about to call it a night, when suddenly, you hear screams of sheer terror coming from their room. Your protective parental instincts kick into high gear as you race across the hall. When you open the bedroom door, you find a room filled with strangers, surrounding your unconscious child. The door slams as if closed by an unseen force — you can't get in. That's the heart-racing moment that sets things in motion for a single mother in Son, the new demonic horror film from writer-director Ivan Kavanagh, who recently helmed the stylish western thriller Never Grow Old.
Son follows an anguished mother named Laura (Andi Matichak) who will do anything to protect her eight-year-old son David (Luke David Blumm), even in extreme and often unholy circumstances that challenge her instincts as a parent. After the terrifying events involving the mysterious home invaders, David begins to exhibit extreme signs of illness, but his surreal dreams and sudden and unusual shifts in behavior hint that something far more sinister is at play. Was David inflicted with a virus, or are supernatural forces up to no good? That's the mystery Laura aims to solve, and the answers may lie in her murky and traumatic past — one she's been trying to escape all her life. One who aids her in unravelling the mystery is a local detective named Paul, played by Emile Hirsch, who you may recognize from films such as Once Upon a Time... In Hollywood, The Autopsy of Jane Doe, and Milk.
Hirsch recently played the lead role in the aforementioned Never Grow Old, but it wasn't just his good working relationship with Kavanagh that attracted him to Son. The page-turning script (also written by Kavanagh) reminded him of two very highly regarded horror classics. "I found the script for Son fascinating. It reminded me a little bit of movies from the past that I had really liked, such as Rosemary's Baby and The Exorcist," Hirsch told Looper during a recent exclusive interview. "[Ivan has] kind of elevated horror movies with this sort of family influence. And it was cool, because it was like my character was more of the supporting kind of good guy detective role, and just a simpler kind of low-key character, which I thought was cool because Never Grow Old was a little crazier. So, to get to play this lower key role was fun for me."
Emile Hirsch admires Andi Matichak's willingness go to some intense places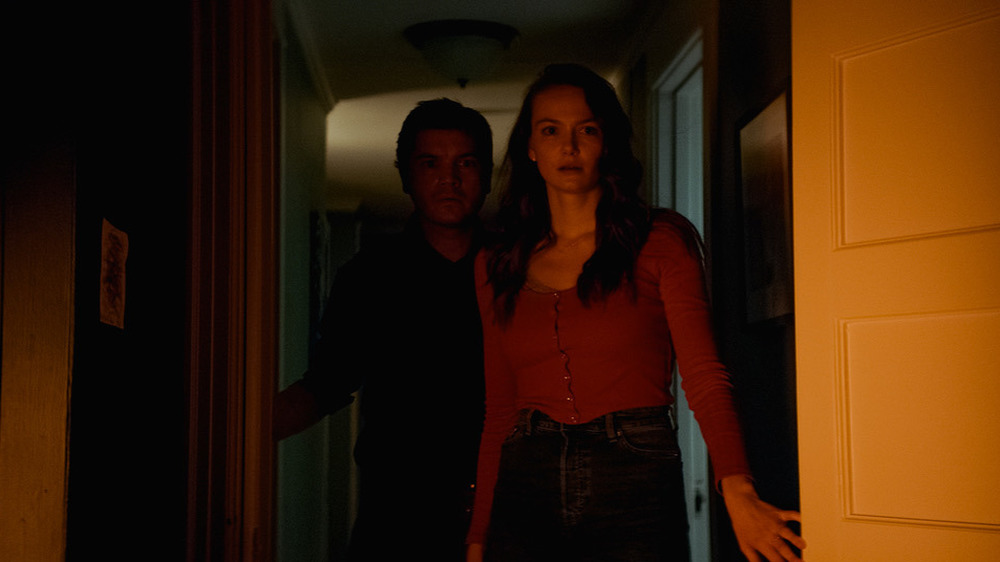 RLJE Films
Son pairs Hirsch with actress Andi Matichak, who recently made a splash in 2018's Halloween when she played Allyson, the granddaughter of Laurie Strode (Jamie Lee Curtis). The film explores some truly disturbing themes and skin-crawling territory, such as Laura's links to a cultish pedophile ring. Hirsch commended Matichak, whose grounded performance proves that she can totally carry a film on her own. "I thought she was so awesome in the part. So much fun to work with," says Hirsch when asked about his experience with the actress. "We got along great. We had a great rapport. She's got a great sense of humor and she's super funny. I think her work is really great in the movie. She really went to some intense, intense places, and she's awesome. And Luke was great, too."
Speaking of Luke David Blumm, we asked Hirsch about how he handles costarring alongside a such young actor in a hard R-rated movie, and whether or not his own paternal instincts ever kicked in on set. There are several moments in Son during which Blumm had to get up close and personal with entrails and partake in scenes that involve hyper-realistic blood and carnage. Hirsch has a real-life son of his own, so he understands the concern, but it turns out, Blumm's own father was always nearby. "His pops was always around on set, and a great guy. We've hung out since with my son. We went gold panning in the San Gabriel mountains. We actually had a blast. Luke is a really savvy kid and real smart," says Hirsch. "He's just a regular kid. It's like making a movie, when the mechanics of it are that broken down, if you watch it, it's scary. But if you make it piece by piece, it's very different, the way movies are made. He seemed fine. He seemed cool. He seemed like he really loved doing it. I think he had a blast."
Whether they're purely fictional or based on true events, horror films about demonic forces that plague mankind are certainly a recurring staple of the genre, but does the actor believe in the supernatural? We had to ask. "I don't really know. I'm kind of agnostic with that type of stuff," Hirsch explains. "I wouldn't want to tempt fate in that way, by being like, 'I do not believe it! Look, I'm going to spray all this holy water just to prove the point!' I'm not that guy. It's like every horror movie, there's the guy that does that, and then it's like the demon comes and gets him. No, I'm not really that way. But I don't know."
Son is now playing in theaters and available on demand.