The Time Will Smith Punched Anthony Mackie In The Face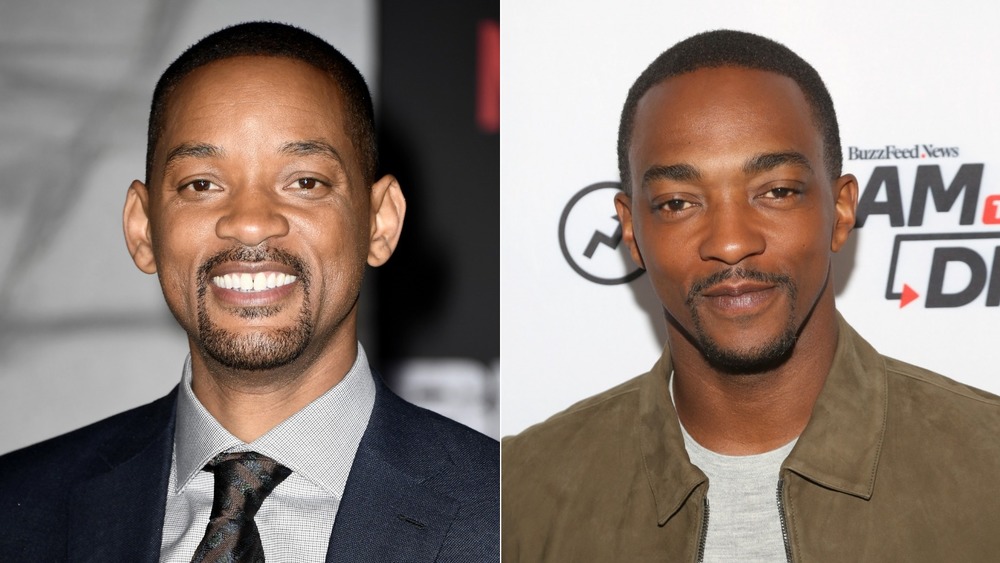 Frazer Harrison/Getty Images, Manny Carabel/Getty Images
If you ever get invited to Will Smith's birthday party, be careful. You may find yourself getting a present of your own, in the form of a pop in the jaw from the guy who played Muhammad Ali in one of his five best performances. At least, that might happen to you if you're Anthony Mackie.
The Falcon actor told his story about getting (accidentally) punched in the face Big Willie Style during a recent appearance on SiriusXM's The Jess Cagle Show to promote his new movie Outside the Wire, which looks to be one of the best movies and TV shows to watch on Netflix in January 2021. The forthcoming film was shot in Budapest, Hungary, a city where a lot of international productions film. Mackie says it's "the most fun place in Europe," and Mackie would know, because he used to own a very fun bar in Brooklyn (via New York Times).
At the same time Mackie was in Budapest working on Outside the Wire, Will Smith was there filming the sci-fi film Gemini Man. Smith celebrated his 50th birthday in the city, and Mackie got a very special invitation to the party. His publicist asked him if he wanted to present the man born Willard Carroll Smith Jr. with his birthday cake. Mackie, of course, said yes. Bad idea. 
We'll let Sam Wilson take it from here, and tell you about what happened once he got to the party.
'He has a right cross, man'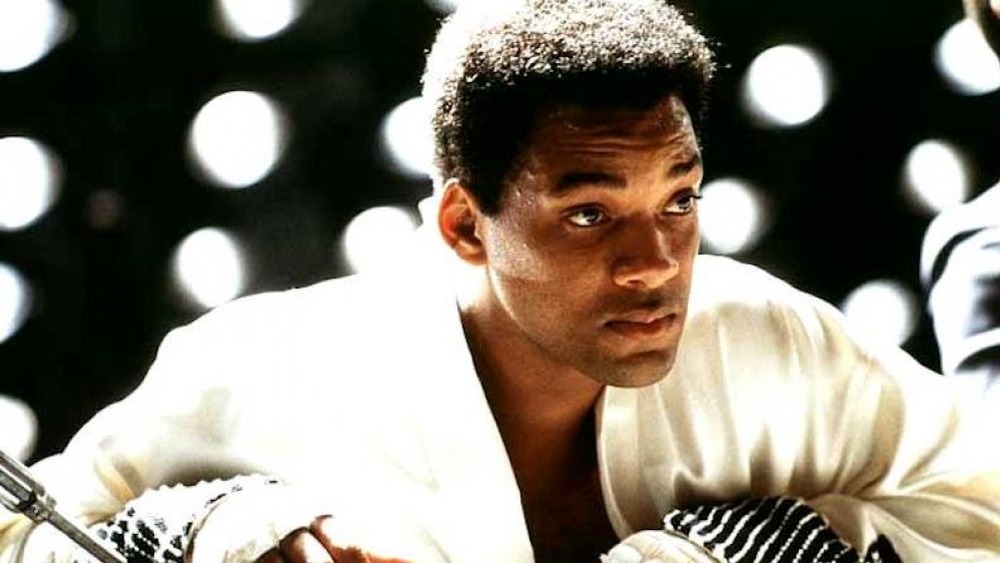 Sony Pictures
"I'm on stage with Will Smith doing a concert," Mackie recalled (in our imagination, the Fresh Prince was performing "I Think I Can Beat Mike Tyson"). "I'm losing my mind, right? So the cake comes out, we bring the cake out, Will Smith sees me and he goes, 'Hey, Anthony Mackie!' I'm like, 'Will Smith knows my name!'" (Give yourself a little bit of credit, Anthony Mackie. You were in The Hurt Locker, one of the best war movies ever made! It won Best Picture!)
"So I go to, like, high five," Mackie continued. "I don't know what I was trying to do, but like, I was trying to hug him and he thought I was coming in for, like, a high five. So he, like, tried to grab my arm and he punched me in the jaw so hard. Like he hit me with a right cross so hard. Then he grabbed me and he's like, 'you good?' I was like, 'I think so. I think we're in a fight, are we in a fight?' He's like, 'no, no, I'm sorry.'"
Stars, they're just like us, having really awkward moments with people they want to impress. "Will Smith punched me in the jaw. He's an angry human being," Mackie joked. "I know he meant to do it, there is no way you mess up a hug with a punch in a jaw." Host Jess Cagle noted that Will Smith learned to punch from Muhammad Ali himself, so Mackie had better be careful. "Yo, he has a right cross, man," Mackie replied. "Protect yourself. 'Cause dude came in — I mean, woo. It was a punch, but I took a punch from Muhammad Ali. I can say it."
Mackie's own punching can be seen in the sci-fi action film Outside the Wire, which comes out on Netflix Jan. 15.