The Time Will Smith Punched Anthony Mackie In The Face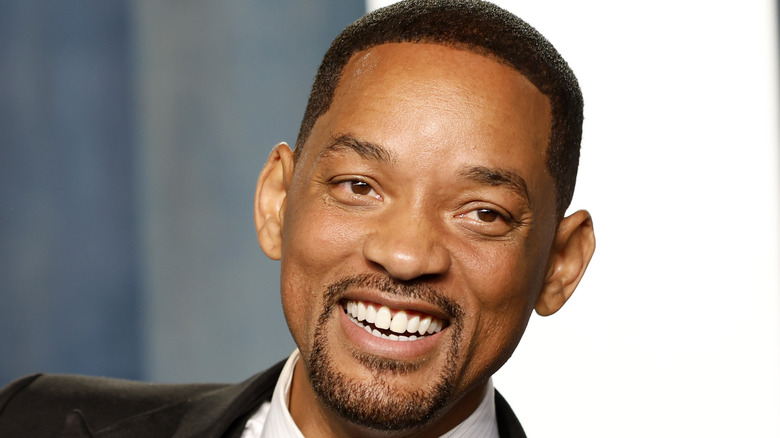 Frazer Harrison/Getty Images
If you're reading this now, the odds are pretty good that you've already heard about the slap heard around the world. Of course, just in case you've somehow managed to avoid the absolute deluge of headlines related to this incident, a quick recap is in order. 
During the 94th annual Academy Awards ceremony, comedian Chris Rock told a joke that seemed to irk actress Jada Pinkett Smith. Only moments later, Pinkett Smith's husband, then-Academy Award nominee Will Smith, approached Rock on the stage and slapped him across the face, before returning to his seat to shout obscenities at a clearly shaken Rock. Despite the awkward attack and plenty of speculation about the incident on social media, the night ultimately continued on as planned. 
Indeed, before the night was even over, Smith was actually invited back up to the stage to accept the 2022 Academy Award for Best Actor in a Leading Role. In his subsequent speech, Smith made numerous references to working as a "defender of his family" (via Associated Press). Notably, Smith also appeared to draw parallels between his actions and those of the man he played in "King Richard," the real-life father of Serena and Venus Williams.
Needless to say, Smith's actions and his speech have been the subject of a great deal of controversy. Notably, however, this actually isn't the first time Smith has been associated with a slap across the face. Long before Slapgate, there was another less-known incident.
Will Smith punched Anthony Mackie once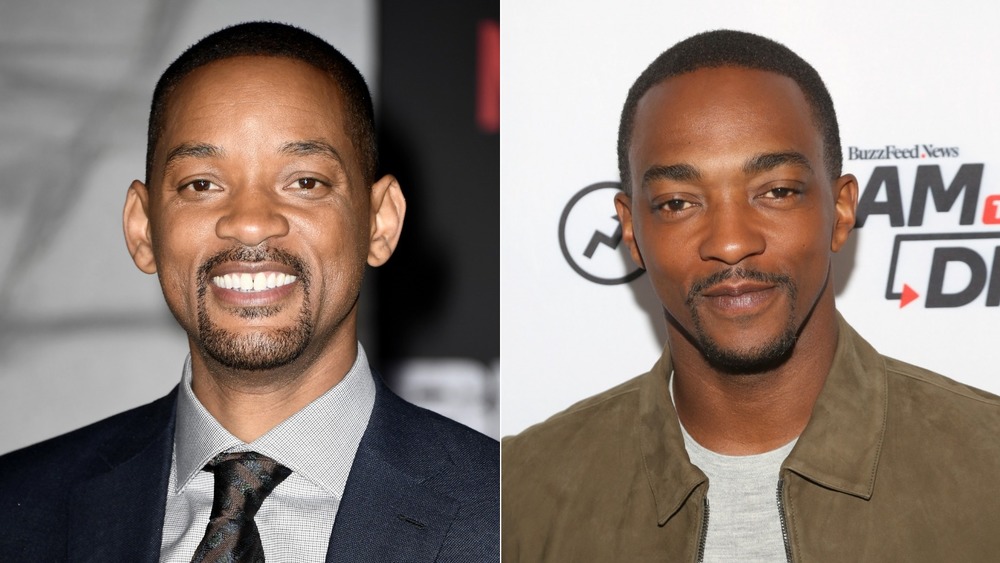 Frazer Harrison/Getty Images, Manny Carabel/Getty Images
If you ever get invited to Will Smith's birthday party, be careful. You may find yourself getting a present of your own, in the form of a pop in the jaw from the guy who played Muhammad Ali in one of his five best performances. At least, that might happen to you if you're Anthony Mackie.
The Falcon actor told his story about getting (accidentally) punched in the face Big Willie Style during a 2021 appearance on SiriusXM's "The Jess Cagle Show" to promote his a Netflix movie titled "Outside the Wire." According to Mackie, "Outside the Wire" was actually shot in Budapest, Hungary, a city that often serves as the home filming site for a number of different international productions.
At the same time that Mackie was in Budapest on work, Smith was also nearby shooting his own science fiction movie, Paramount's "Gemini Man." During the shoot, Smith celebrated his 50th birthday in the city, and Mackie got his very own special invitation to the party. In preparation for the event, Mackie's publicist asked him if he wanted to be the one to present Smith with his birthday cake. Of course, Mackie responded affirmatively. Unfortunately, that was where the actor's mistakes began. 
We'll let Sam Wilson take it from here, and tell you about what happened once he got to the party.
'He has a right cross, man'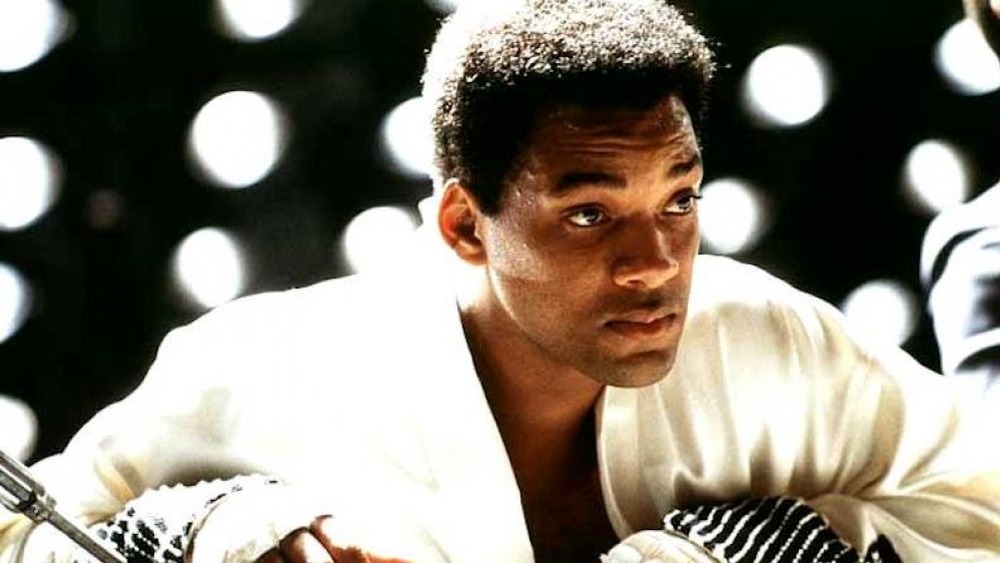 Sony Pictures
"I'm on stage with Will Smith doing a concert," Mackie recalled (in our imagination, the Fresh Prince was performing "I Think I Can Beat Mike Tyson"). "I'm losing my mind, right? So the cake comes out, we bring the cake out, Will Smith sees me and he goes, 'Hey, Anthony Mackie!' I'm like, 'Will Smith knows my name!'" (Give yourself a little bit of credit, Anthony Mackie. You were in "The Hurt Locker," one of the best war movies ever made! It won Best Picture!)
"So I go to, like, high five," Mackie continued. "I don't know what I was trying to do, but like, I was trying to hug him and he thought I was coming in for, like, a high five. So he, like, tried to grab my arm and he punched me in the jaw so hard. Like he hit me with a right cross so hard. Then he grabbed me and he's like, 'you good?' I was like, 'I think so. I think we're in a fight, are we in a fight?' He's like, 'no, no, I'm sorry.'"
Stars, they're just like us, having really awkward moments with people they want to impress. "Will Smith punched me in the jaw. He's an angry human being," Mackie joked. "I know he meant to do it, there is no way you mess up a hug with a punch in a jaw." Host Jess Cagle noted that Will Smith learned to punch from Muhammad Ali himself, so Mackie had better be careful. "Yo, he has a right cross, man," Mackie replied. "Protect yourself. 'Cause dude came in — I mean, woo. It was a punch, but I took a punch from Muhammad Ali. I can say it."
Mackie's own punching can be seen in the sci-fi action film "Outside the Wire," which is available for streaming on Netflix.