Did Will Smith Actually Punch Chris Rock At The Oscars?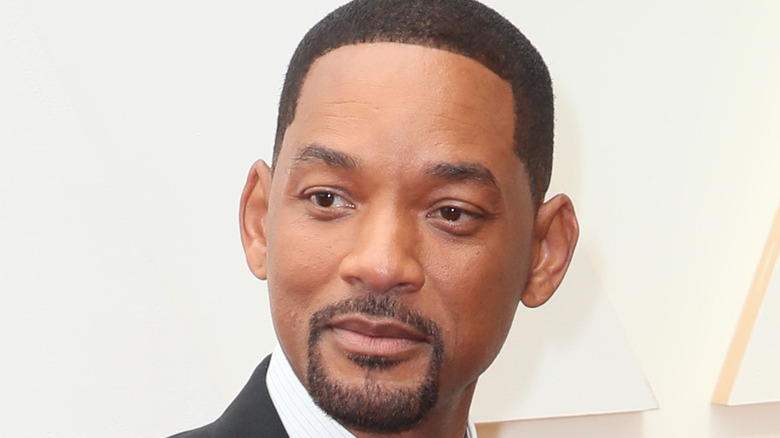 David Livingston/Getty Images
The 94th Academy Awards was been a series of highs and lows. Over the course of Sunday, March 27, audiences watched as Ariana DeBose made history as the first queer woman of color to win an Oscar for best supporting actress for her performance as Anita in "West Side Story." Eight-time nominee Kenneth Branagh finally snagged a statue for best original screenplay for "Belfast," and Troy Kotsur became the first deaf man to nab an Oscar, winning best supporting actor for "Coda."
It was also a night of awkward and shocking lows. Co-hosts Amy Schumer, Wanda Sykes, and Regina Hall made history as the first female trio to host the event. Unfortunately, their comedic bits have been uneven and, in some cases, even offensive. Still, overall, it's been a night of celebration despite getting off to a controversial start.
However, things took a surreal turn when Chris Rock came on to present the award for best documentary feature toward the end of the ceremony. The stand-up comedian made a few jokes, including one at the expense of Will Smith's wife, actress Jada Pinkett Smith. "Jada, I love ya. 'G.I. Jane 2,' can't wait to see it," Rock said, referring to Pinkett Smith's shaved head and the Demi Moore film "G.I. Jane," in the same breath (via Deadline). Smith initially appeared amused, but seconds later, he walked up on stage and appeared to hit Rock, leaving Oscars attendees and viewers at home unsure if this moment was staged or not.
Will Smith confronted Chris Rock during the 2022 Oscars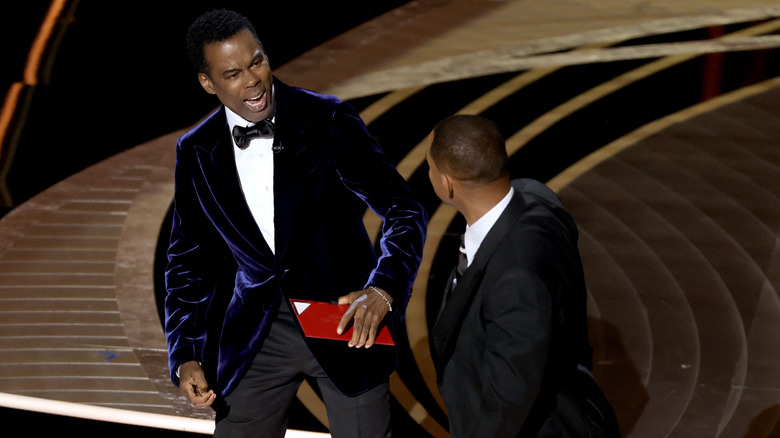 Neilson Barnard/Getty Images
It became clear almost immediately after Chris Rock's joke about Jada Pinkett Smith that Will Smith didn't think Rock or his jab was funny. The "King Richard" actor appeared to slap Rock, stopping the Oscars telecast dead in its tracks. The audio was cut, so viewers at home couldn't tell if this interaction was all in good fun or if something serious was actually occurring live in front of them. After taking his seat, Smith appeared unapologetic, yelling at Rock, "Keep my wife's name out of your f***ing mouth," Smith repeated (via Twitter). Rock's reaction left little doubt that he was as shocked as everyone watching about what just transpired.
Still, those watching from home were stunned and unsure of what actually went down between the two men. On Twitter,@Caramel_Angel7 posted footage of the confrontation with the caption, "Uncensored version of Will Smith punching & cursing at Chris Rock for making fun of Jada's alopecia by referencing 'G.I. Jane.'" NPR's @lindaholmes reacted in real time, writing, "I might have wondered if it was a bit, except that the entire Chris Rock persona collapsed, instantly. Next Best Picture's editor-in-chief Matt Neglia simply tweeted, "What just happened?" while others, like reporter @mwhittingtontv, tweeted, "Wait that wasn't staged?? I'm so confused what just happened with Chris Rock and Will Smith." Elsewhere, "The Daily Show" host Trevor Noah encapsulated the shock of the moment, writing, "Wtaf????? That wasn't scripted?????"
Sean "P. Diddy" Combs took to the stage after and attempted to lighten the mood, stating, "Will, Chris, we are gonna solve that like a family at the gold party," presenter P. Diddy later said. "For now, we will move on with love." Shortly after the shocking event, Variety's executive editor Ramin Setoodeh, who was in attendance at the Oscars, confirmed via Twitter that Smith's onstage encounter with Rock was, in fact, real.
Smith took great offense on his wife's behalf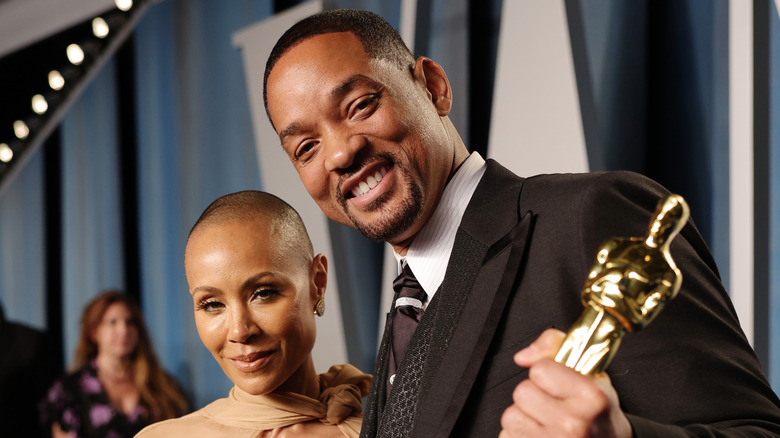 Rich Fury/vf22/Getty Images
Although Smith hasn't outright addressed the incident aside from an apology of sorts during his acceptance speech for winning best actor in a leading role for the film "King Richard" (via The Guardian), many believe that his intense reaction to Rock's joke has to do with the fact that he was making fun of his wife's struggle with alopecia, a hair loss disorder that "can start at any age" and "may be associated with other autoimmune diseases" (via ScienceDirect). Rock, Smith, and Pinkett Smith actually have a bit of a history of tension, with Rock making fun of Pinkett Smith's protest of the Oscars in 2016 (via Los Angeles Times).
After the incident, the Academy tweeted out that "The Academy does not condone violence of any form," and some, like the New York Post, are now wondering whether or not Smith will have to return his Oscar after the violent scene. While it's certainly possible, many Oscar viewers on social media, such as @beepbeepribbit, highlighted the Academy's history with allowing people like Roman Polanski, who literally fled the country after being convicted of "having unlawful sex with a 13-year-old girl" as part of a plea bargain (via The New York Times), receive an Academy Award after the fact in 2002 (via IMDb). Many others, like Harvey Weinstein and Kevin Spacey, still hold onto their awards, though Weinstein has been expelled from the Academy (via Forbes). 
For Smith, this aggressive action certainly isn't anything to condone, and it will likely be remembered for a long time. But hopefully in time, he and Rock can make amends and put this all behind them. We will have to wait and see.