Is Chris Rock Pressing Charges Against Will Smith For Oscars Attack?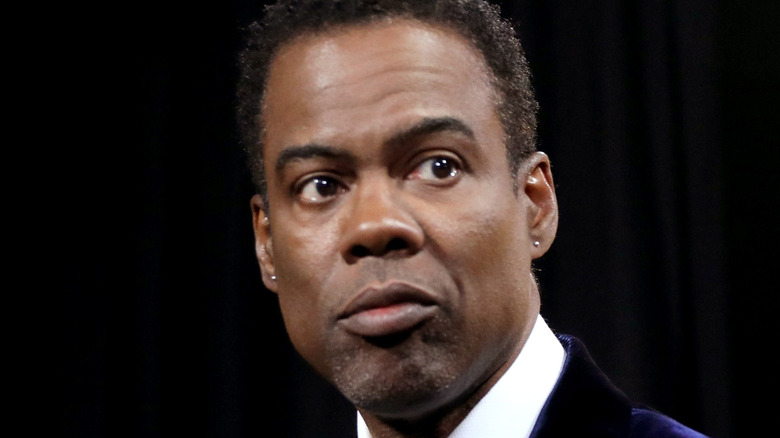 Handout/Getty Images
Following several noticeable firsts at the 94th Academy Awards, there's been one prominent moment that viewers and attendees are still understandably shocked by. Before winning his first Academy Award for his performance in "King Richard," Will Smith publicly assaulted Chris Rock on stage after the comedian made a joke at the expense of the actor's wife, Jada Pinkett Smith.
The gag consisted of Rock making a joke about the actress' shaved head, suggesting the look might be prep to star in "G.I. Jane 2." Smith obviously thought the joke was in poor taste, and it might well have been, considering the fact that Pinkett Smith revealed the previous year that she suffered from alopecia. During the live telecast, Smith visibly soured on the joke, marched up on the stage, hit Rock, and — after sitting back down — demanded the comedian refrain from speaking his wife's name (in more colorful language). 
Denzel Washington and Tyler Perry attempted to calm the situation (because this is the world we live in), and Smith later apologized for his conduct during his acceptance speech. He notably did not apologize to Rock. The whole blow-up certainly made for colorful (if a bit scary) TV, but let's not lose sight of the fact that 12 million viewers witnessed the broadcast of an actual crime. Will Smith assaulted Chris Rock. The important question this morning is, will Rock be pressing charges?
Chris Rock has confirmed he will not be taking legal action against Will Smith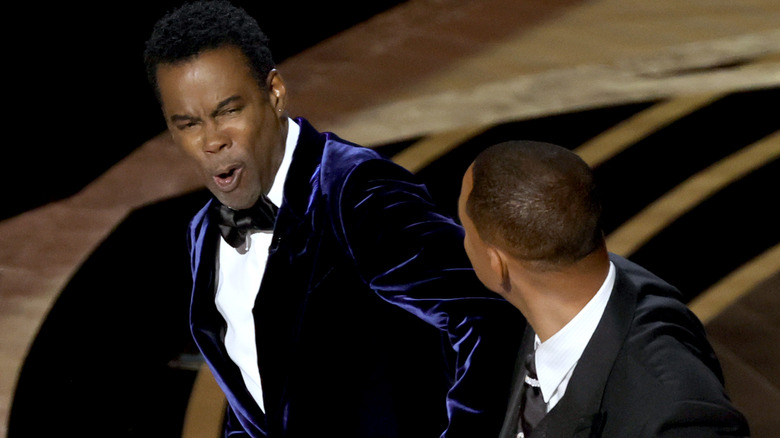 Neilson Barnard/Getty Images
In an official statement from the LAPD (via CNN), it has been confirmed that Chris Rock will not be taking the matter further following his altercation with Smith. "LAPD investigative entities are aware of an incident between two individuals during the Academy Awards program," the department said, without stating names. "The incident involved one individual slapping another. The individual involved has declined to file a police report. If the involved party desires a police report at a later date, LAPD will be available to complete an investigative report."
While Rock may not be pressing charges at this time, he certainly retains the right to reconsider at a later date. Contemporaneous media reports from the awards ceremony suggested that Smith and Rock were planning to talk at an afterparty, though no confirmation of whether or not that transpired was available at the time of this writing. Neither party has released a public statement through their agents, though Smith's son Jaden tweeted, "And That's How We Do It," a sentiment that has received almost 650,000 likes and counting. What a time to be alive.